"Joseph, son of David, do not be afraid to take Mary as your wife ; for the Child who has been conceived in her is of the Holy Spirit. She will bear a Son ; and you shall call His name Jesus.." Matthew 1:20-21, Bible

Fra Angelico (born Guido di Pietro 1395 – February 18, 1455) was an Early Italian Renaissance painter described by Vasari in his Lives of the Artists as having "a rare and perfect talent...
He was known to contemporaries as Fra Giovanni da Fiesole (Brother John of Fiesole) and Fra Giovanni Angelico (Angelic Brother John). In modern Italian he is called il Beato Angelico (Blessed Angelic One); the common English name Fra Angelico means "Angelic Brother."...
Dominican friar ...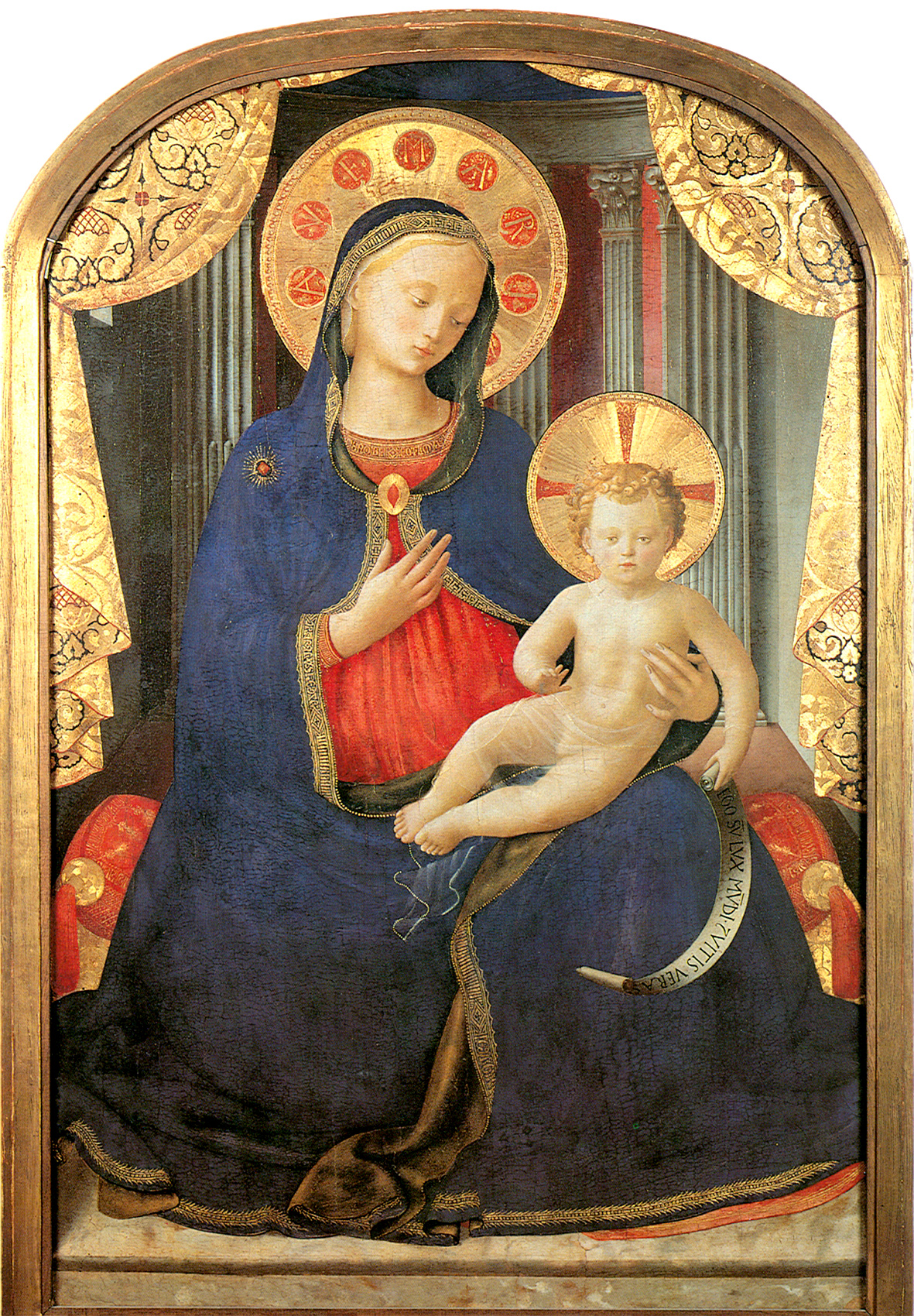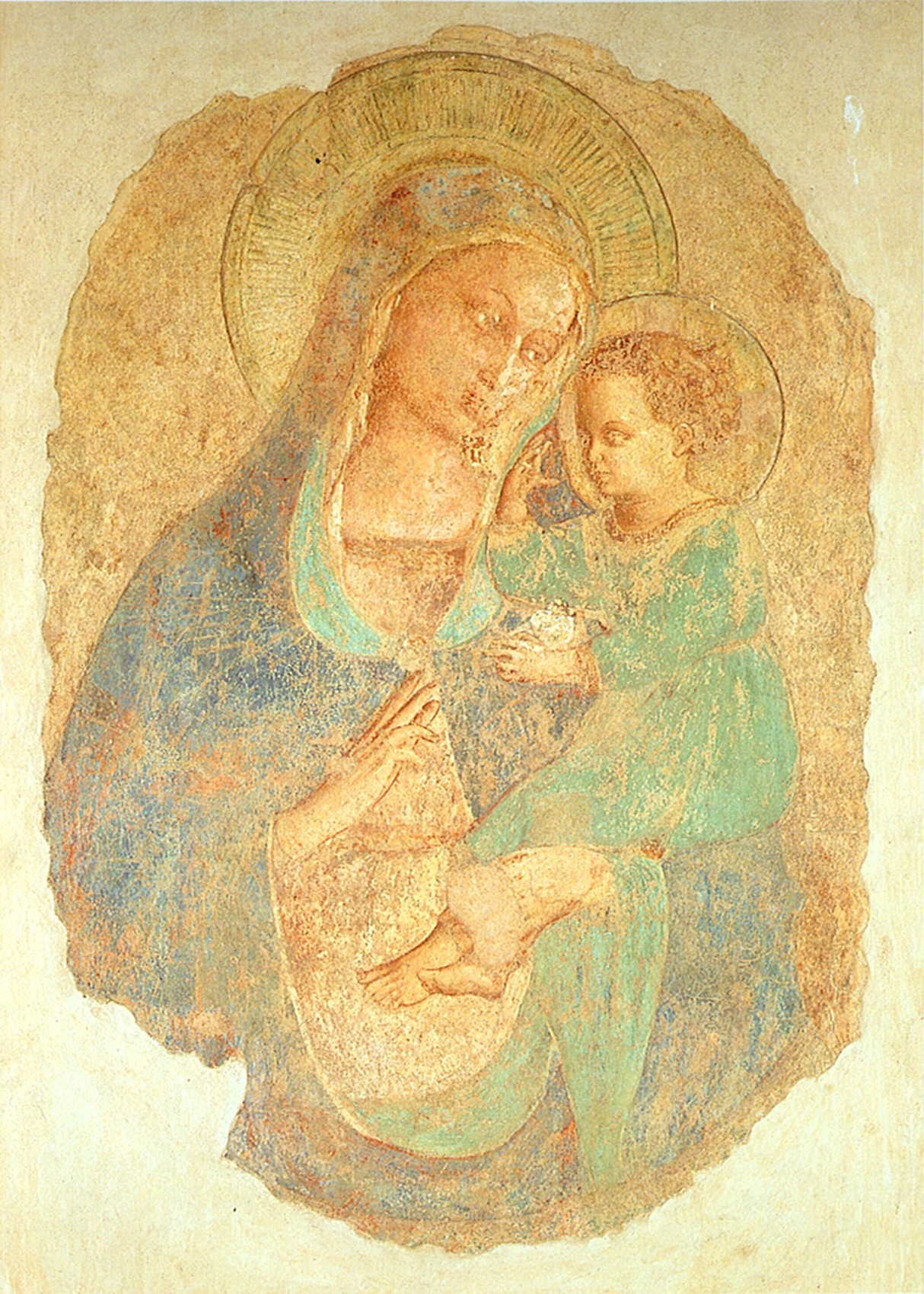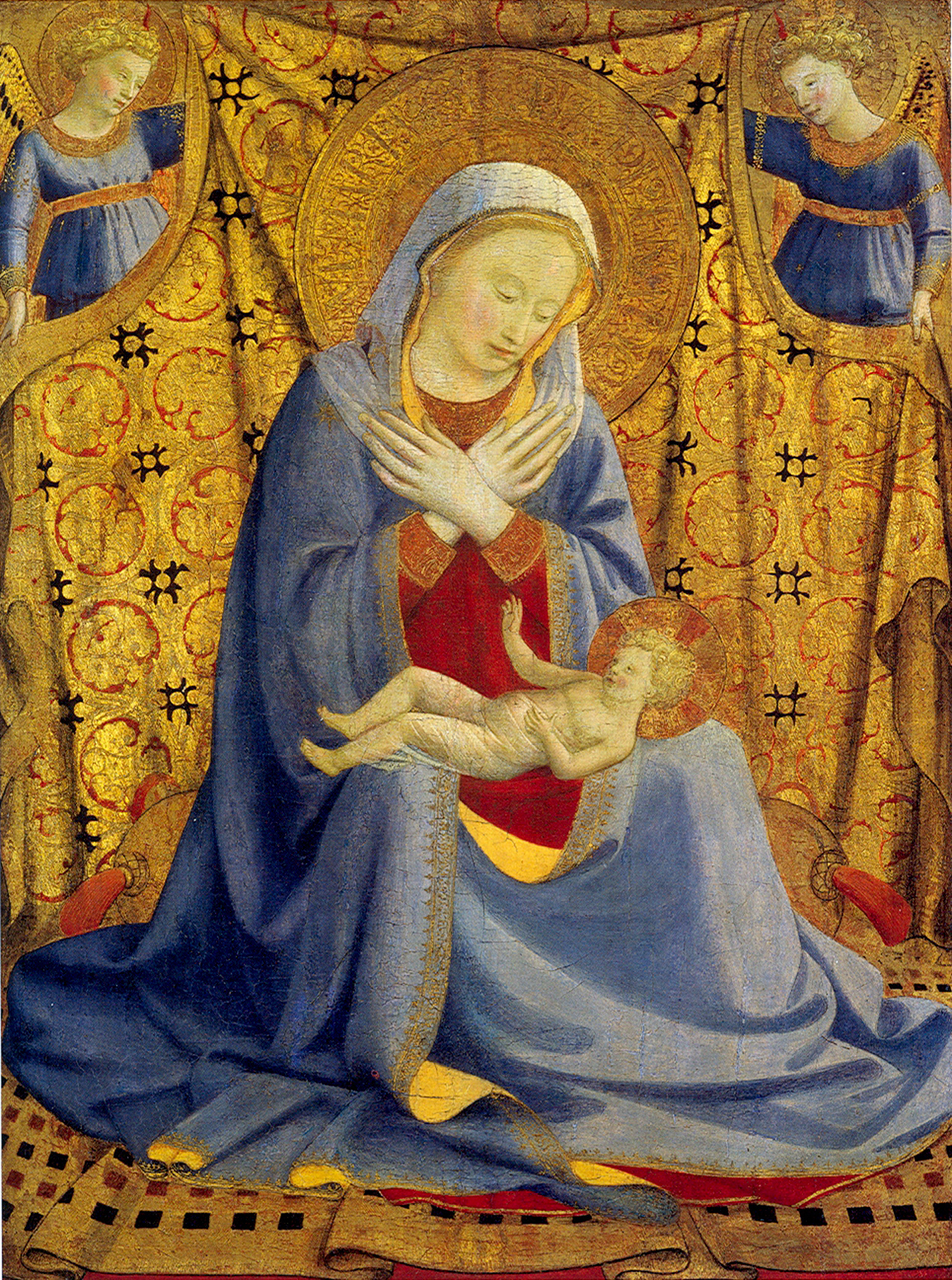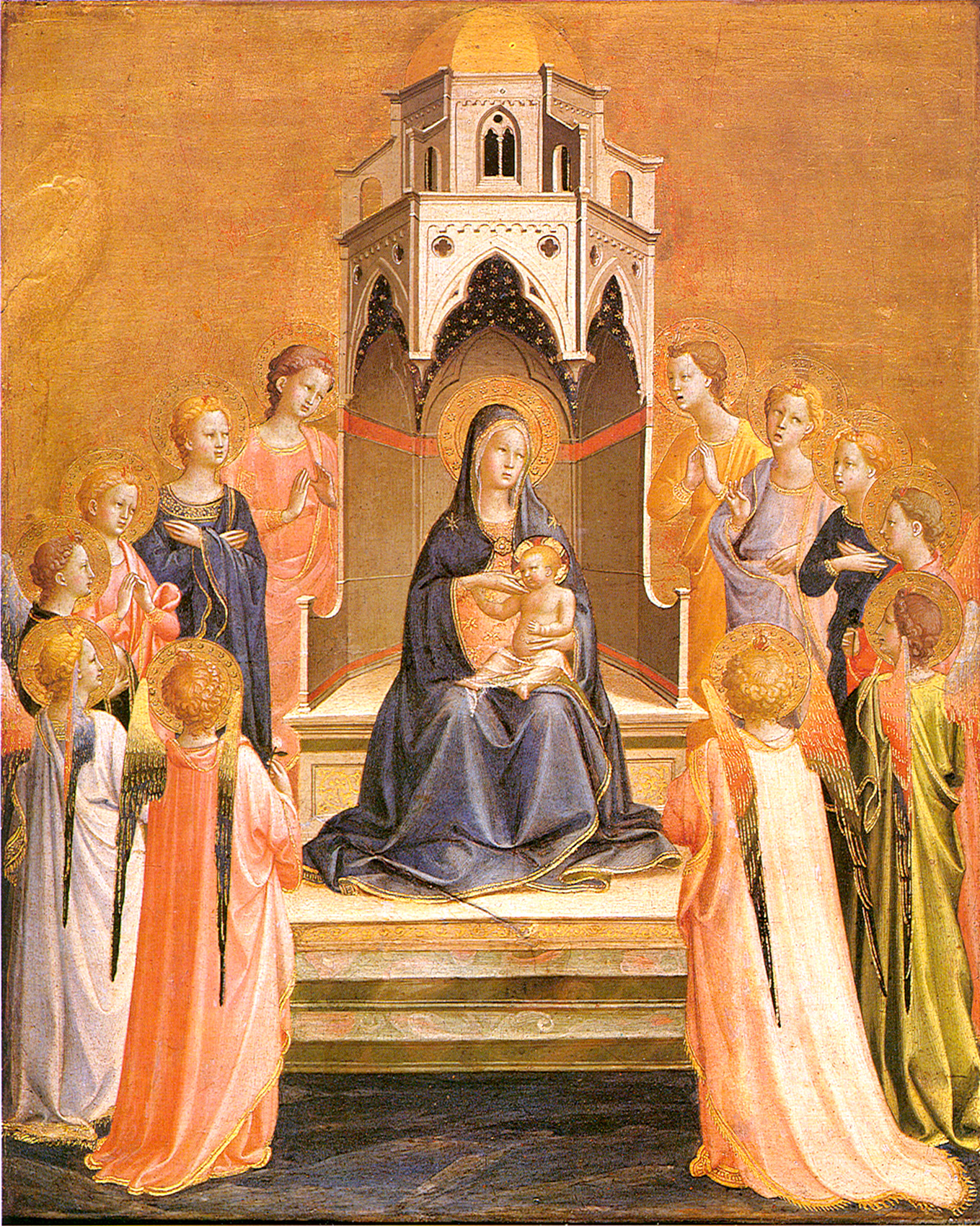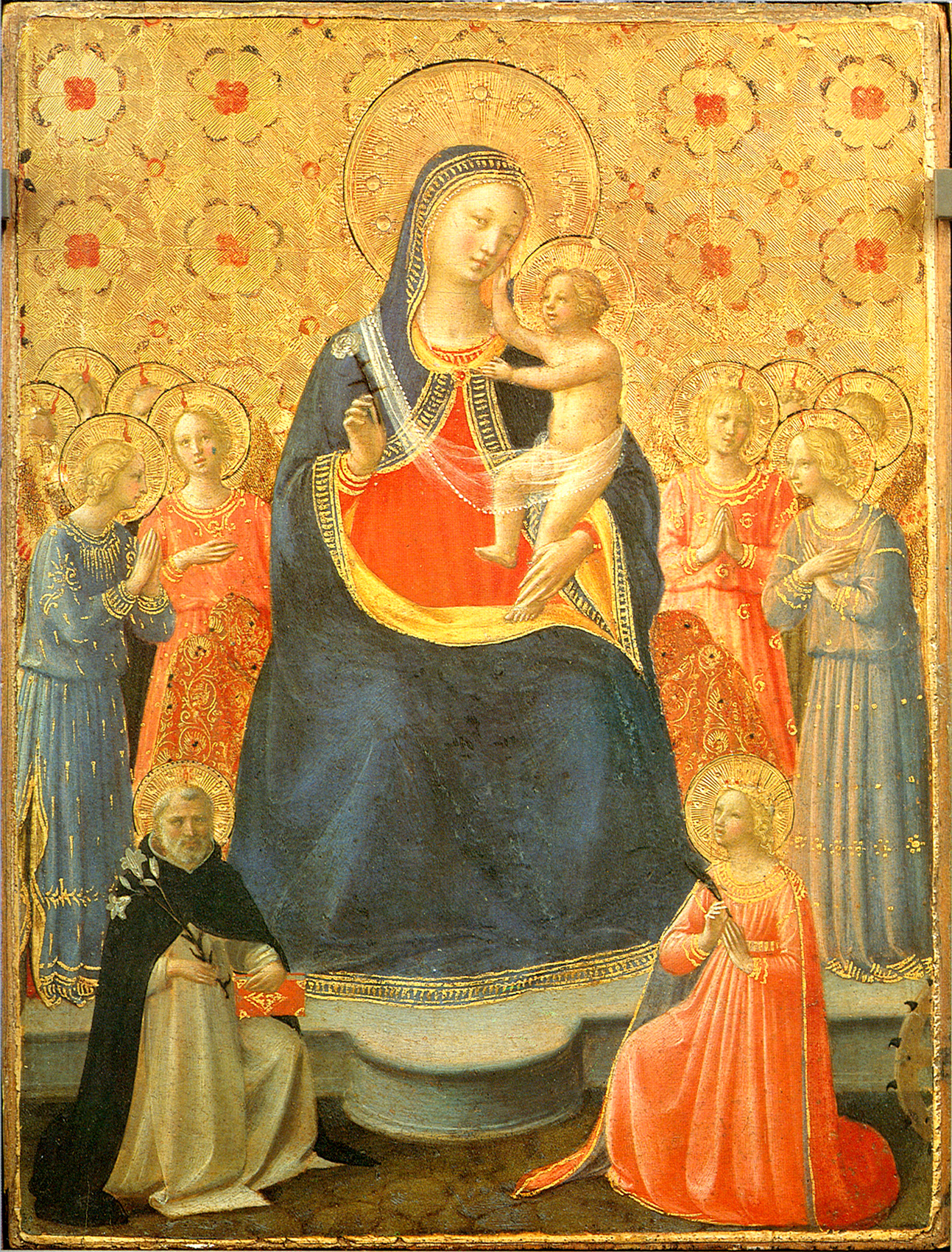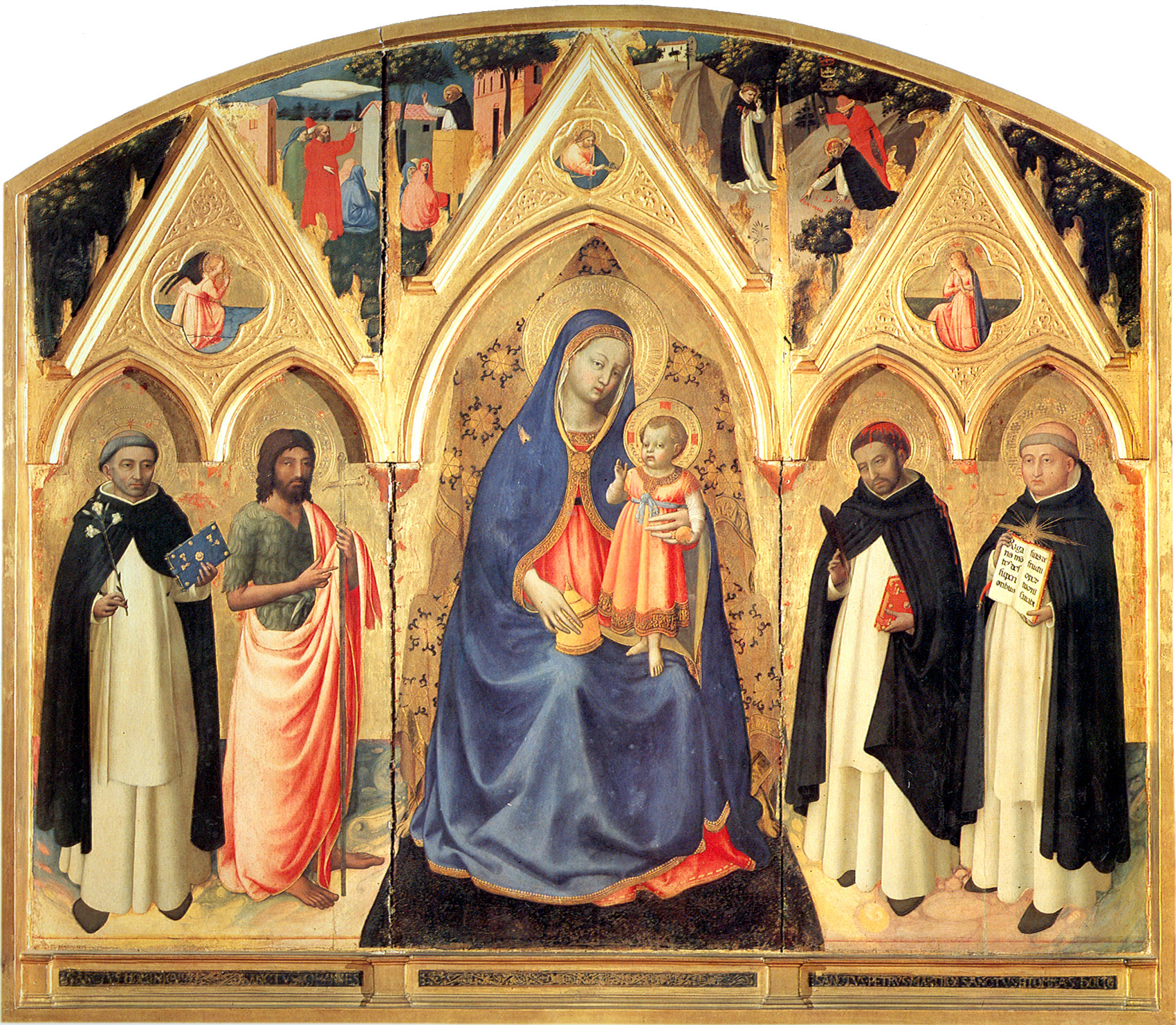 Antoniazzo Romano, born Antonio di Benedetto Aquilo degli Aquili (c. 1430 – c. 1510) was an Italian Early Renaissance painter, the leading figure of the Roman school during the 15th century...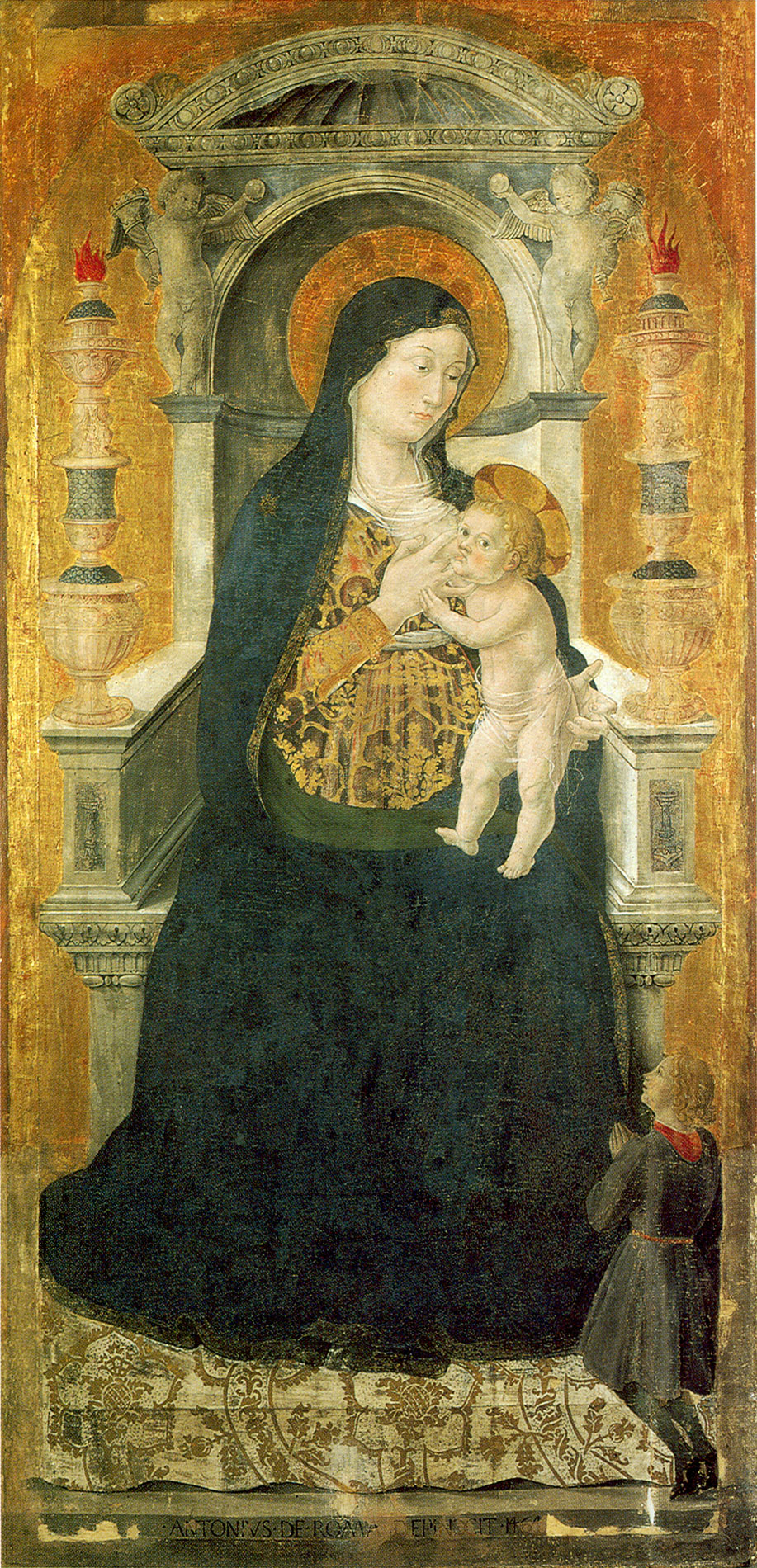 Fra Bartolomeo or Fra Bartolommeo (di Pagholo) (March 28, 1472 – October 6, 1517), also known as Baccio della Porta, was an Italian Renaissance painter of religious subjects...
He was born in Savignano di Prato, Tuscany. He received the nickname of Baccio della Porta for his house was near the Porta ("Gate") San Pier Gattolini...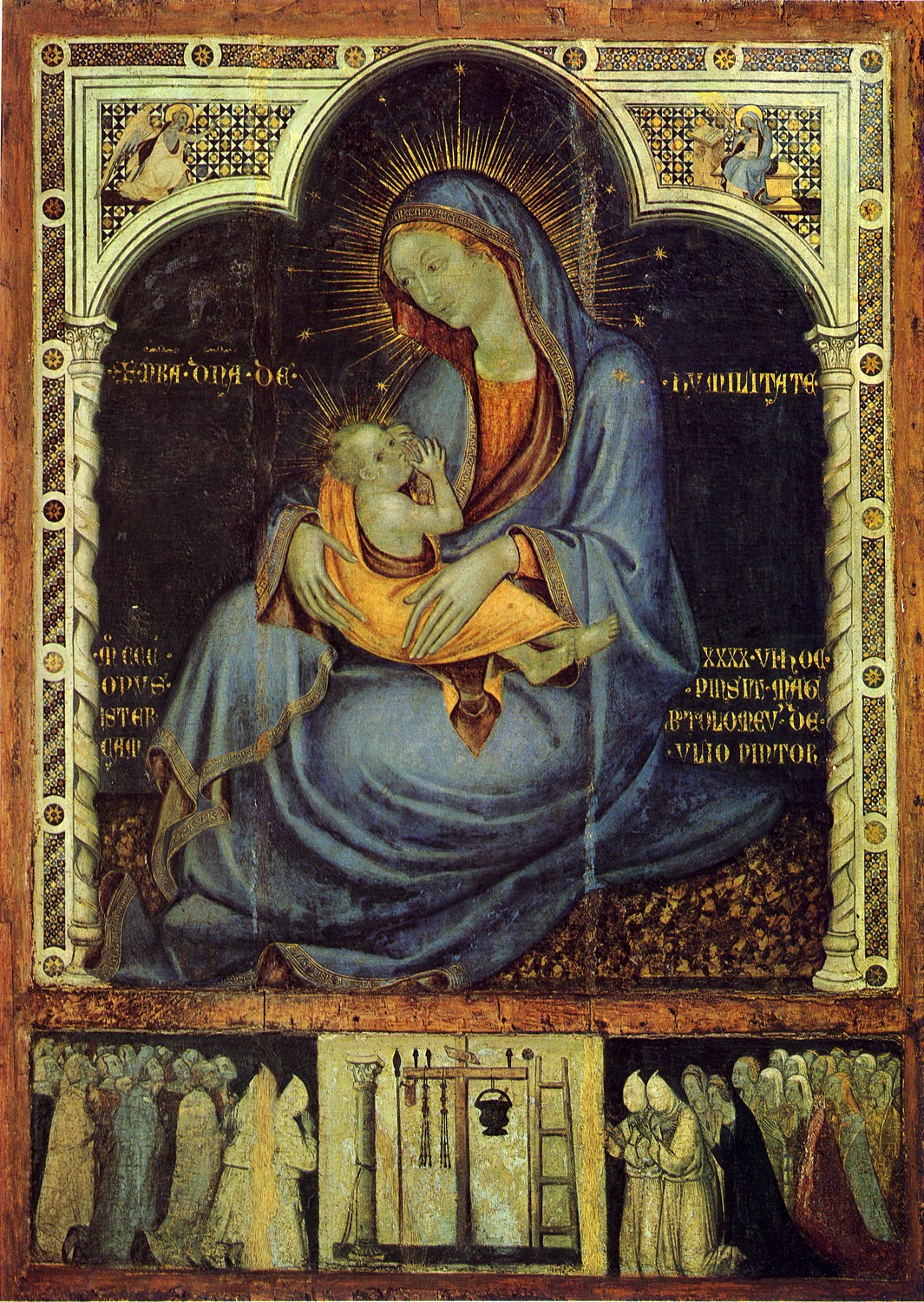 Giovanni Bellini (c. 1430–1516[1]) was an Italian Renaissance painter, probably the best known of the Bellini family of Venetian painters. His father was Jacopo Bellini, his brother was Gentile Bellini, and his brother-in-law was Andrea Mantegna. He is considered to have revolutionized Venetian painting, moving it towards a more sensuous and colouristic style. Through the use of clear, slow-drying oil paints, Giovanni created deep, rich tints and detailed shadings. His sumptuous coloring and fluent, atmospheric landscapes had a great effect on the Venetian painting school, especially on his pupils Giorgione and Titian....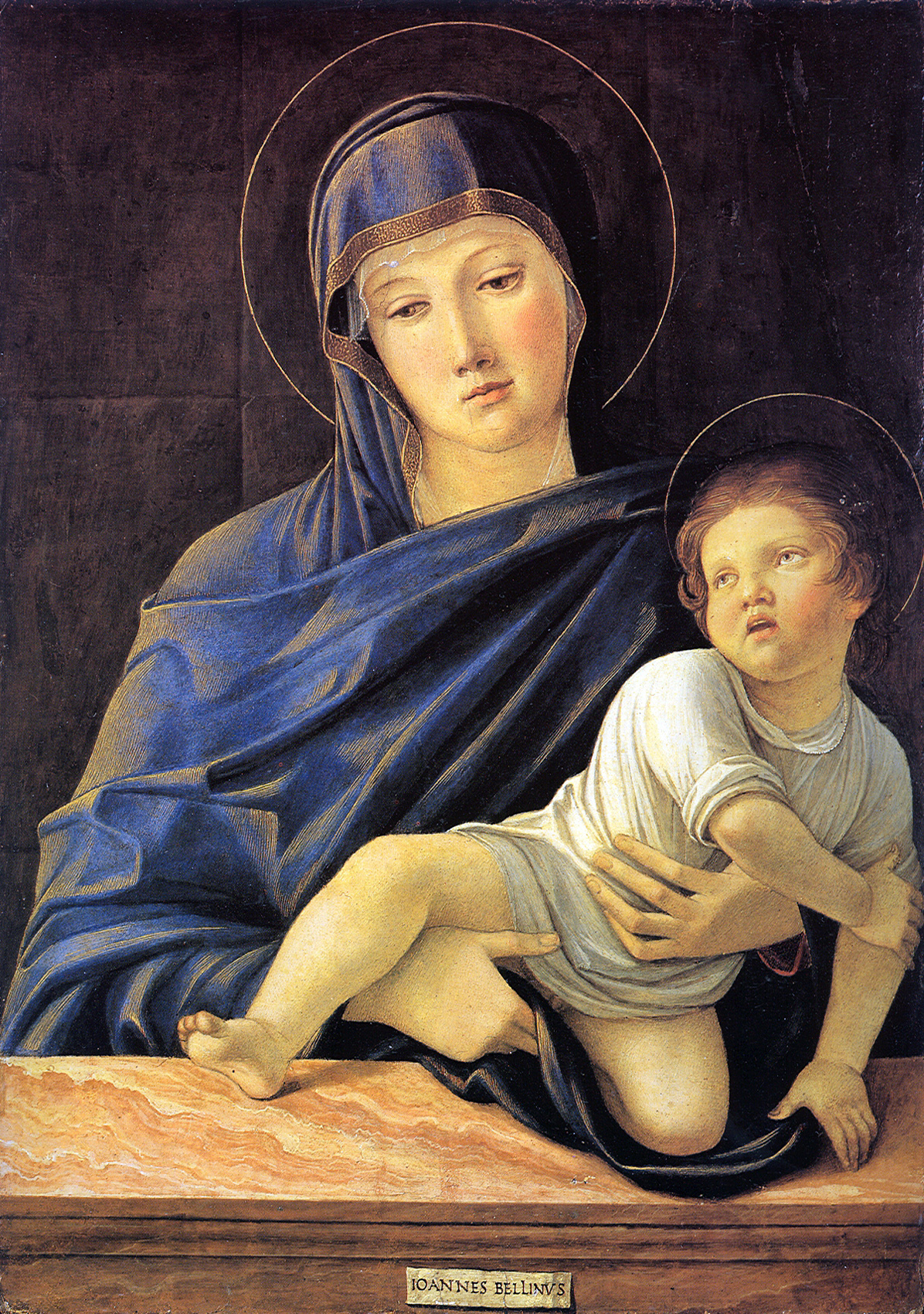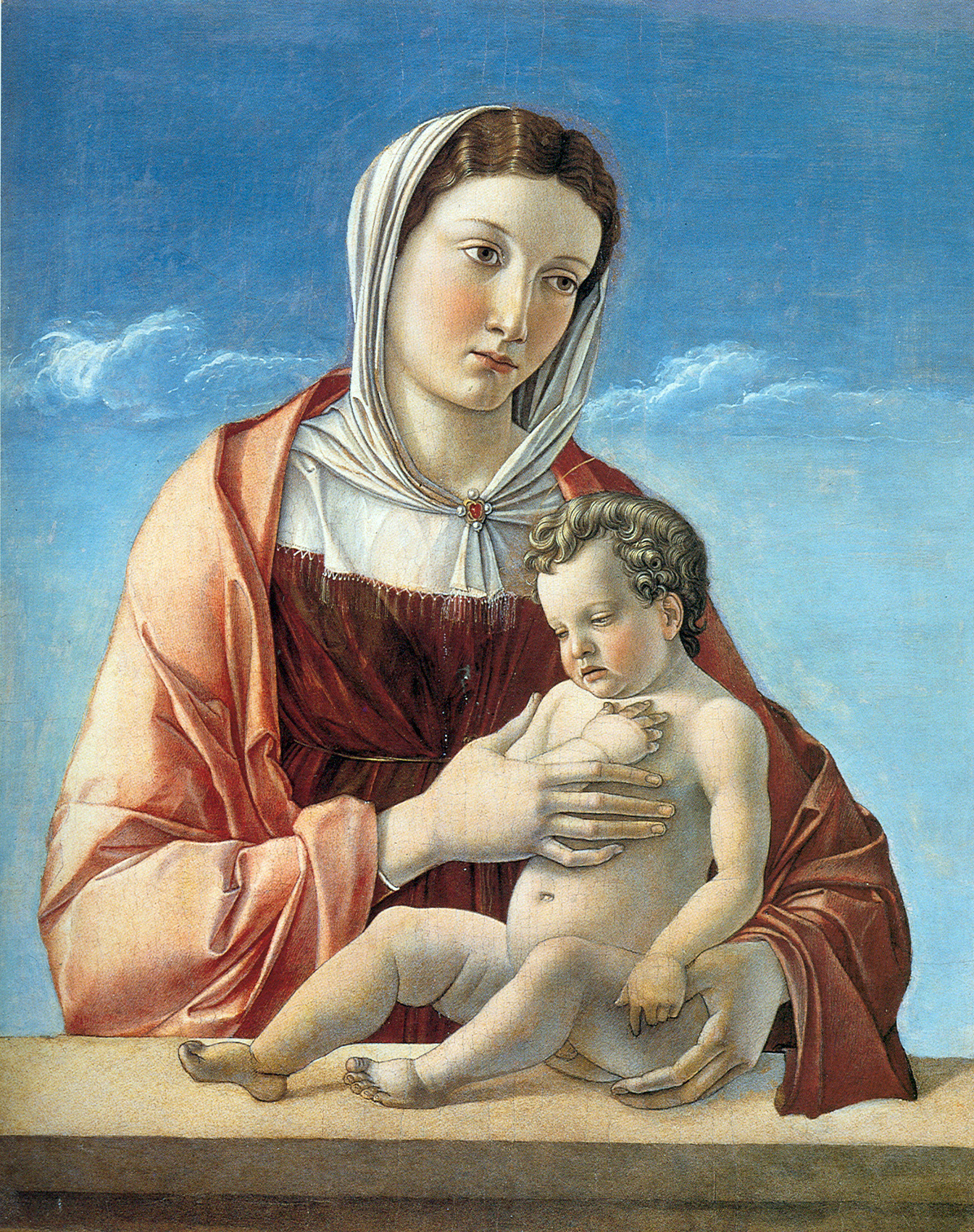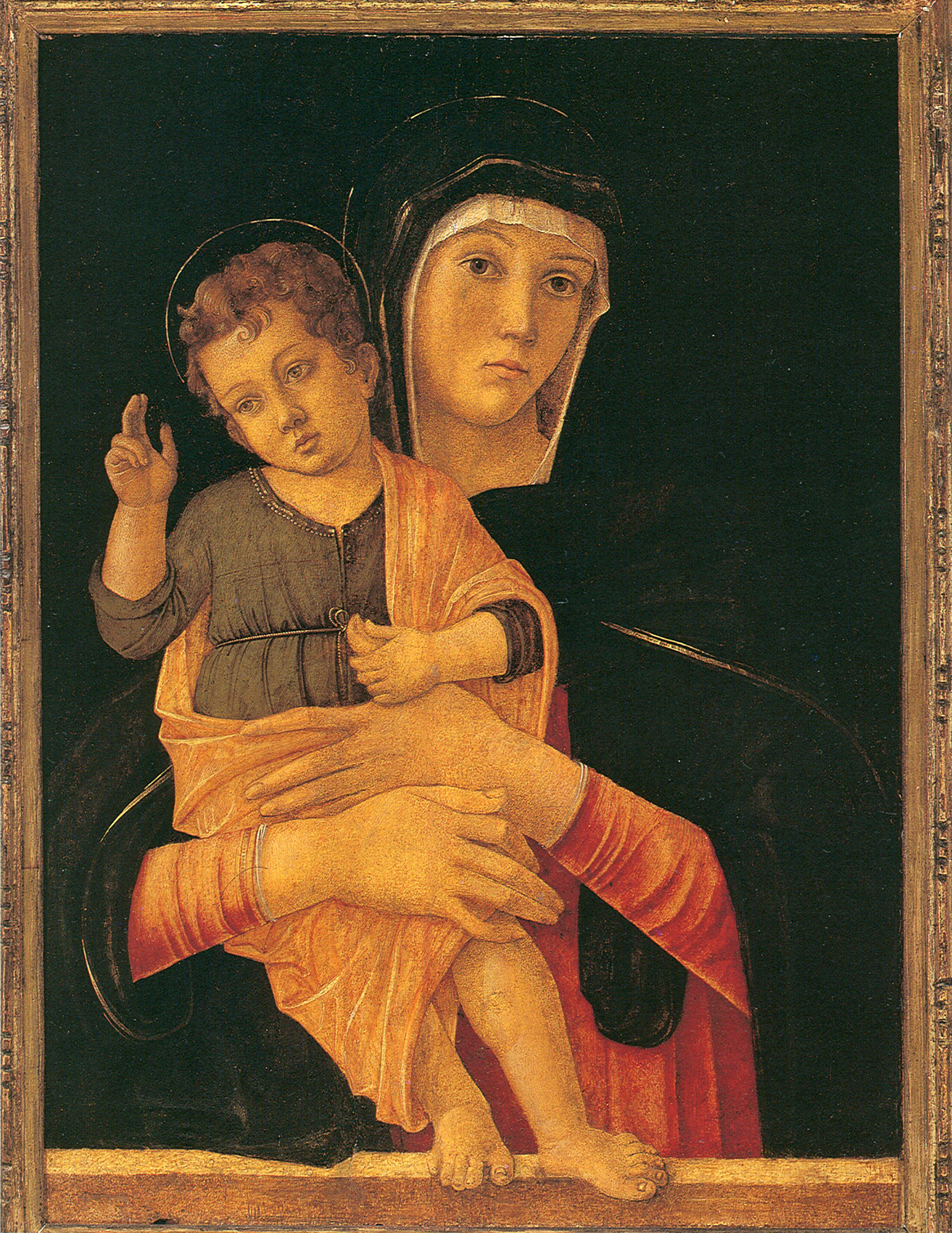 Frank Weston Benson, frequently referred to as Frank W. Benson, (March 24, 1862 – November 15, 1951) was an American artist from Salem, Massachusetts known for his Realistic portraits, American Impressionist paintings, watercolors and etchings...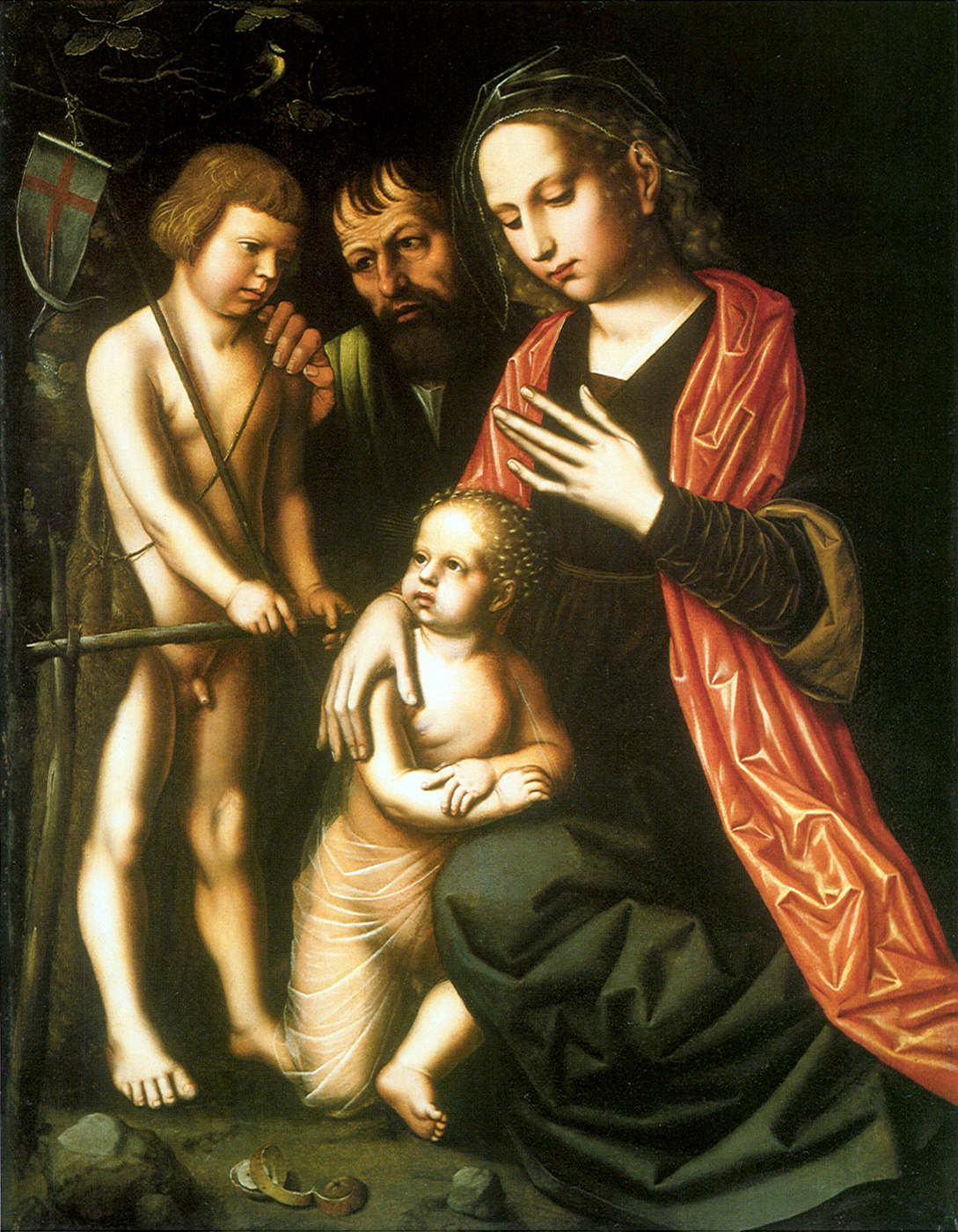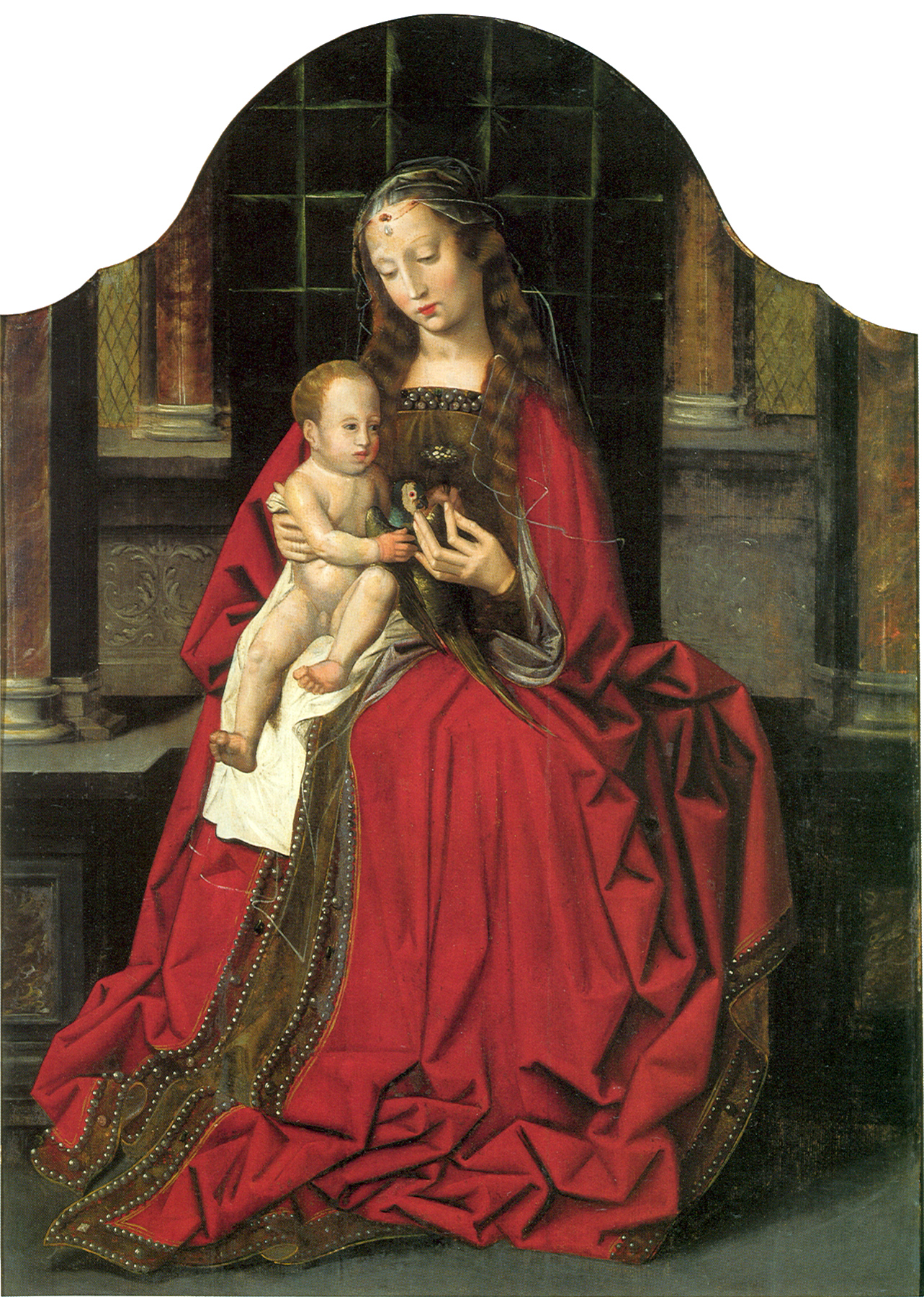 Bicci di Lorenzo (1373–1452) was an Italian painter and sculptor, active in Florence... He was born in Florence in 1373, the son of the painter, Lorenzo di Bicci, whose workshop he joined. He married in 1418, and in 1424 was registered in the Guild of Painters at Florence. His son, Neri di Bicci was also a painter and took over the family workshop. Bicci di Lorenzo died in Florence in 1452 and was buried in Santa Maria del Carmine...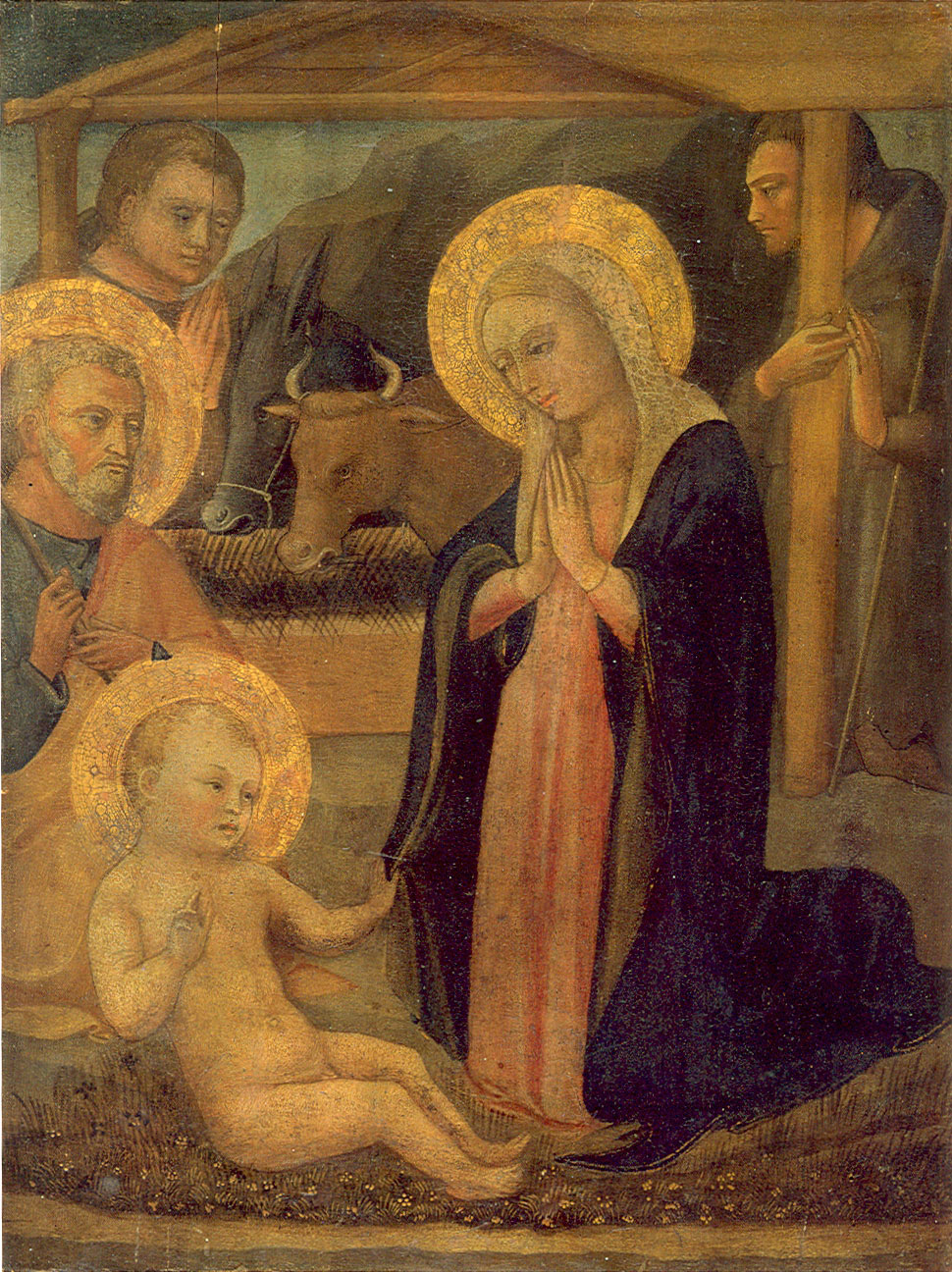 Benedetto Bonfigli (c. 1420–July 8, 1496) was an Italian painter born in Perugia, and active around Umbria. He is also known as Buonfiglio. He was the teacher of the painter Pietro Perugino...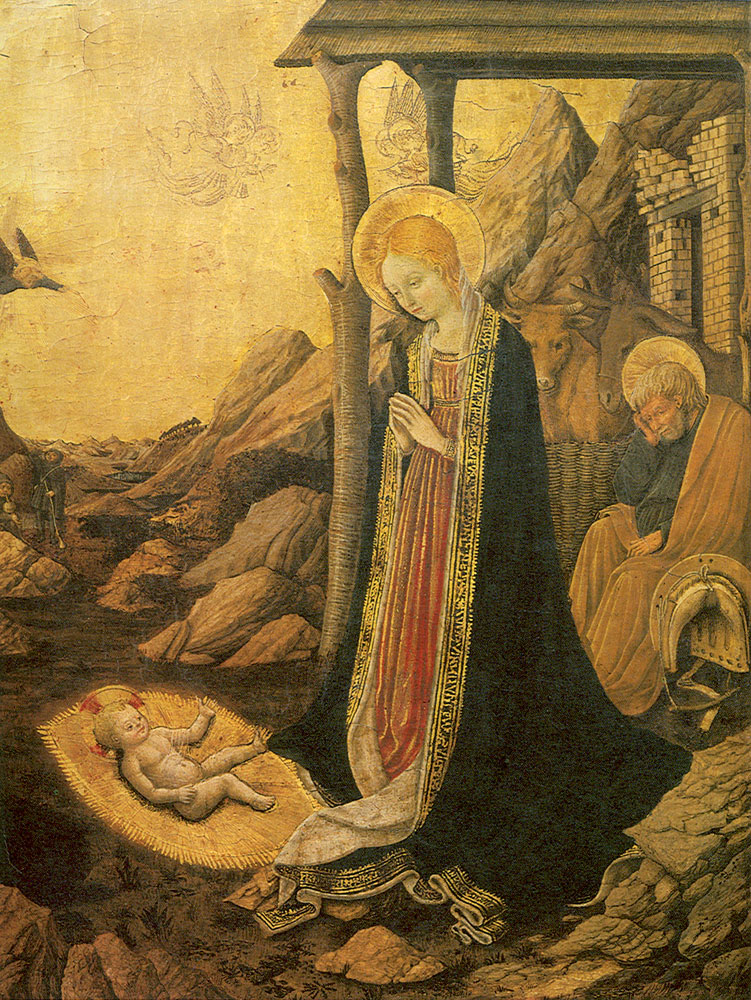 Alessandro di Mariano di Vanni Filipepi, better known as Sandro Botticelli (c. 1445 – May 17, 1510) was an Italian painter of the Early Renaissance. He belonged to the Florentine school under the patronage of Lorenzo de' Medici, a movement that Giorgio Vasari would characterize less than a hundred years later as a "golden age", a thought, suitably enough, he expressed at the head of his Vita of Botticelli. Botticelli's posthumous reputation suffered until the late 19th century; since then his work has been seen to represent the linear grace of Early Renaissance painting. Among his best known works are The Birth of Venus and Primavera...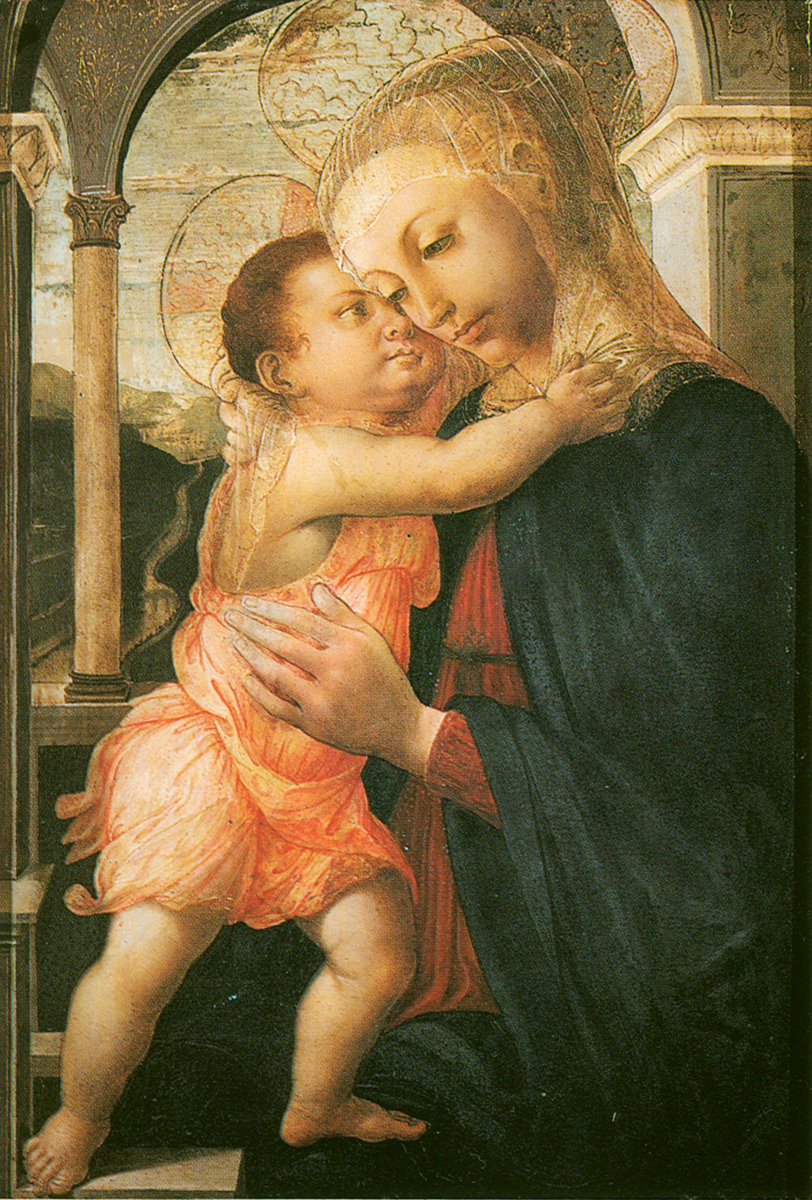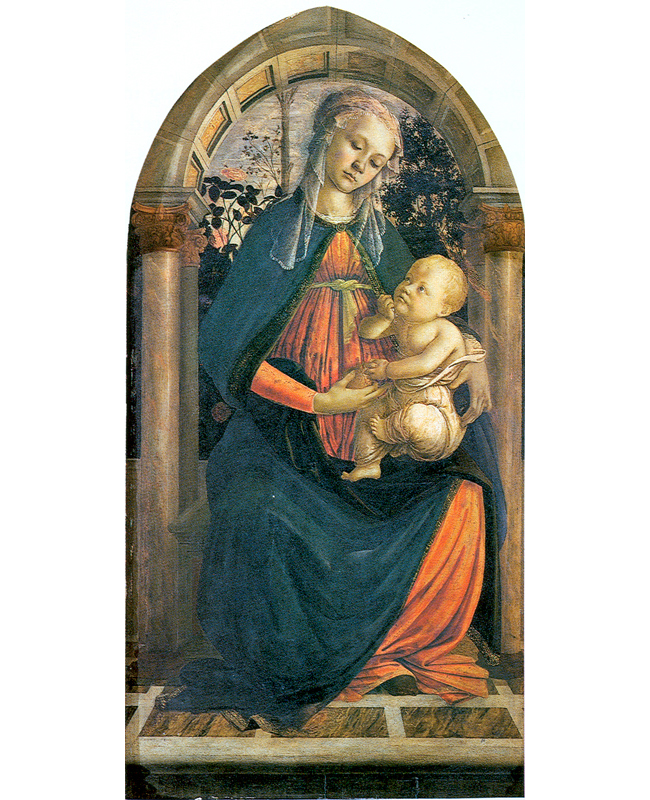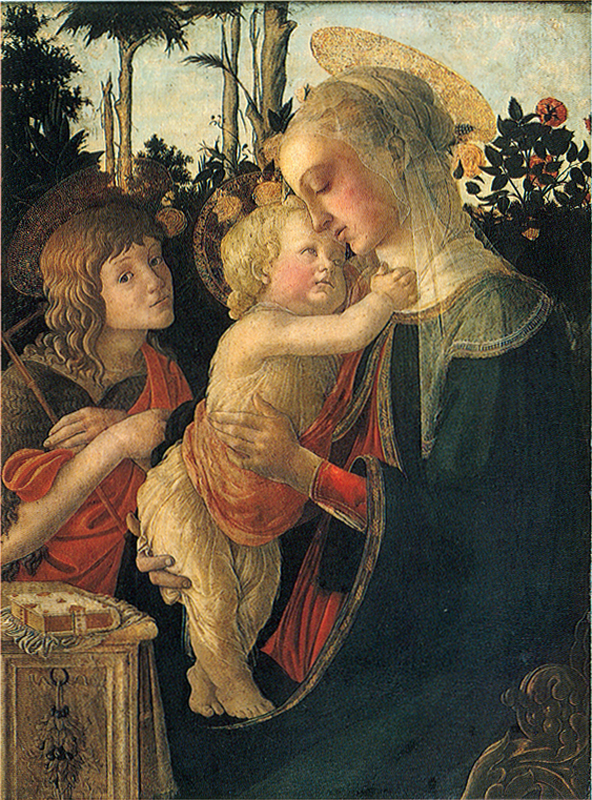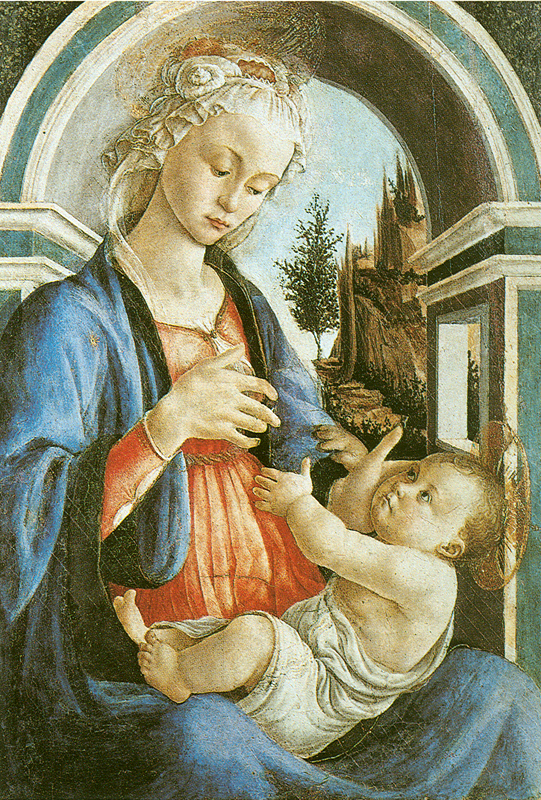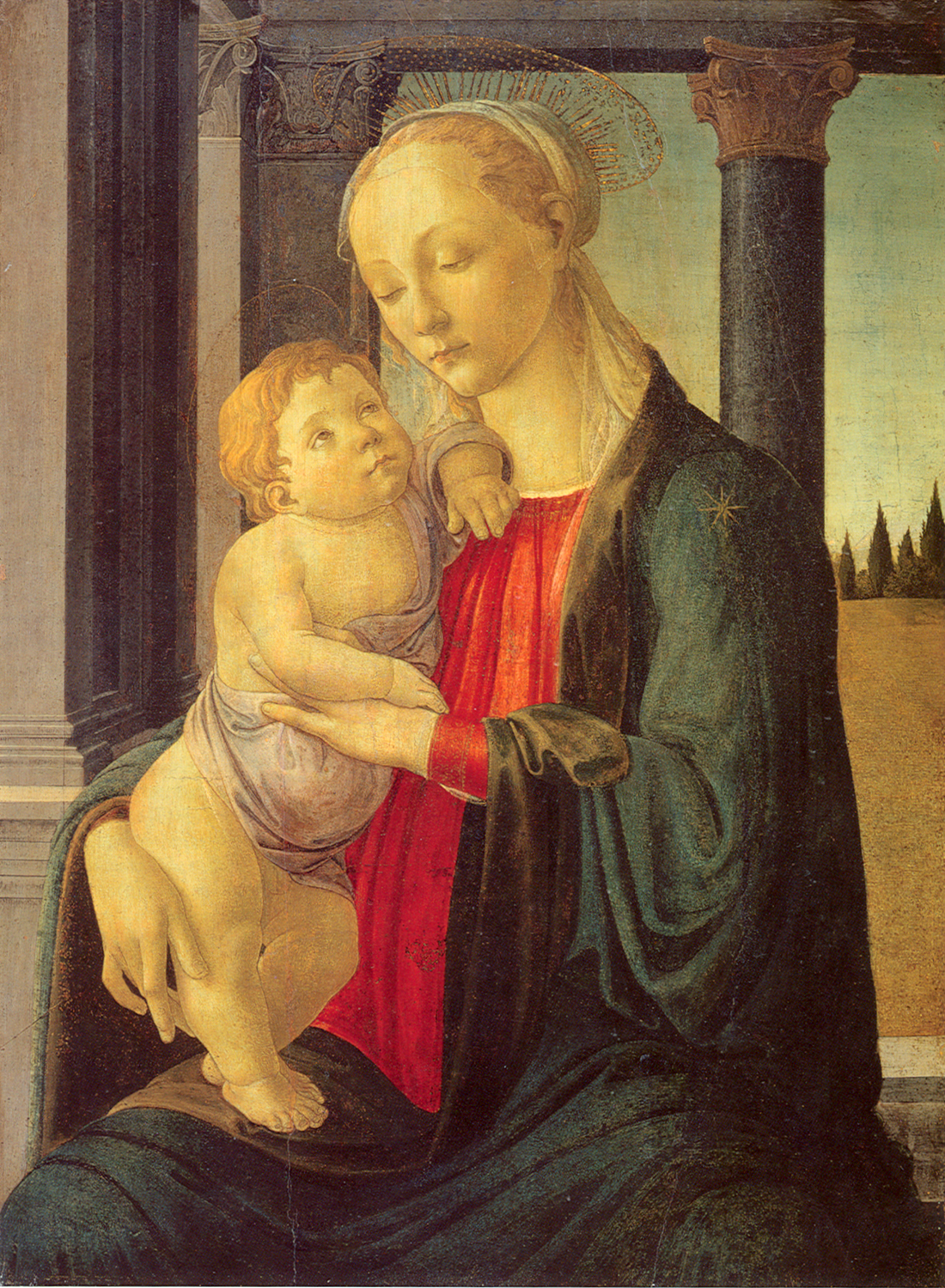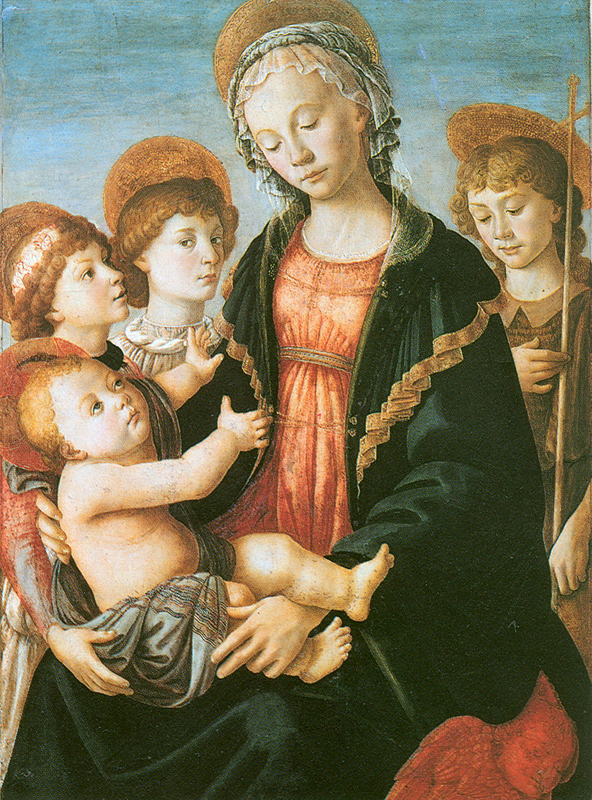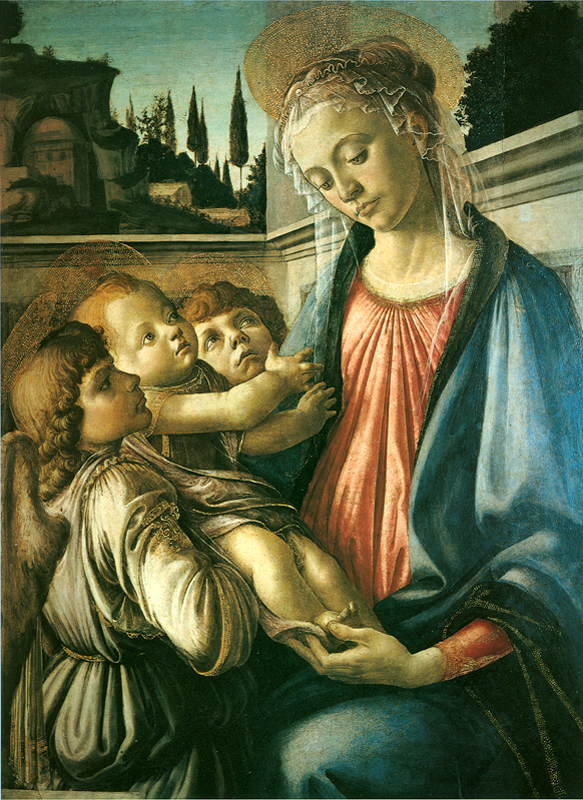 Robert Campin (c. 1375 – 26 April 1444), now usually identified as the artist known as the Master of Flémalle, is usually considered the first great master of Flemish and Early Netherlandish painting. This had been a matter of controversy for decades; Campin's life is relatively well documented for the period,but no works in assessable condition could be securely connected with him, whilst a corpus of work had been attached to the unidentified "Master of Flémalle", named after the supposed origin of a work...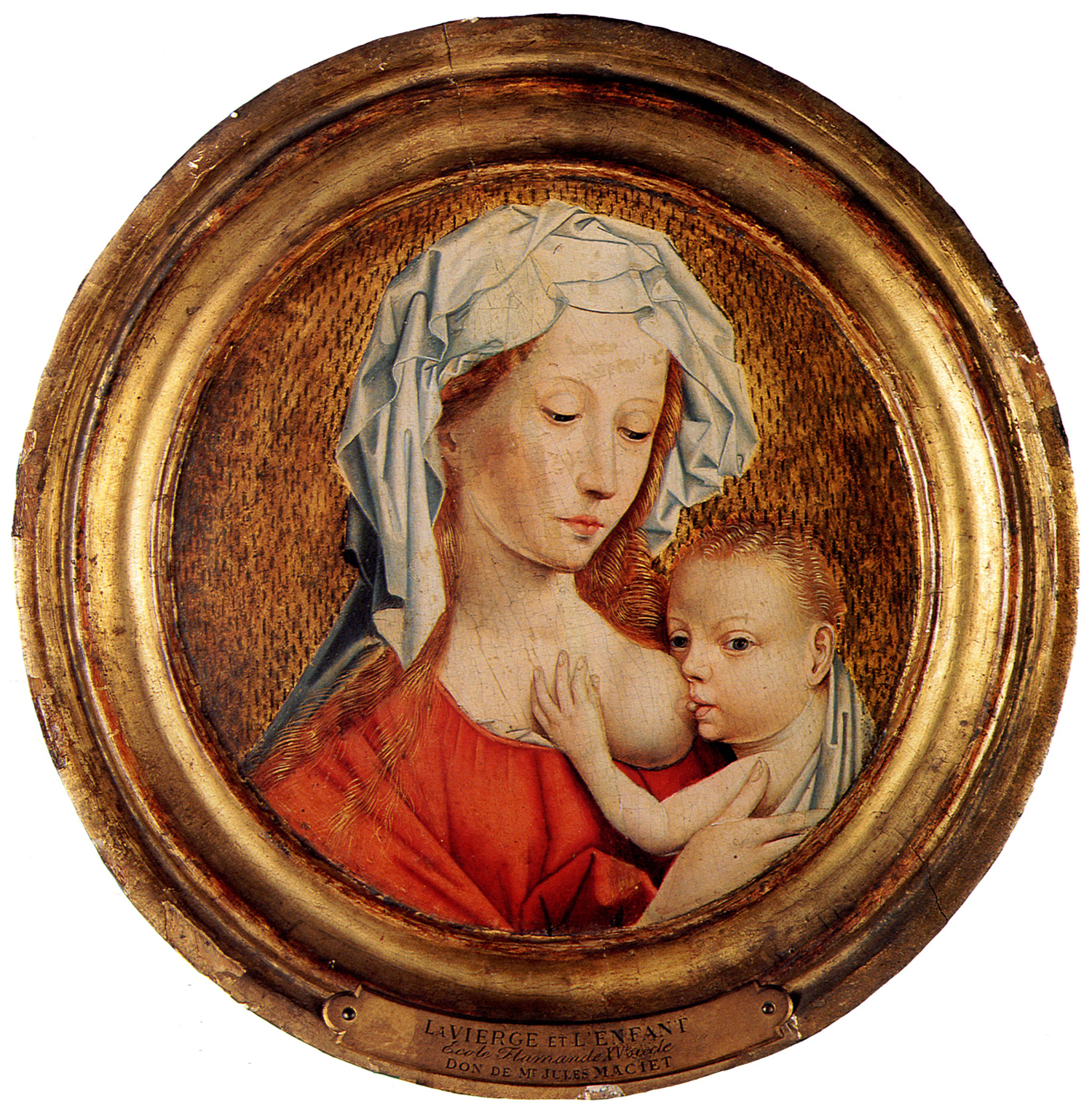 Bartolomeo Caporali (c. 1420-c. 1505 ; active 1454-1499) was an Italian painter born and active in Perugia. He painted a Madonna and Saints (1487) for the church of Santa Maria Maddalena at Castiglione del Lago...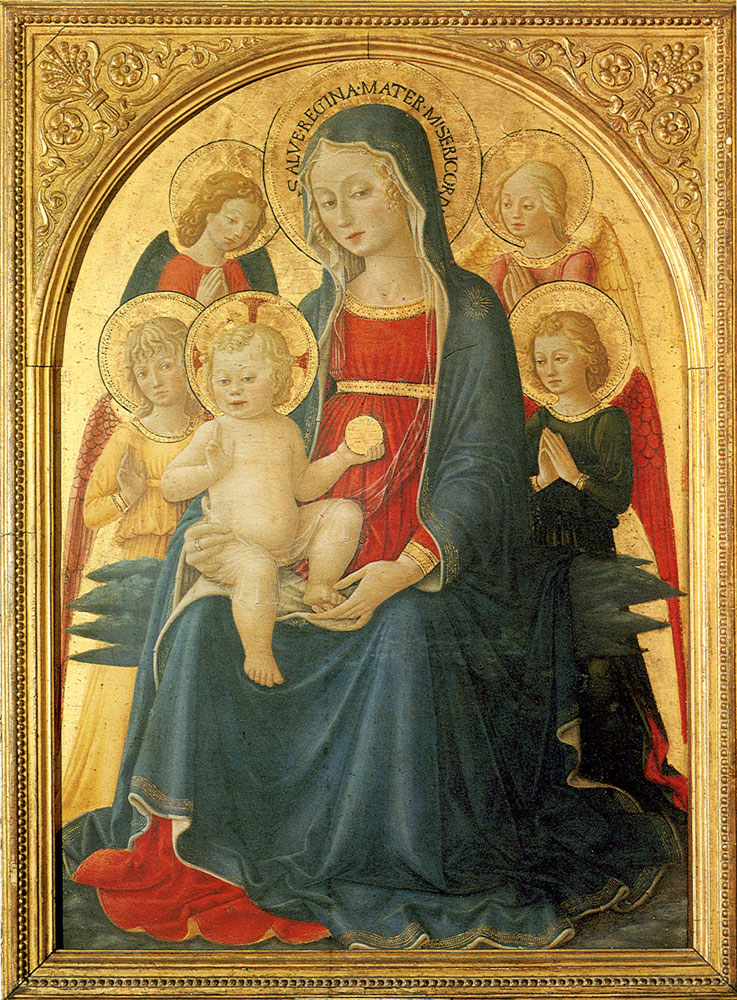 Vittore Carpaccio (c. 1465 – 1525/1526) was an Italian painter of the Venetian school, who studied under Gentile Bellini. He is best known for a cycle of nine paintings, The Legend of Saint Ursula. His style was somewhat conservative, showing little influence from the Humanist trends that transformed Italian Renaissance painting during his lifetime. He was influenced by the style of Antonello da Messina and Early Netherlandish art. For this reason, and also because so much of his best work remains in Venice, his art has been rather neglected by comparison with other Venetian contemporaries, such as Giovanni Bellini or Giorgione...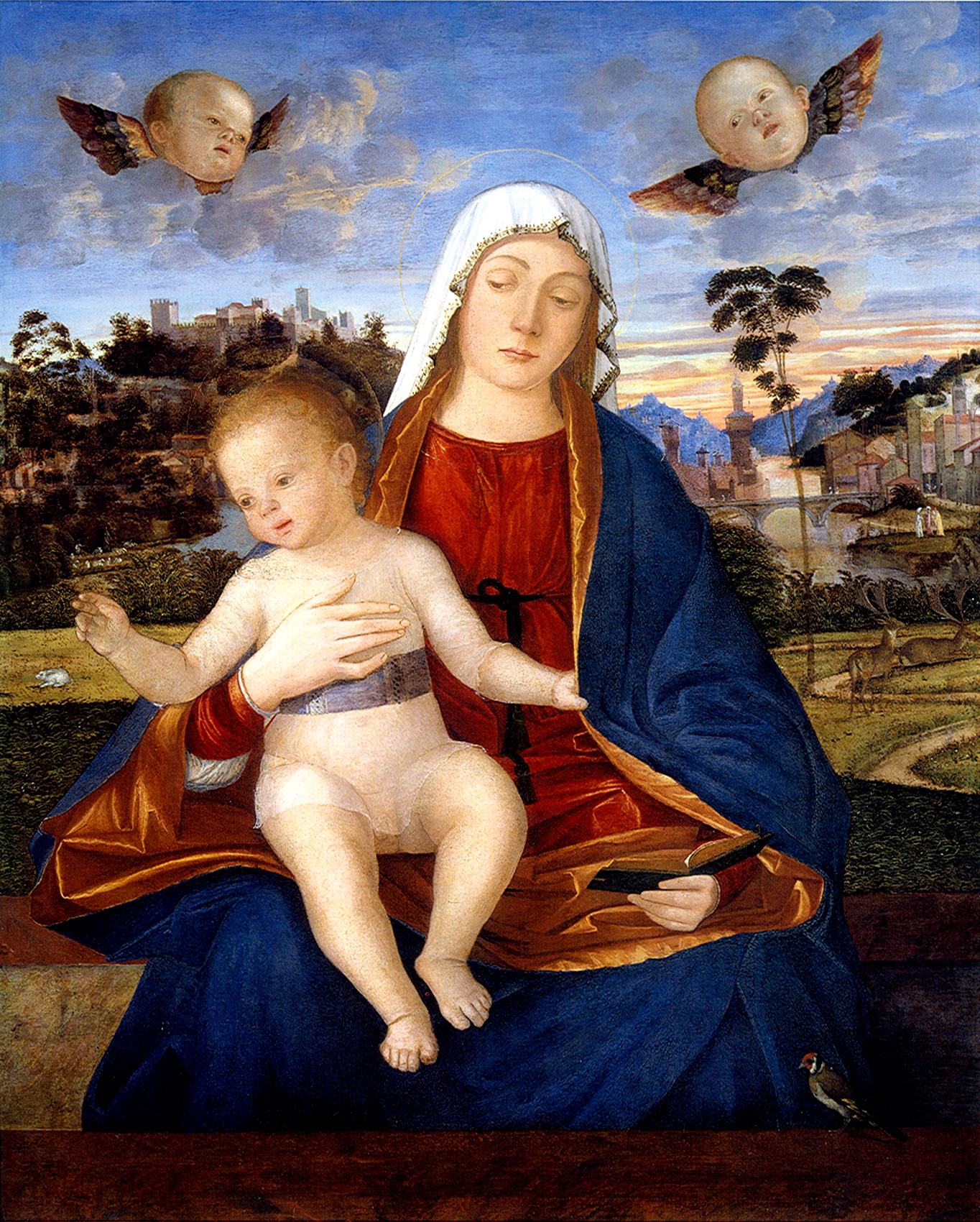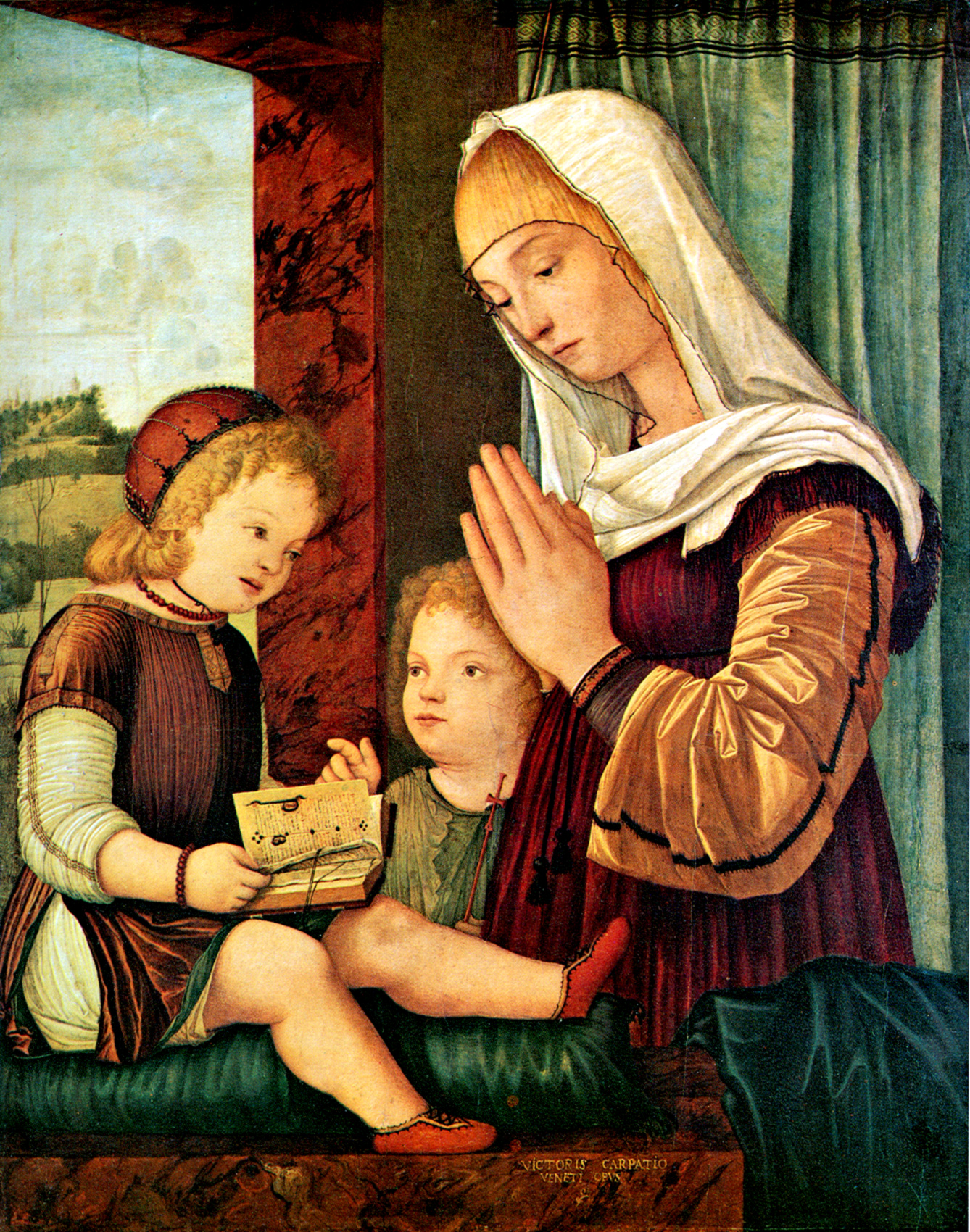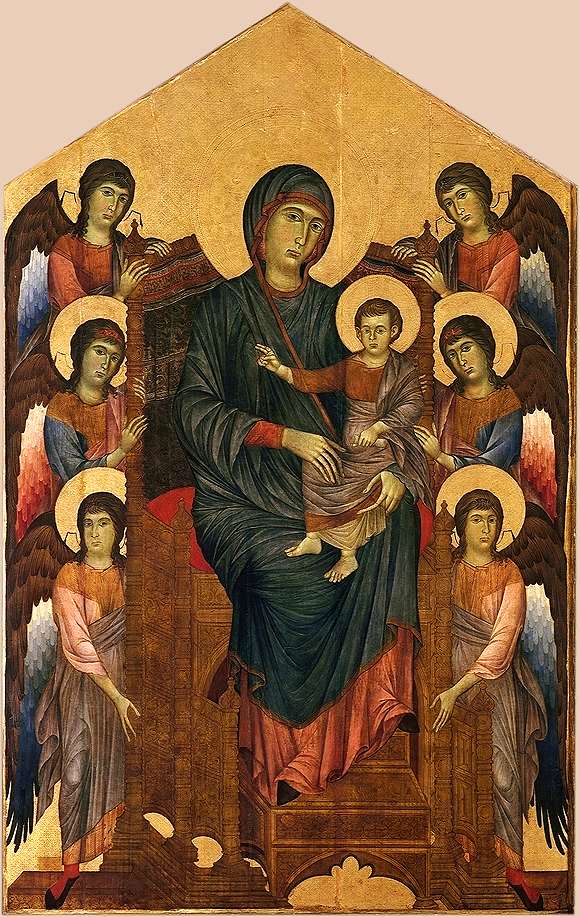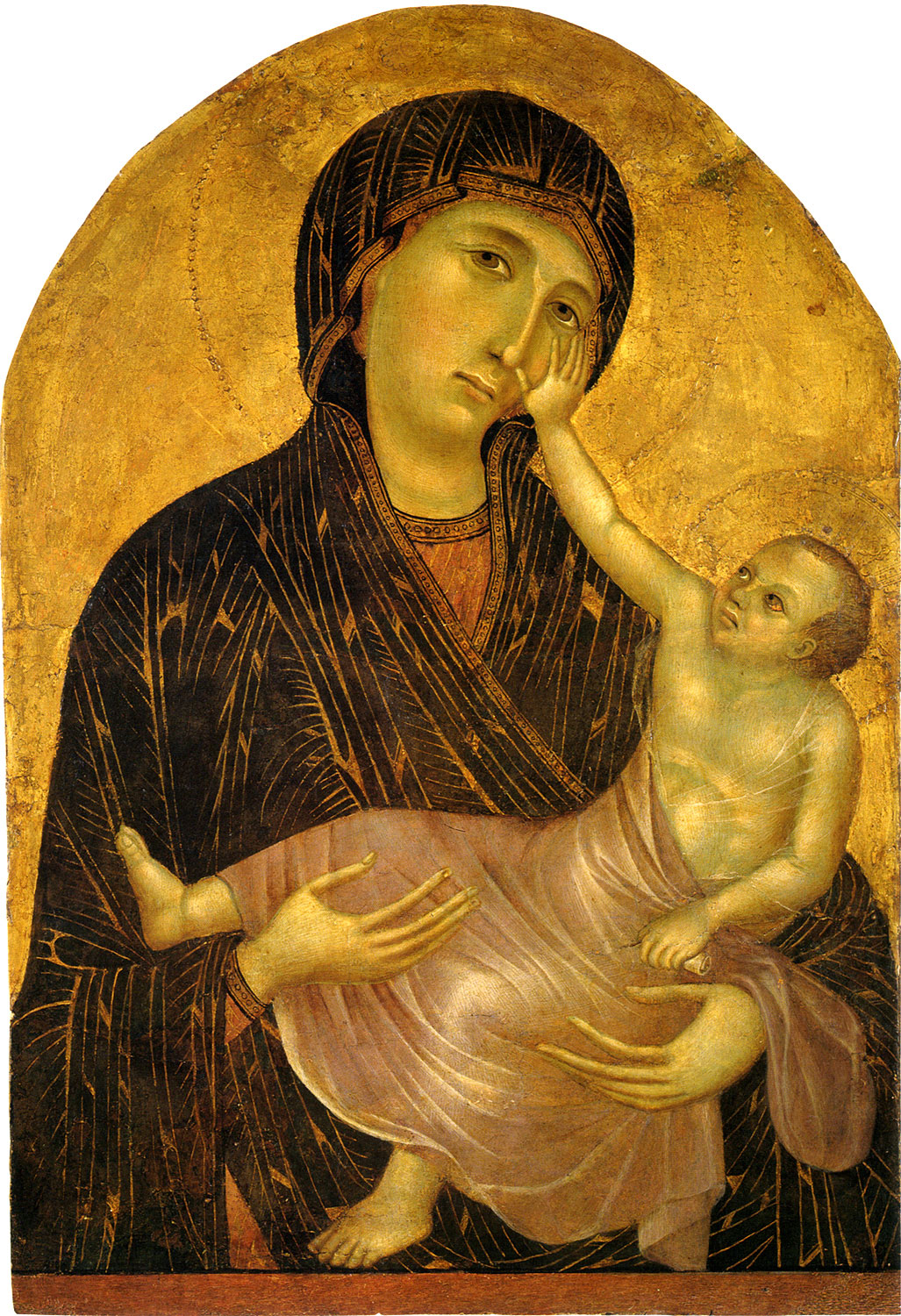 Antonio Allegri da Correggio (August 1489 – March 5, 1534), usually known as Correggio, was the foremost painter of the Parma school of the Italian Renaissance, who was responsible for some of the most vigorous and sensuous works of the 16th century. In his use of dynamic composition, illusionistic perspective and dramatic foreshortening, Correggio prefigured the Rococo art of the 18th century...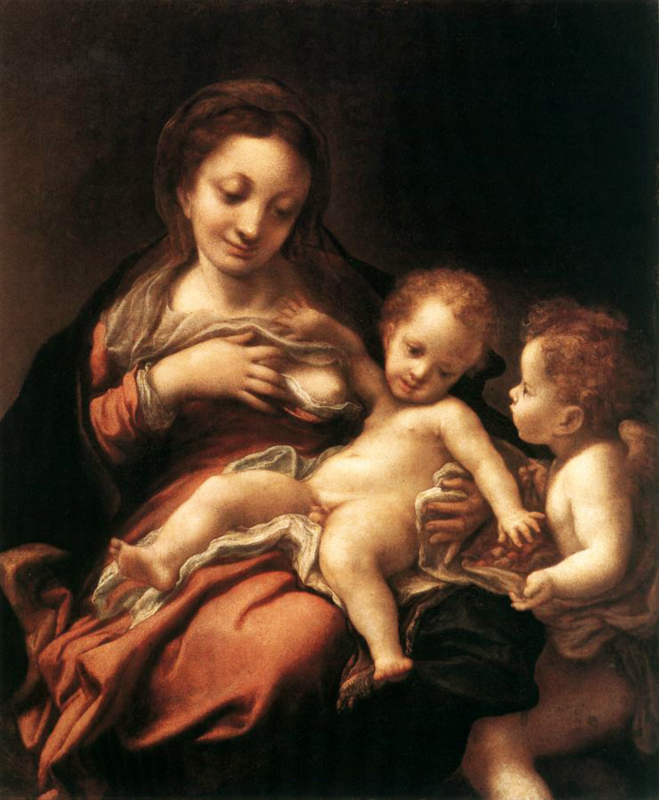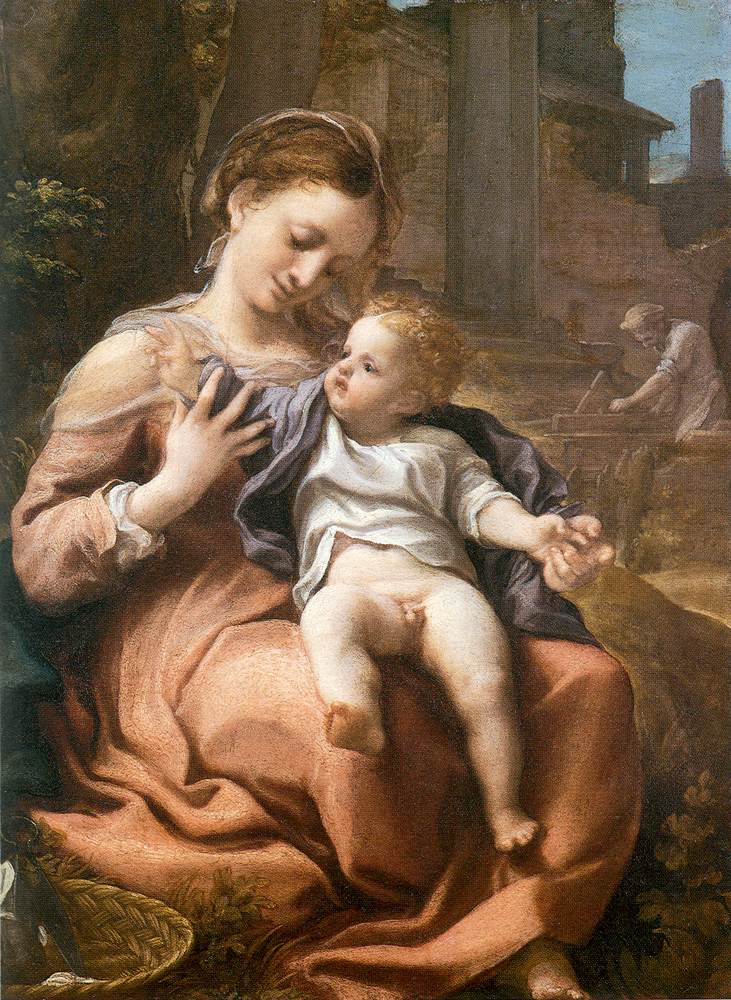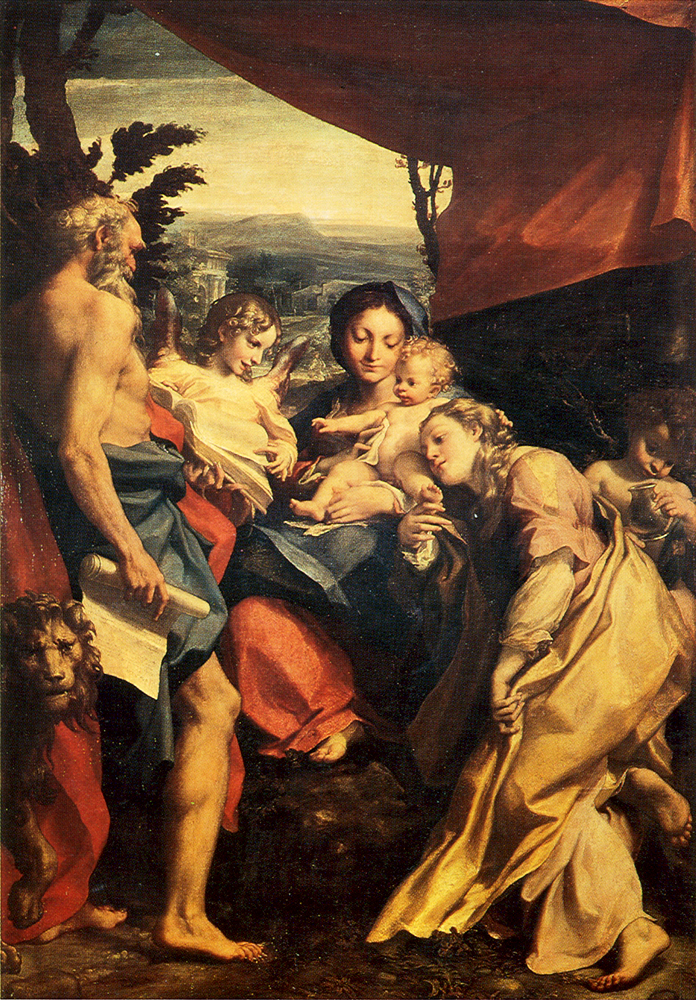 Carlo Crivelli (c. 1435 – c. 1495) was an Italian Renaissance painter of conservative Late Gothic decorative sensibility,who spent his early years in the Veneto, where he absorbed influences from the Vivarini, Squarcione and Mantegna. By 1458 he left the Veneto and was never to return; he spent most of the remainder of his career in the March of Ancona, where he developed a distinctive personal style that makes a contrast to his Venetian contemporary Giovanni Bellini...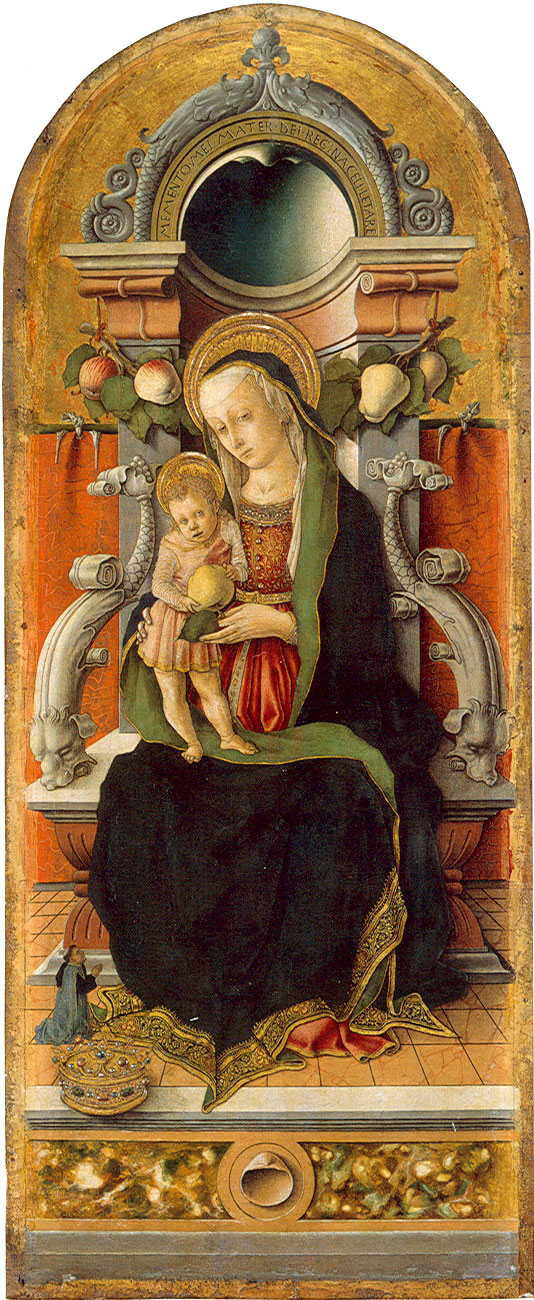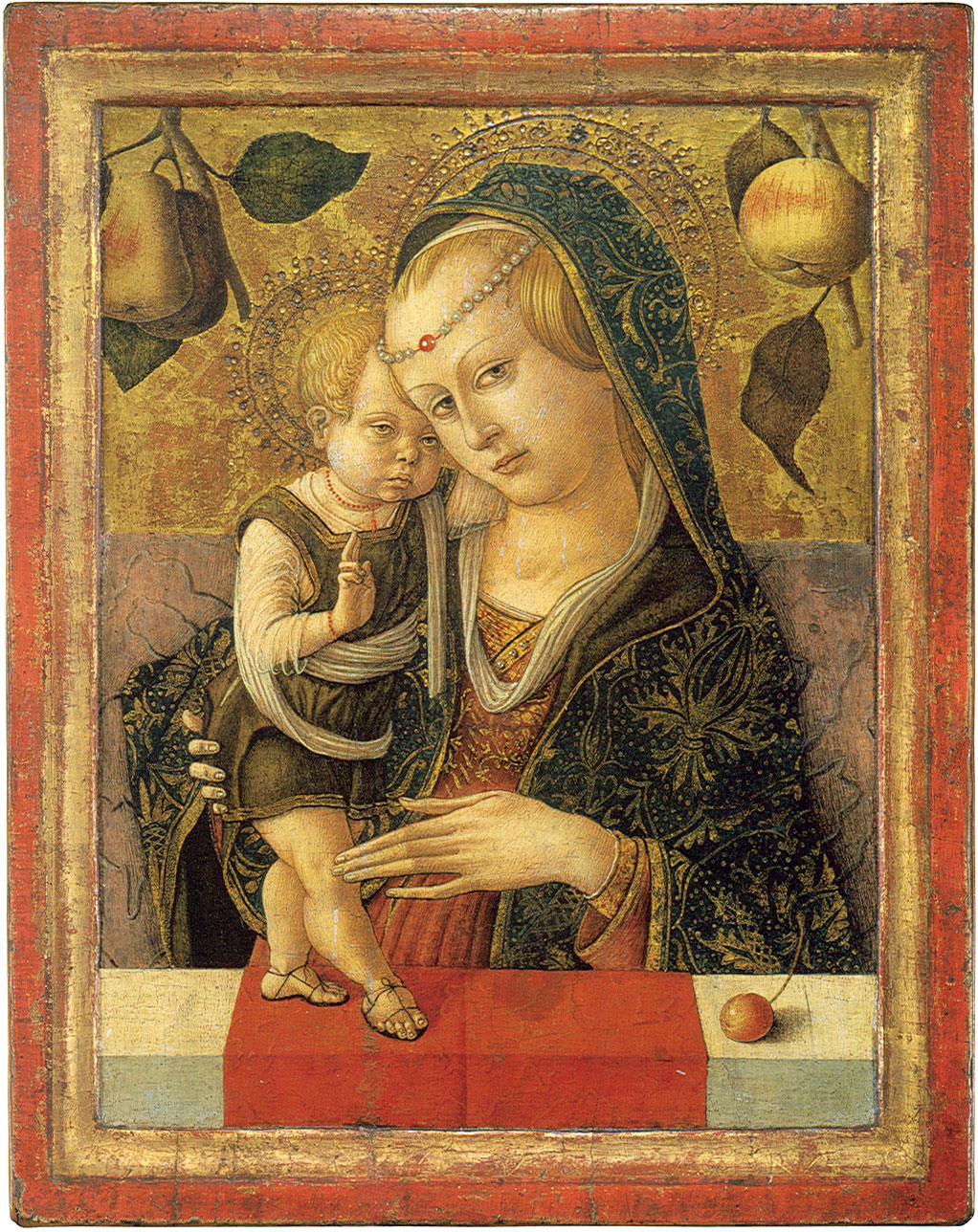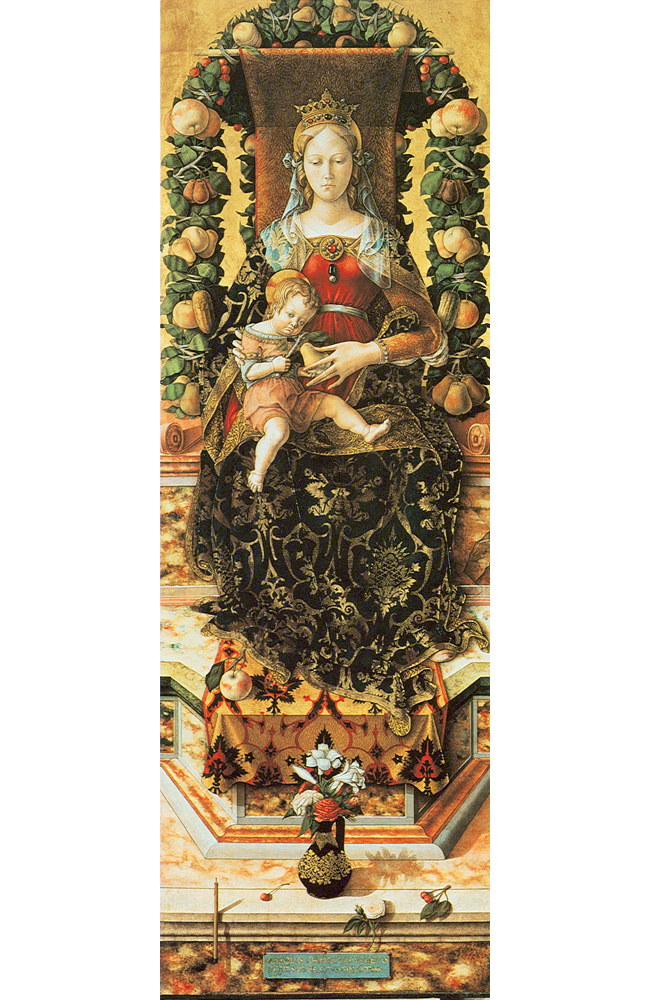 Gerard David (c. 1460 – 13 August 1523) was an Early Netherlandish painter and manuscript illuminator known for his brilliant use of color...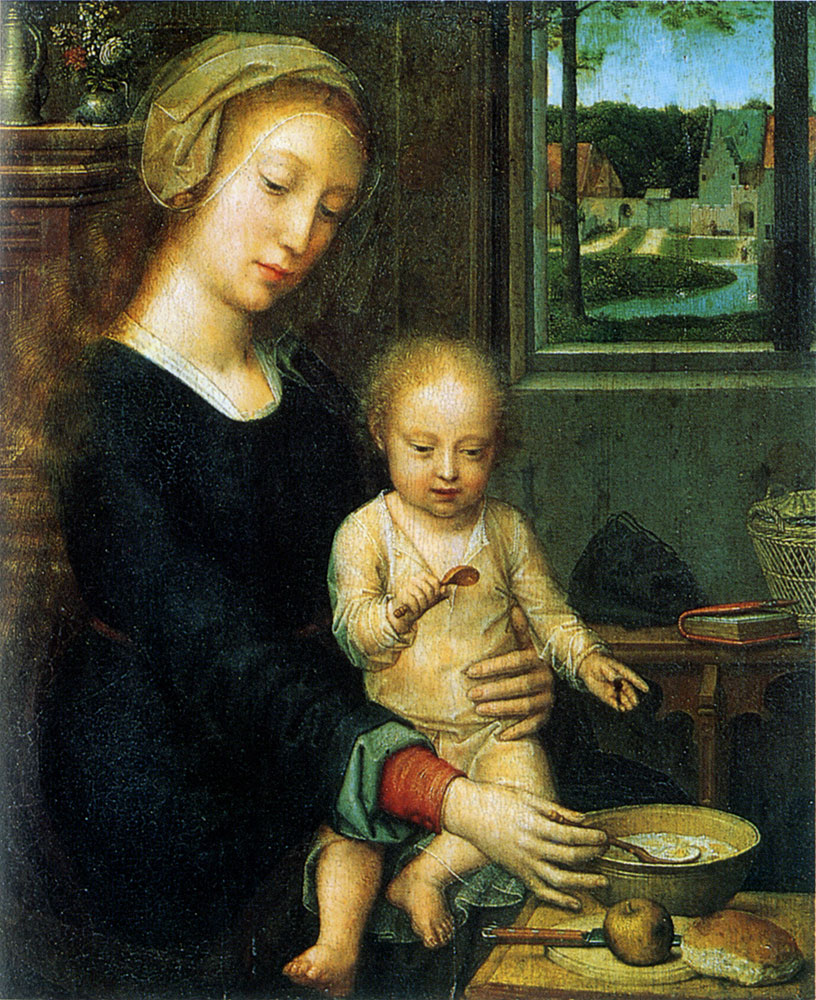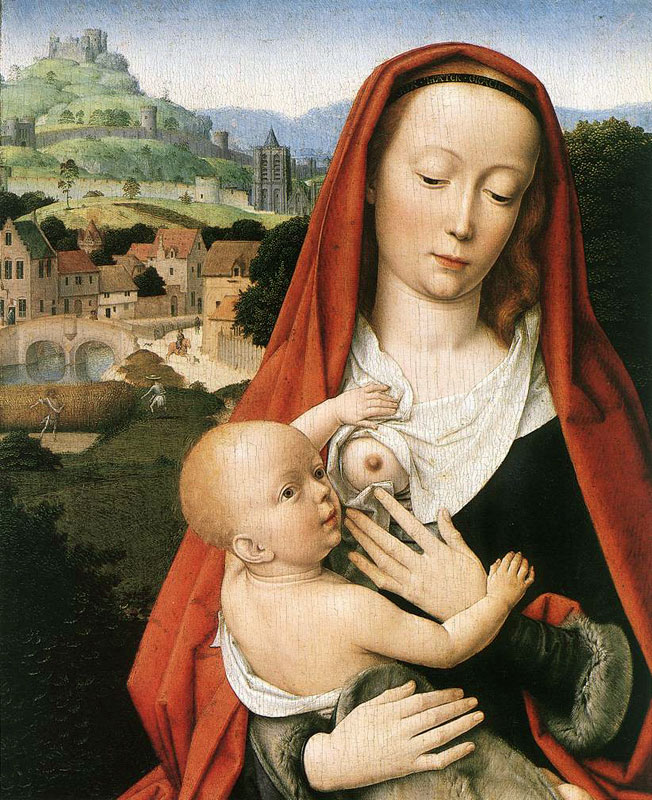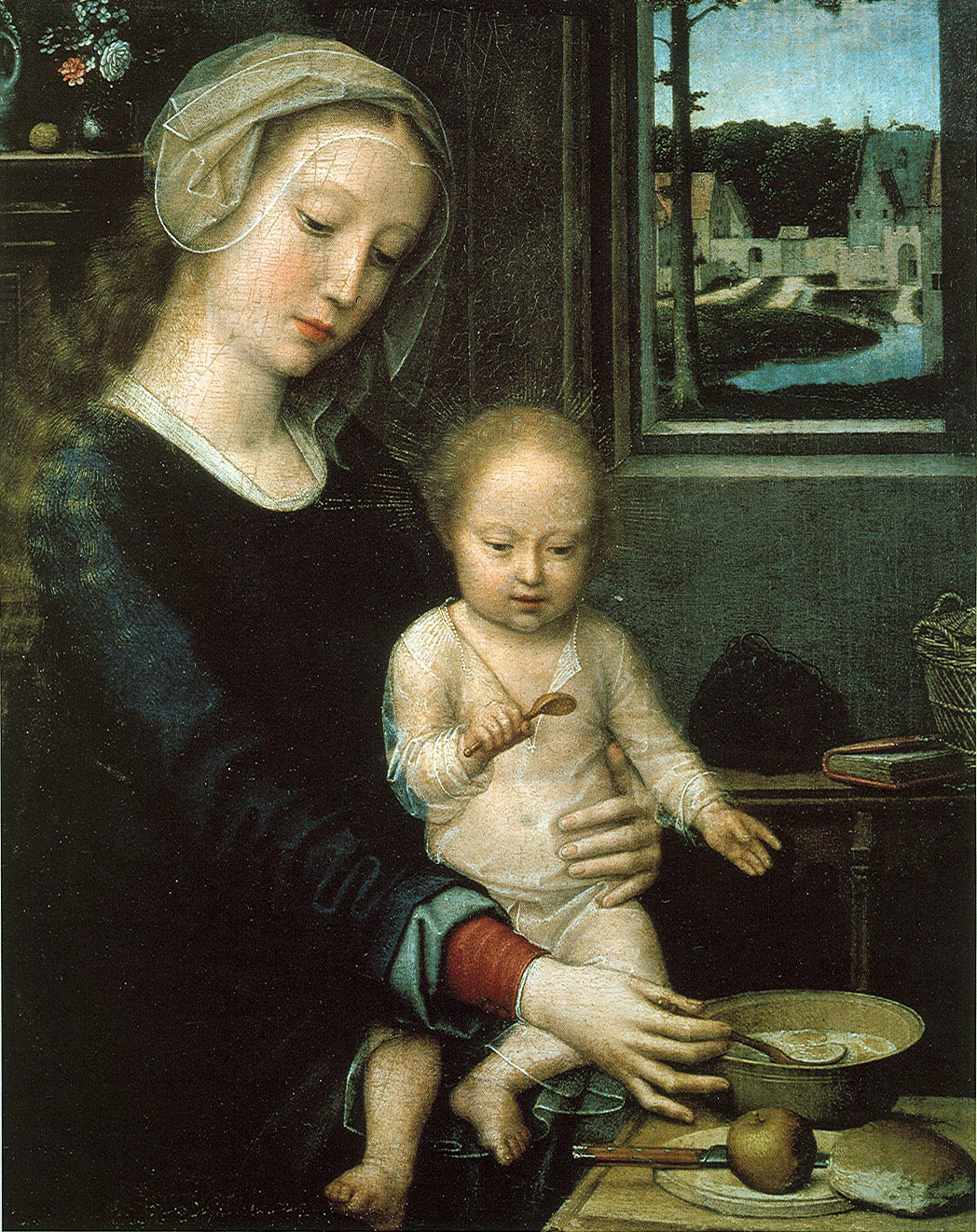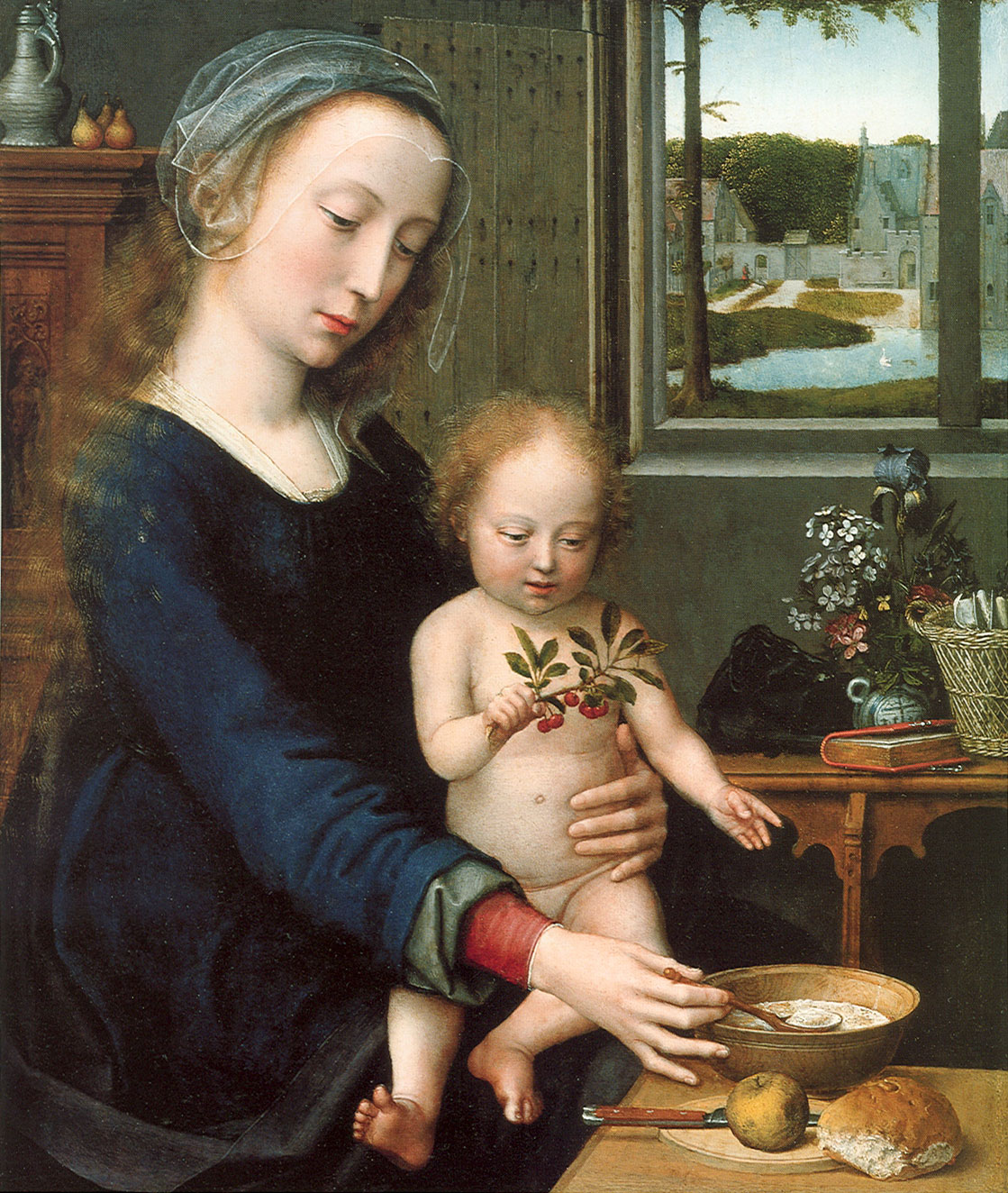 Dietisalvi di Speme was an Italian painter, who worked in Siena between 1250 to 1291... His work influenced Cimabue.Some of his work is preserved in the State Archives in Siena. His Madonna and Child with Angels is in the Pinacoteca di Siena. He collaborated with Guido da Siena....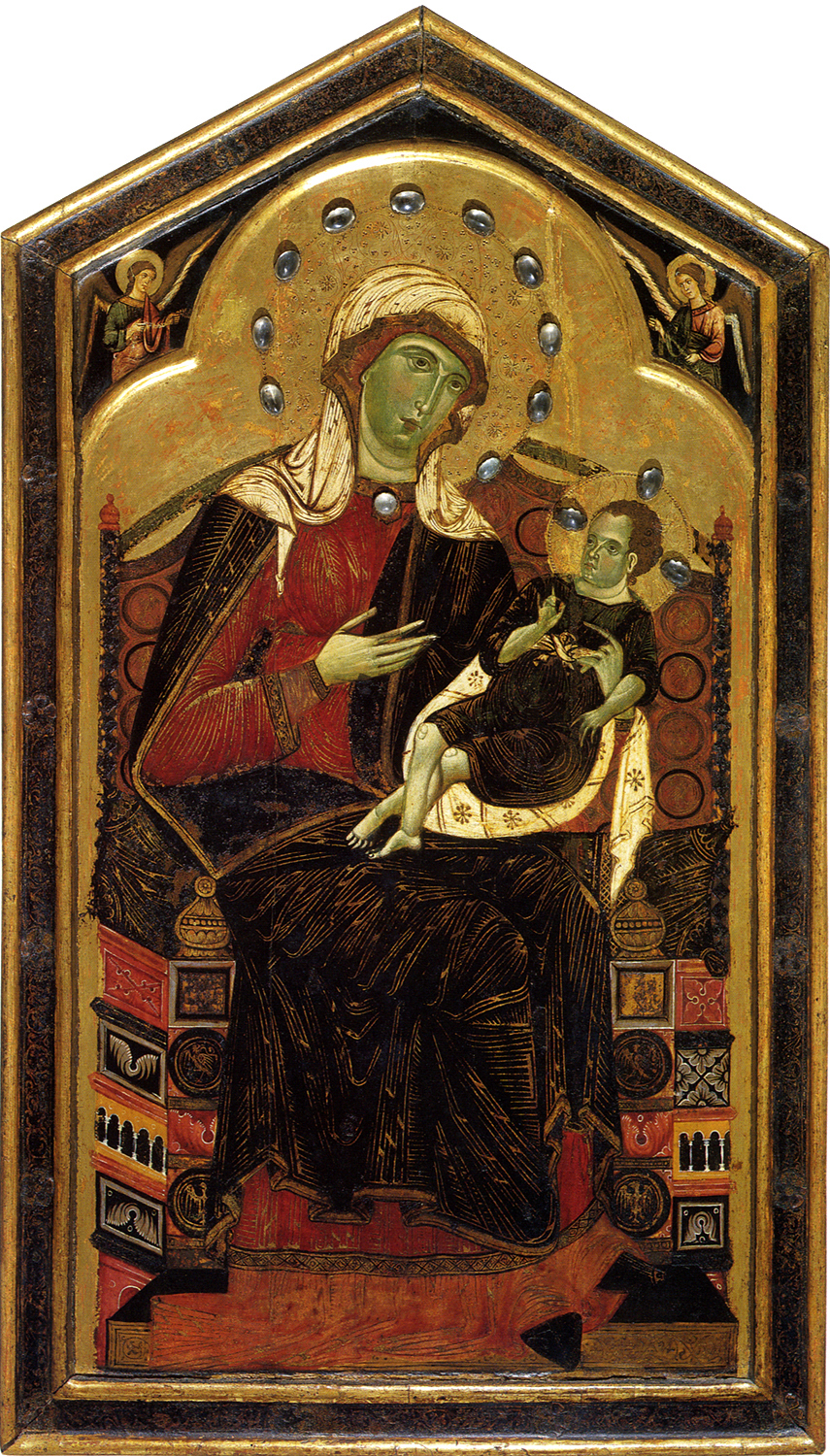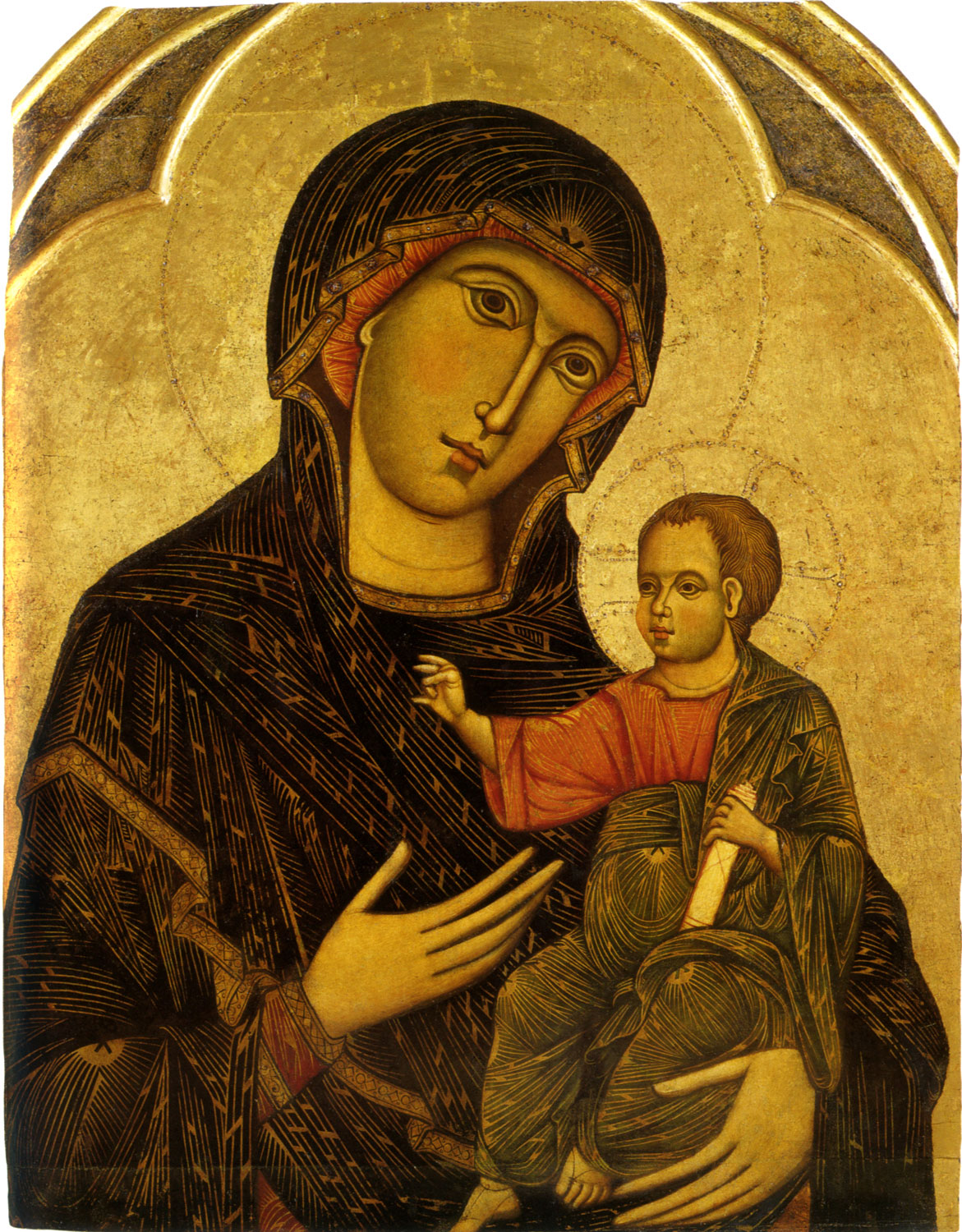 Domenico di Bartolo (c. 1400/1404 – 1445/1447) was an Italian painter of the Sienese School... He was born in Asciano. According to Vasari, he was a nephew of Taddeo di Bartolo. He was employed by Vecchietta in the masterpiece fresco The Care of the Sick in the Pellegrinaio (Pilgrim's Hall) of the Ospedale di Santa Maria della Scala in Siena... It portrays wealthy donors visiting the hospital to men washing the ill, and a fatty friar hearing confession. In 1434, he also painted a fresco panel of Emperor Sigismund Enthroned for the Siena Cathedral... Domenico died in Siena around 1445...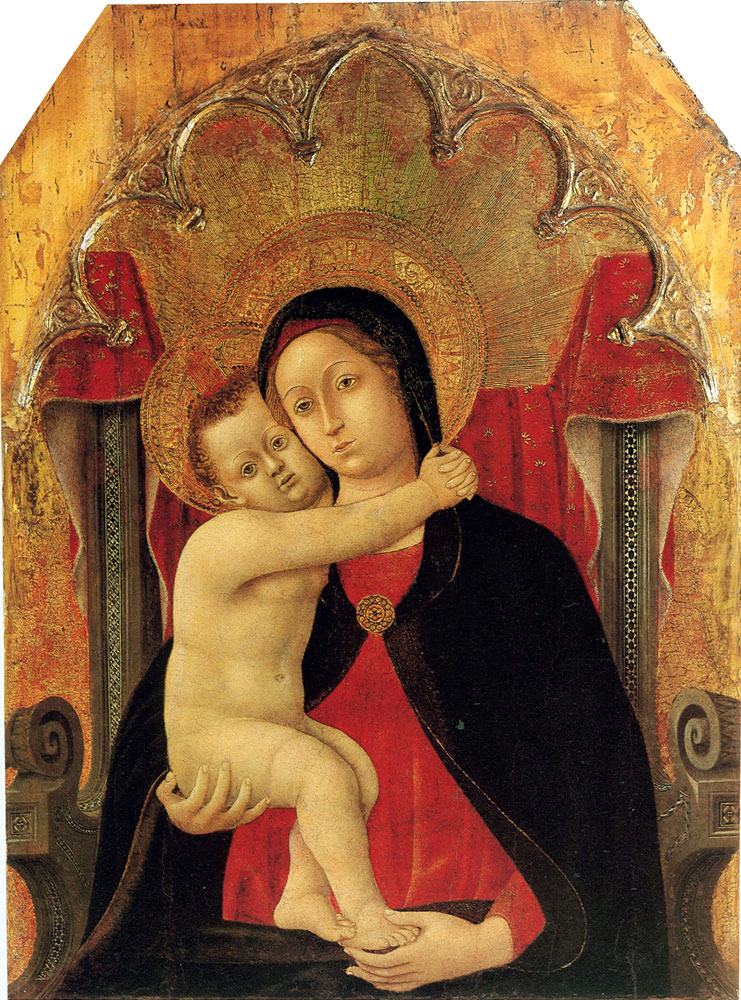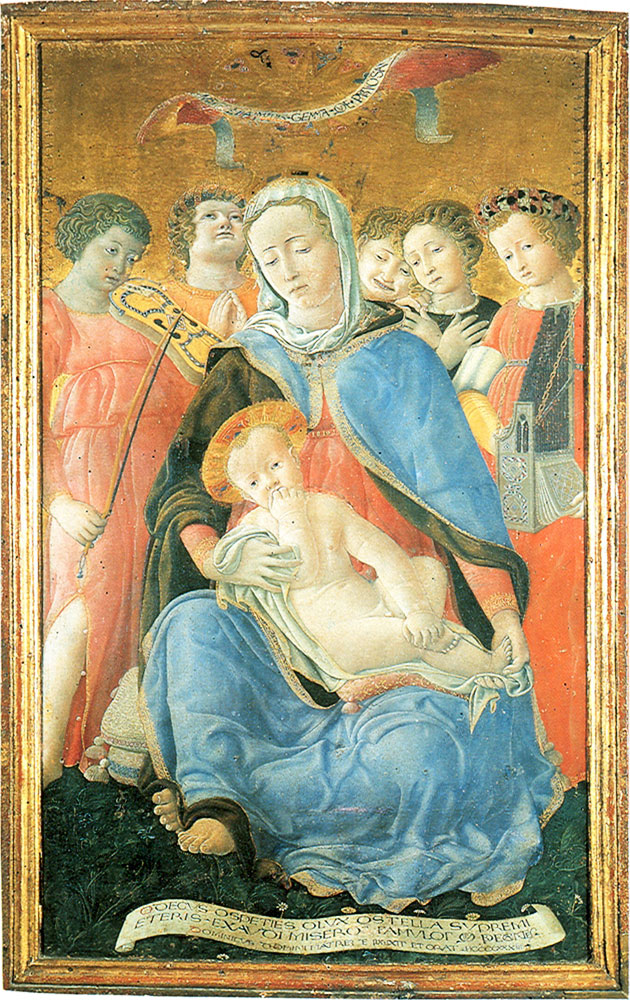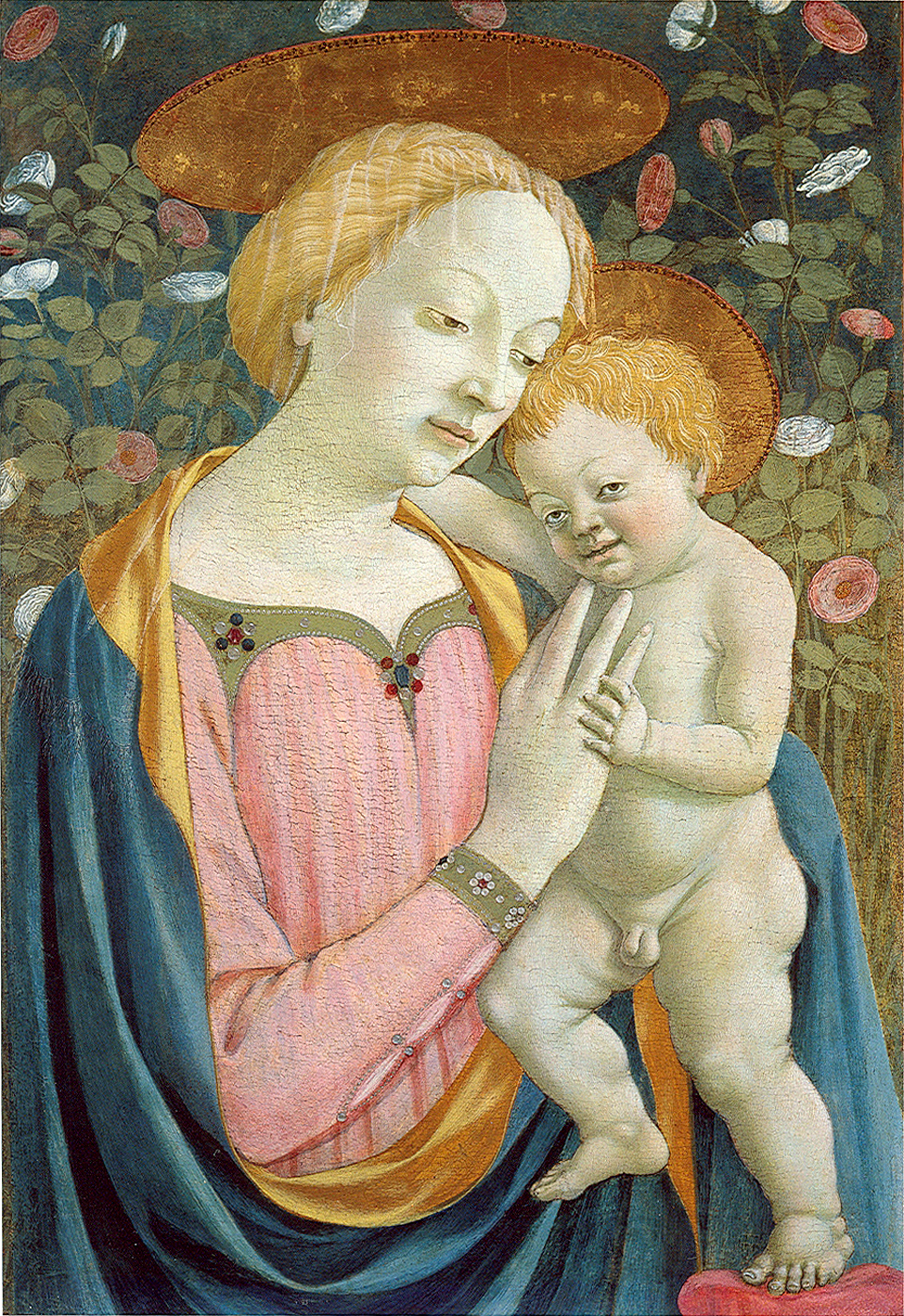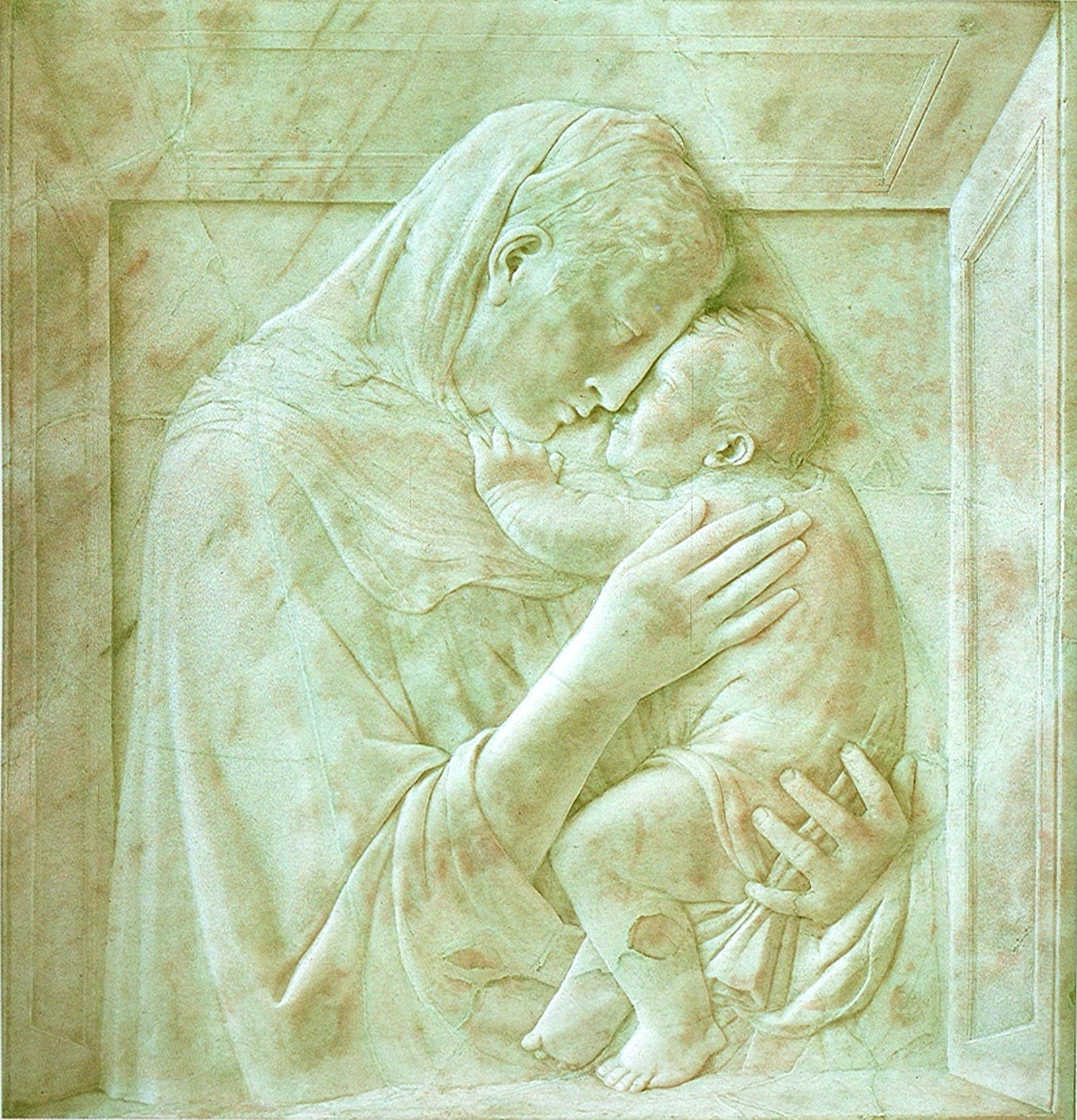 Duccio di Buoninsegna (c. 1255-1260 – c. 1318-1319) was one of the most influential Italian artists of his time. Born in Siena, Tuscany, he worked mostly with pigment and egg tempera and like most of his contemporaries painted religious subjects. He influenced Simone Martini and the brothers Ambrogio and Pietro Lorenzetti, among others...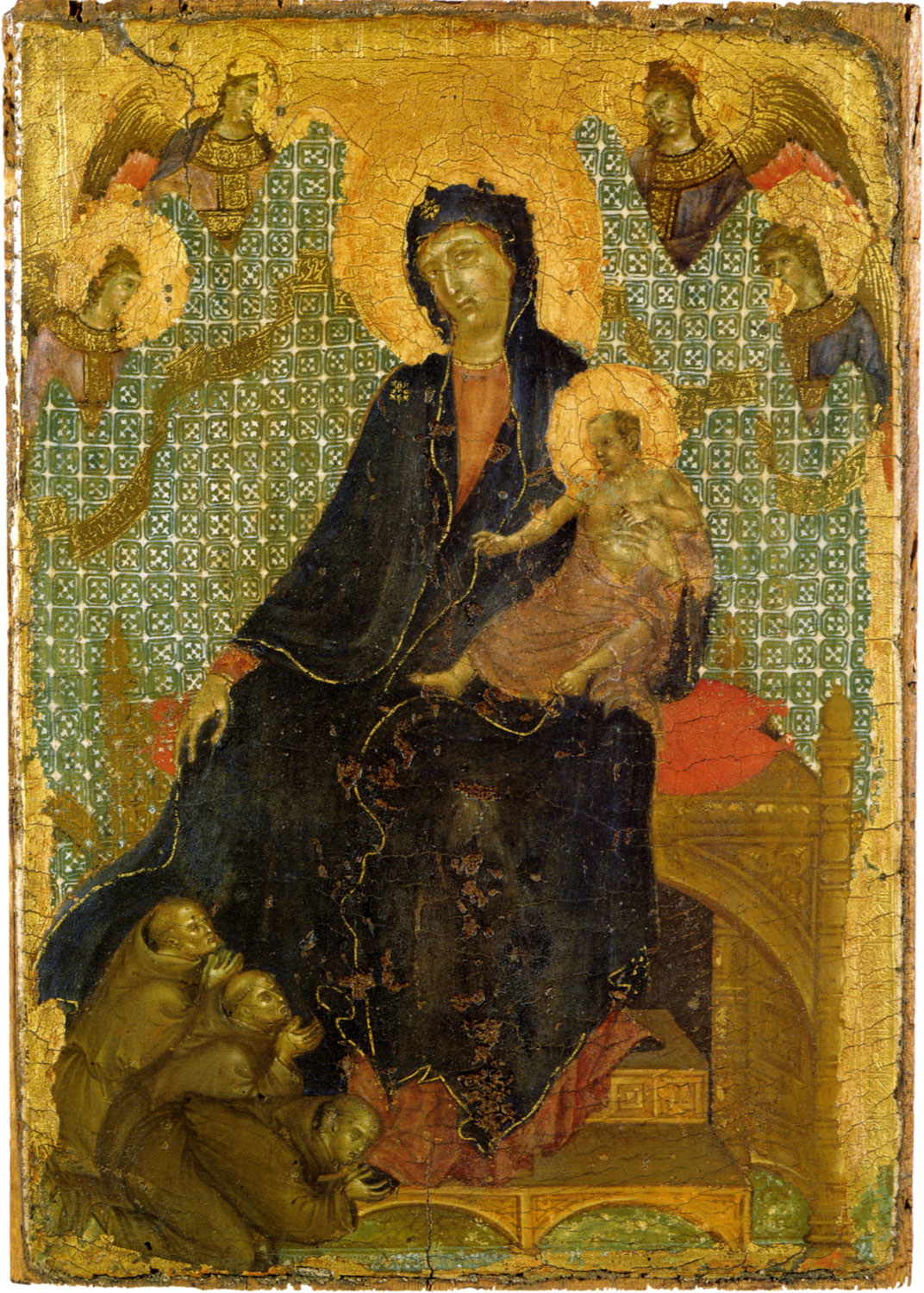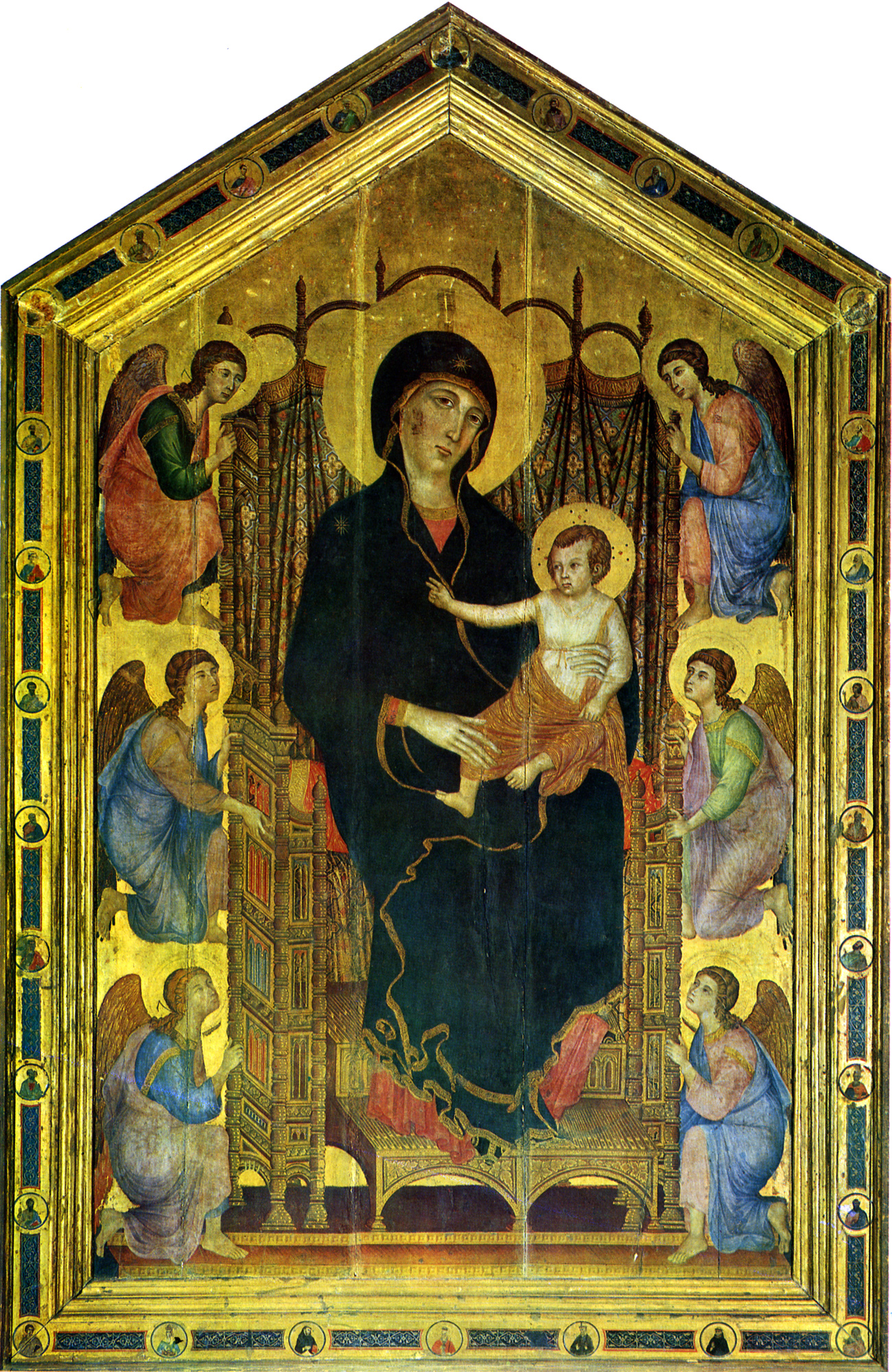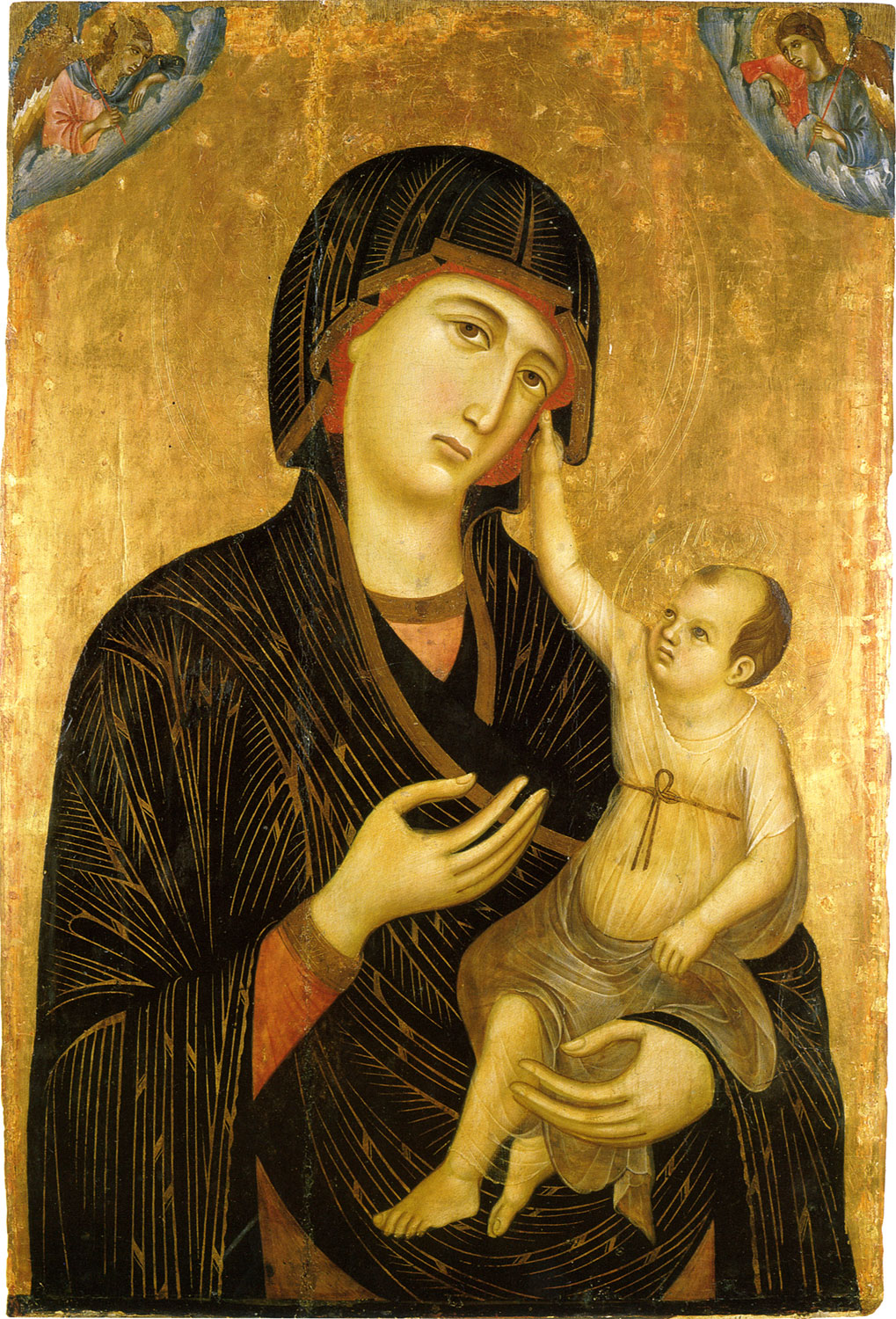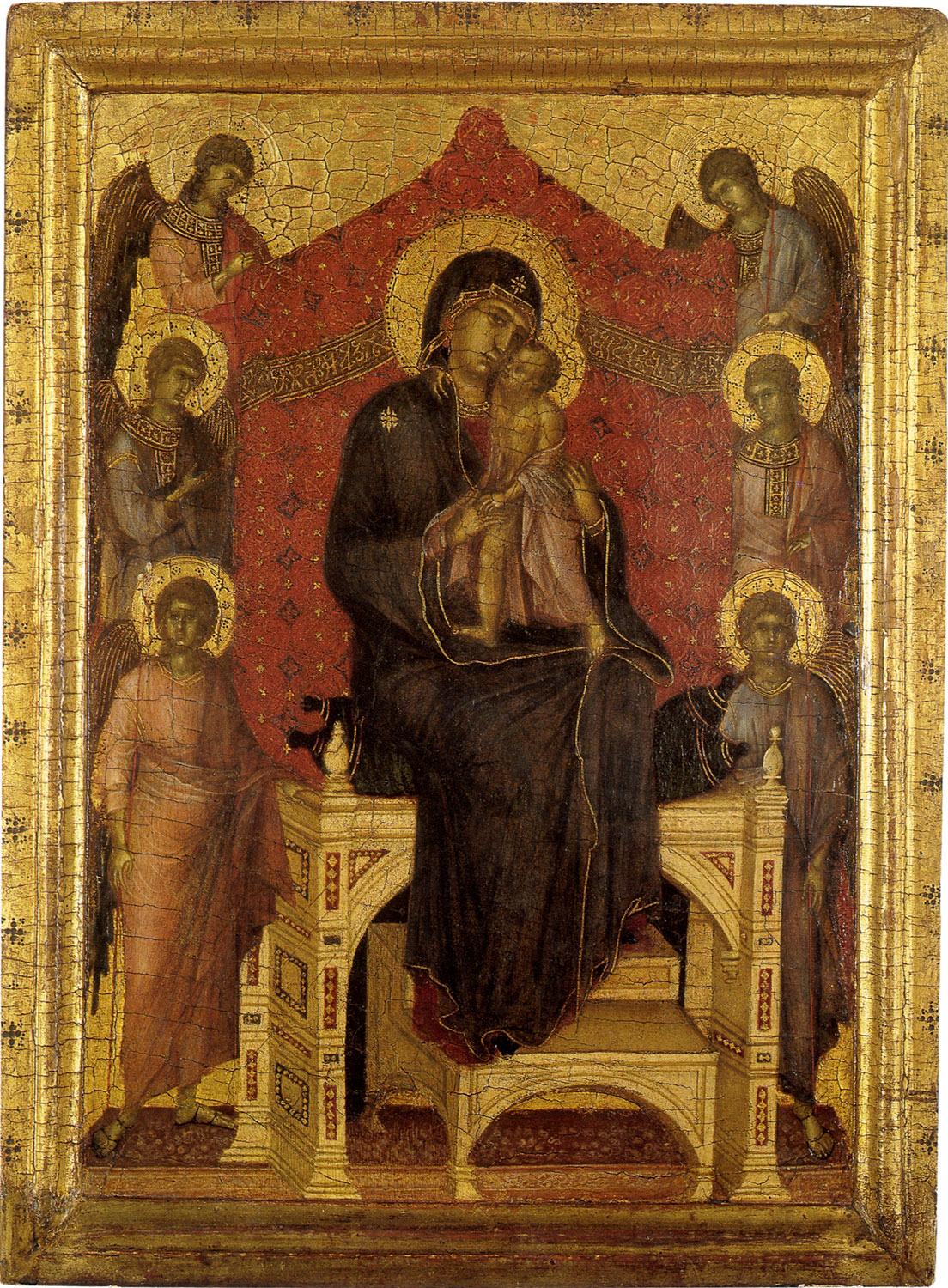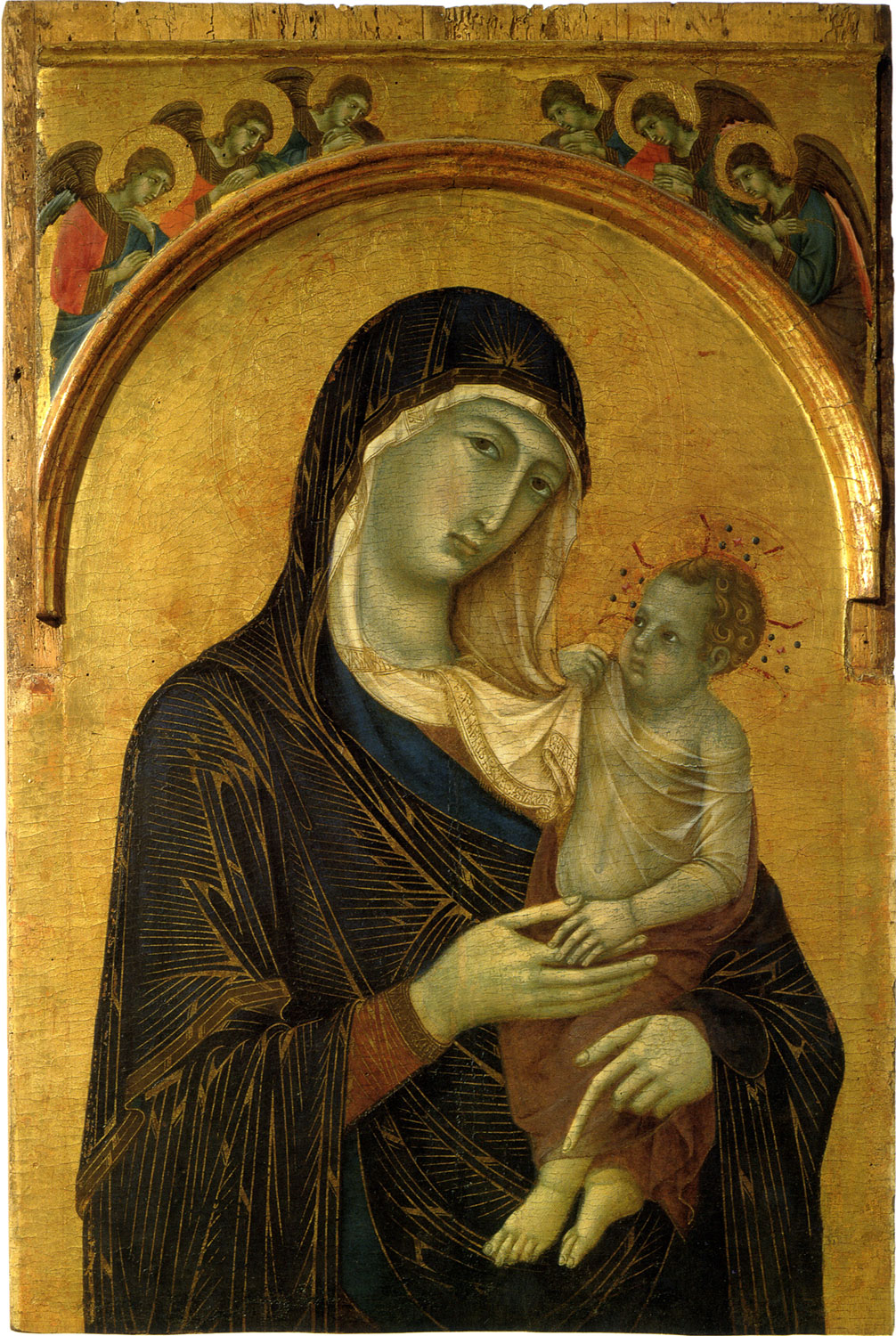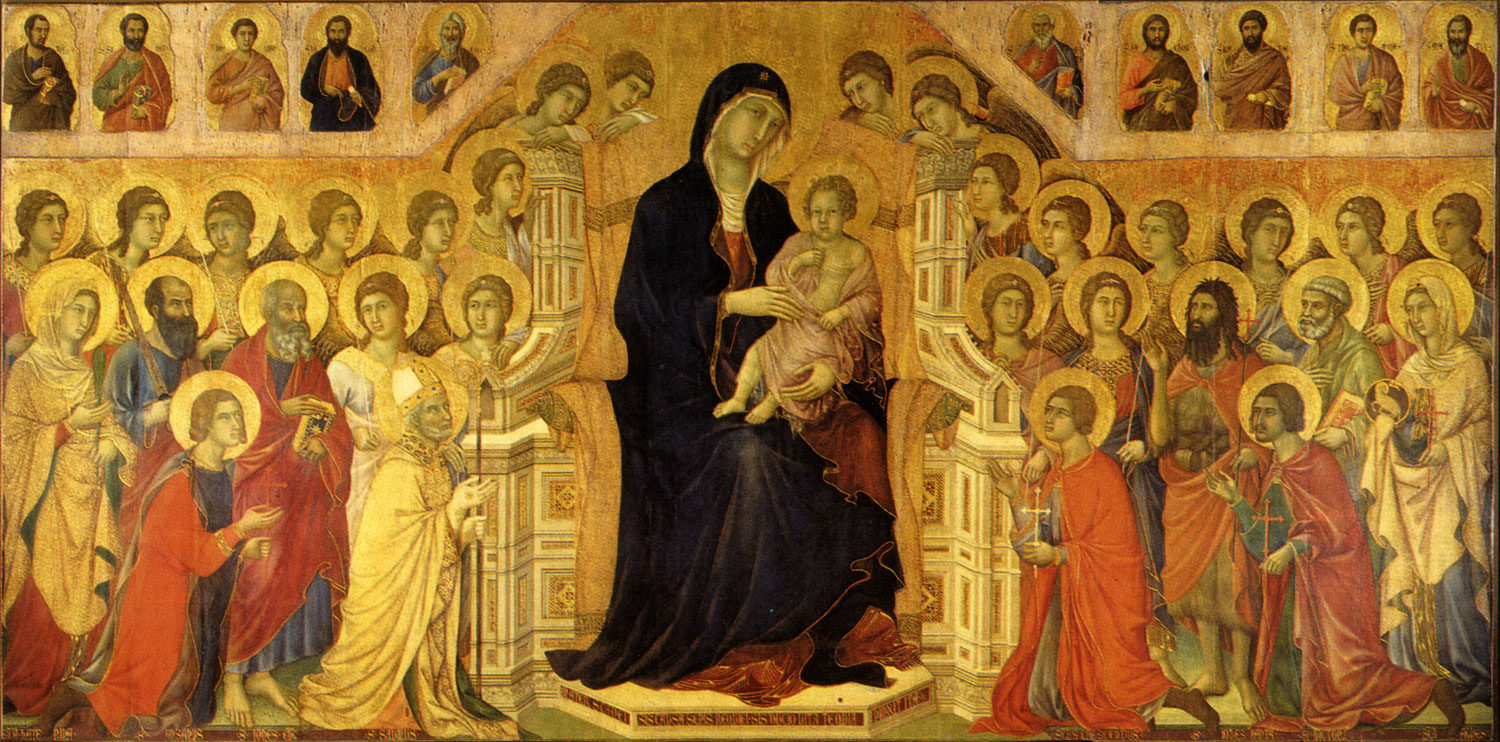 Albrecht Dürer ( 21 May 1471 – 6 April 1528) was a German painter, printmaker, engraver, mathematician, and theorist from Nuremberg. His prints established his reputation across Europe when he was still in his twenties, and he has been conventionally regarded as the greatest artist of the Northern Renaissance ever since. His vast body of work includes altarpieces and religious works, numerous portraits and self-portraits, and copper engravings. His woodcuts, such as the Apocalypse series (1498), retain a more Gothic flavour than the rest of his work. His well-known works include the Knight, Death, and the Devil (1513), Saint Jerome in his Study (1514) and Melencolia I (1514), which has been the subject of extensive analysis and interpretation. His watercolours mark him as one of the first European landscape artists, while his ambitious woodcuts revolutionized the potential of that medium...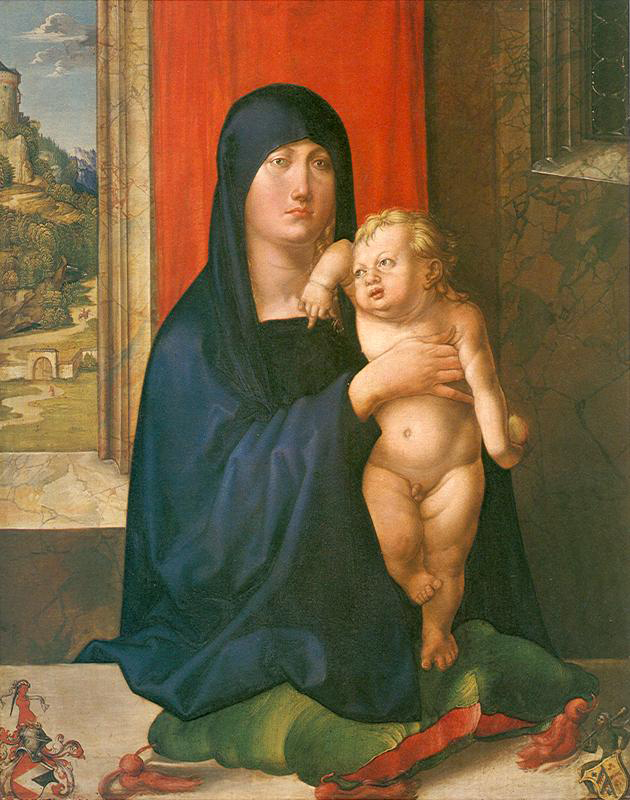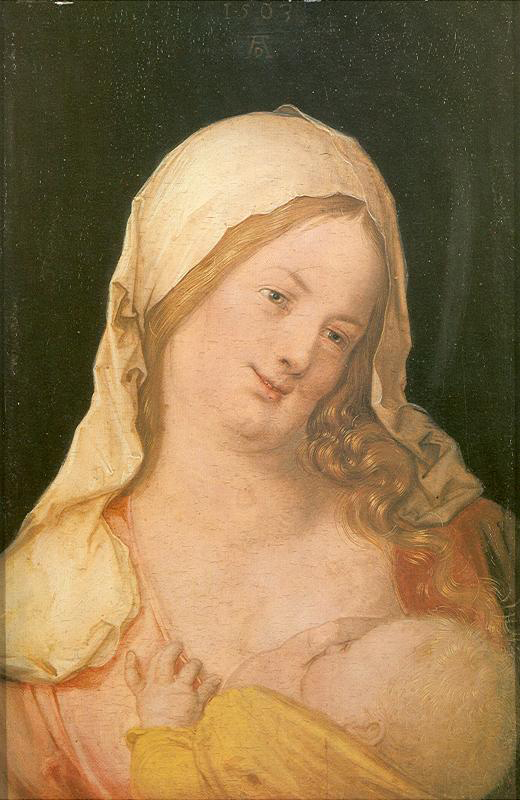 Jan van Eyck (or Johannes de Eyck) (before c. 1395 – before 9 July 1441) was a Flemish painter active in Bruges and is generally considered one of the most significant Northern European painters of the 15th century...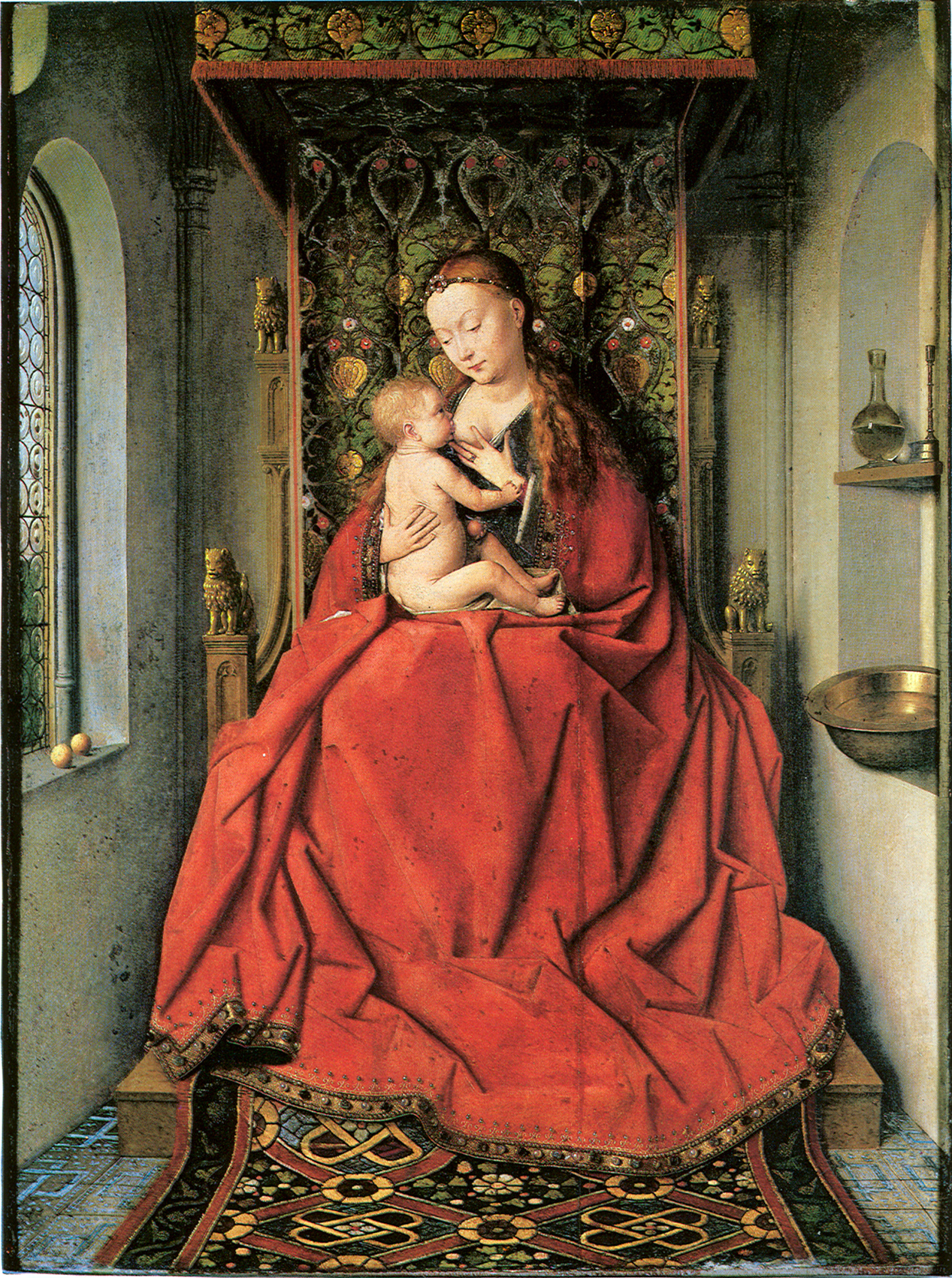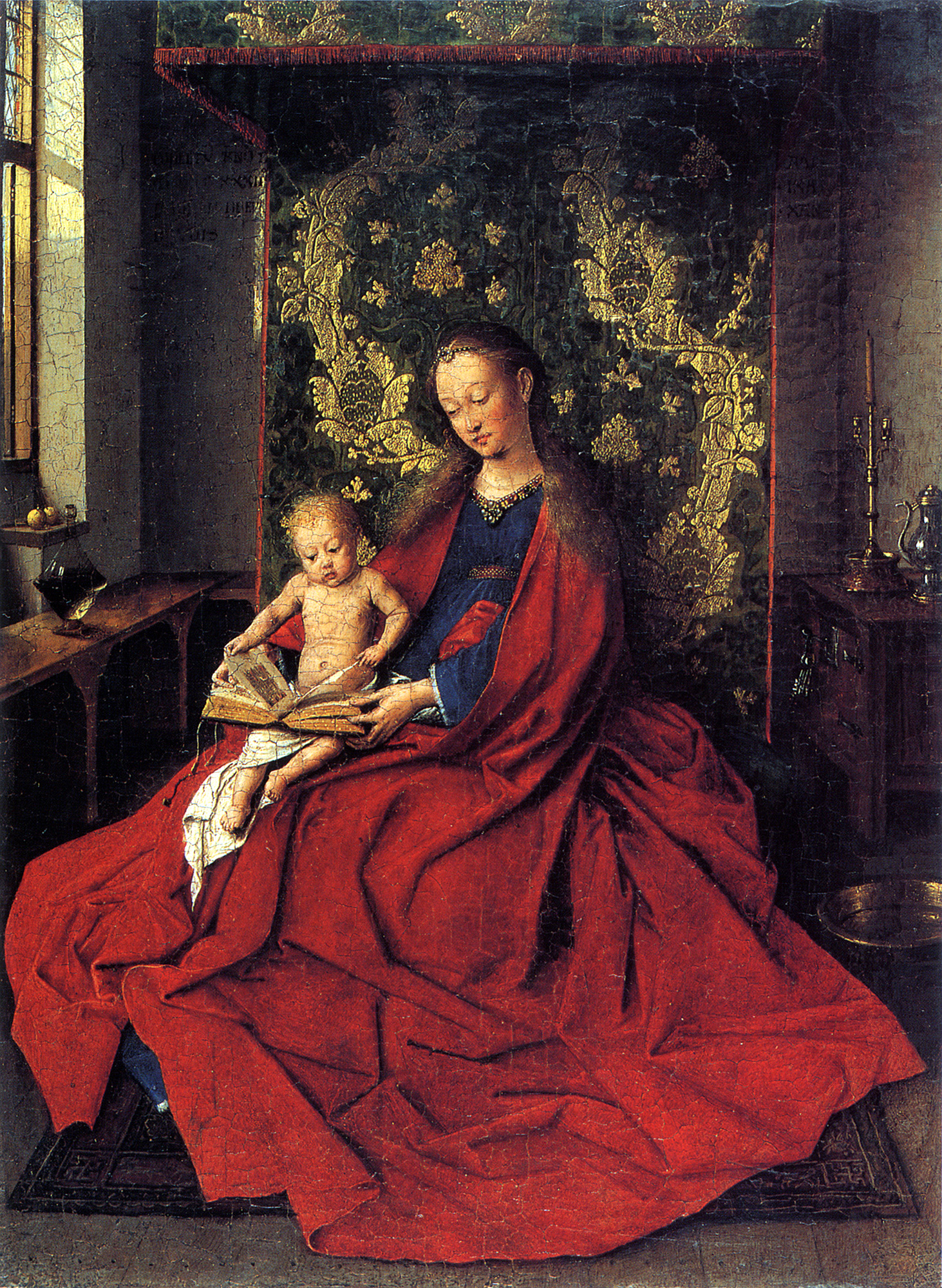 Fra' Filippo Lippi (c. 1406 – 8 October 1469), also called Lippo Lippi, was an Italian painter of the Italian Quattrocento (15th century)...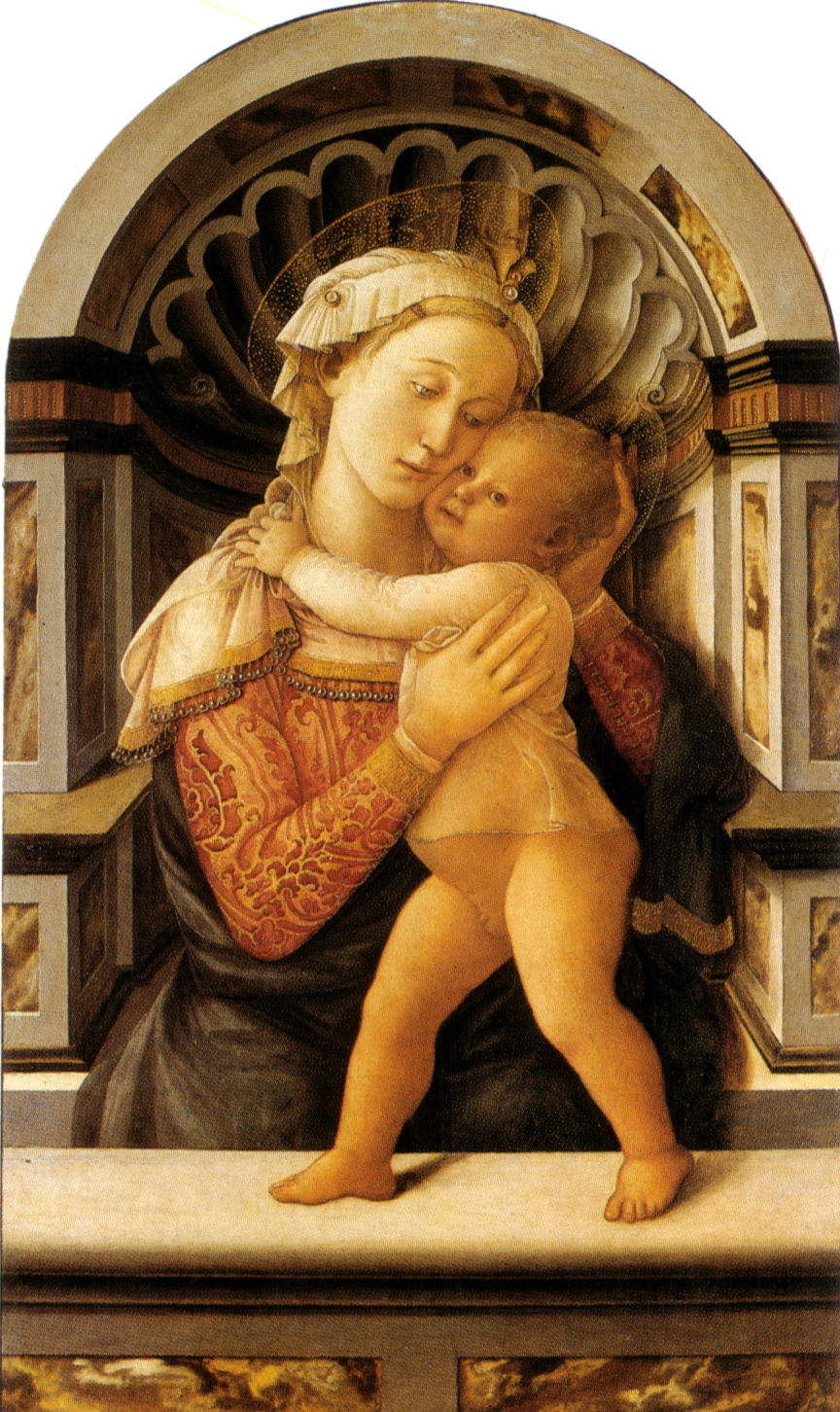 Juan de Flandes (c. 1460 – by 1519) ('John of Flanders') was an Early Netherlandish painter who was active in Spain from 1496 to 1519; his actual name is unknown, although an inscription Juan Astrat on the back of one work suggests a name such as "Jan van der Staat"... Jan Sallaert, who became a master in Ghent in 1480, has also been suggested...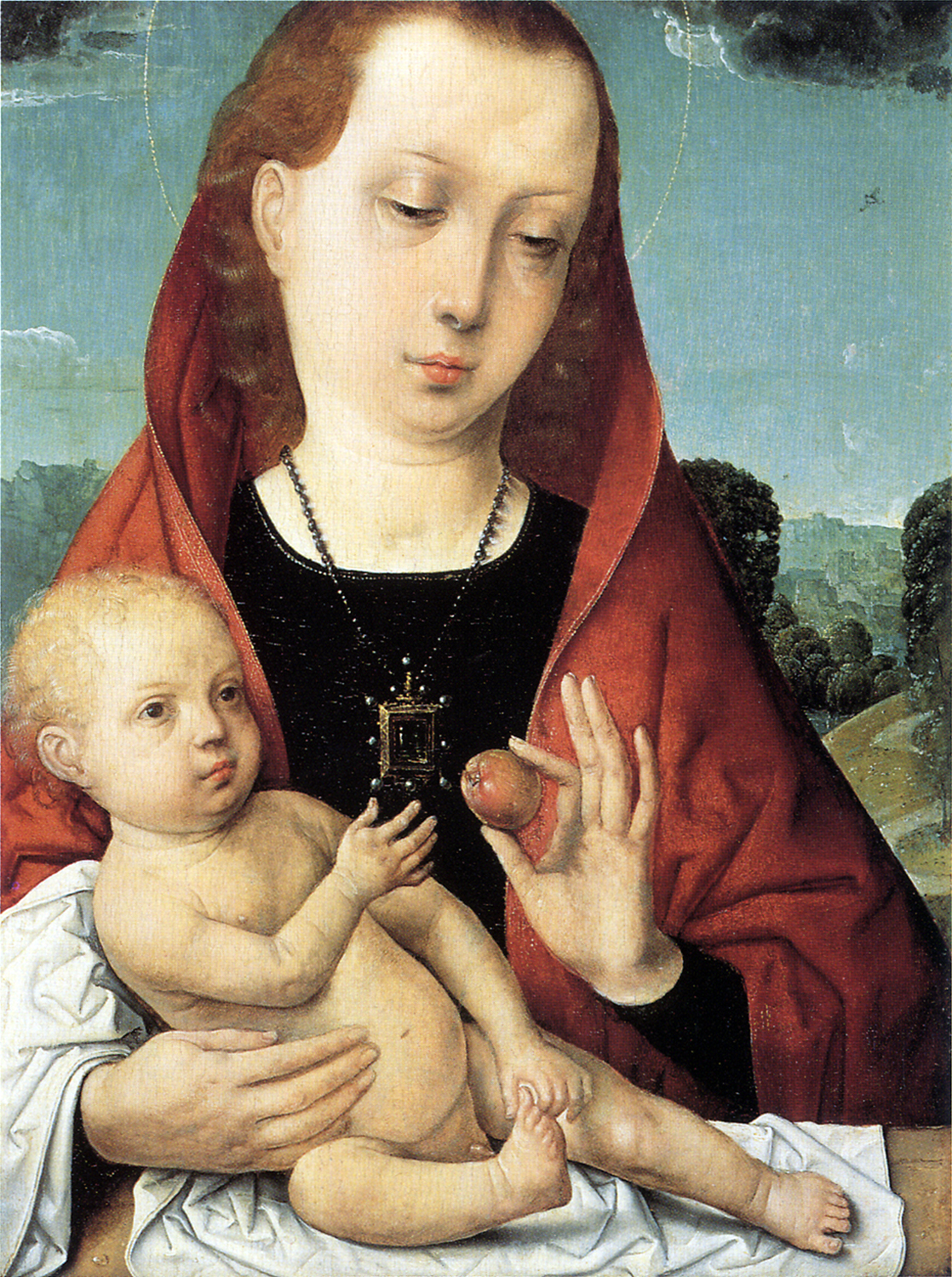 Jean (or Jehan) Fouquet (1420–1481) was a preeminent French painter of the 15th century, a master of both panel painting and manuscript illumination, and the apparent inventor of the portrait miniature. He was the first French artist to travel to Italy and experience at first hand the Italian Early Renaissance...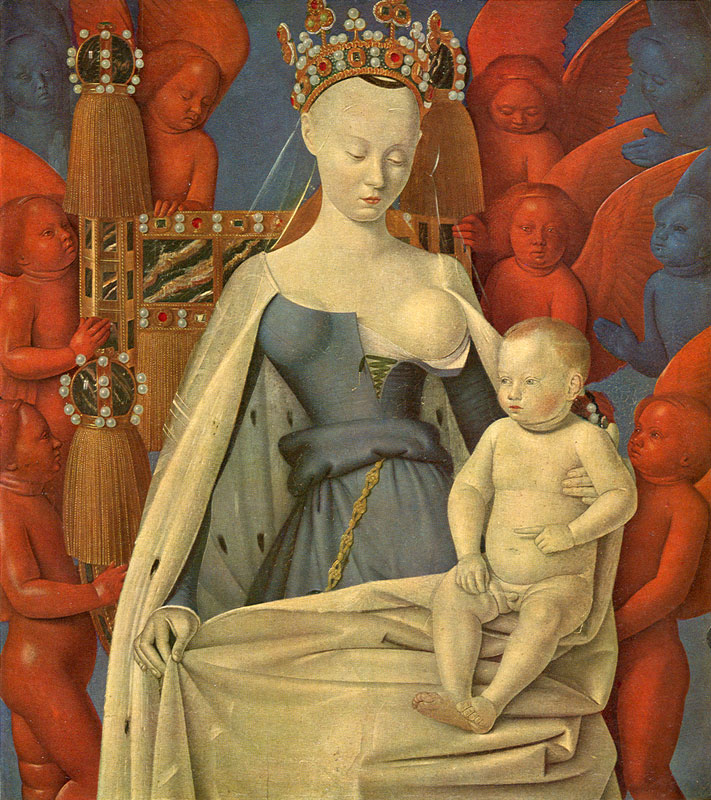 Gentile da Fabriano (c. 1370 – 1427) was an Italian painter known for his participation in the International Gothic style. He worked in various places in central Italy, mostly in Tuscany. His best known works are his Adoration of the Magi (1423) and the Flight into Egypt...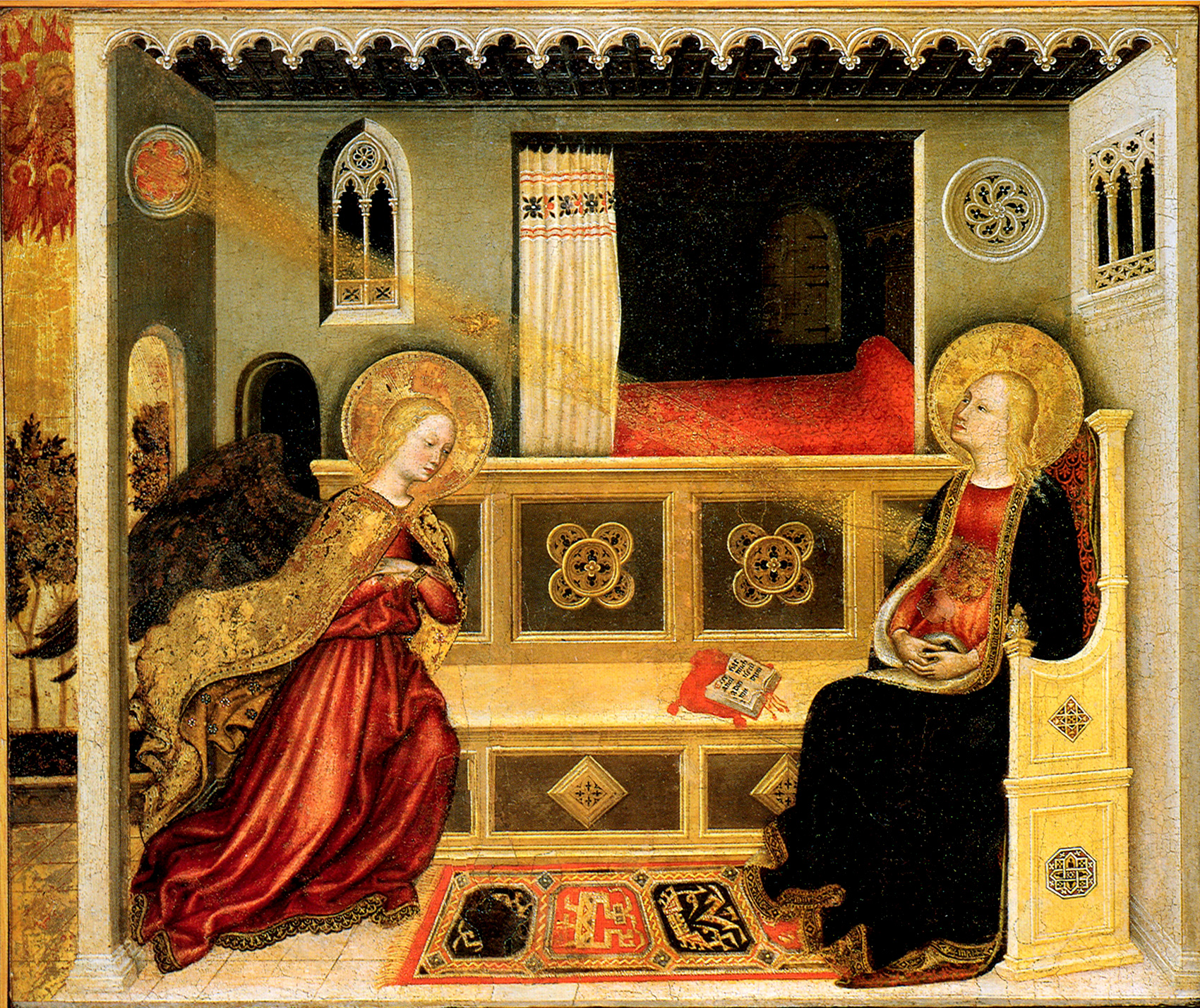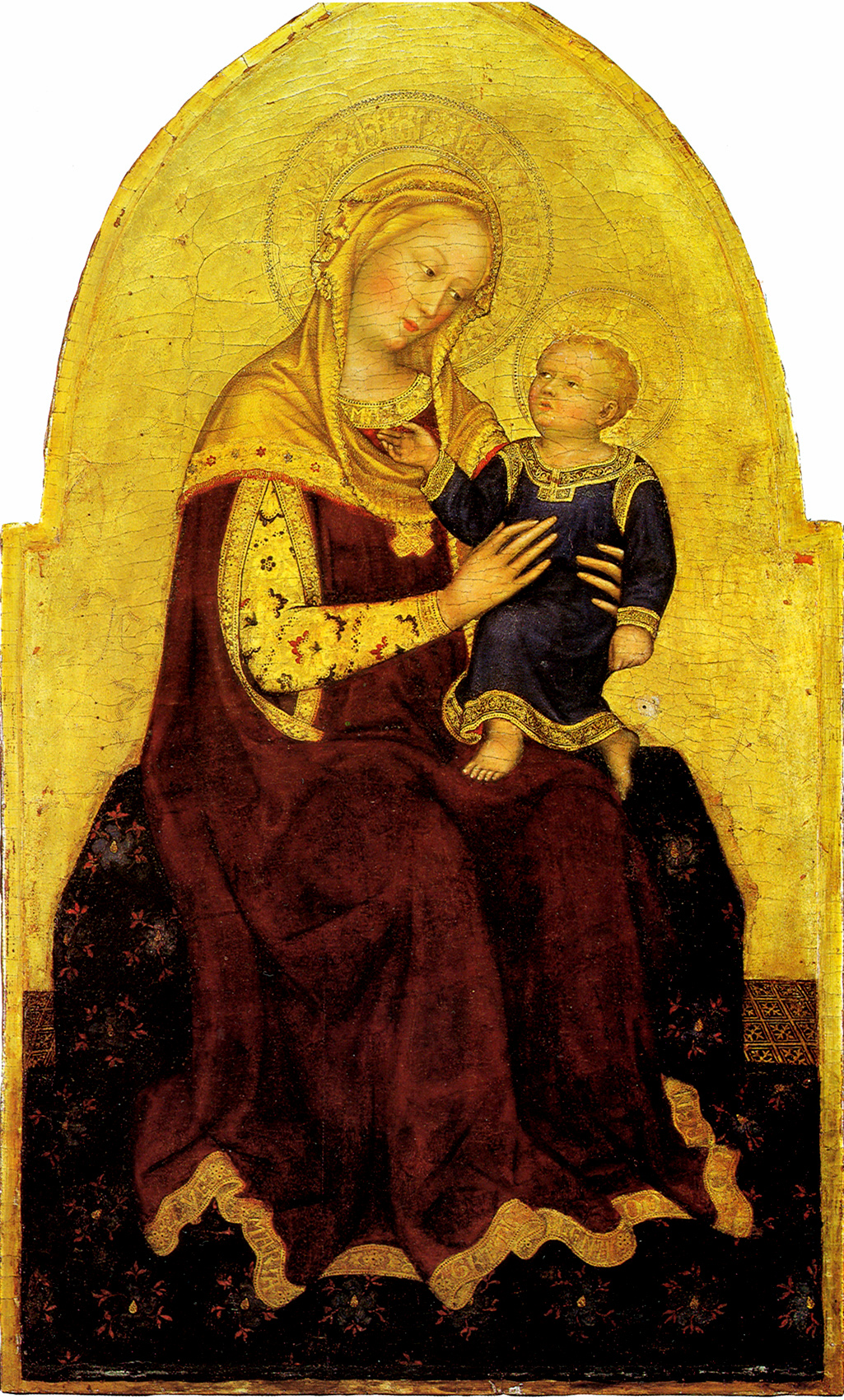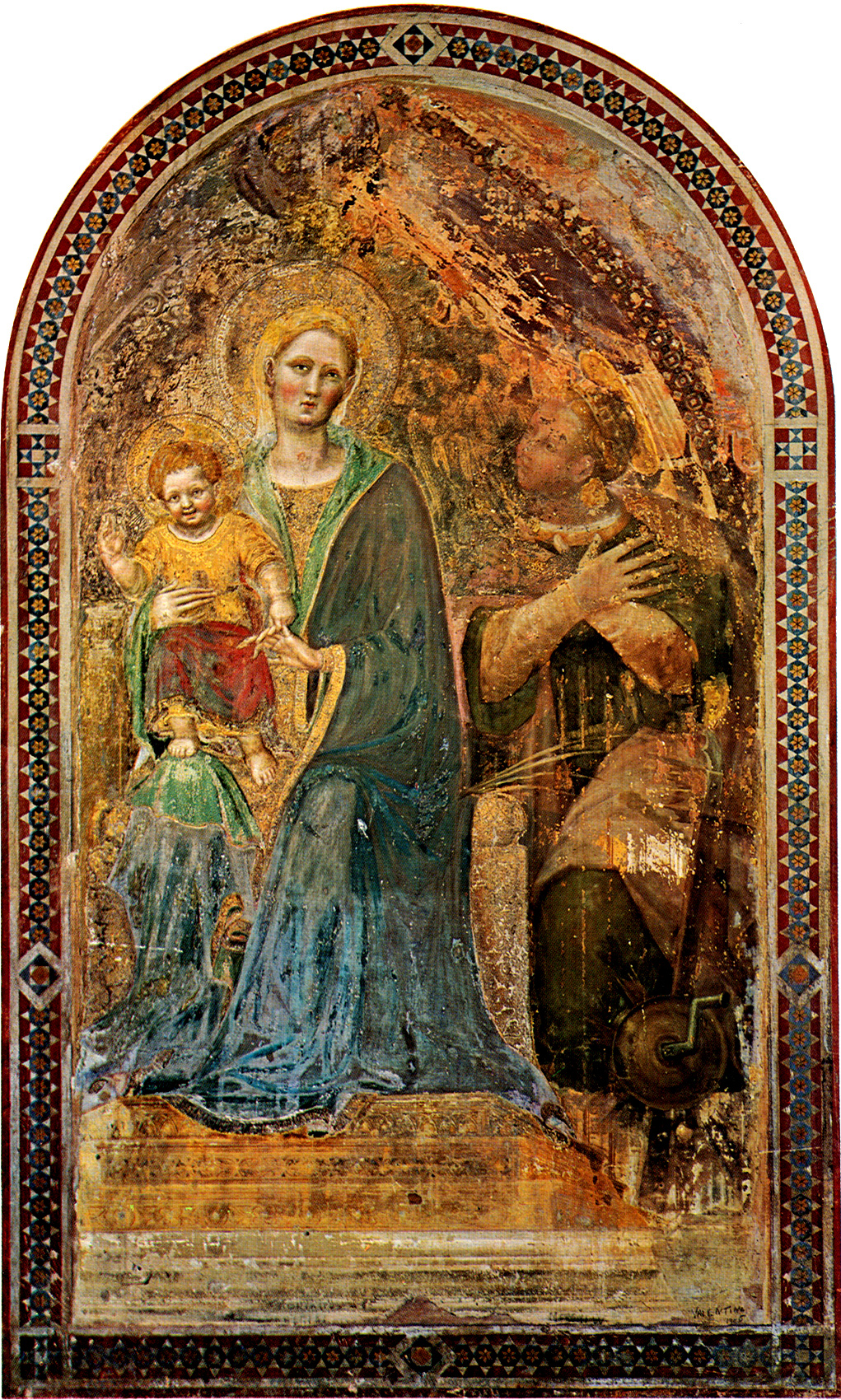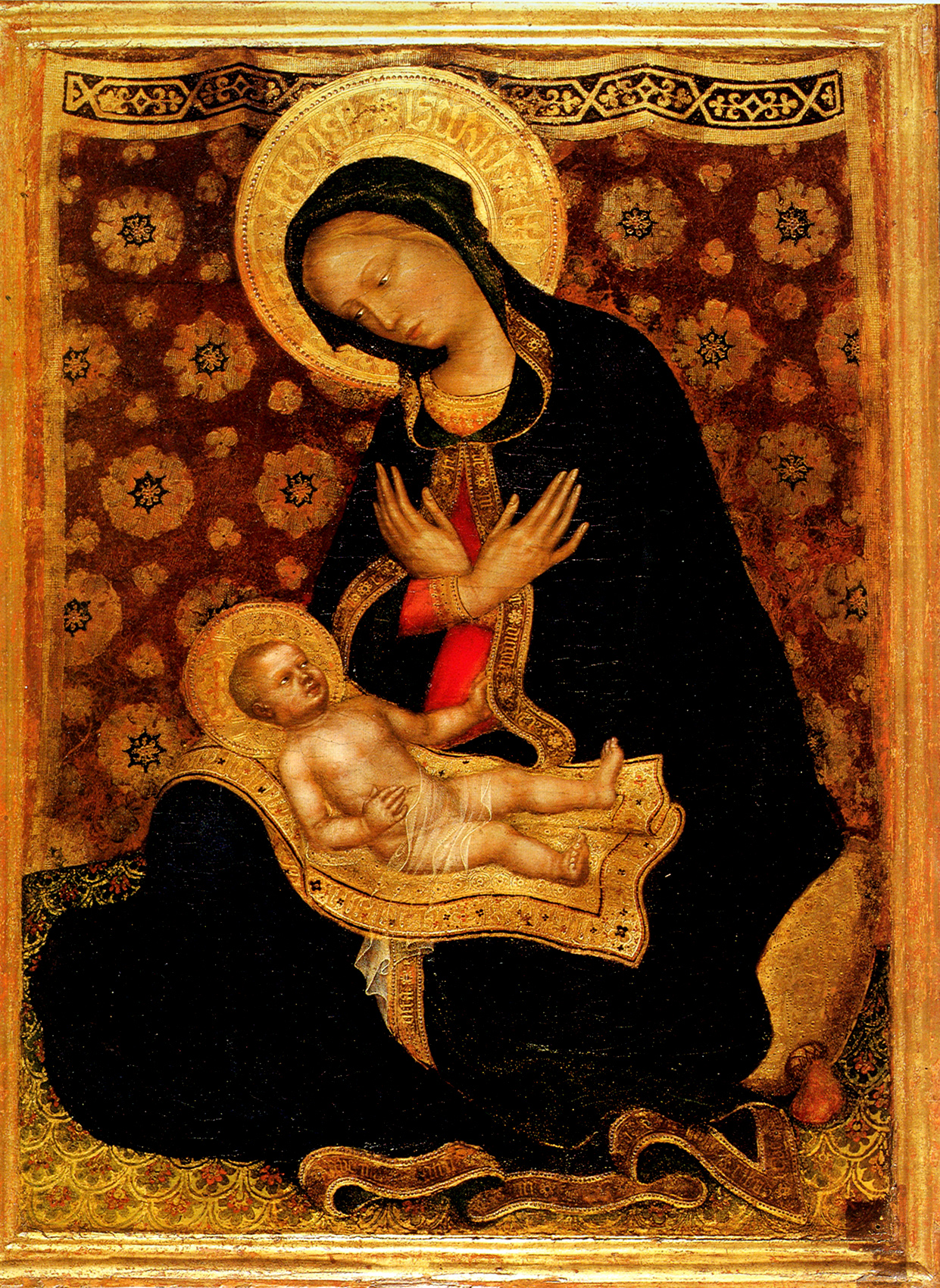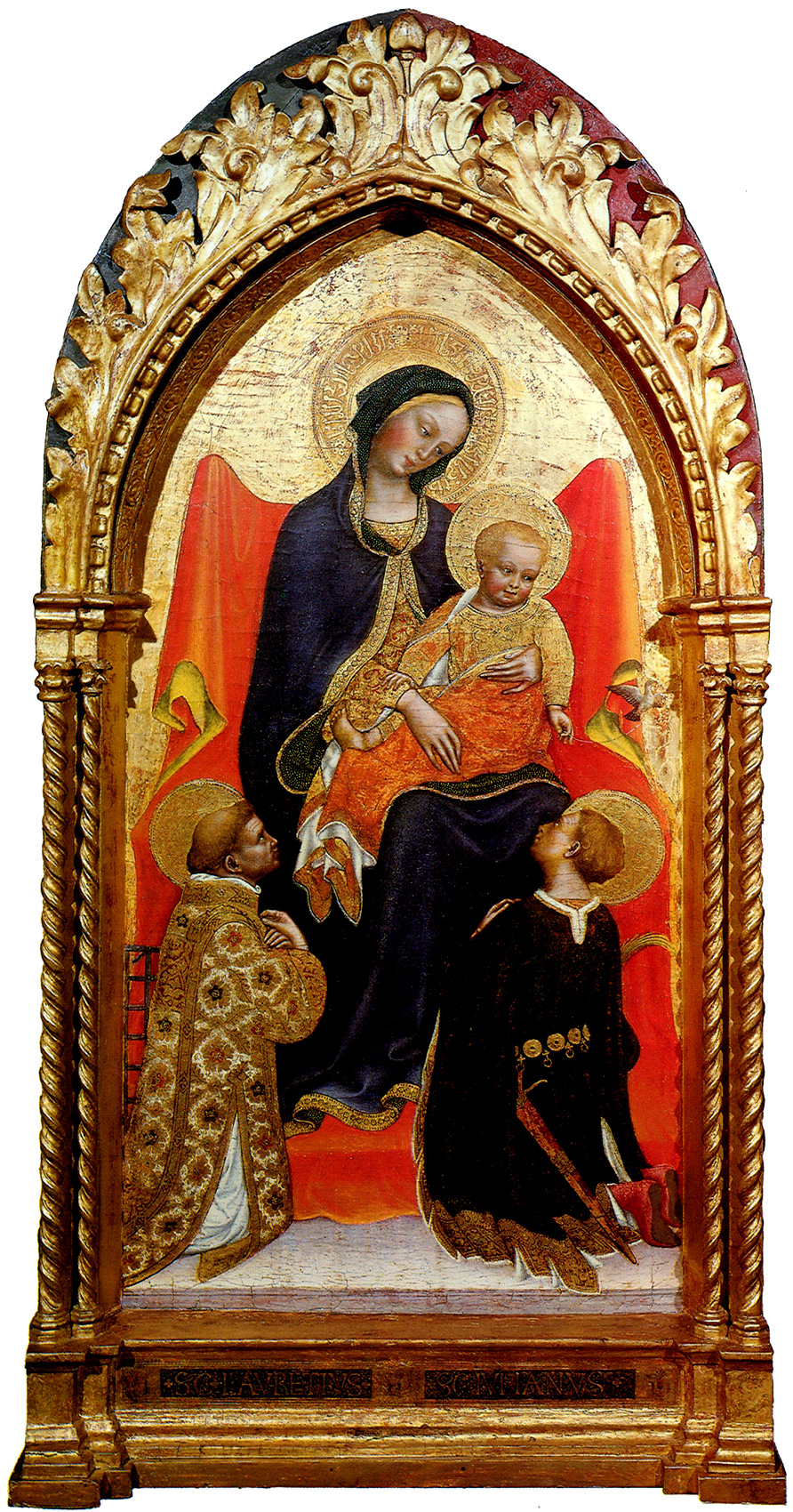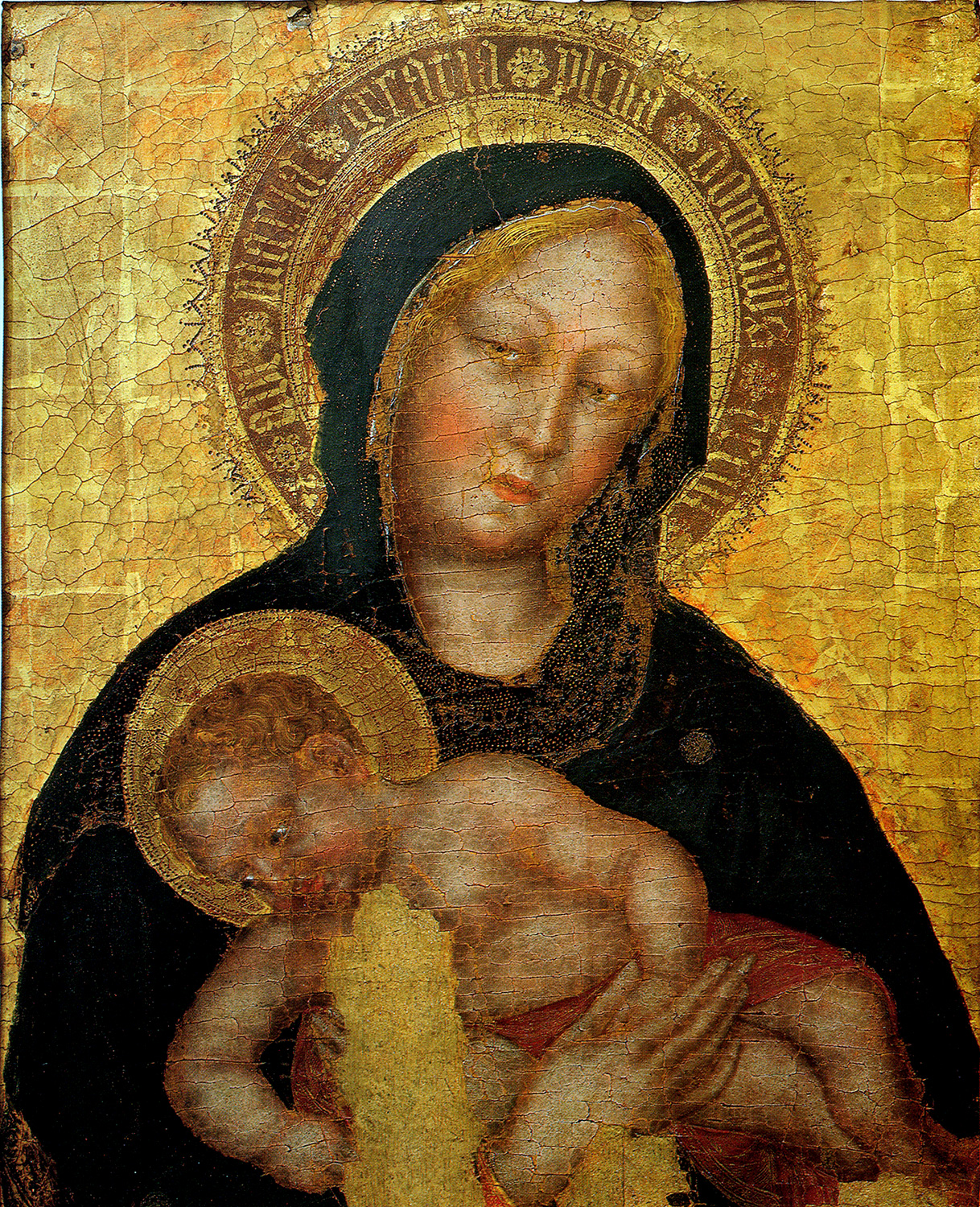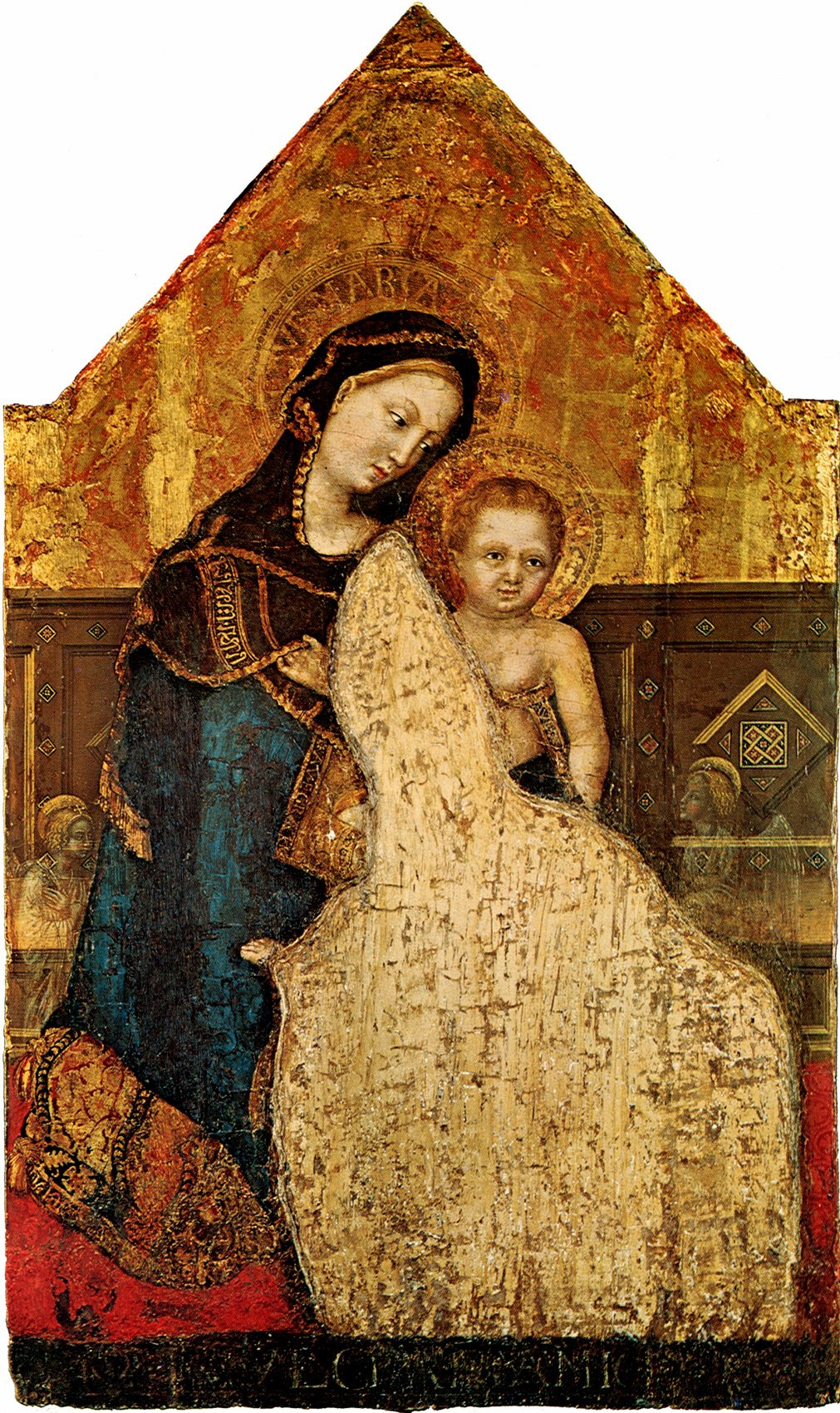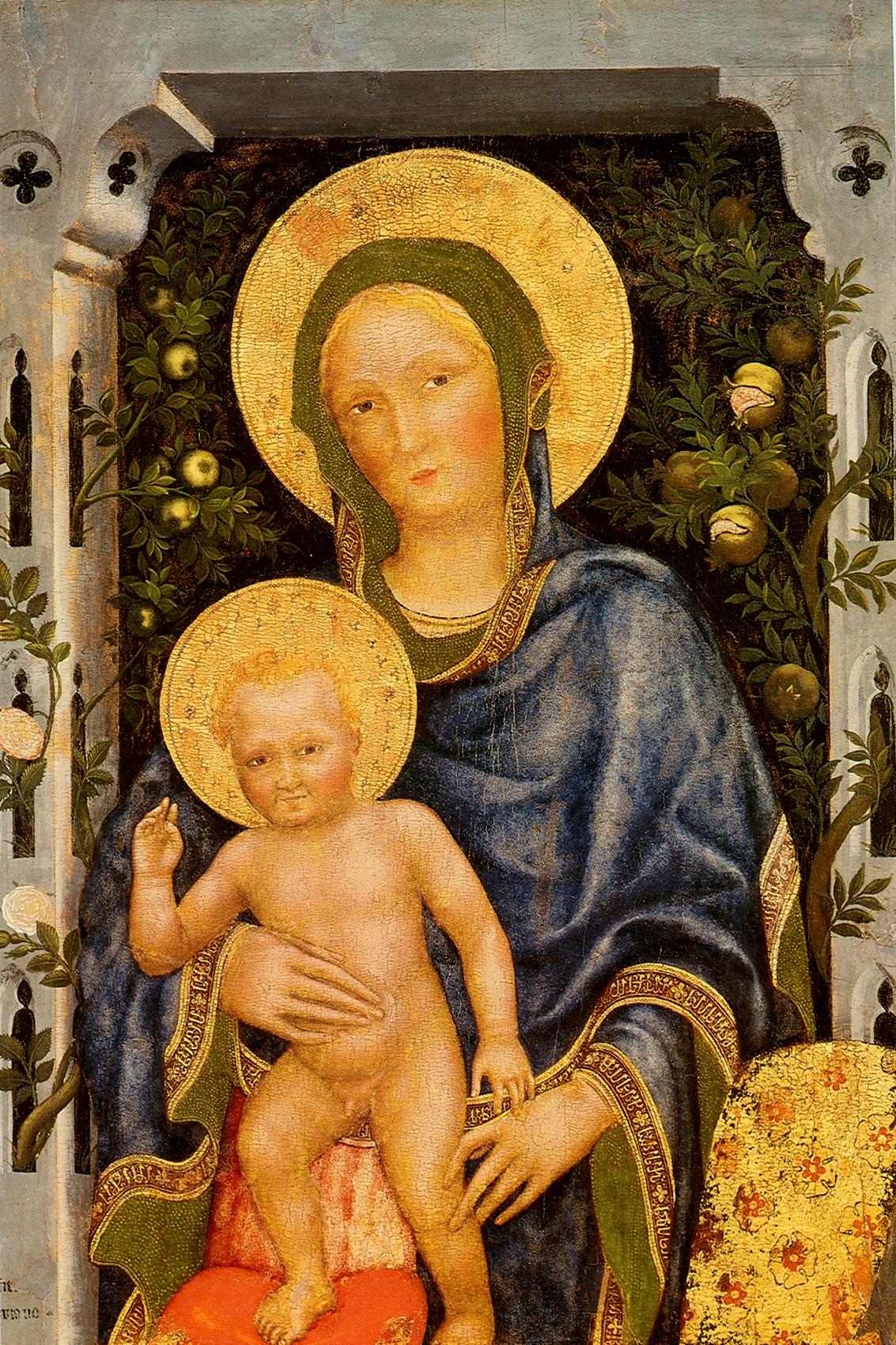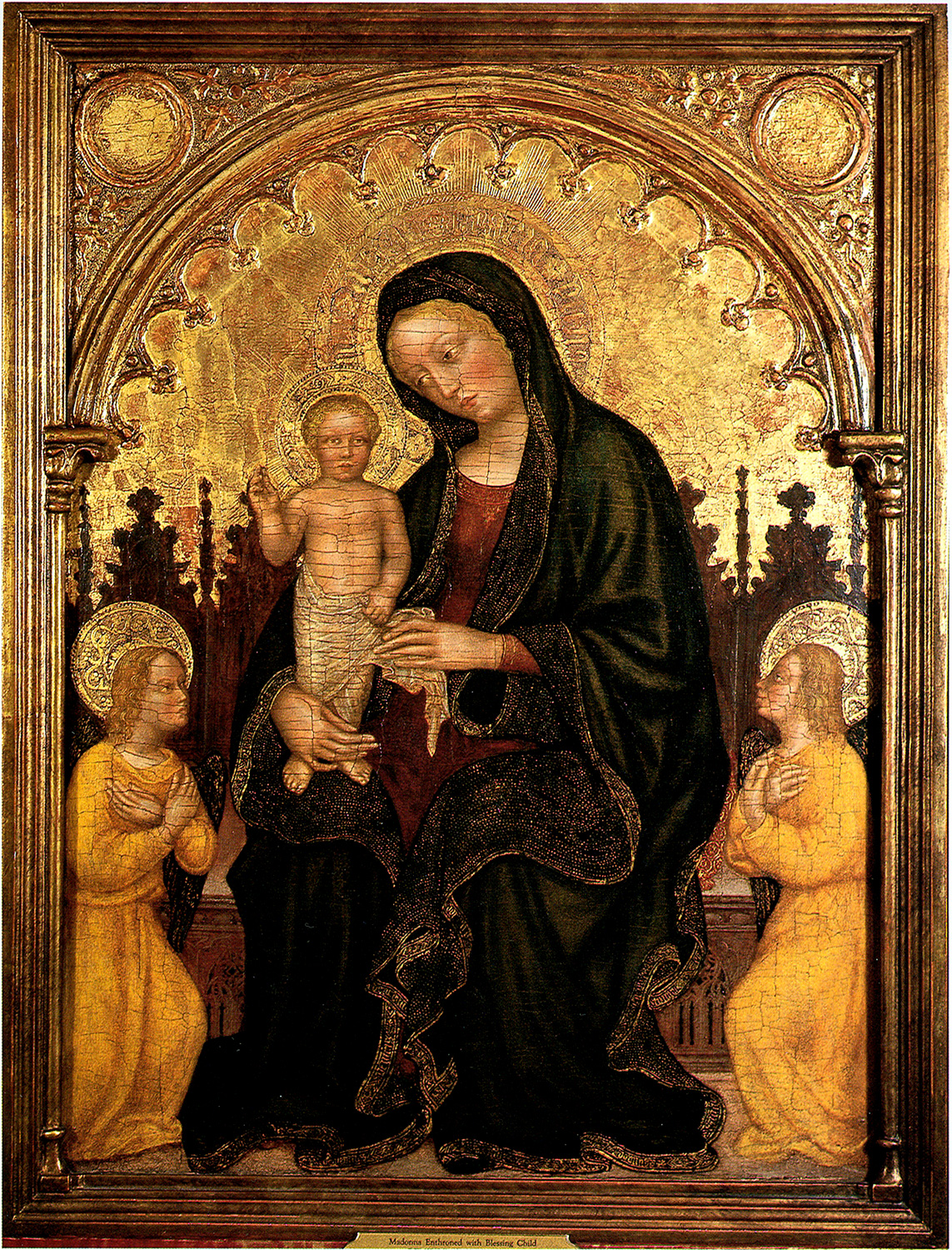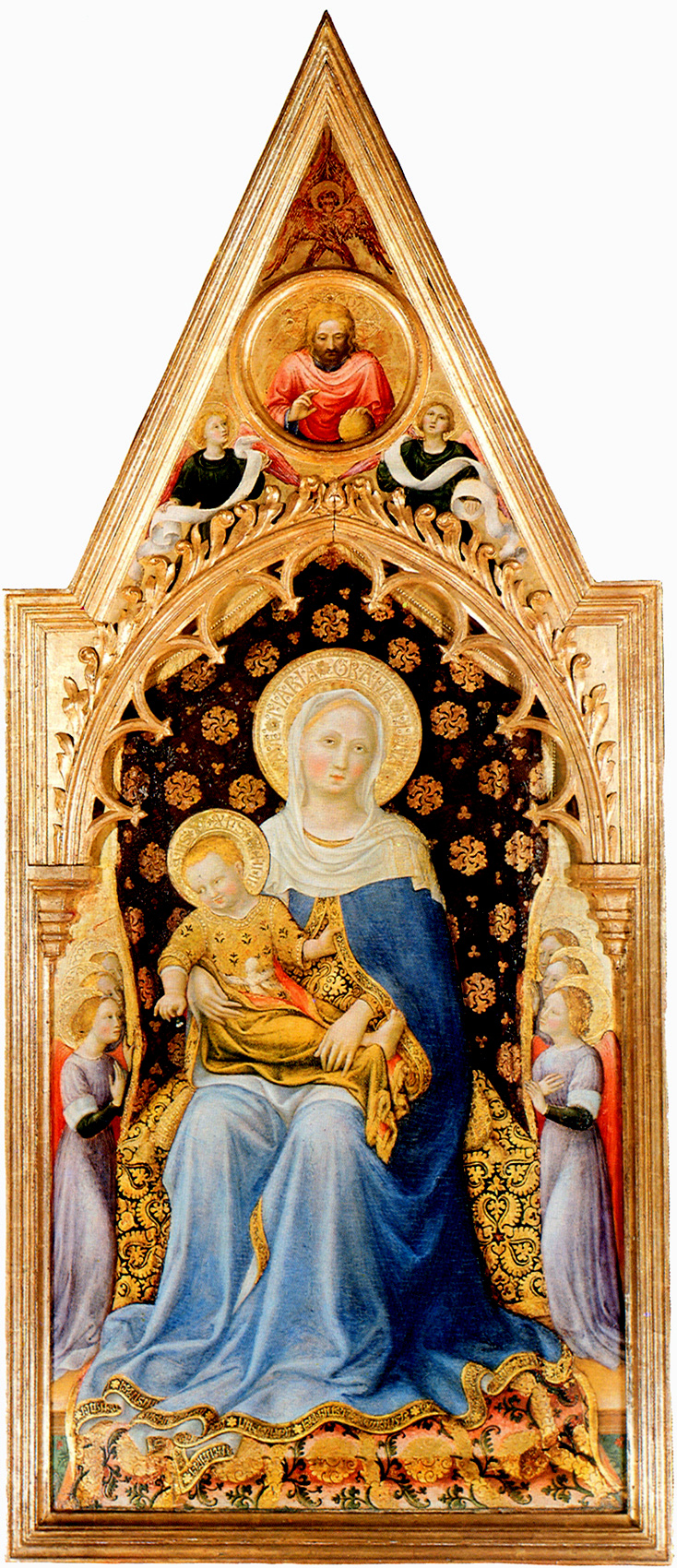 Artemisia Gentileschi (July 8, 1593–1652)was an Italian Baroque painter, today considered one of the most accomplished painters in the generation after Caravaggio. In an era when women painters were not easily accepted by the artistic community or patrons, she was the first female painter to become a member of the Accademia di Arte del Disegno in Florence...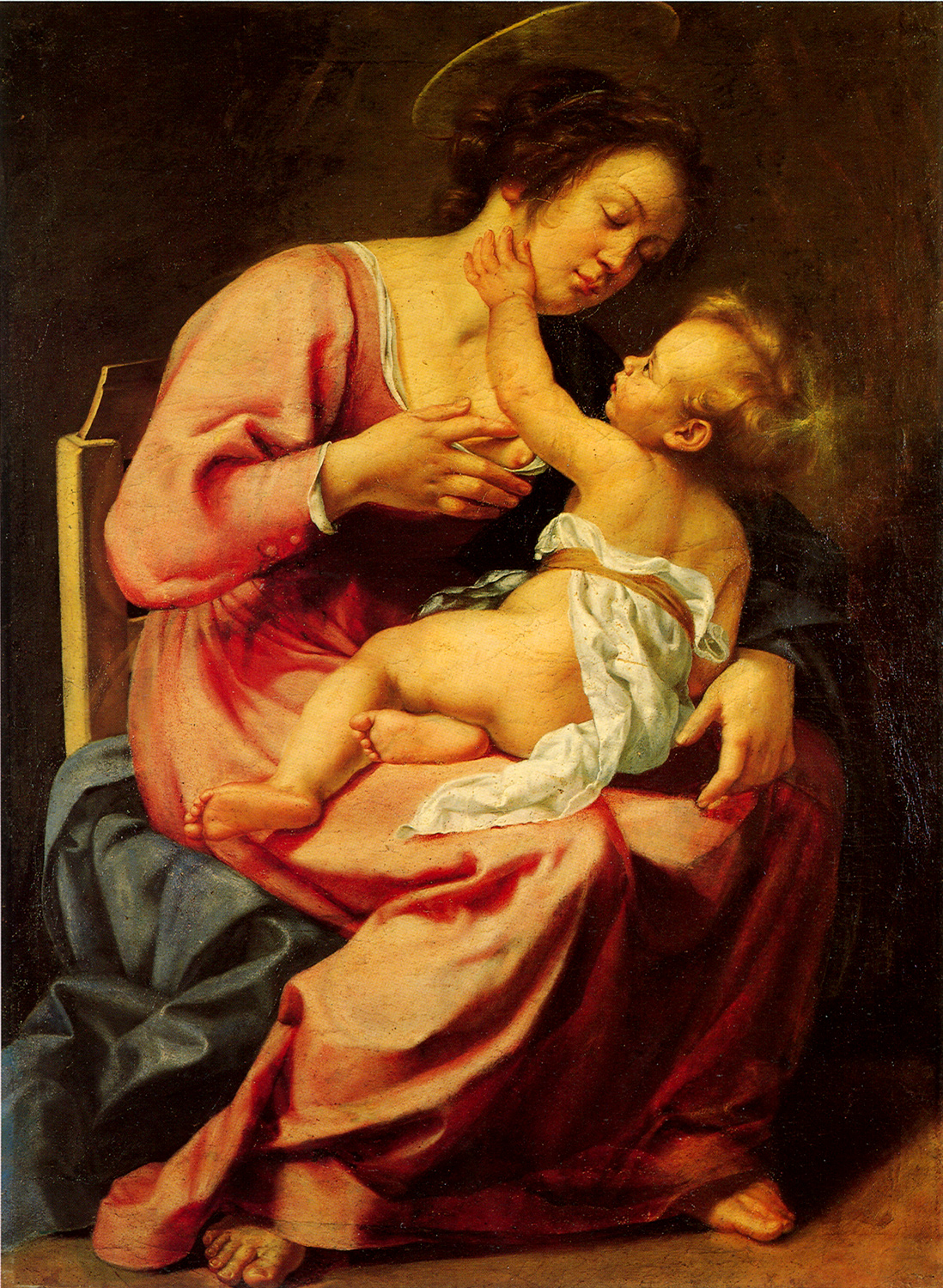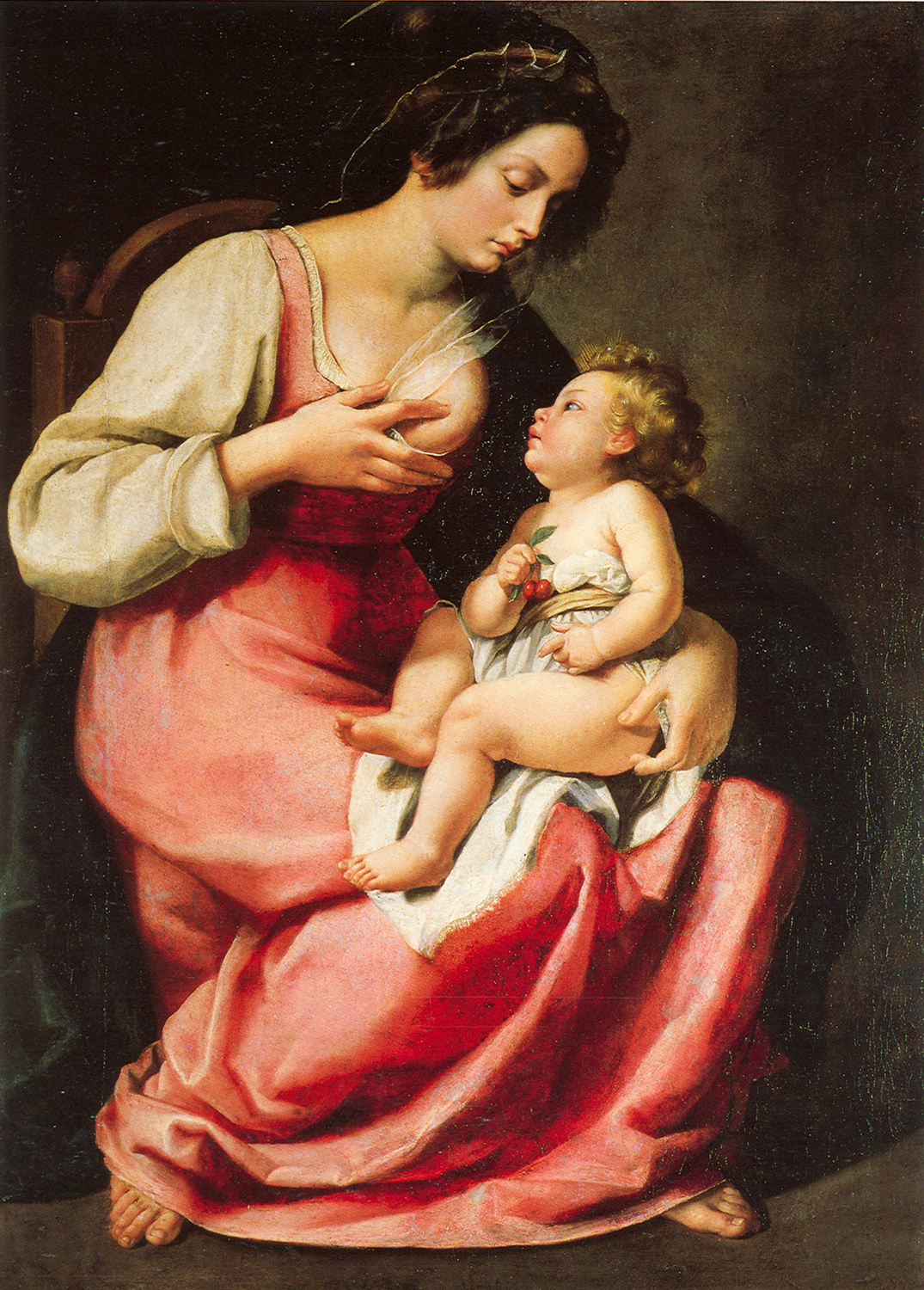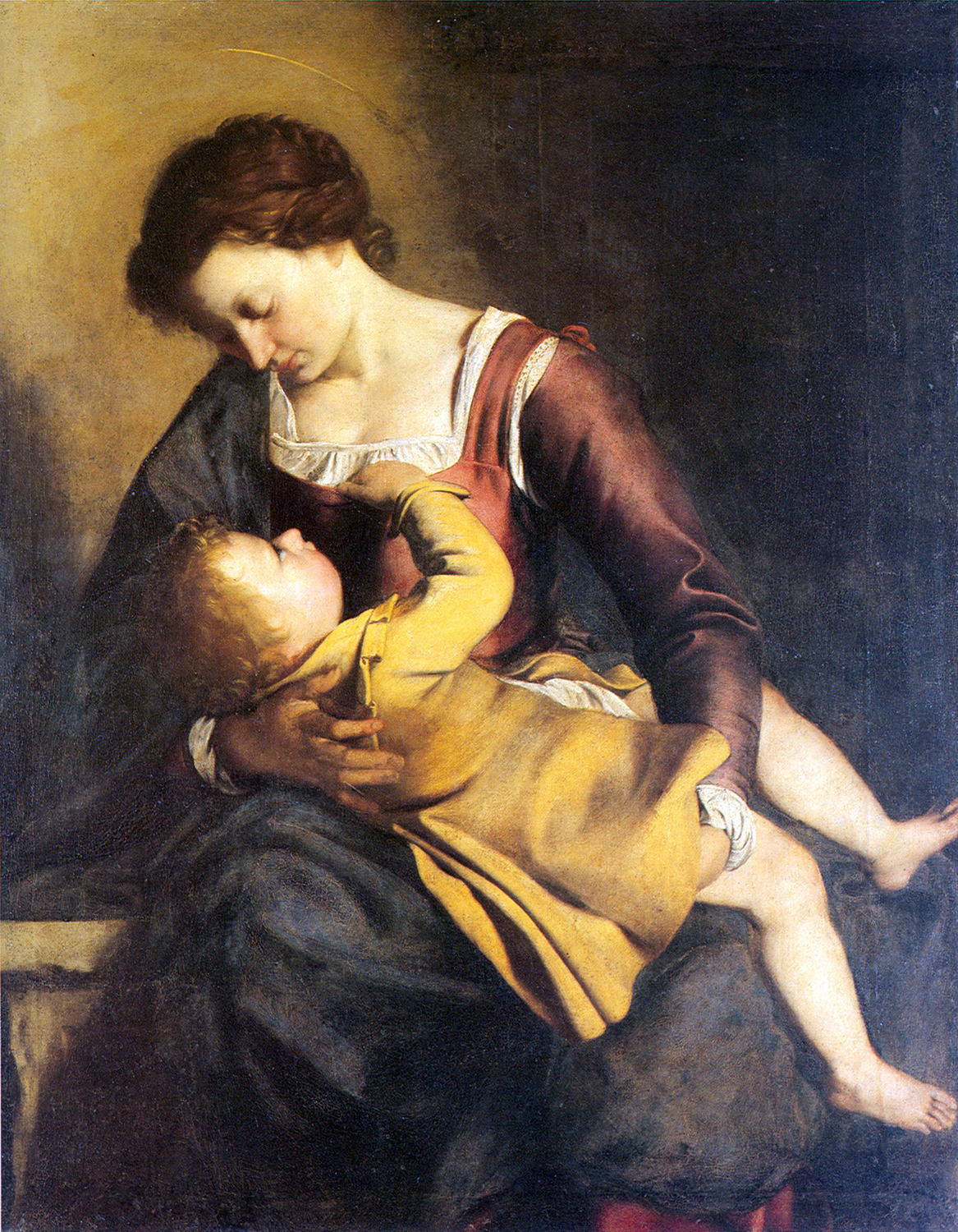 Domenico Ghirlandaio ( 1449 – 11 January 1494)
was an Italian Renaissance painter from Florence. Among his many apprentices was Michelangelo...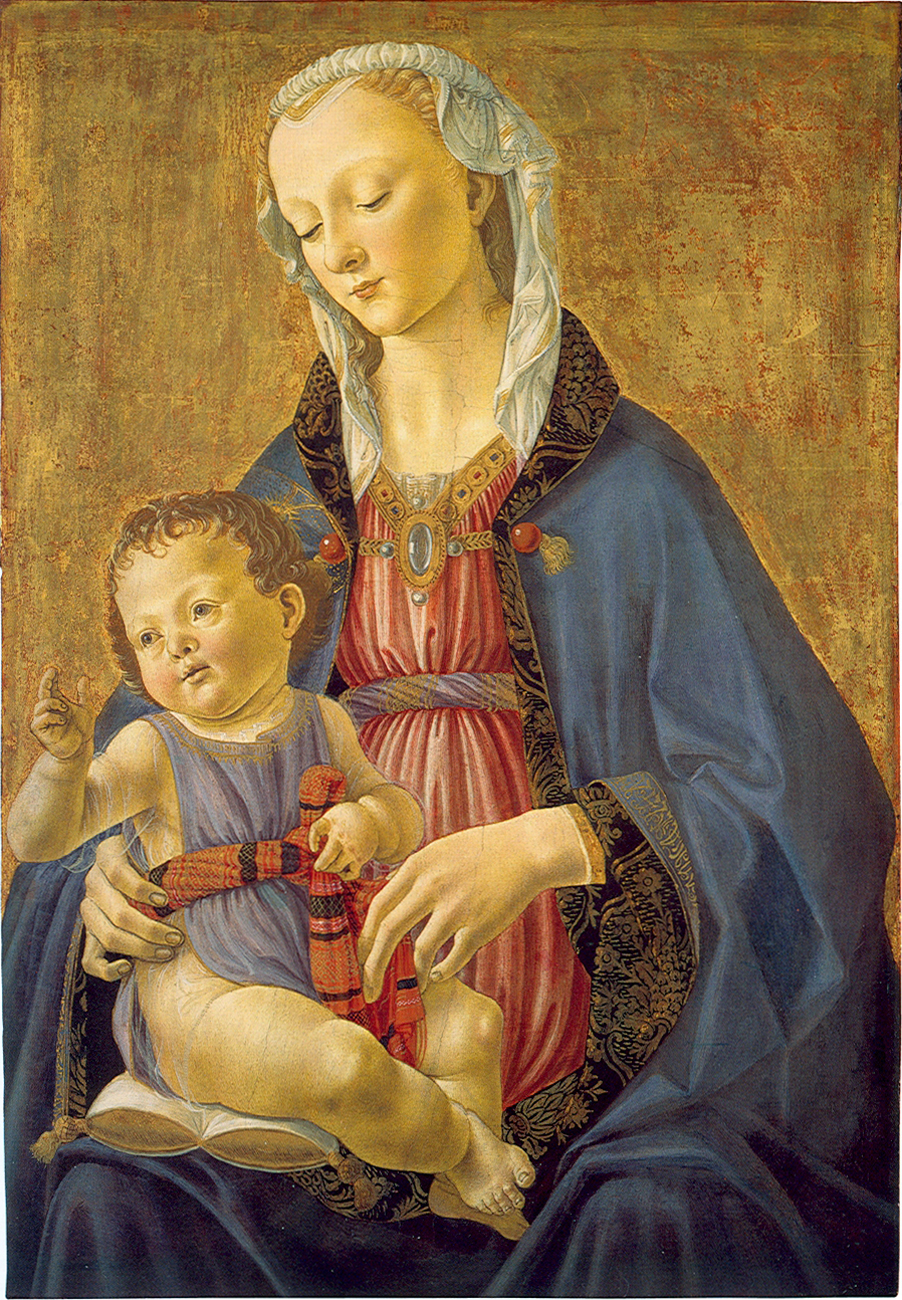 Michele Giambono (c. 1400- c. 1462) was an Italian painter and mosaicist of the Early Renaissance in Venice. Giambono's style, in general, remains archaic and iconic, and seems generally unaffected by Florentine experimentation with perspective and dimensionality of figures. He designed some of the mosaics,representing scenes from Life of the Virgin, in the Mascoli chapel in the church of Saint Mark's Basilica. Also known as Michele di Taddeo, Giambono, Zambone, Zambono, Bono, or Michele Giovanni Boni...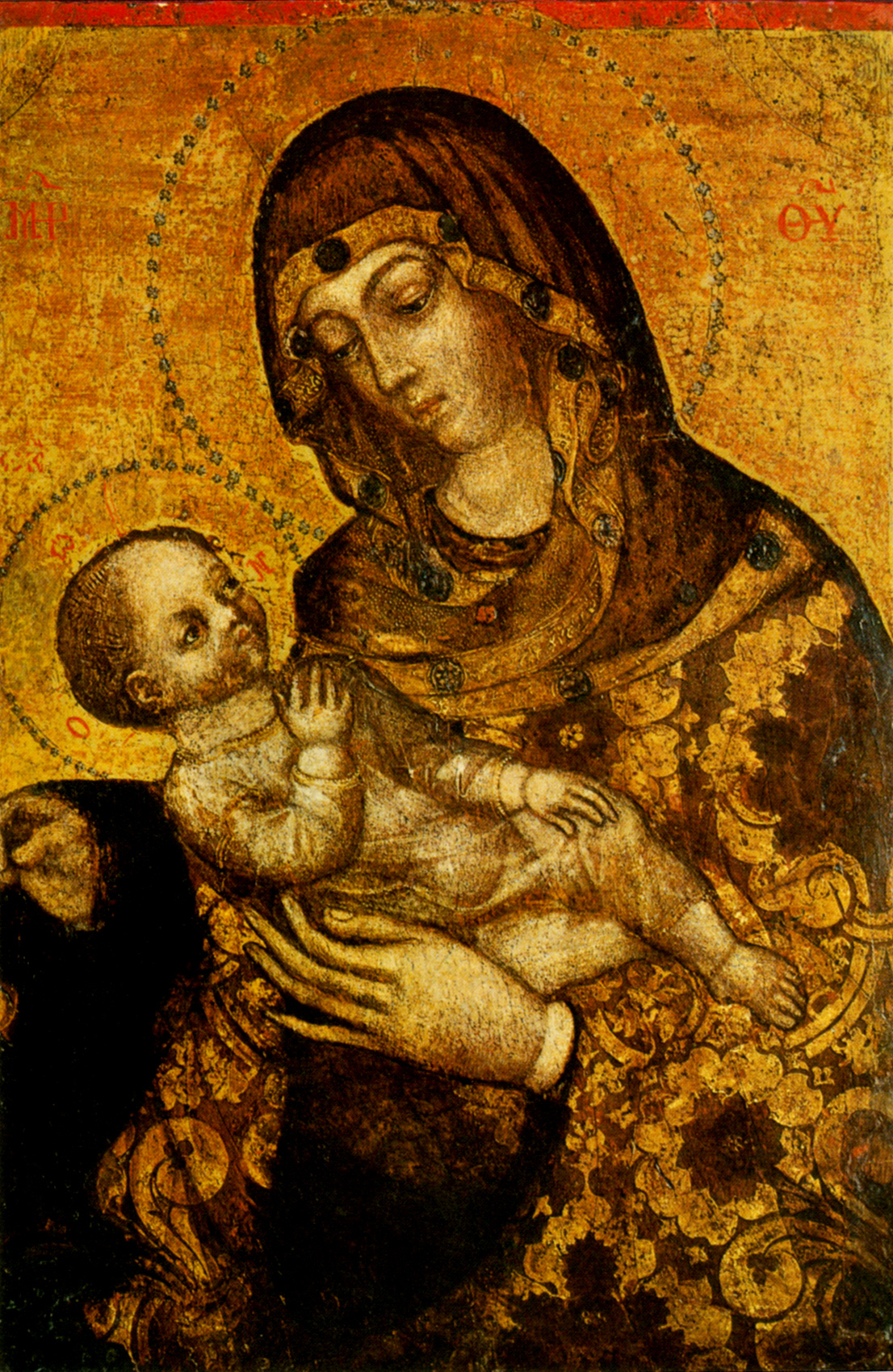 Giotto di Bondone (1266/7 – January 8, 1337), better known simply as Giotto, was an Italian painter and architect from Florence in the late Middle Ages. He is generally considered the first in a line of great artists who contributed to the Italian Renaissance...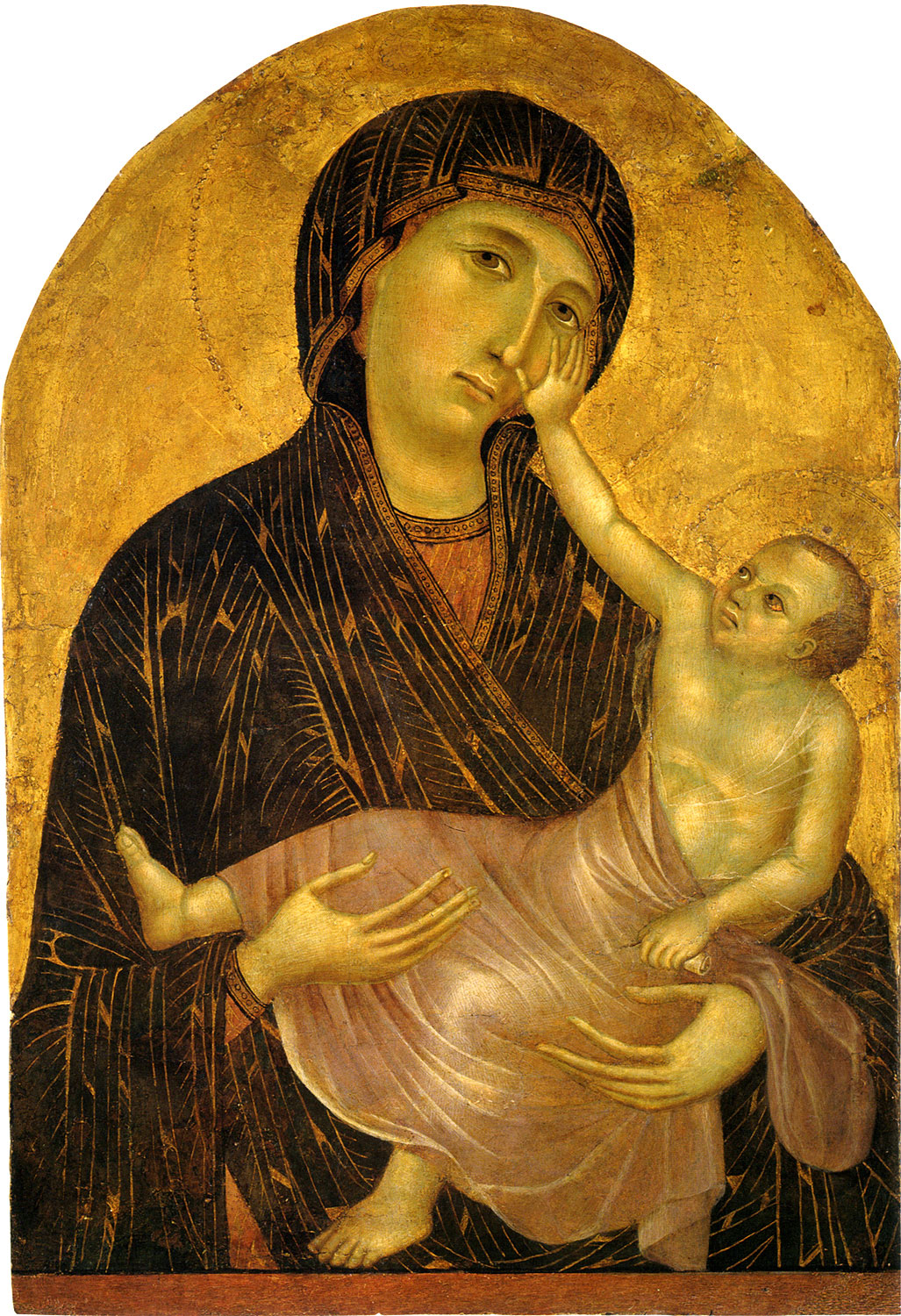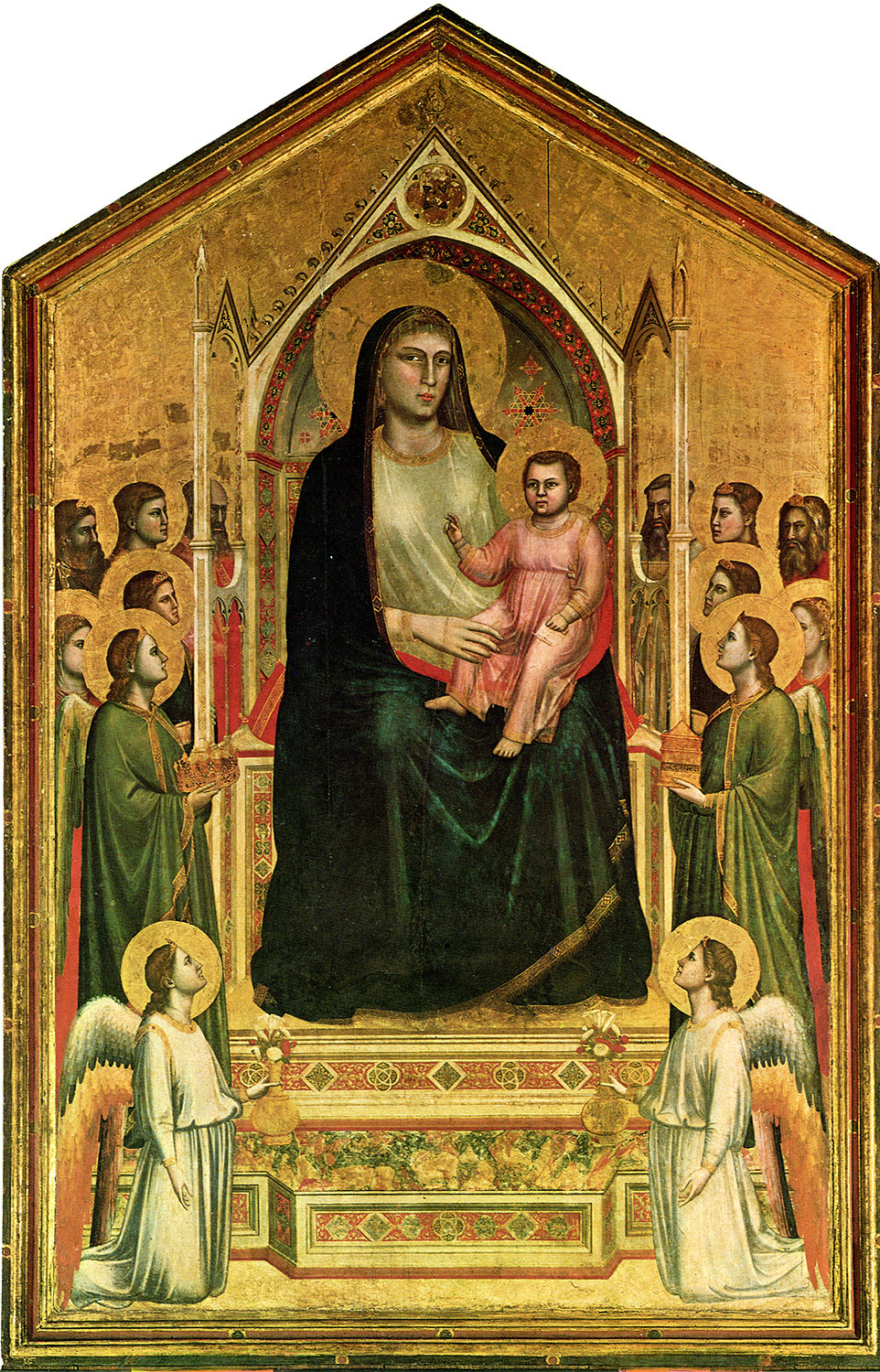 Girolamo di Giovanni di Camerino was an Italian painter, and is generally supposed to be the son of Giovanni Boccati, and was the painter of an altar-piece at Santa Maria del Pozzo in Monte San Martino, near Fermo, and represents the Madonna and Child, and four Angels, between SS. Thomas and Cyprian (1473)...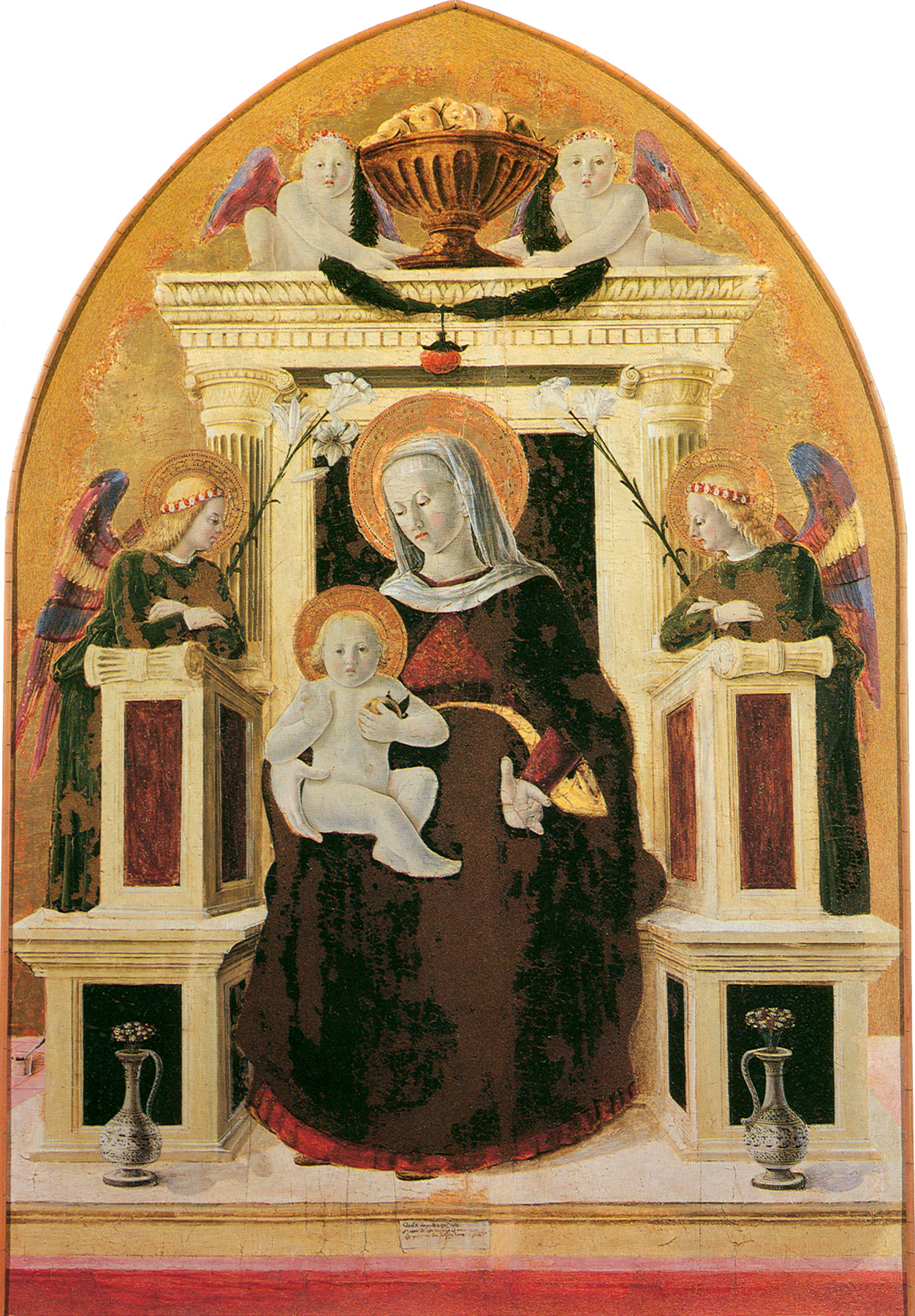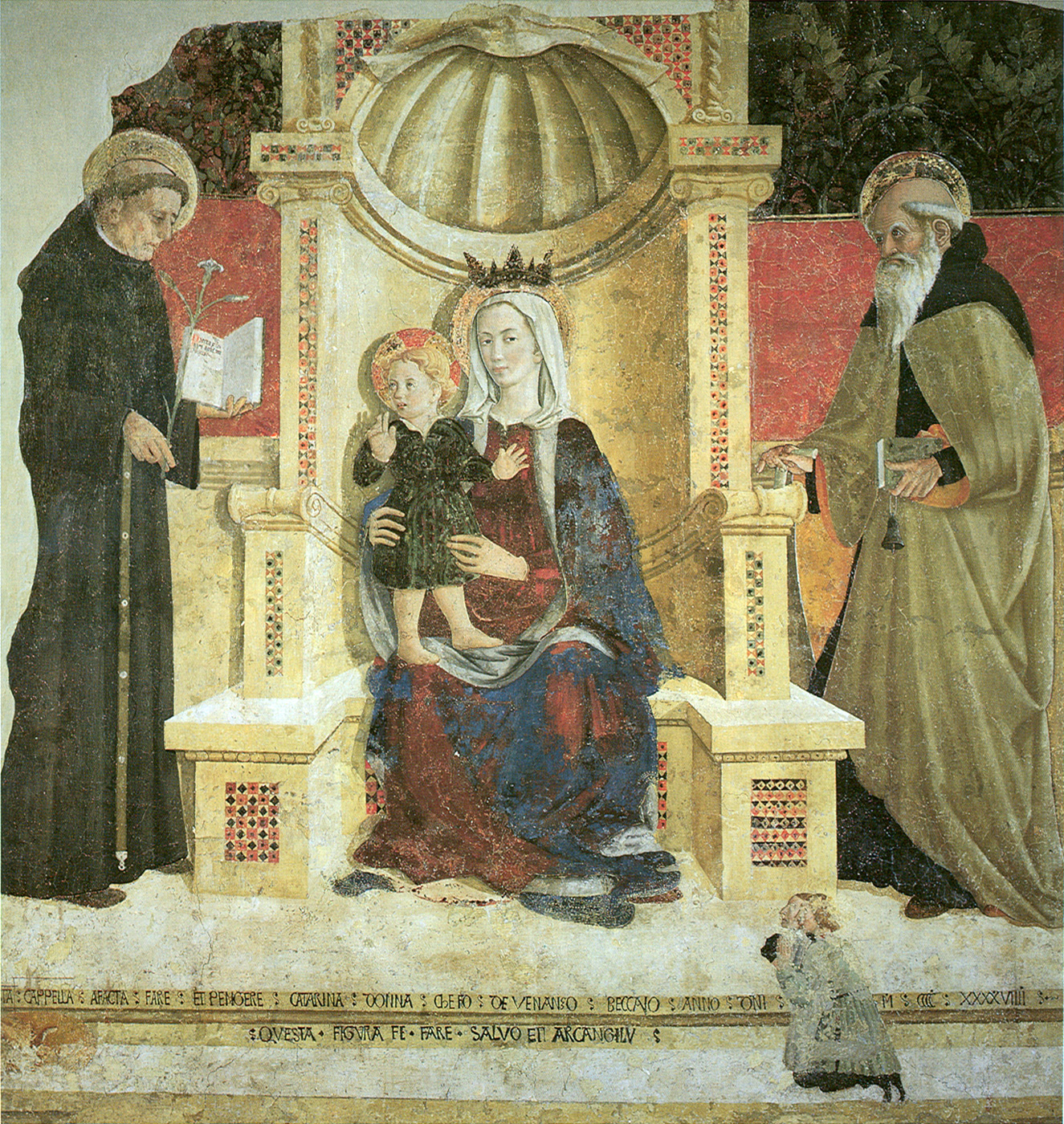 Jan Mabuse (c. 1478 – 1 October 1532) was the name adopted (from his birthplace, Maubeuge) by the Flemish painter Jan Gossaert; or Jennyn van Hennegouwe (Hainaut), as he called himself when he matriculated in the guild of St Luke, at Antwerp, in 1503...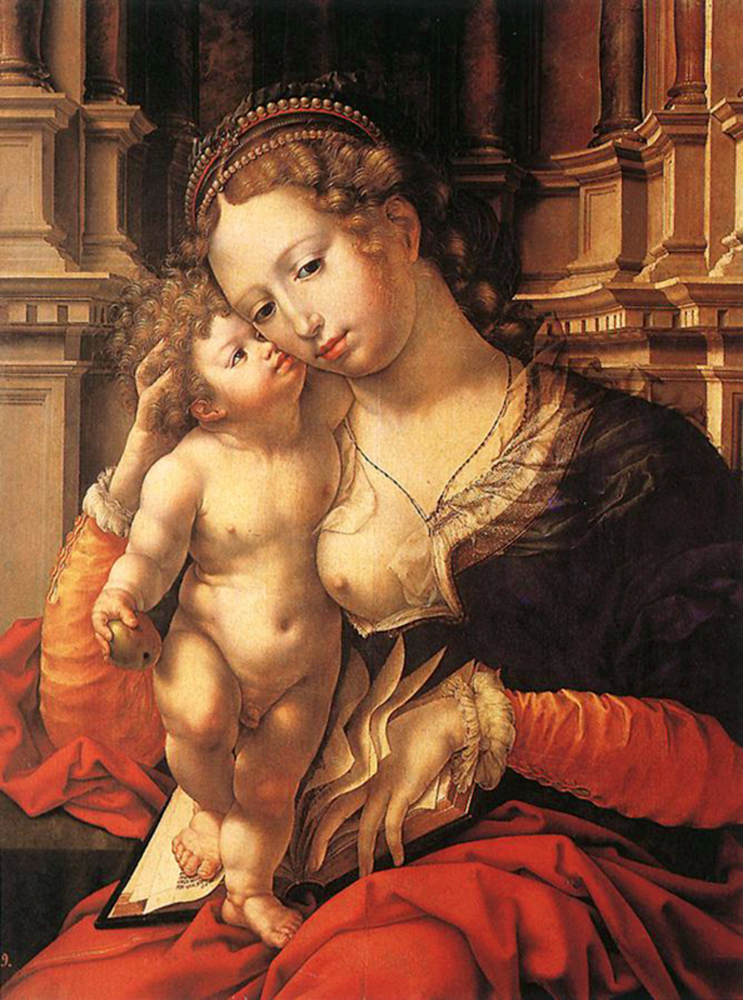 Guido of Siena, was an Italian Byzantine style painter of the 13th century... The name Guido is known from the large panel in the church of S. Domenico in Siena of the Virgin and Child Enthroned ... Beyond this, little is known of Guido da Siena and his place in Sienese painting before Duccio. Because he is the only Sienese painter of the time to have surviving works on panel with a signature, he is often viewed as the most important artistic personality at the time and the first master of the great Sienese school of painting. However, Bellosi has attempted to associate some "Guidesque" works with the names Dietsalvi di Speme and Guido di Graziano, who are documented with the painting of Biccherna book covers for the Sienese commune in the 1270s...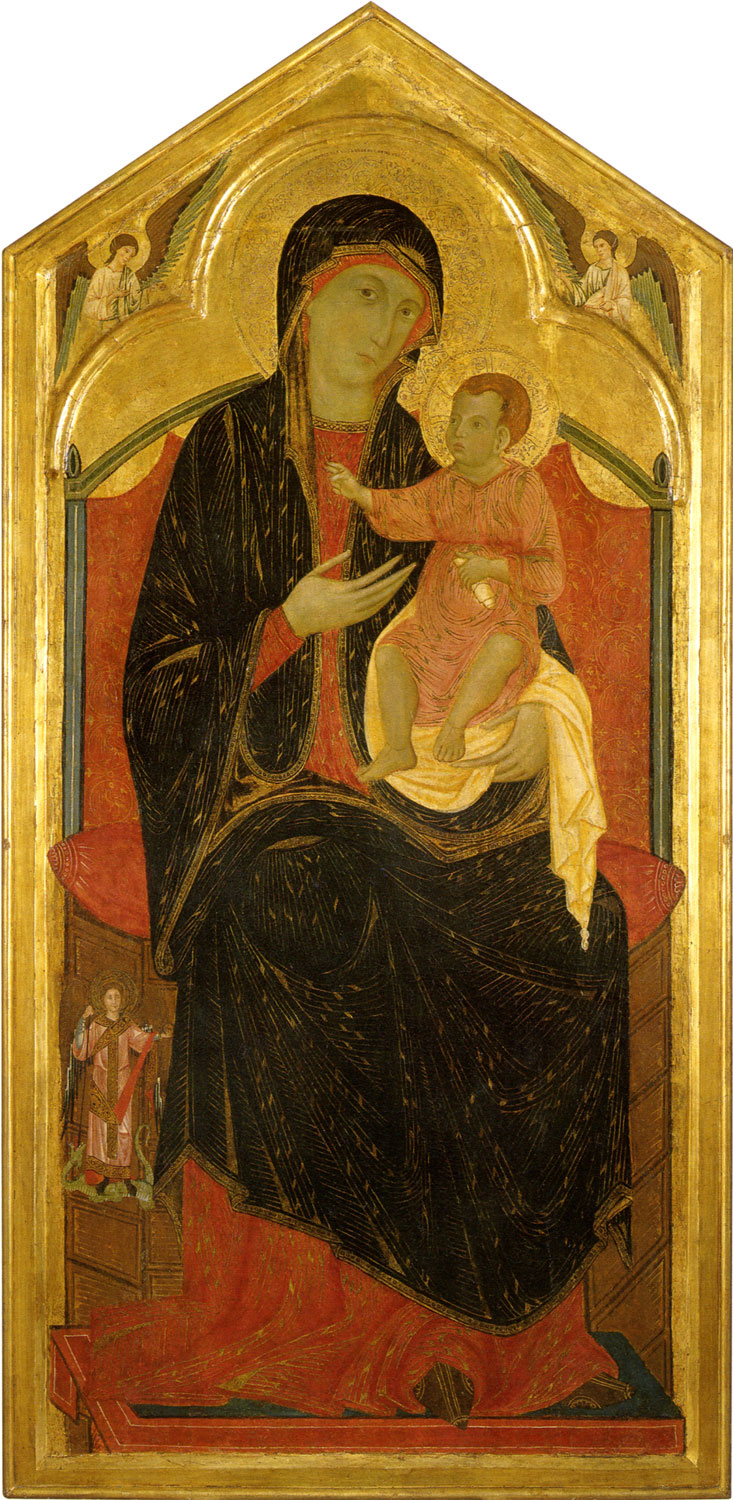 Leonardo di ser Piero da Vinci ( April 15, 1452 – May 2, 1519, Old Style) was an Italian Renaissance polymath: painter, sculptor, architect, musician, scientist, mathematician, engineer, inventor, anatomist, geologist, cartographer, botanist, and writer whose genius, perhaps more than that of any other figure, epitomized the Renaissance humanist ideal. Leonardo has often been described as the archetype of the Renaissance Man, a man of "unquenchable curiosity" and "feverishly inventive imagination"...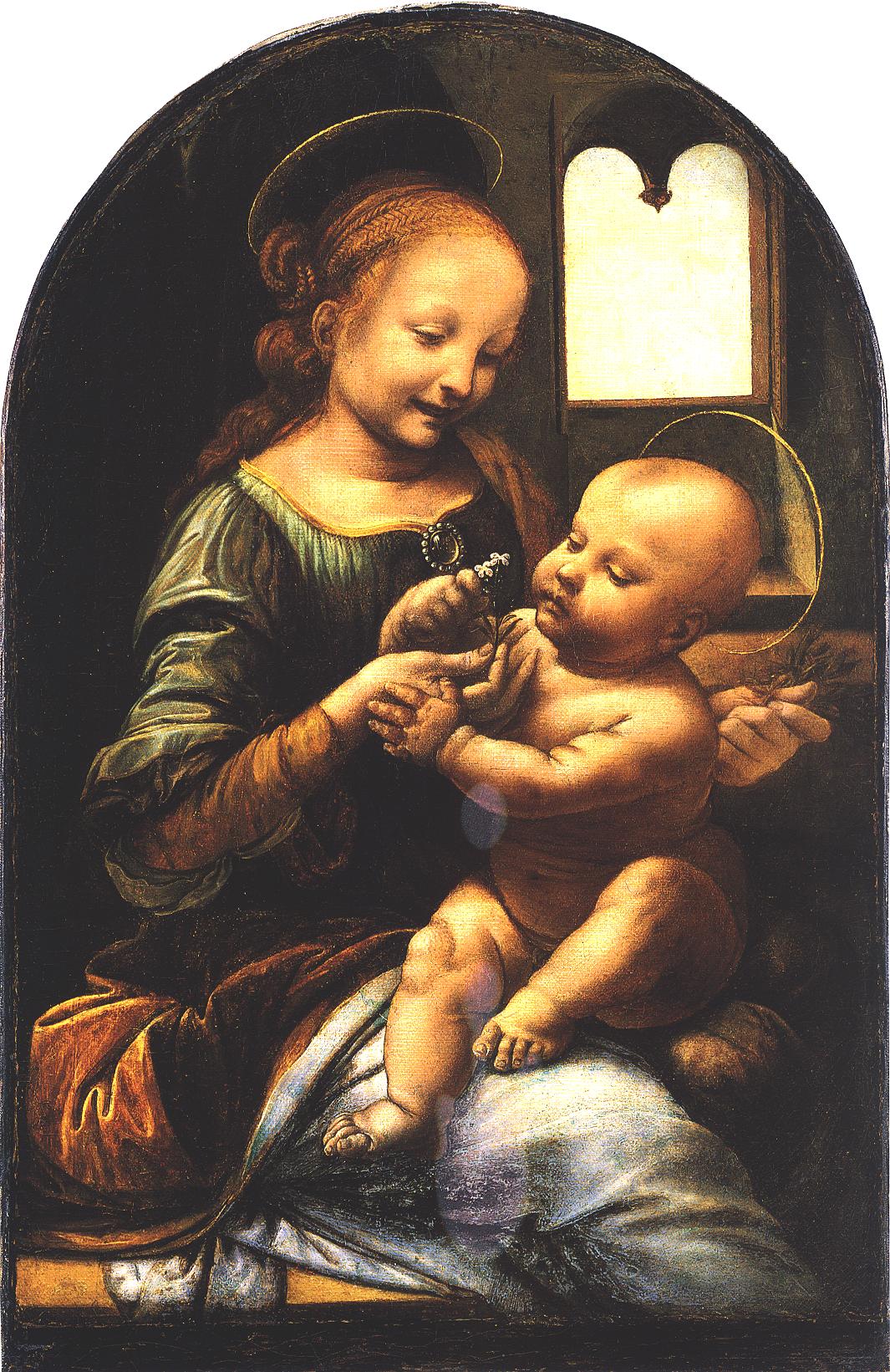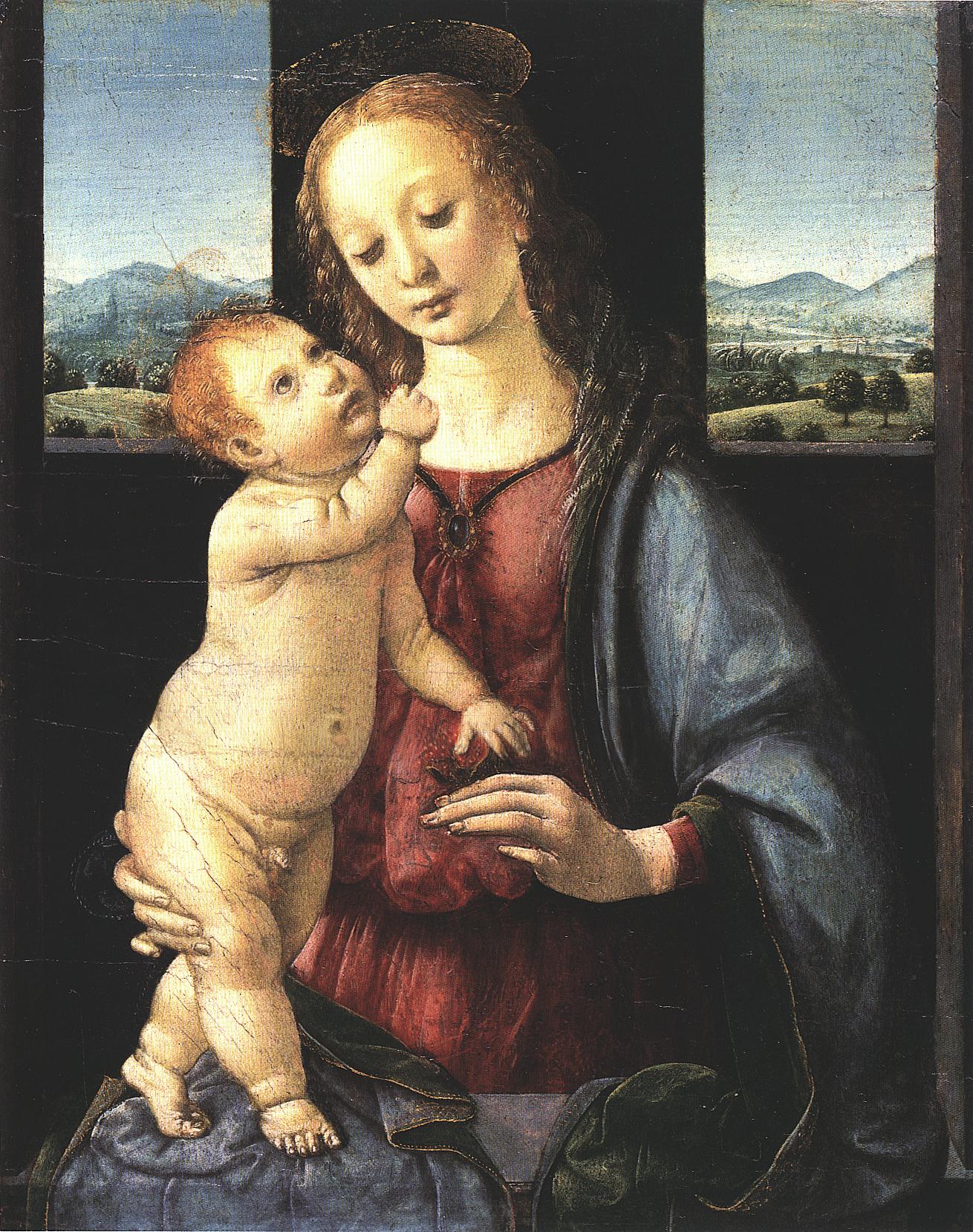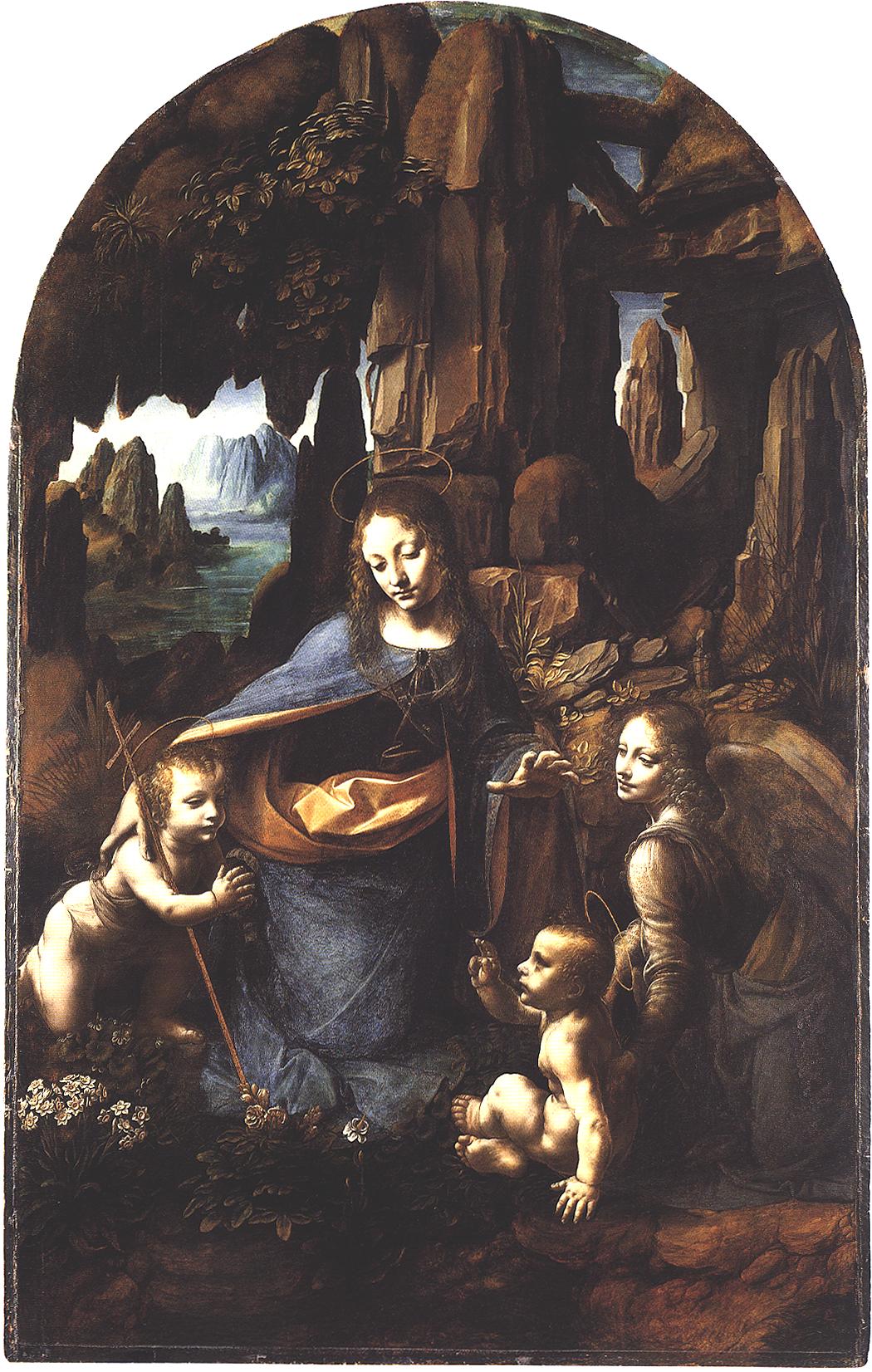 Filippino Lippi (Prato, c. 1457 – April 1504) was an Italian painter working during the High Renaissance in Florence, Italy...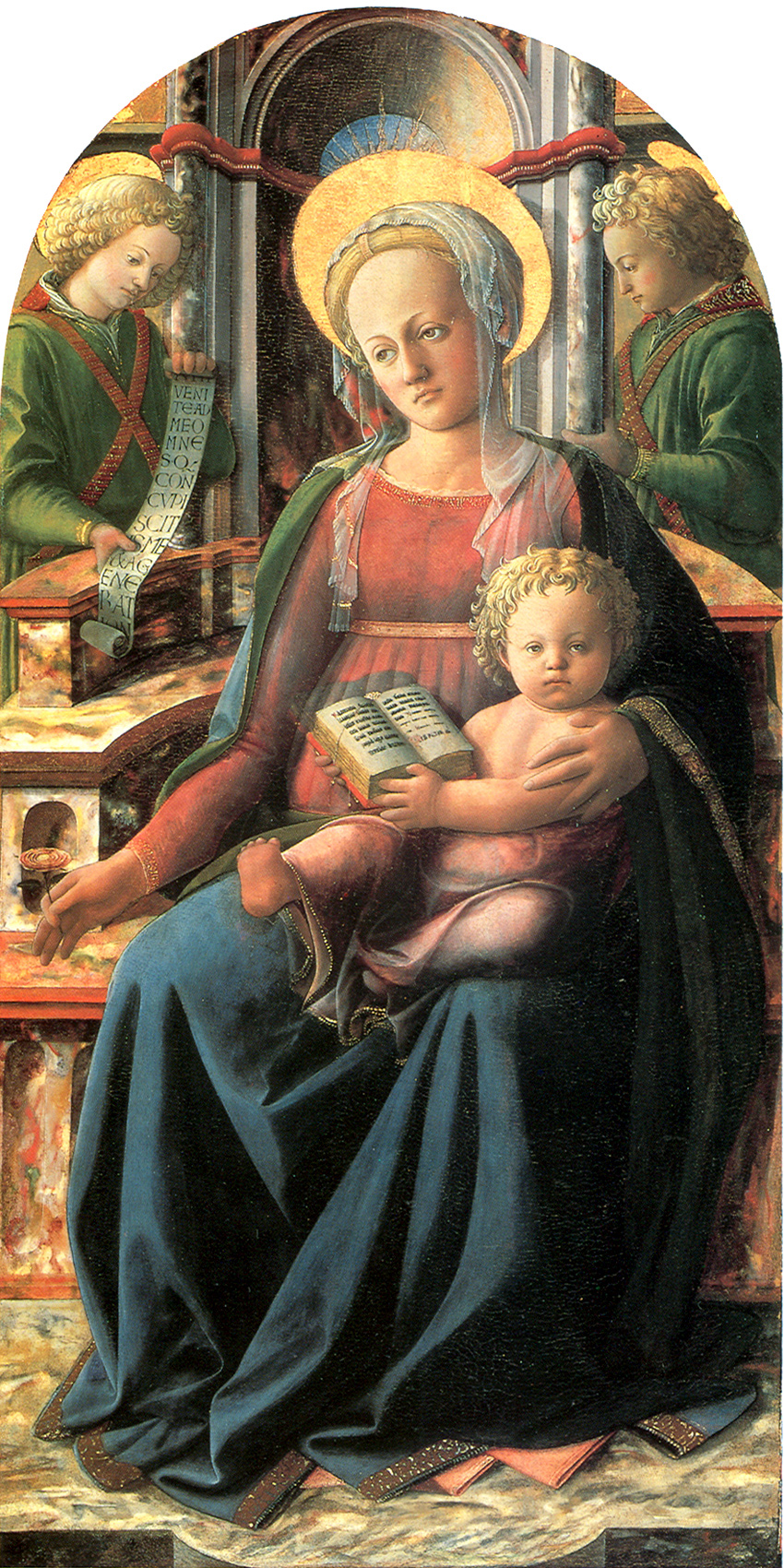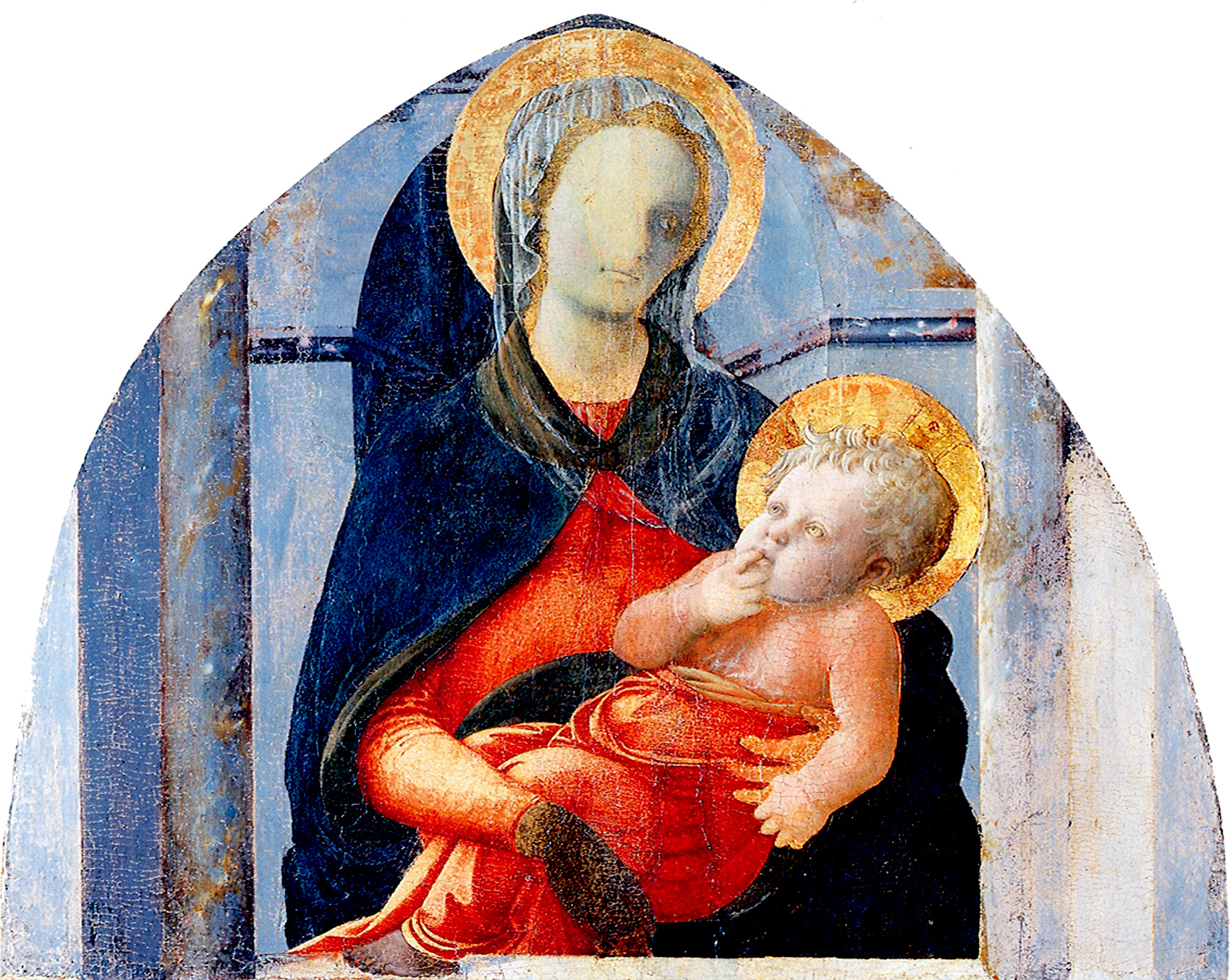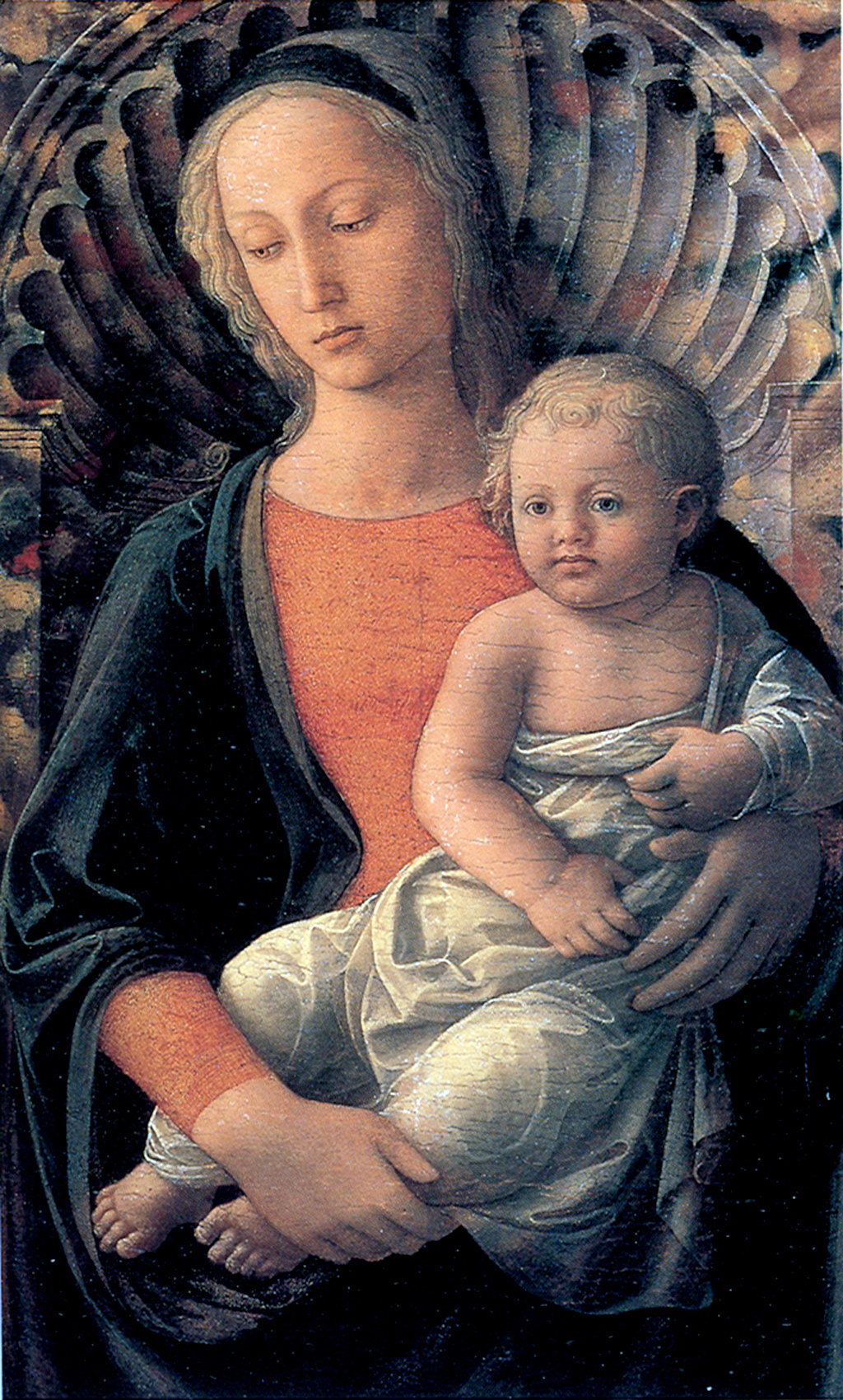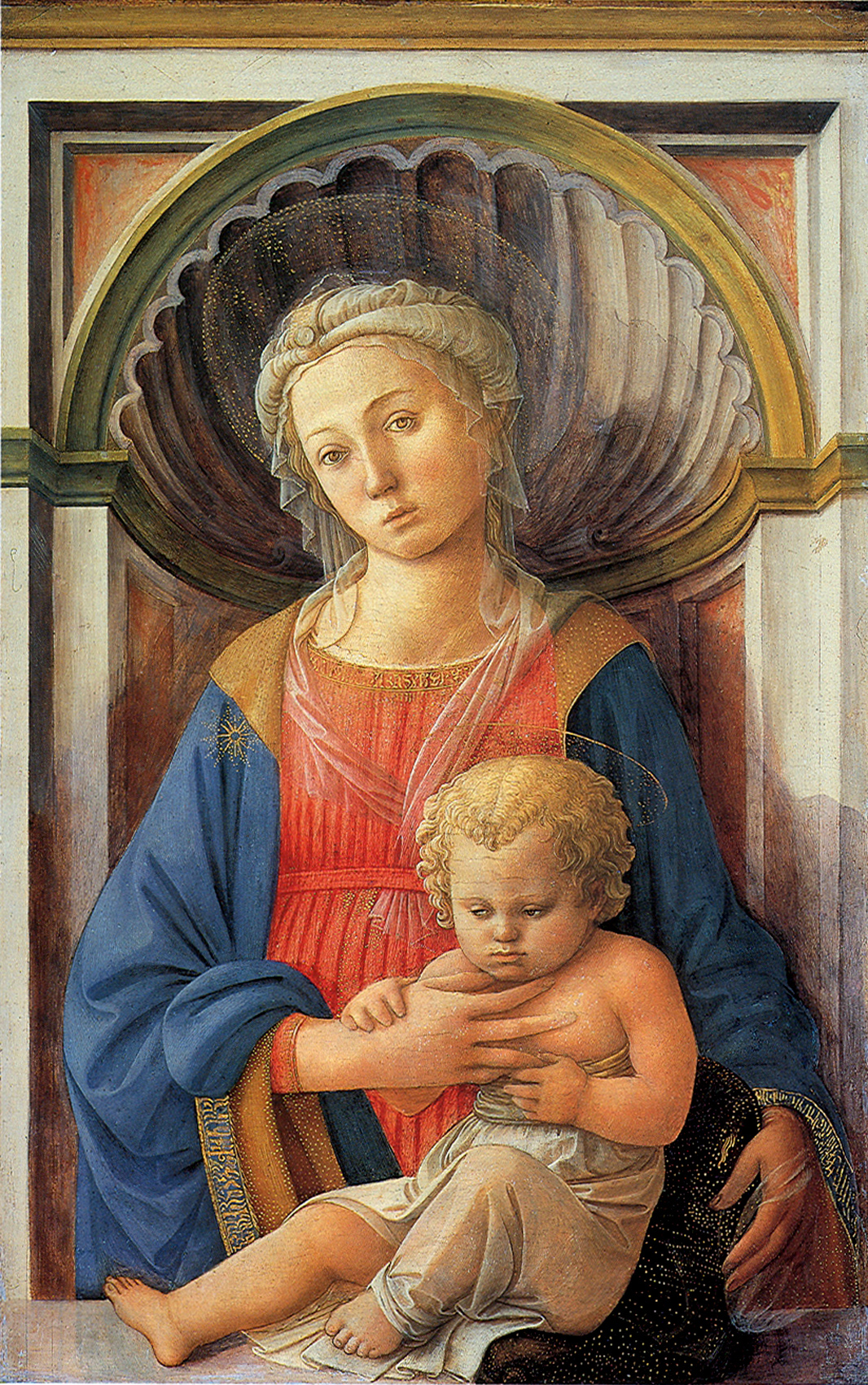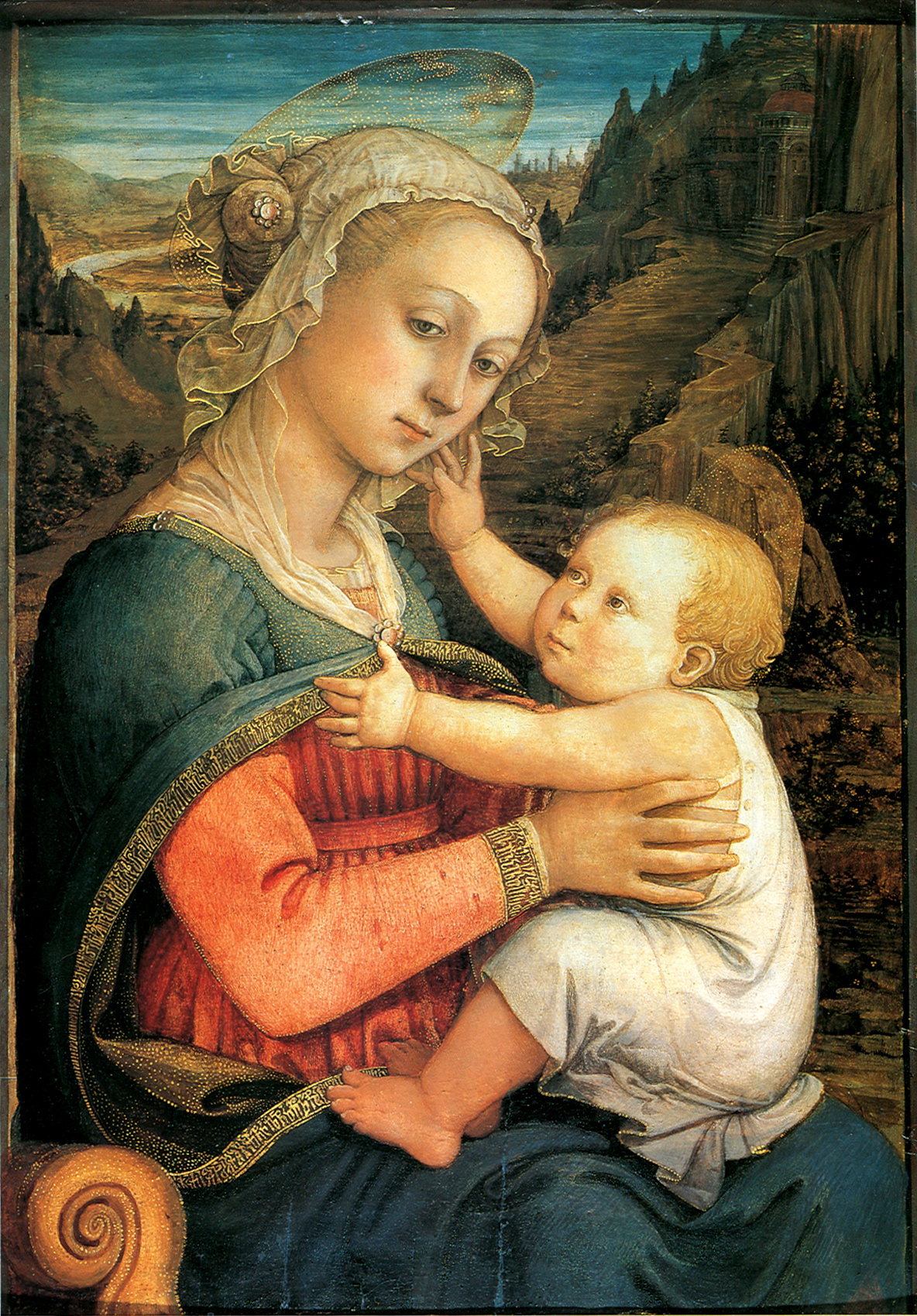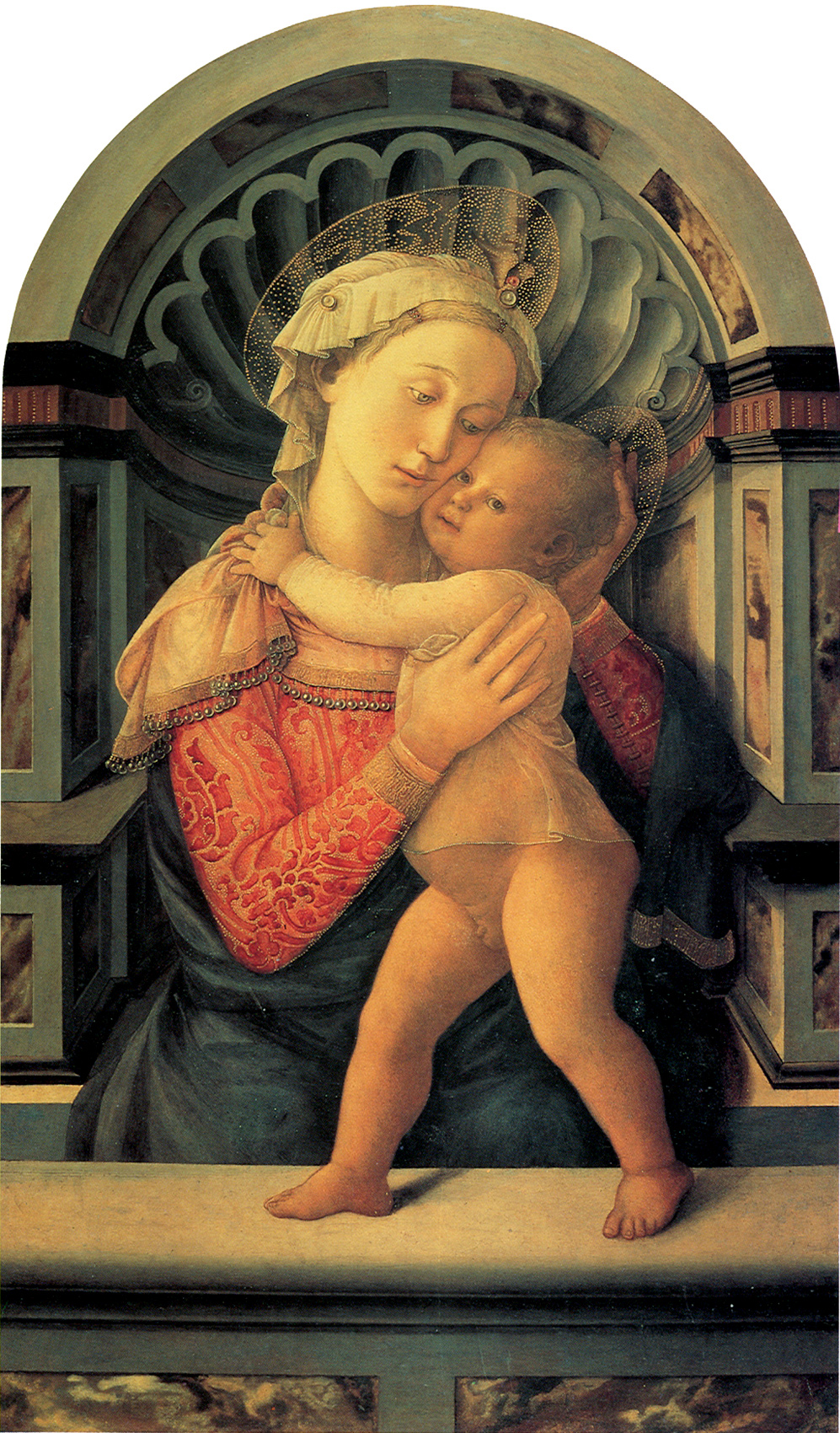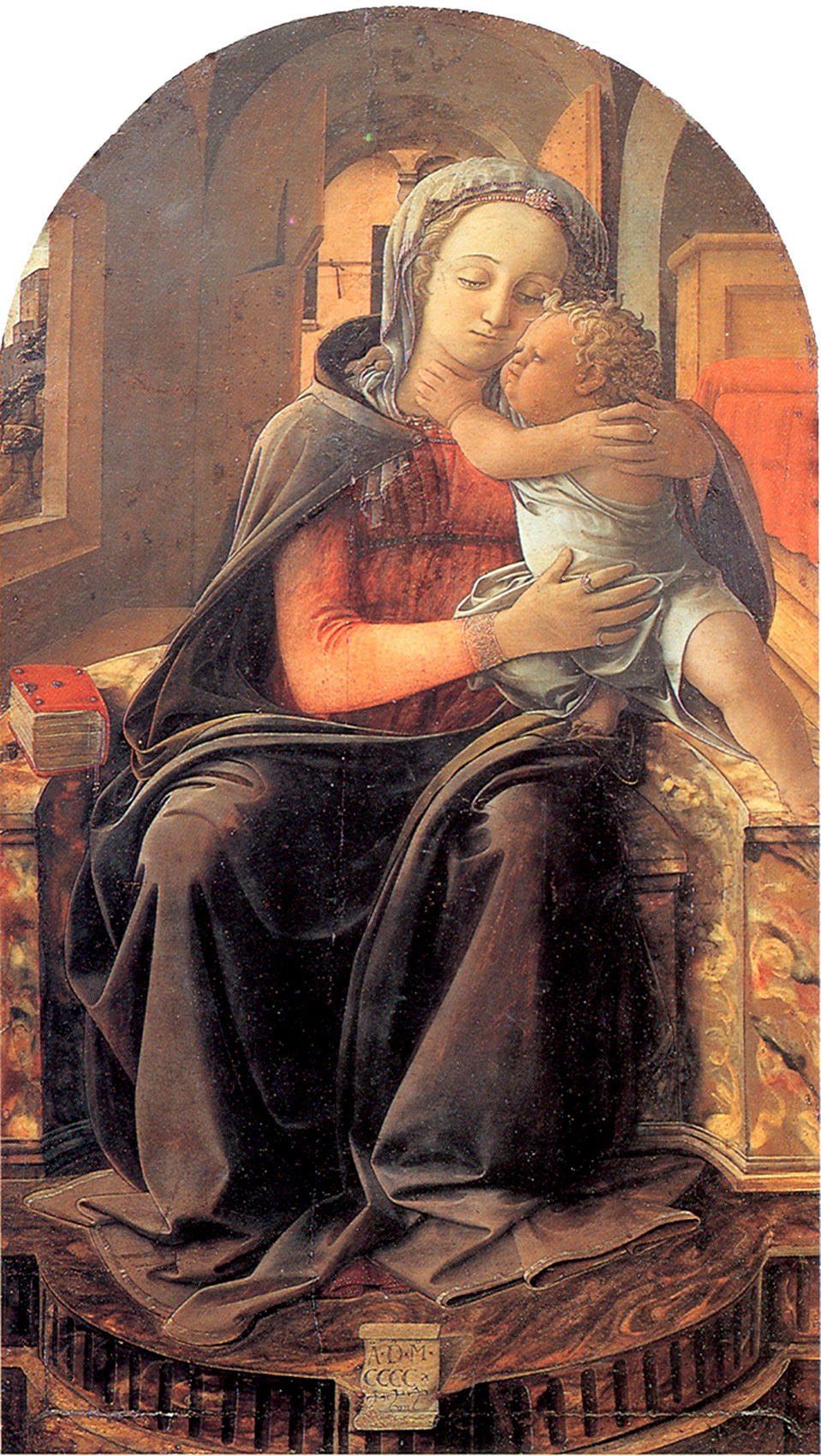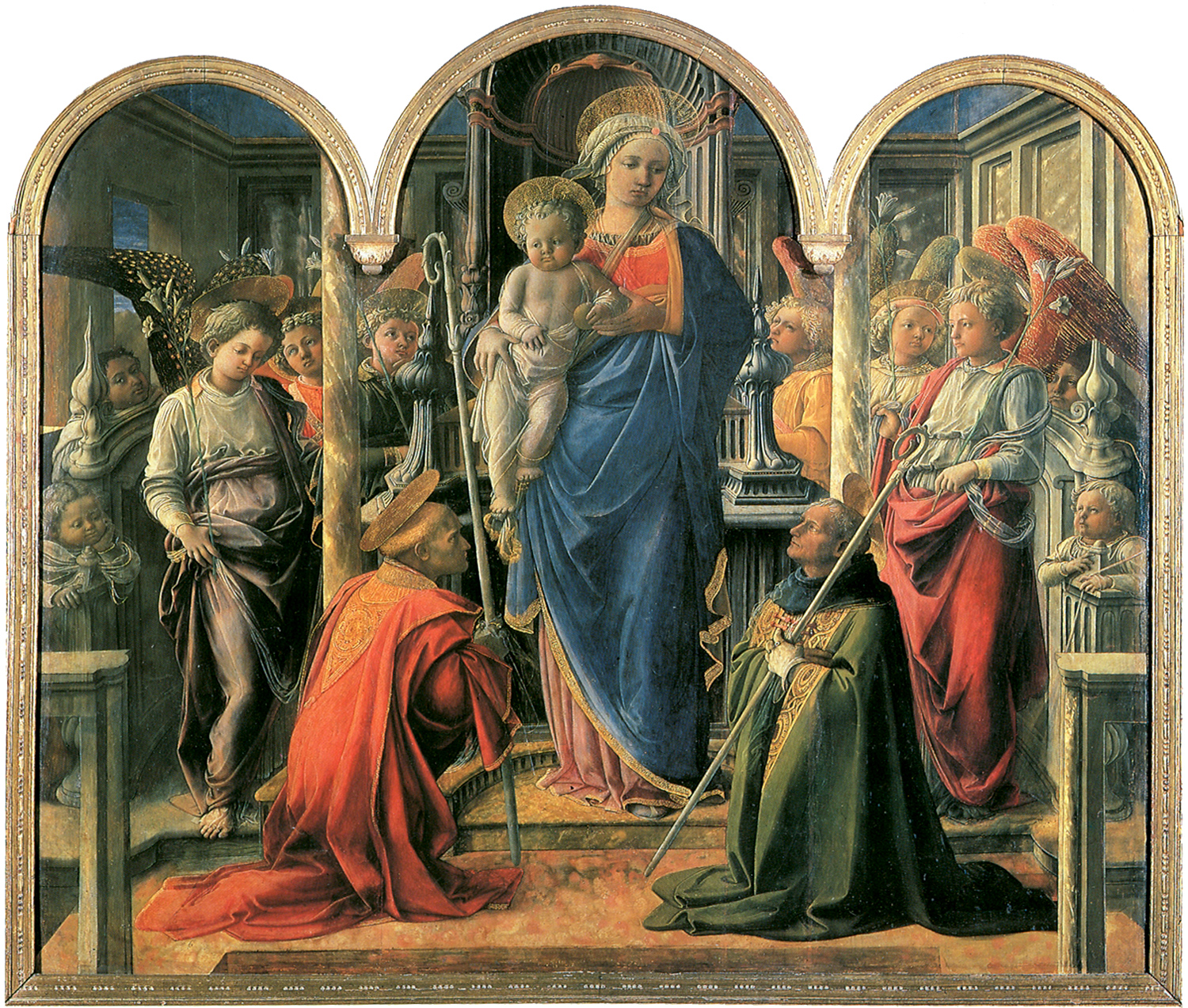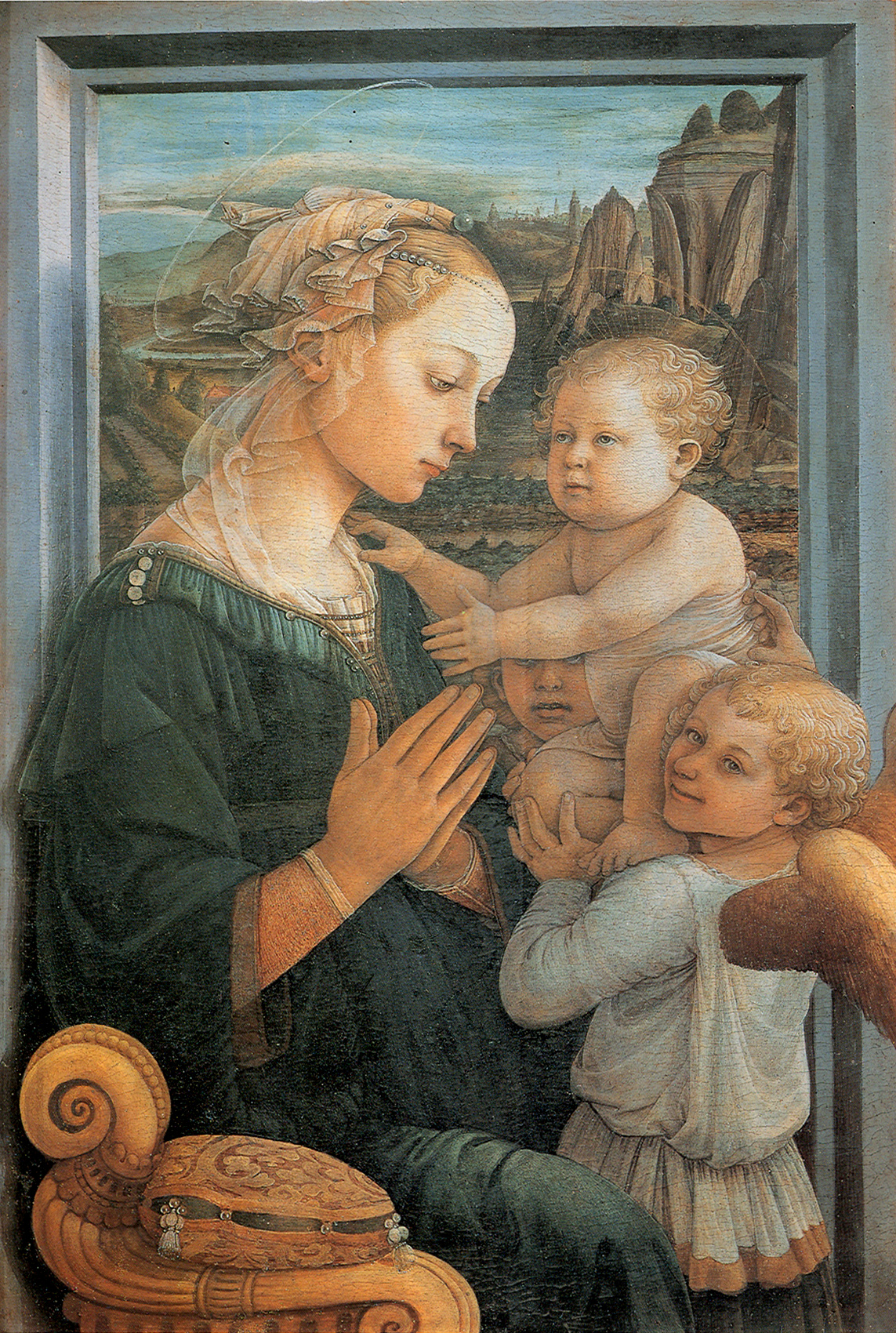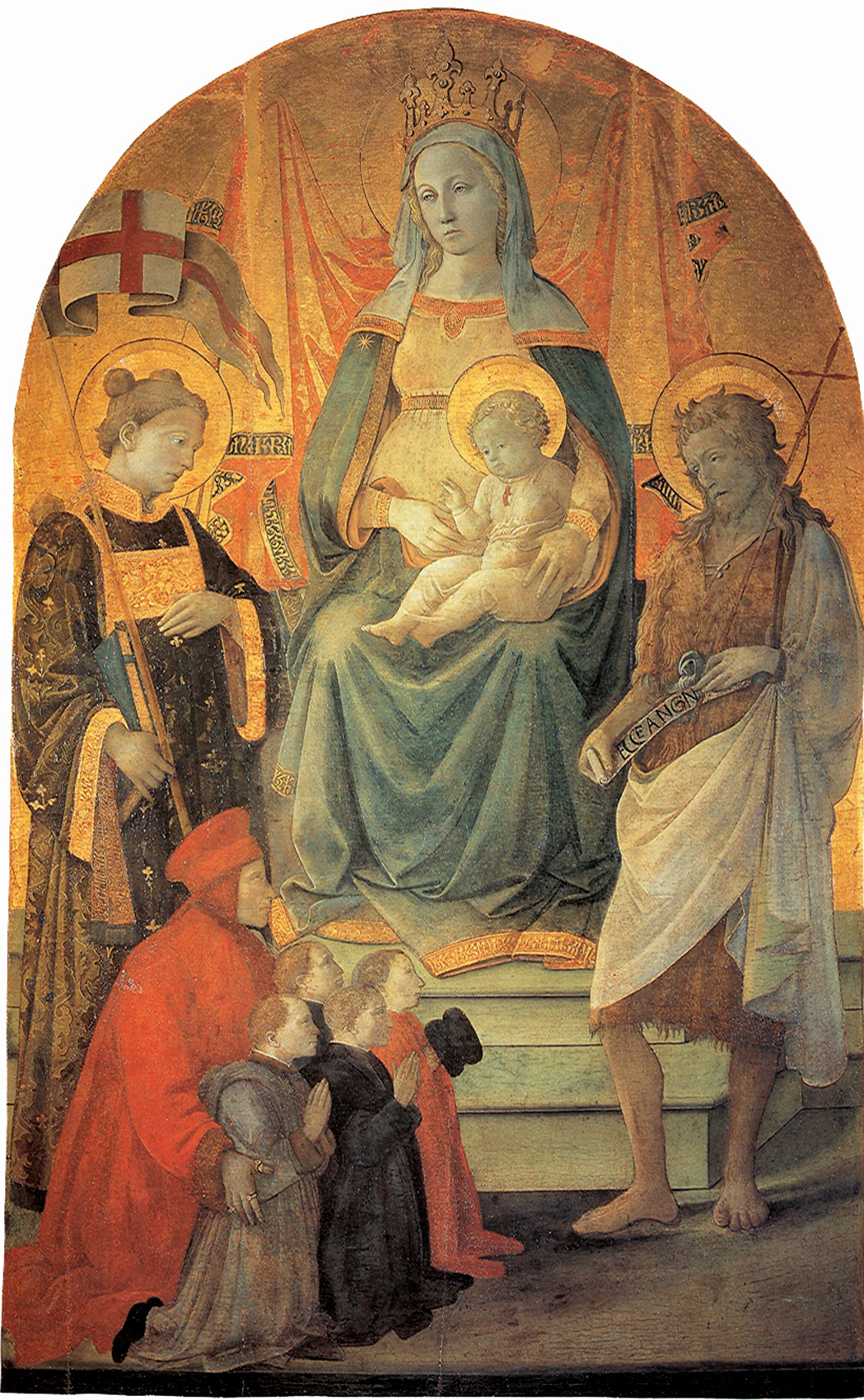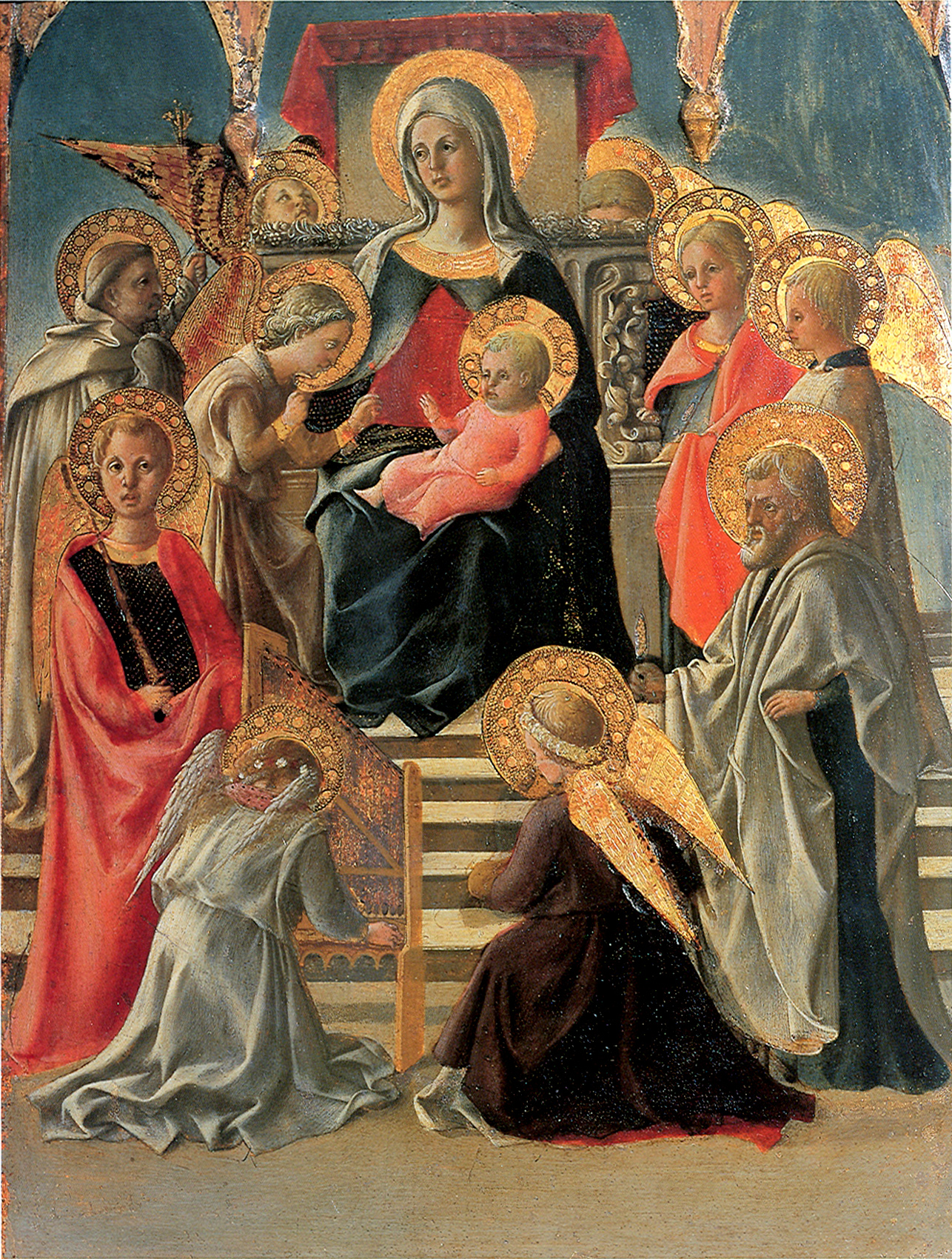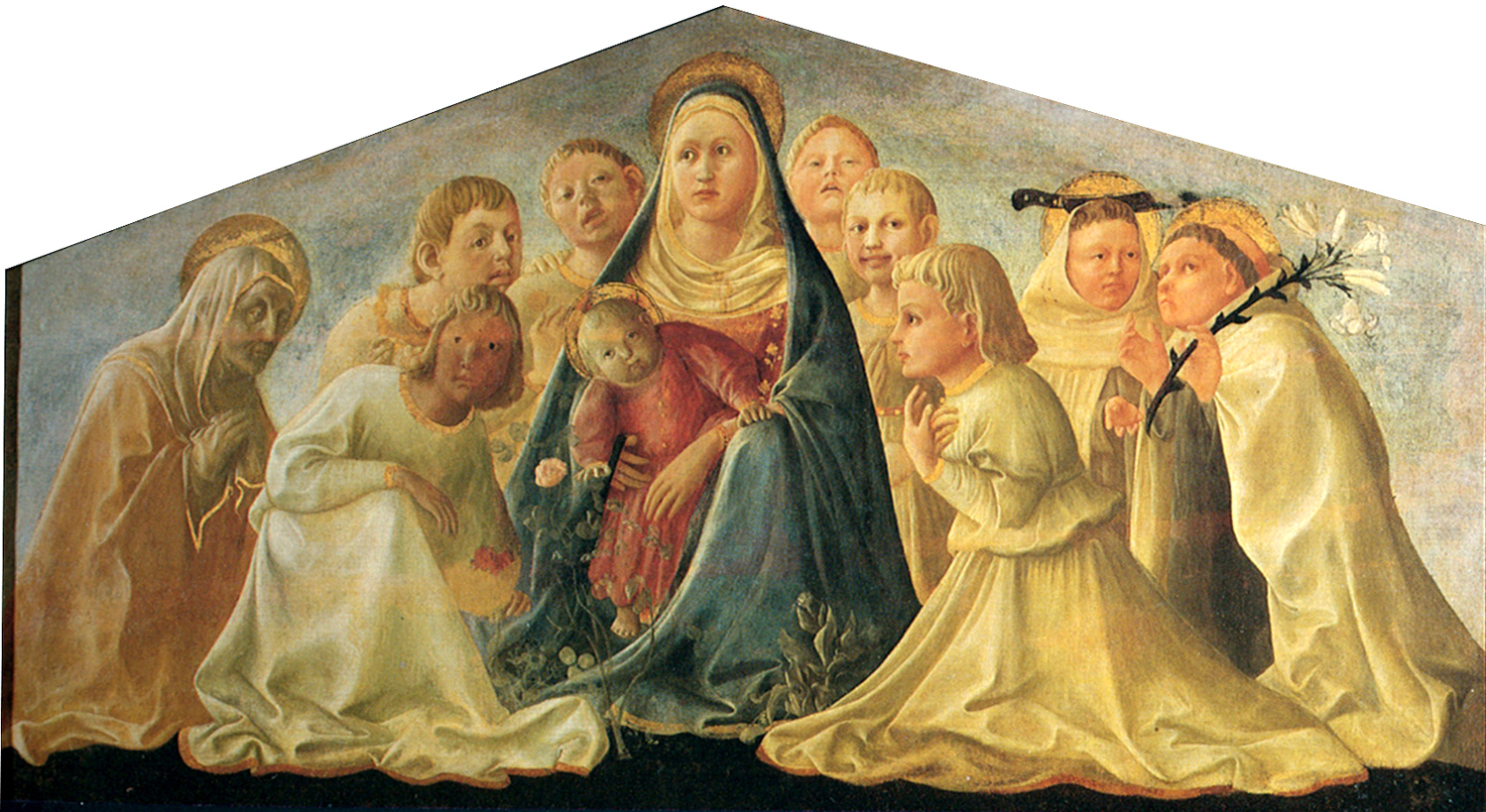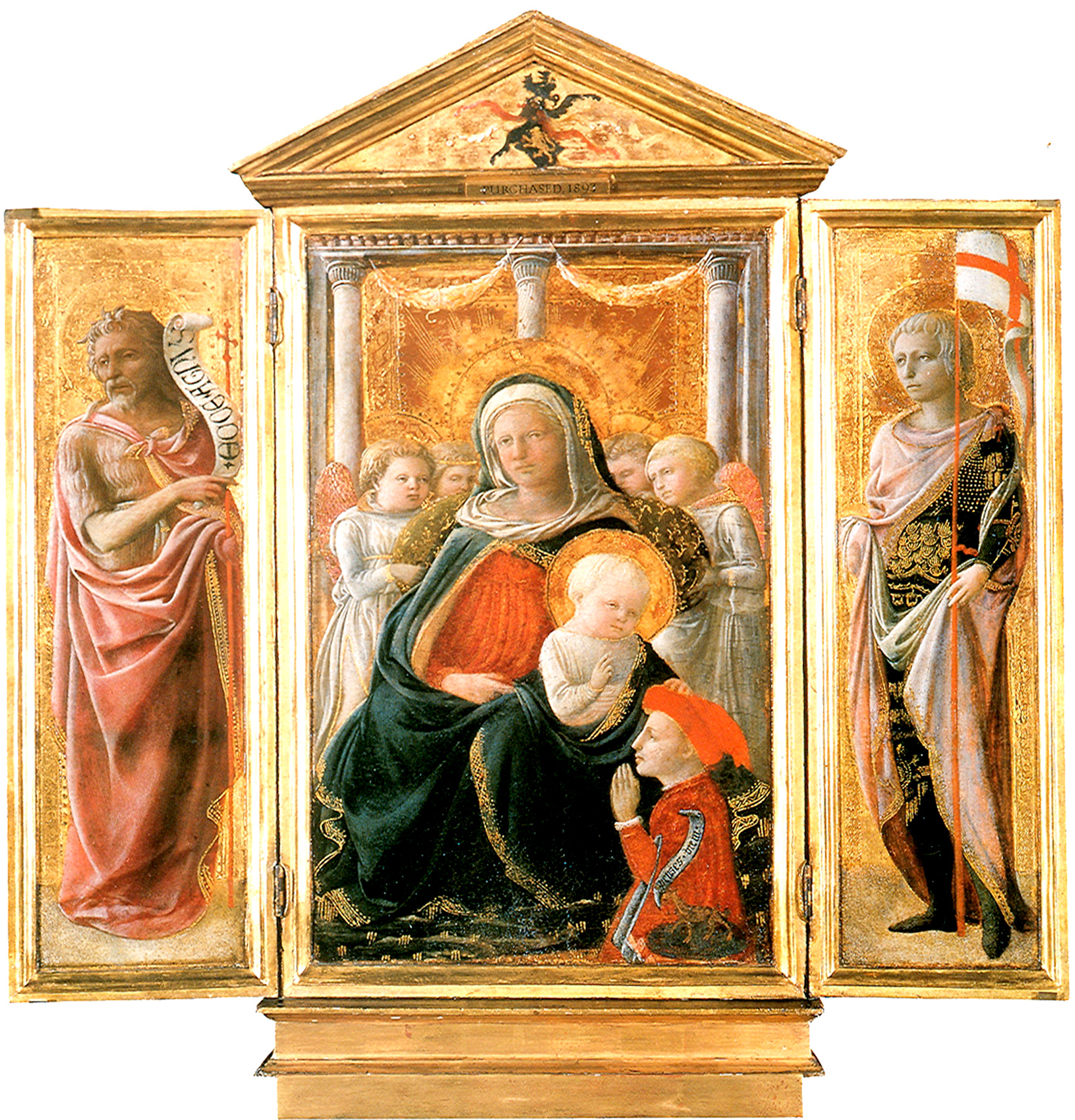 Stefan Lochner (Meersburg, 1400 – Cologne, 1452) was a German late Gothic painter. He worked in Cologne, Germany, and his principal work is a triptych known as the Altar of the City Patrons, painted for the Town Hall chapel in the 1440s and now in Cologne Cathedral. It represents the city in homage to the infant Jesus...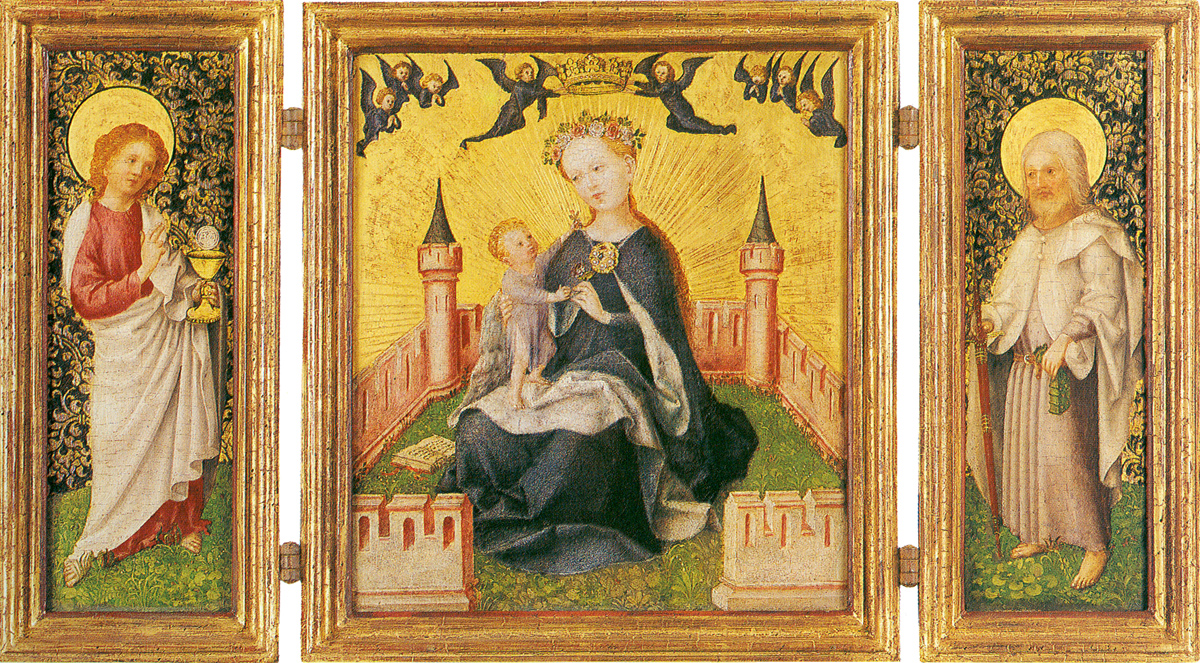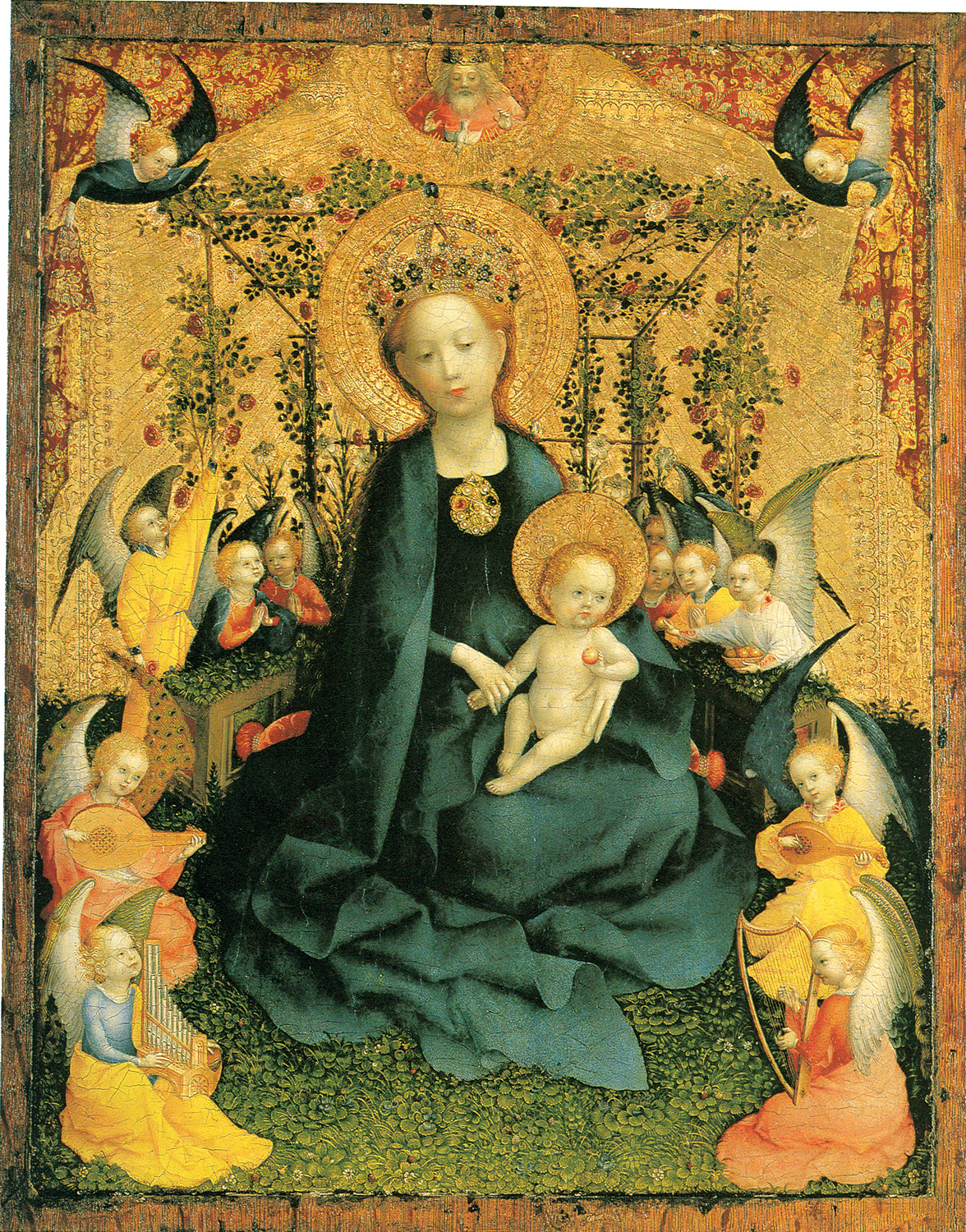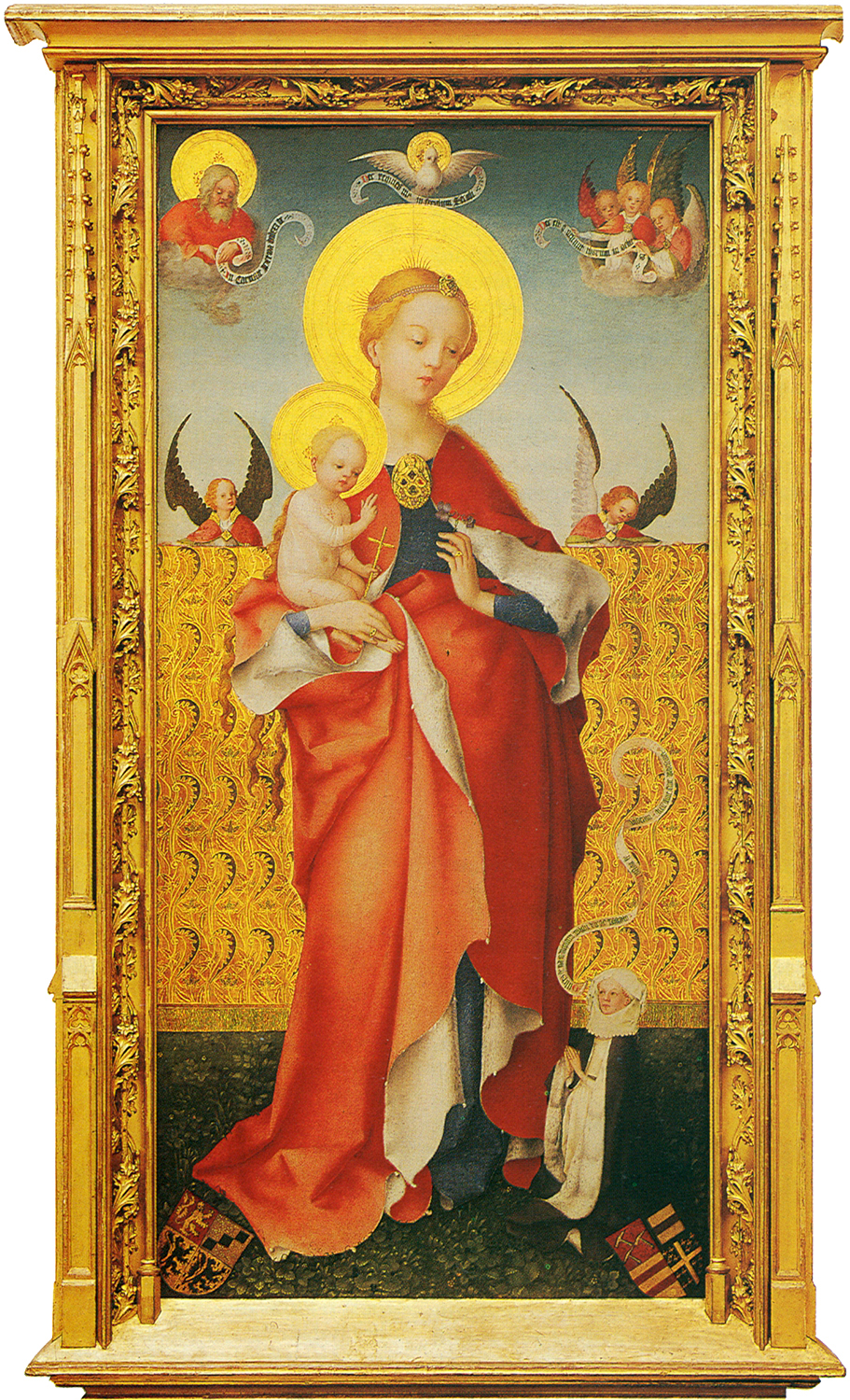 Pietro Lorenzetti (or Pietro Laurati; c. 1280 – 1348) was an Italian painter, active between approximately 1306 and 1345. Together with his younger brother, the painter Ambrogio Lorenzetti, he helped introduce naturalism into Sienese art. In their artistry and experiments with three-dimensional and spatial arrangements, the two brothers foreshadowed the art of the Renaissance...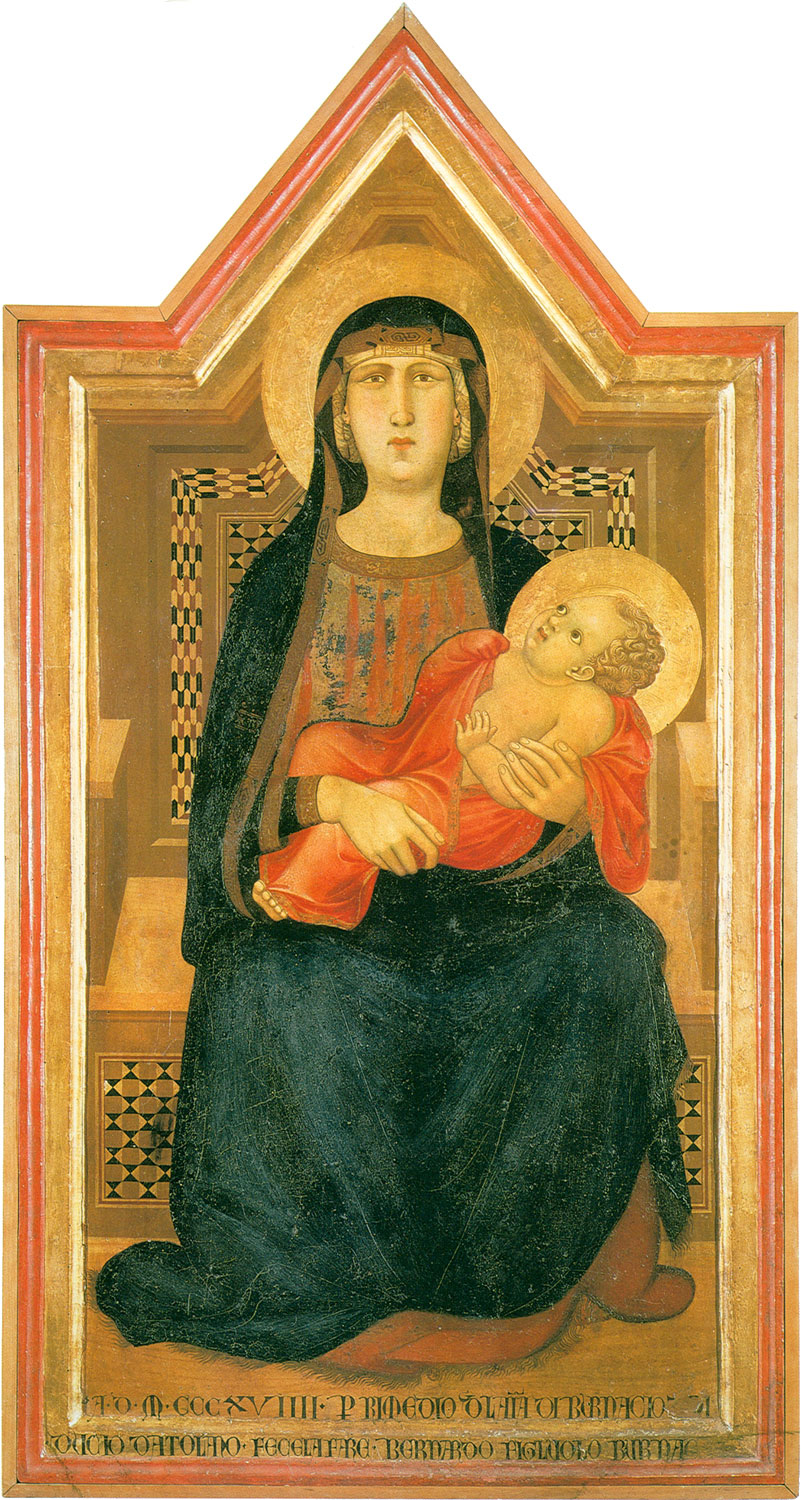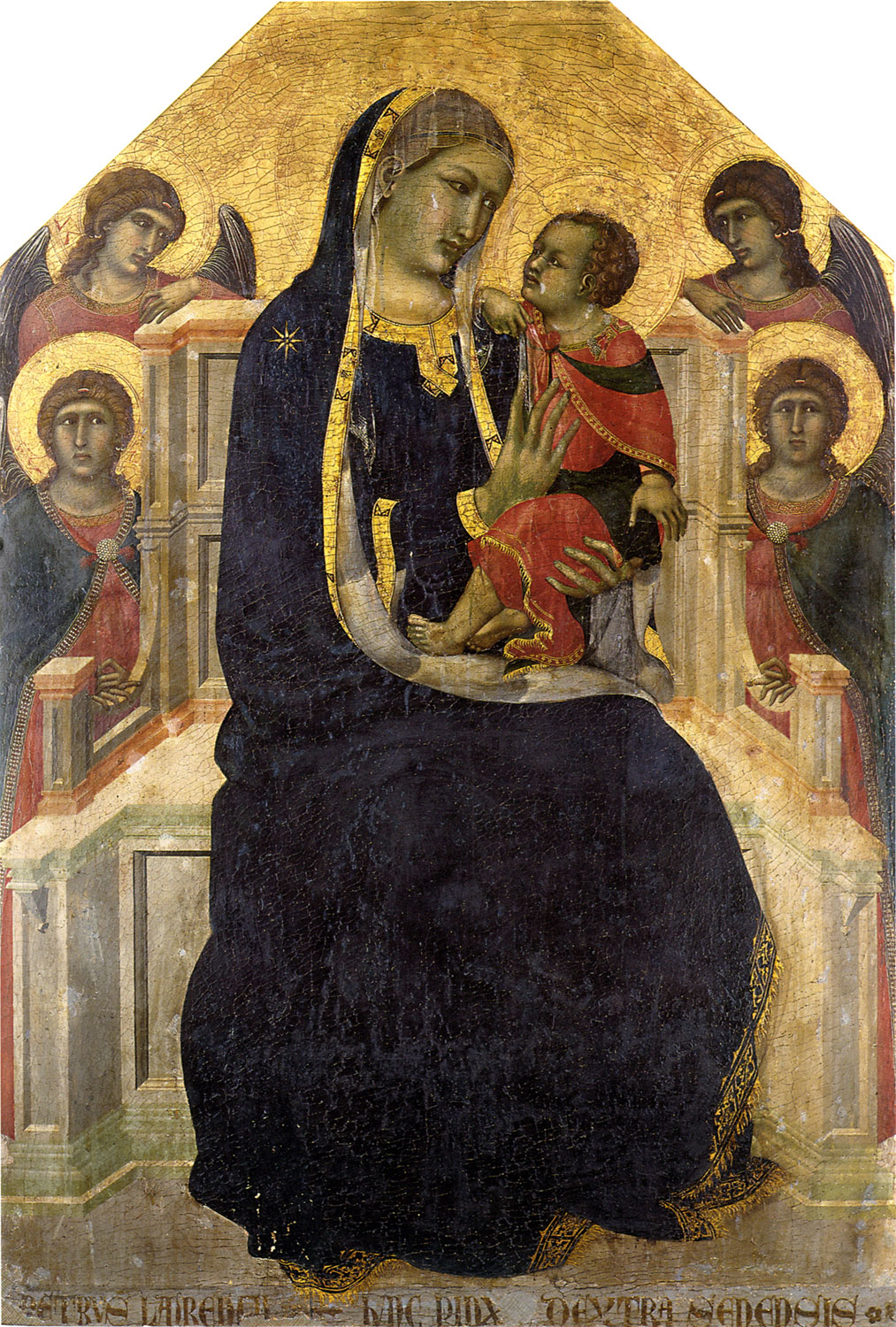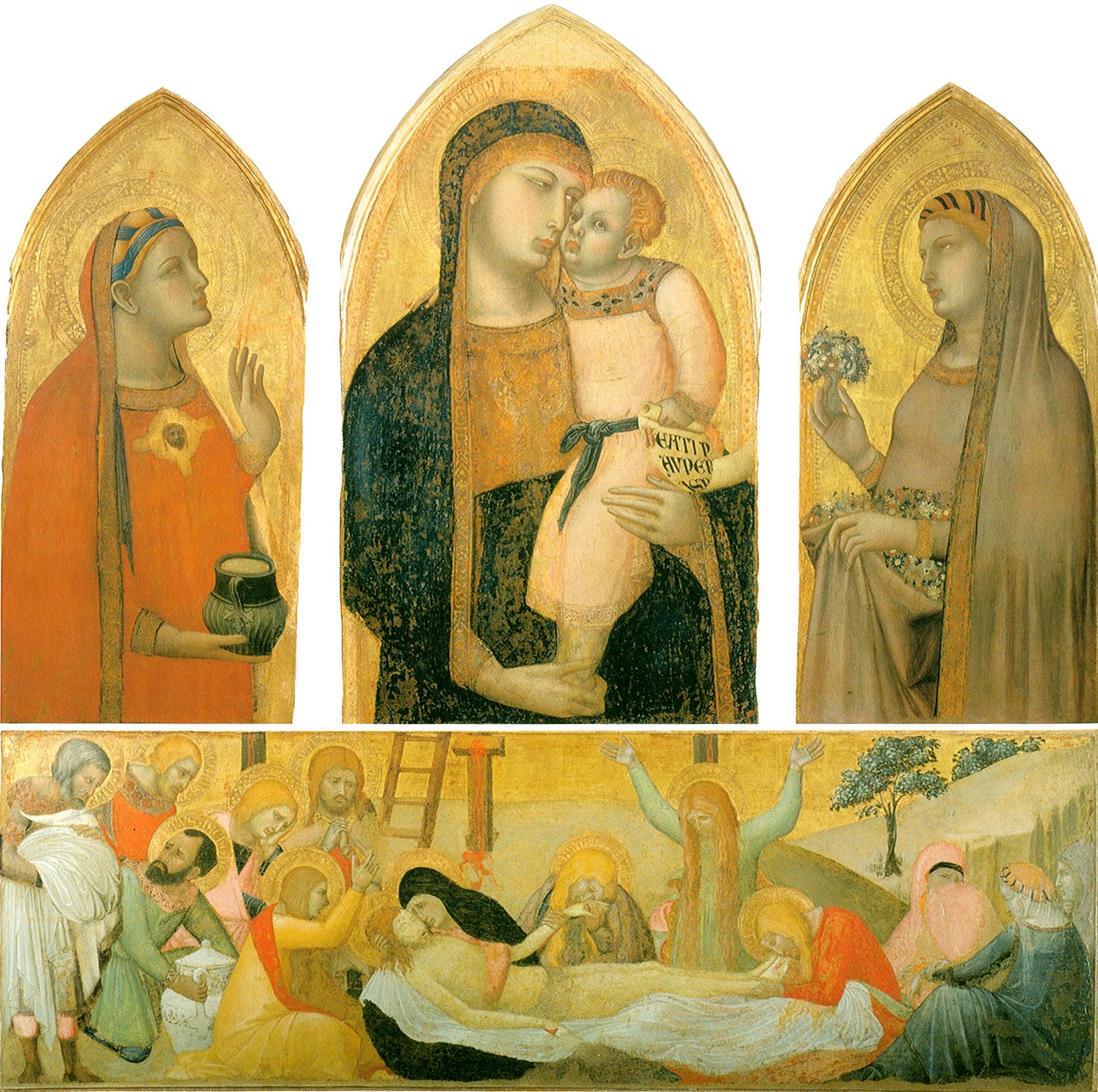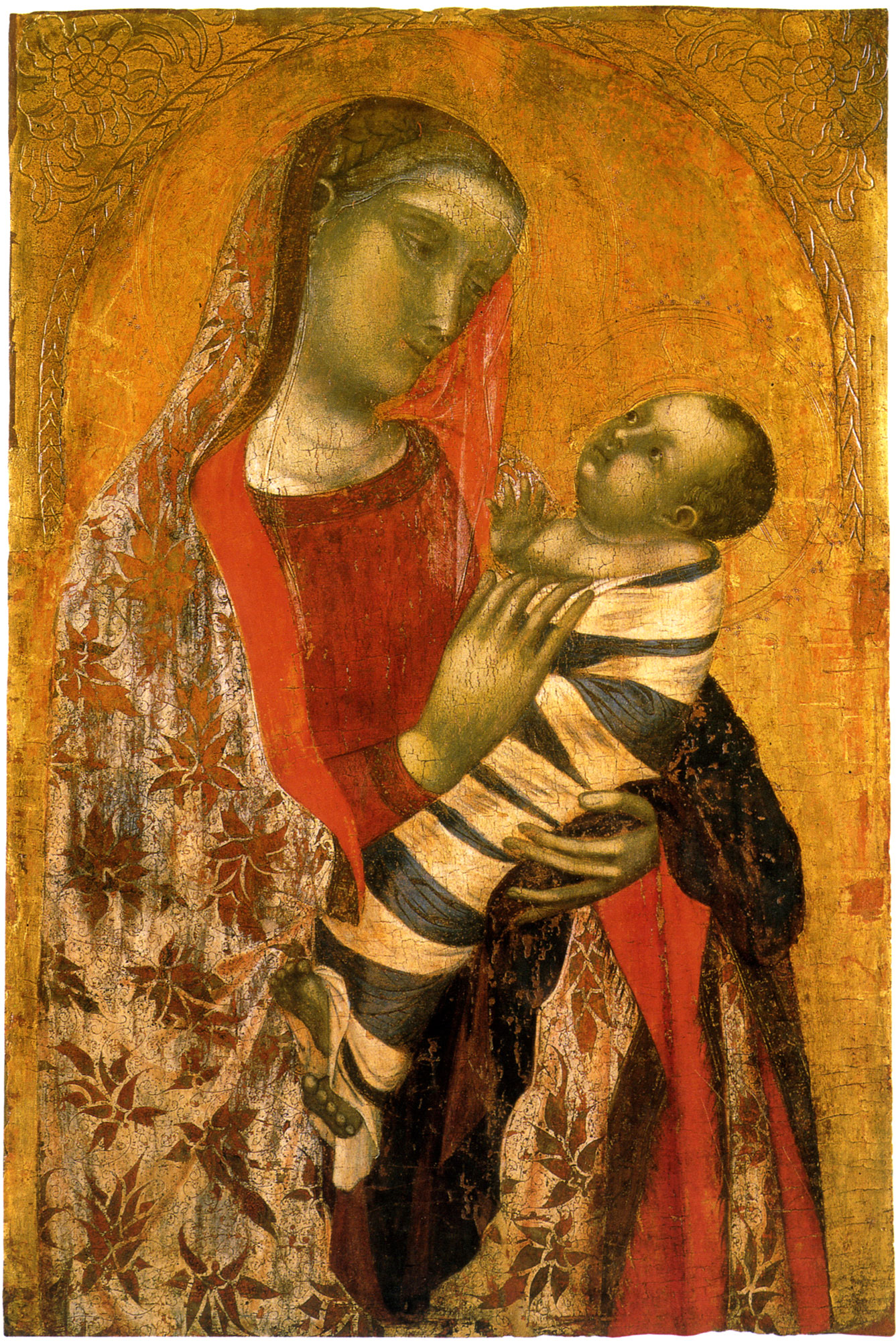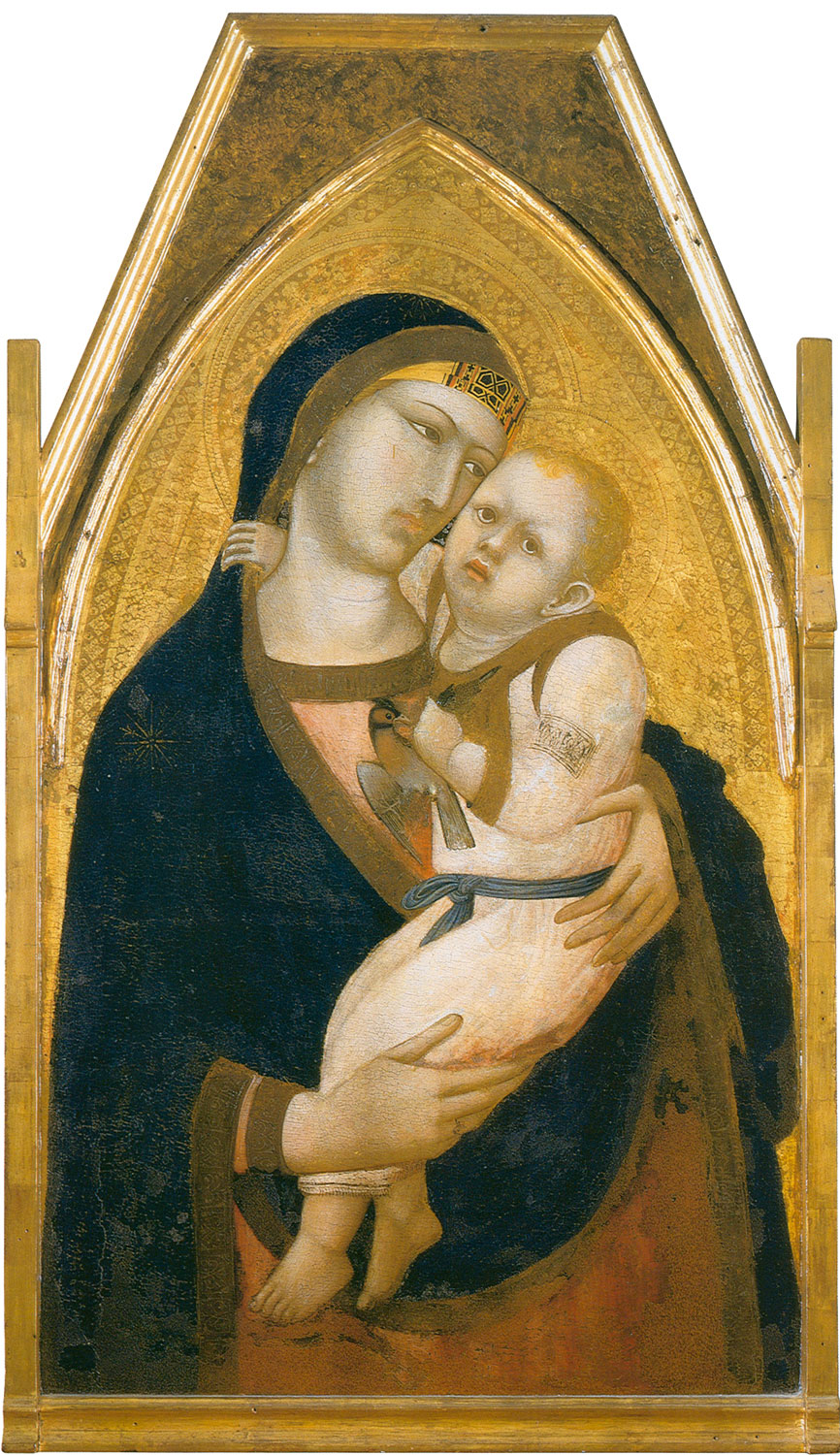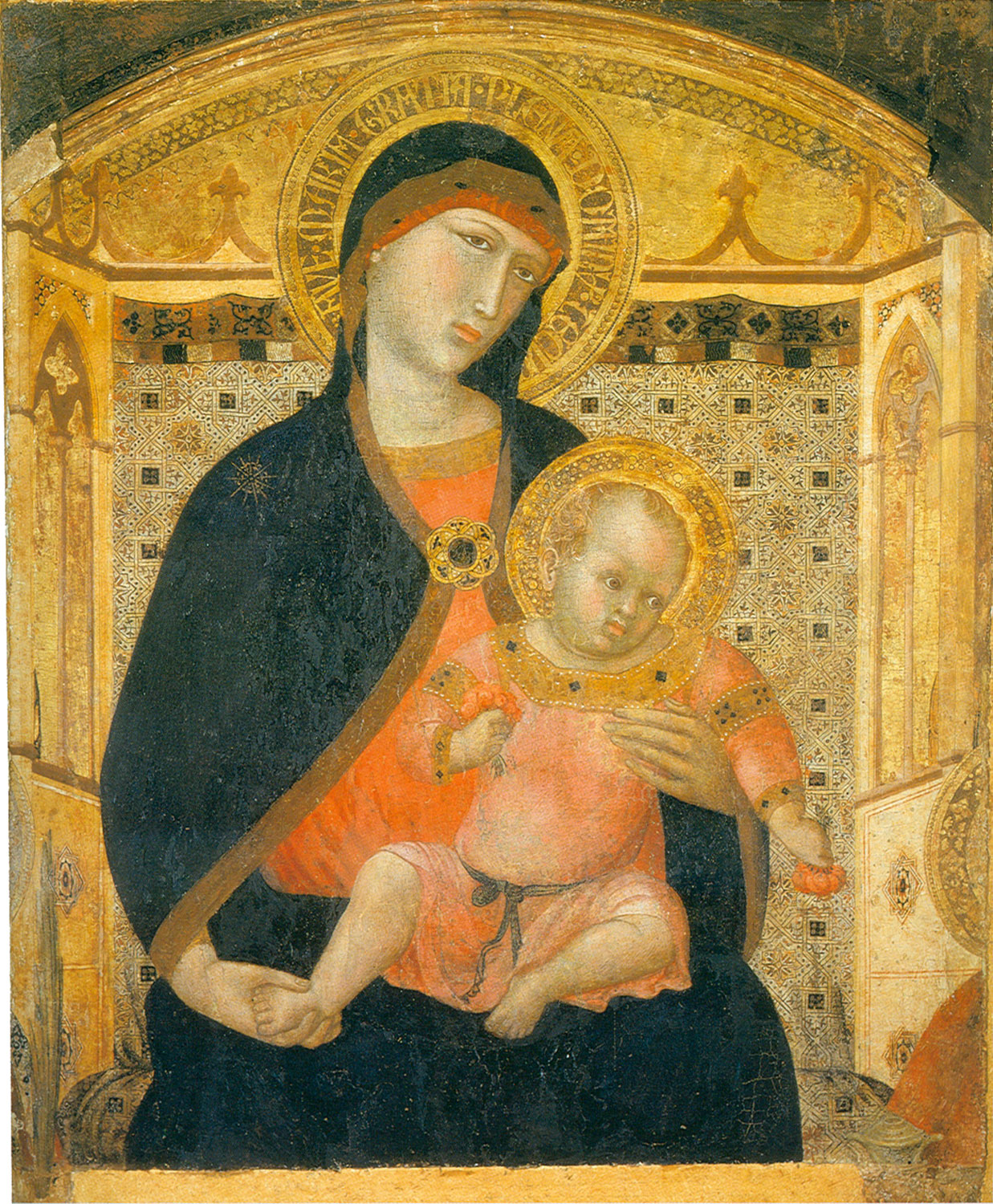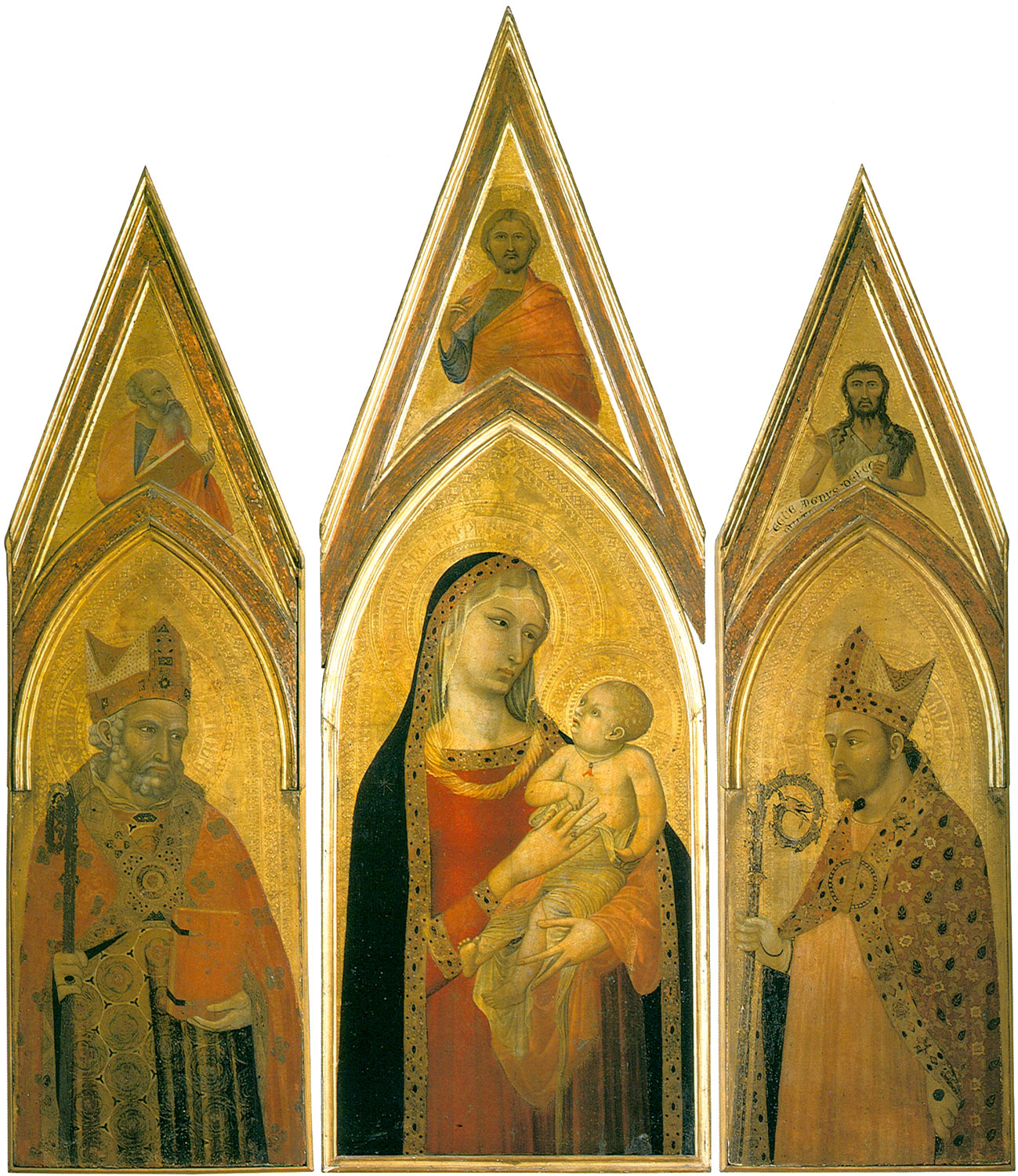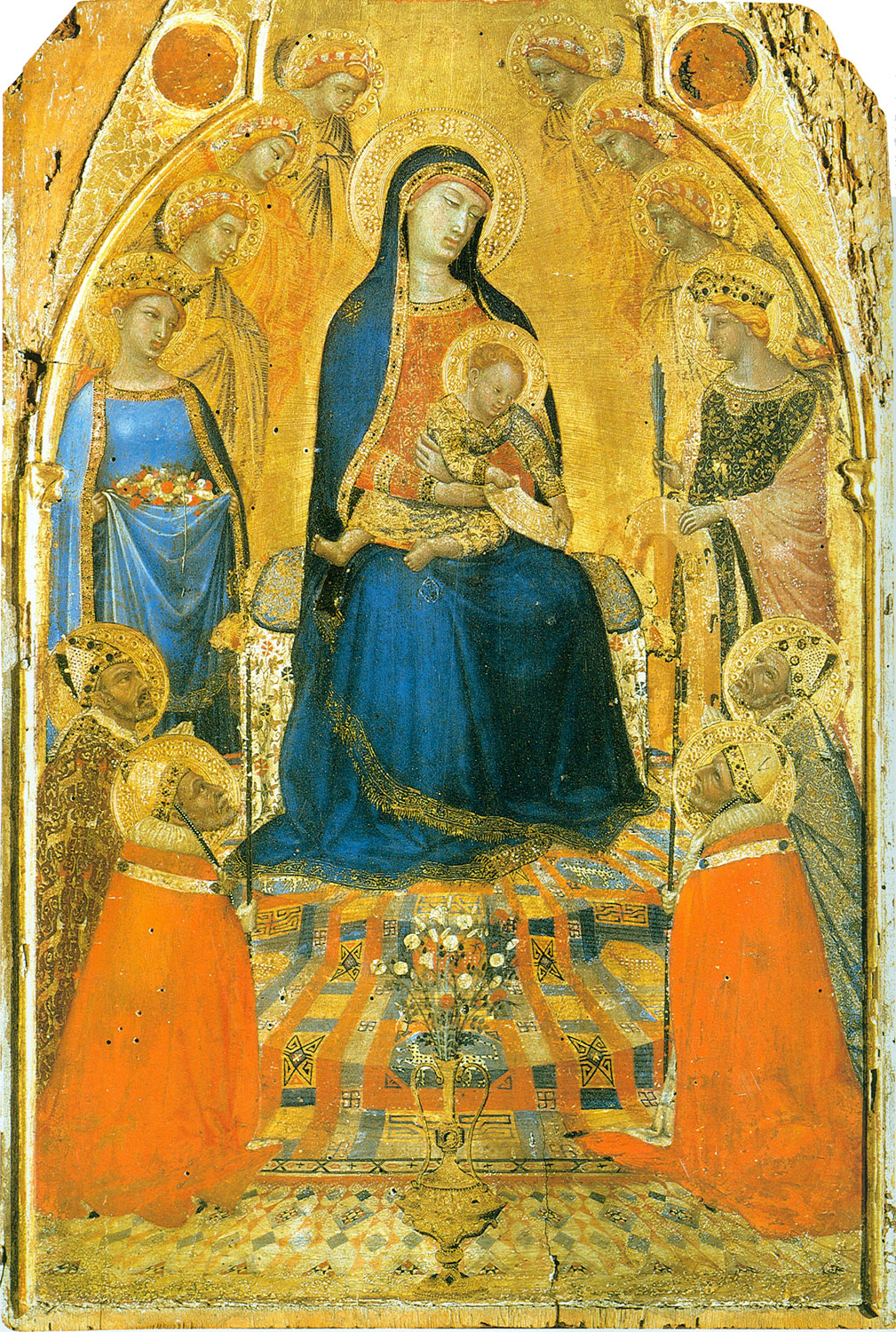 Lorenzo di Credi (c. 1459 – January 12, 1537) was an Italian Renaissance painter and sculptor. He first influenced Leonardo da Vinci and then was greatly influenced by him...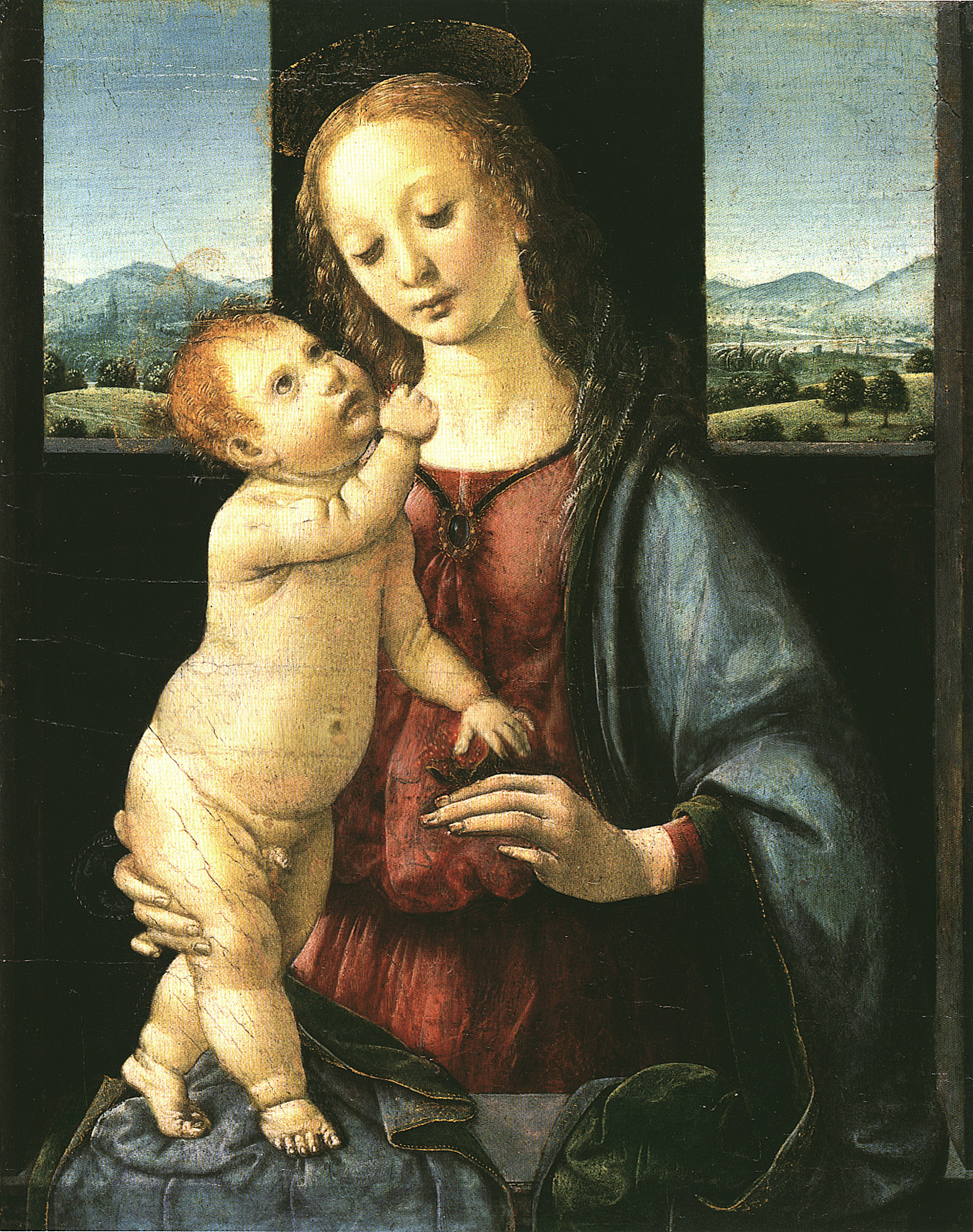 Andrea della Robbia (October 24, 1435 – August 4, 1525) was an Italian Renaissance sculptor, especially in ceramics. He was the son of Marco della Robbia. Andrea della Robbia's uncle, Luca della Robbia, popularized the use of glazed terra-cotta for sculpture....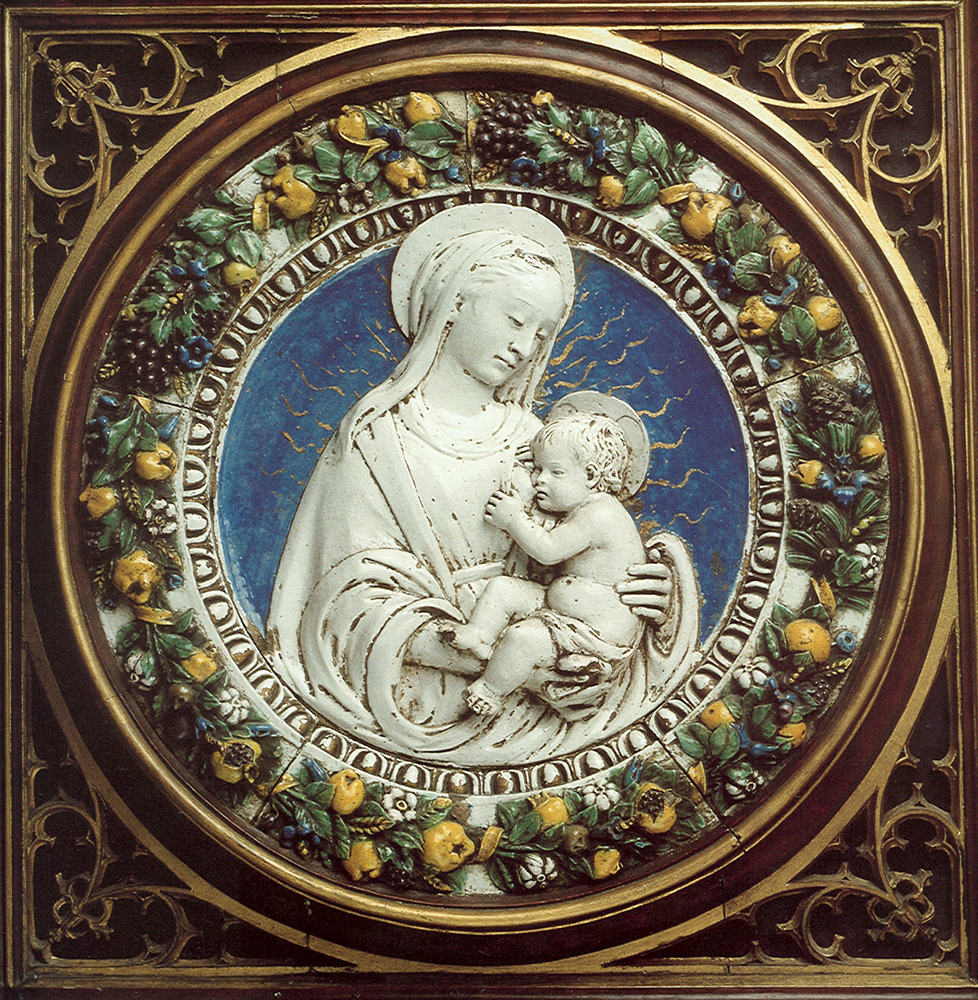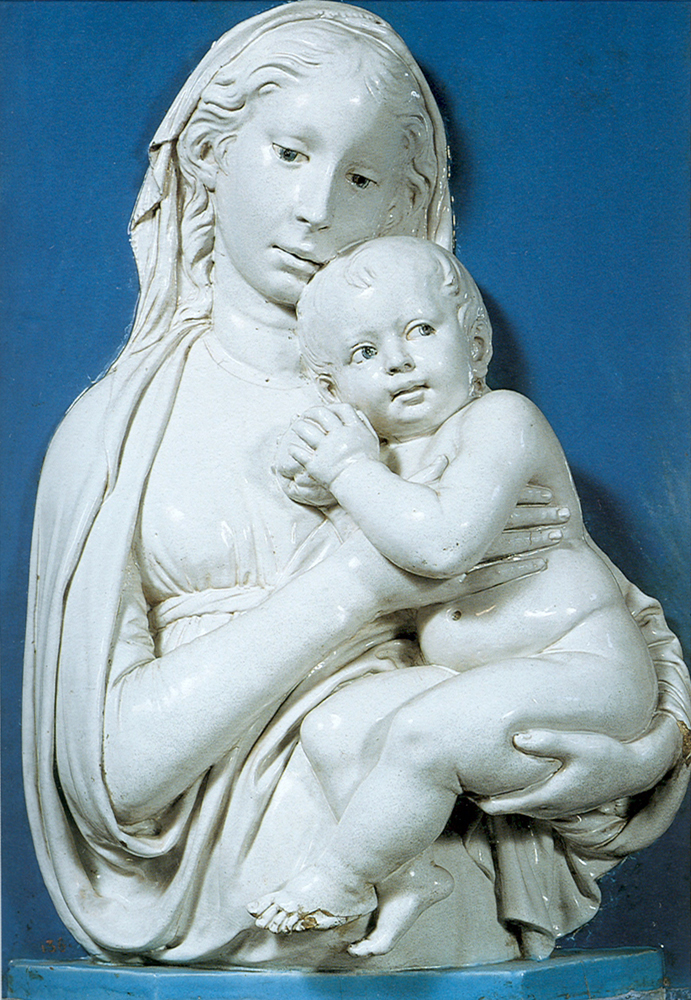 Andrea Mantegna (c. 1431 – September 13, 1506) was an Italian painter, a student of Roman archeology, and son in law of Jacopo Bellini. Like other artists of the time, Mantegna experimented with perspective, e.g., by lowering the horizon in order to create a sense of greater monumentality. His flinty, metallic landscapes and somewhat stony figures give evidence of a fundamentally sculptural approach to painting. He also led a workshop that was the leading producer of prints in Venice before 1500...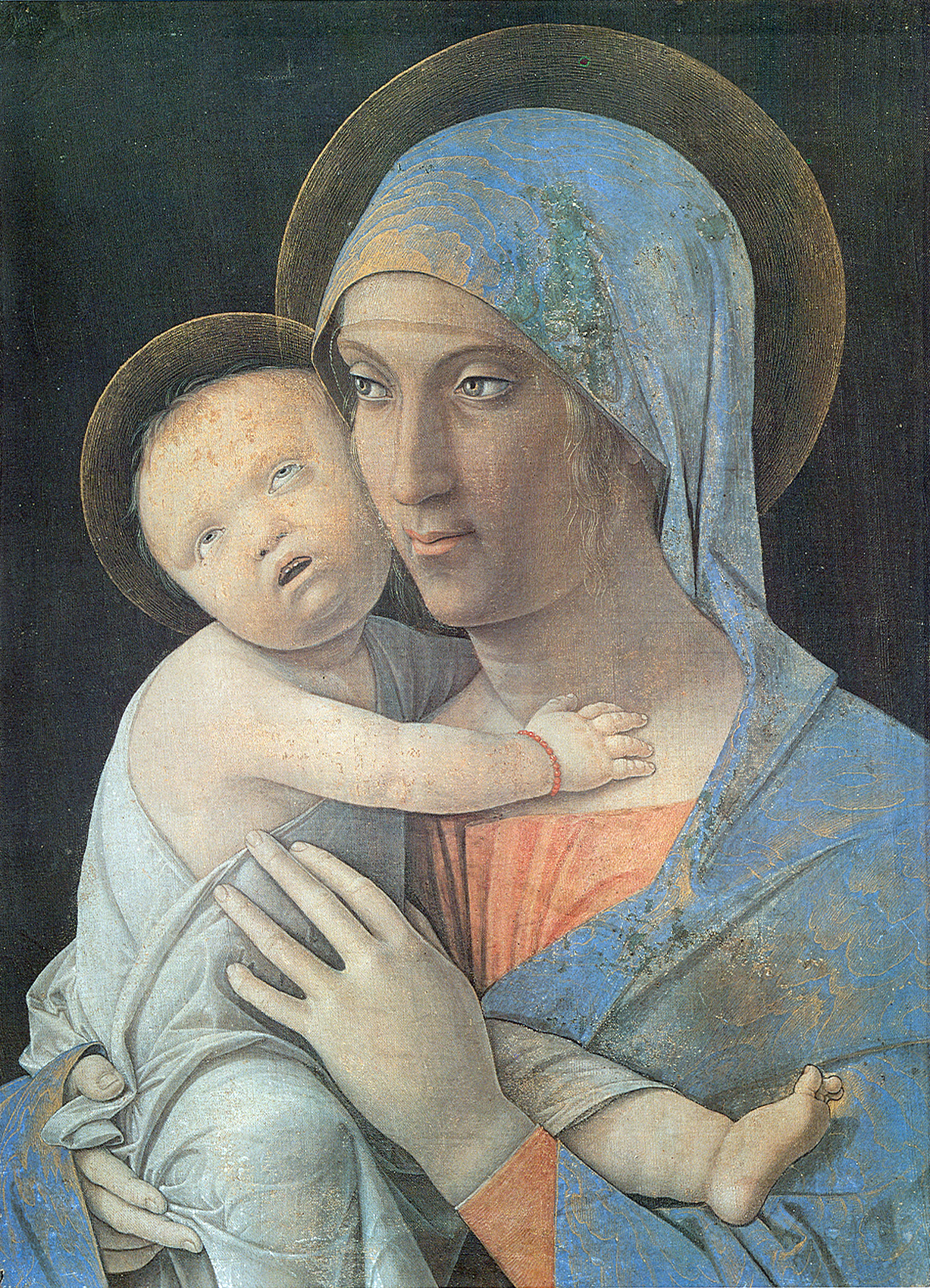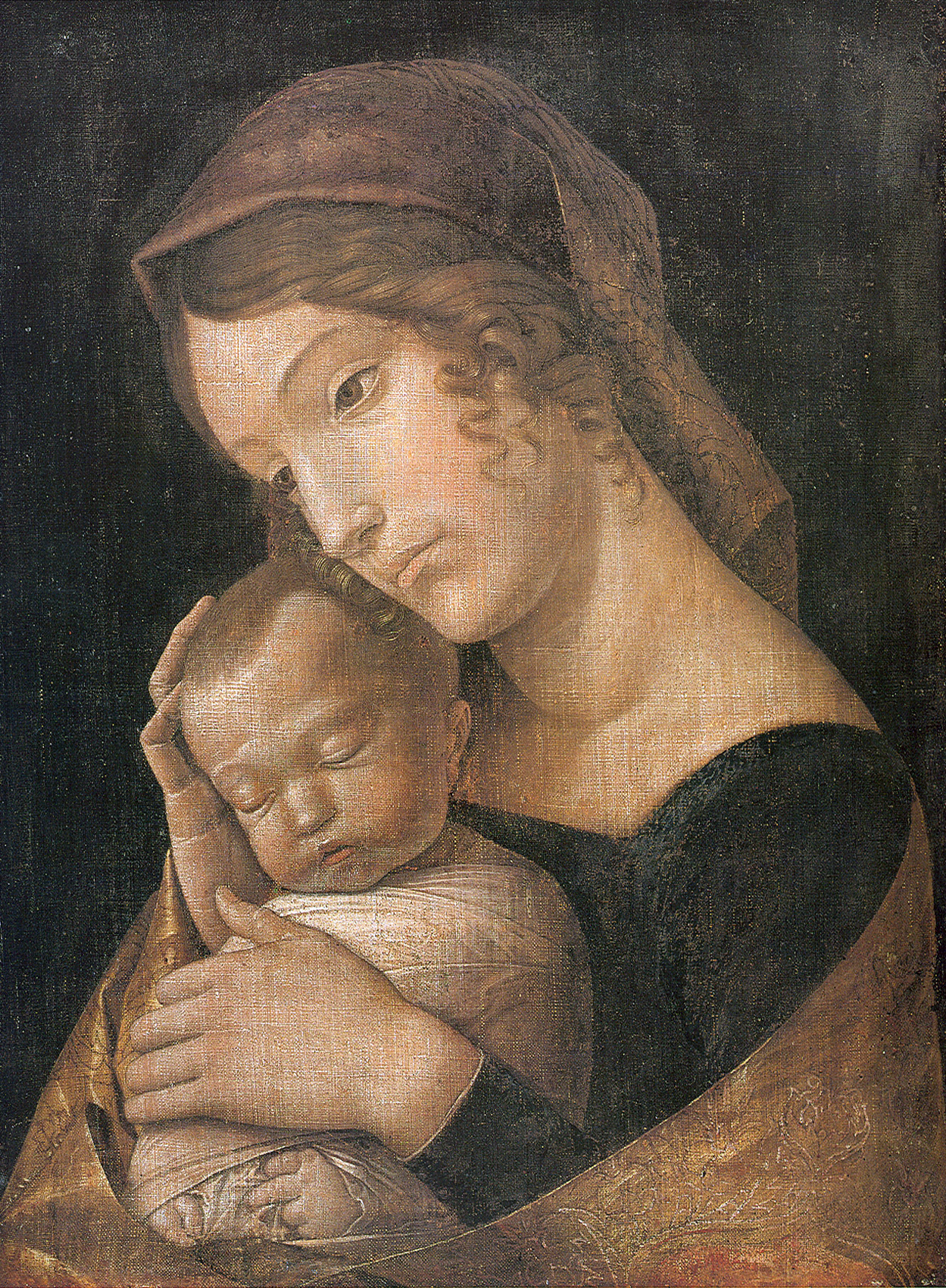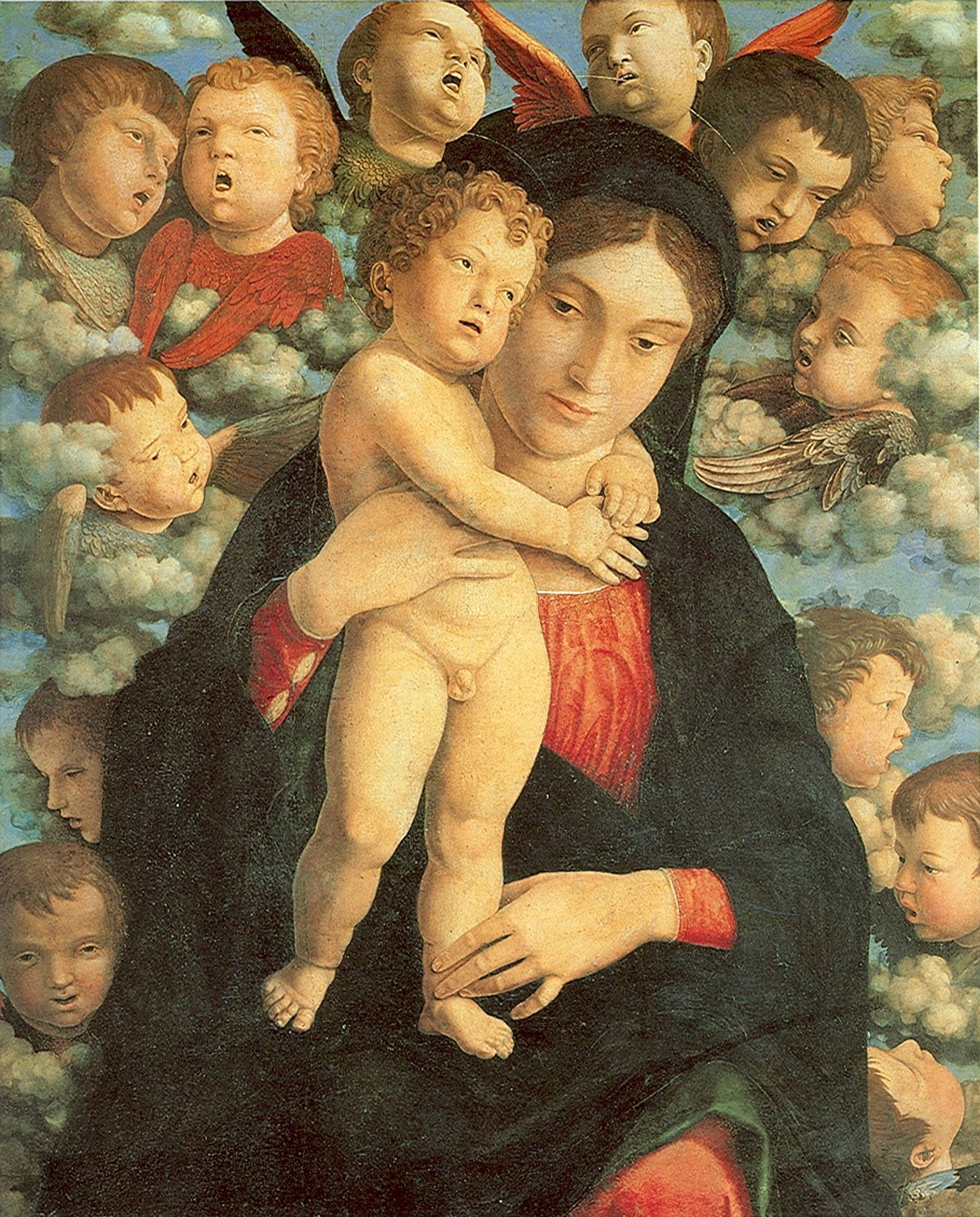 Simone Martini (c.
1284–1344) was an Italian painter born in Siena. He was a major figure in the development of early Italian painting and greatly influenced the development of the International Gothic style...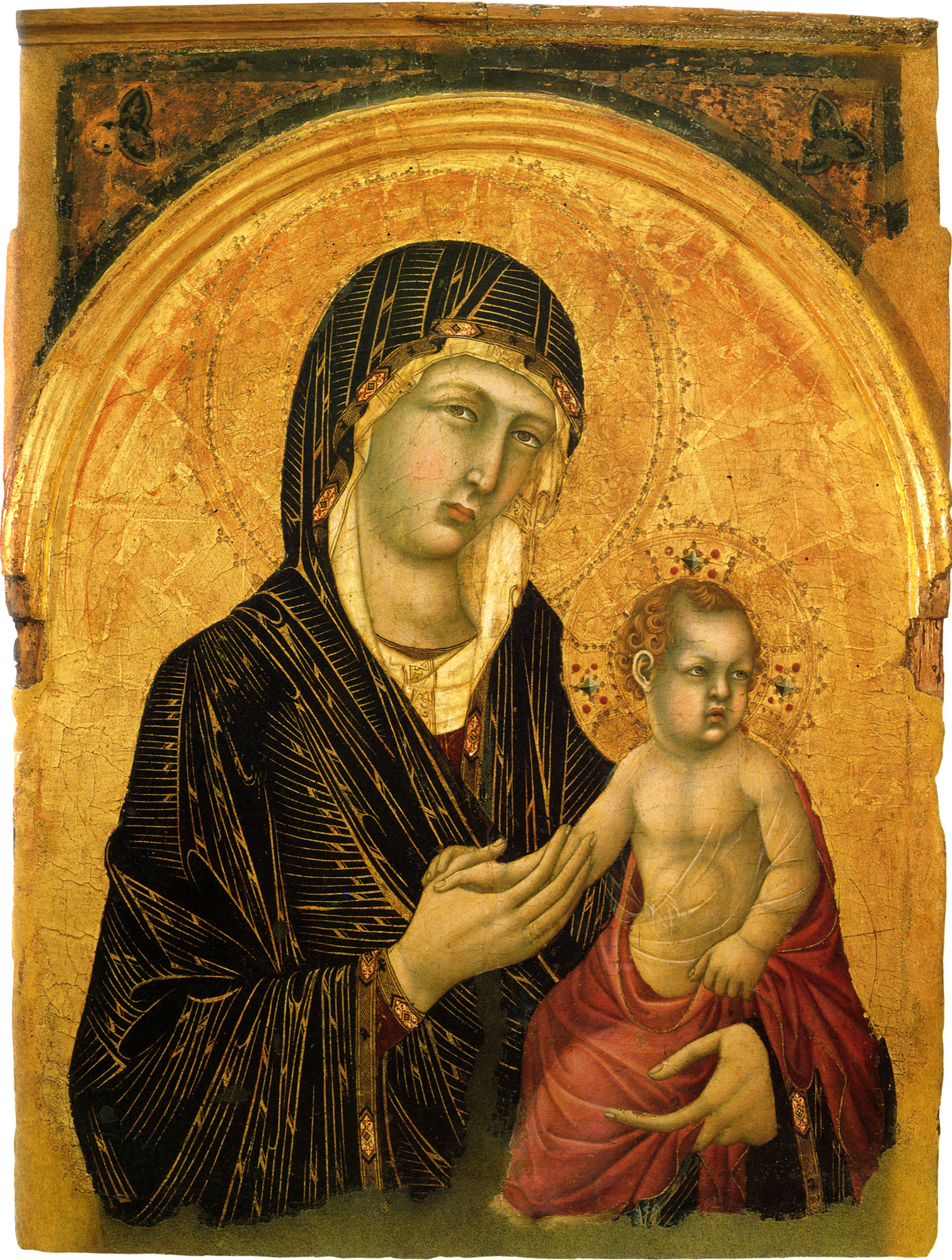 Masaccio (December 21, 1401 – autumn 1428), born Tommaso di Ser Giovanni di Simone, was the first great painter of the Quattrocento period of the Italian Renaissance. According to Vasari, Masaccio was the best painter of his generation because of his skill at recreating lifelike figures and movements as well as a convincing sense of three-dimensionality. Masaccio died at twenty-six and little is known about the exact circumstances of his death...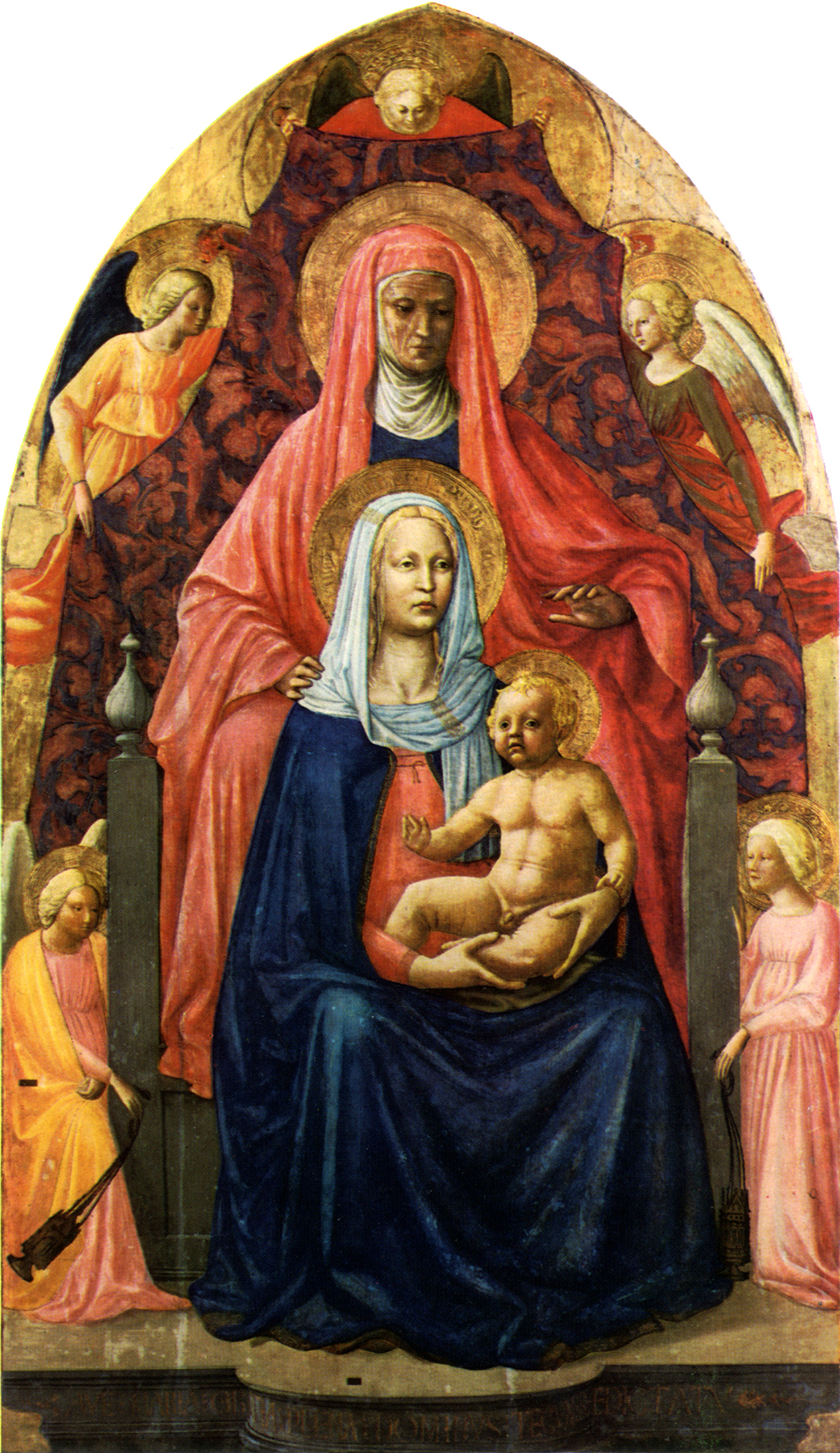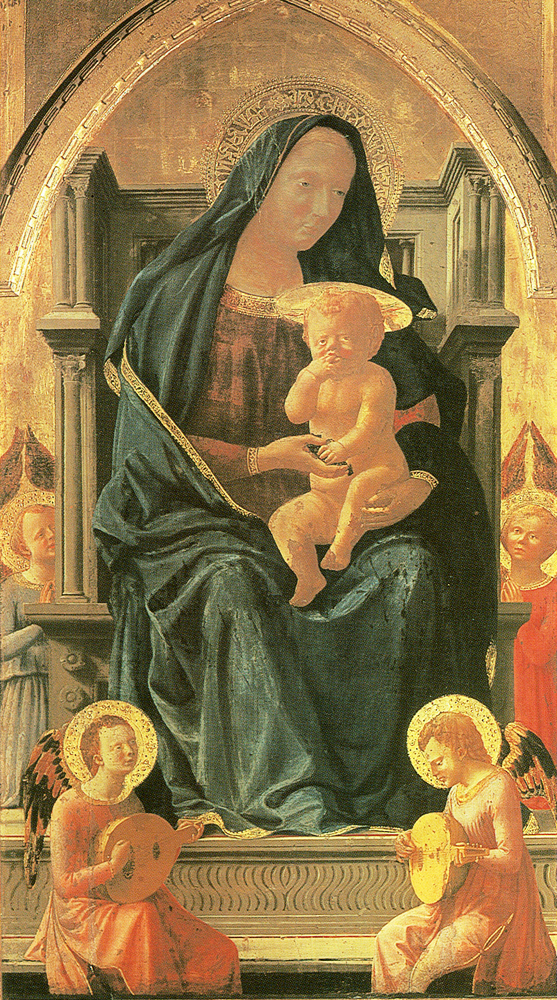 Masolino da Panicale (nickname of Tommaso di Cristoforo Fini; c. 1383 – c. 1447) was an Italian painter. His best known works are probably his collaborations with Masaccio: Madonna with Child and St. Anne (1424) and the frescoes in the Brancacci Chapel (1424–1428)...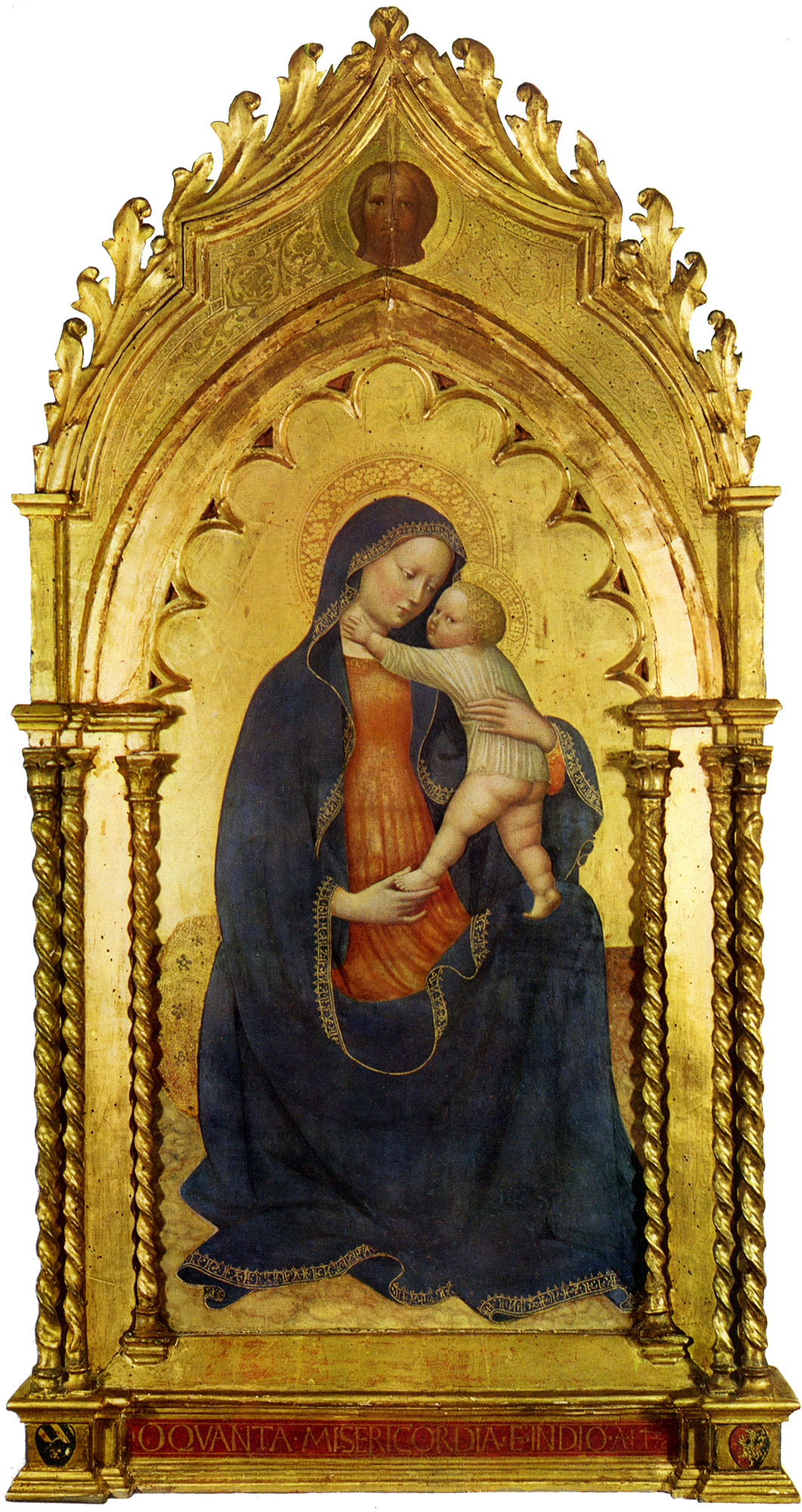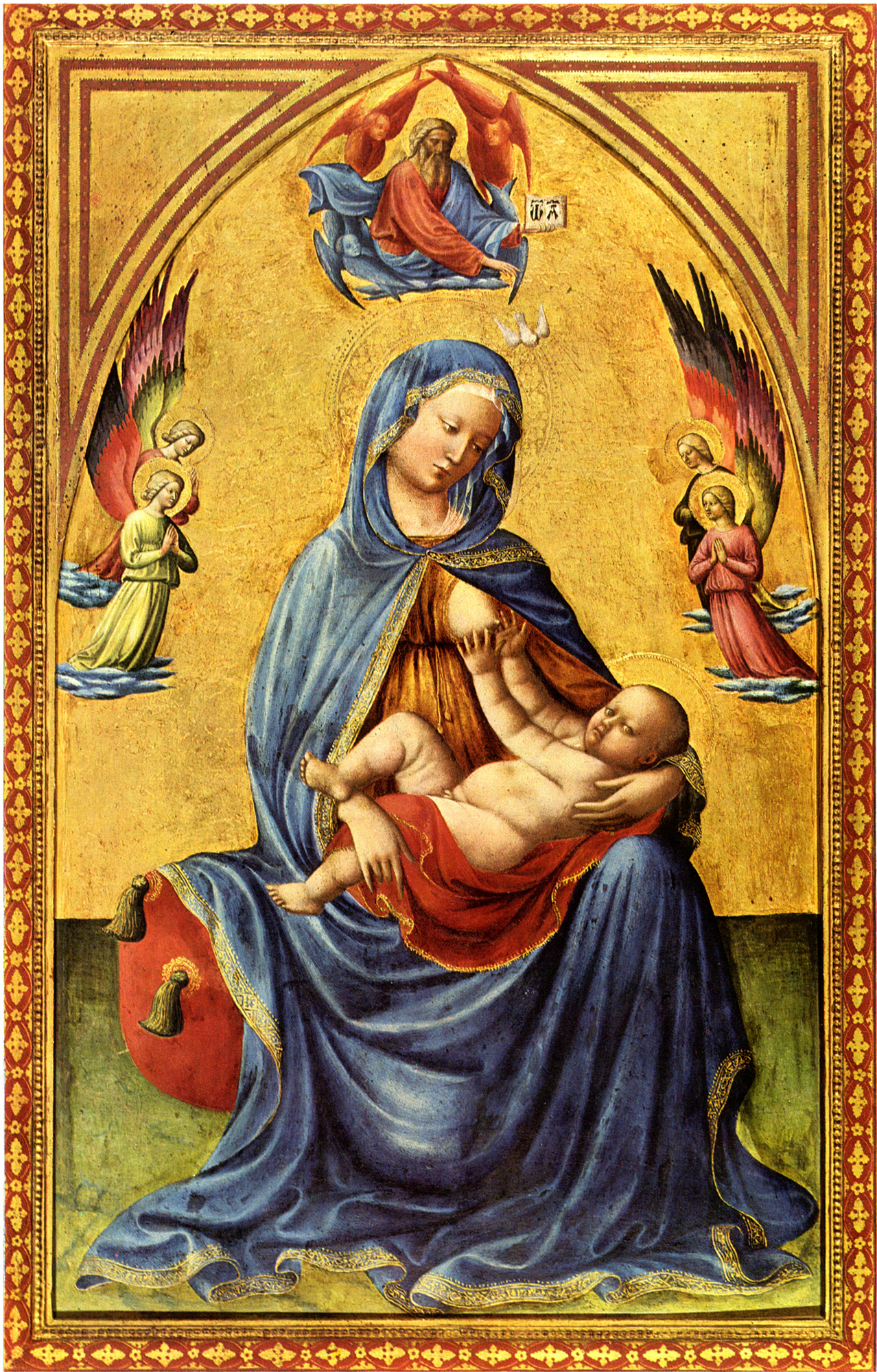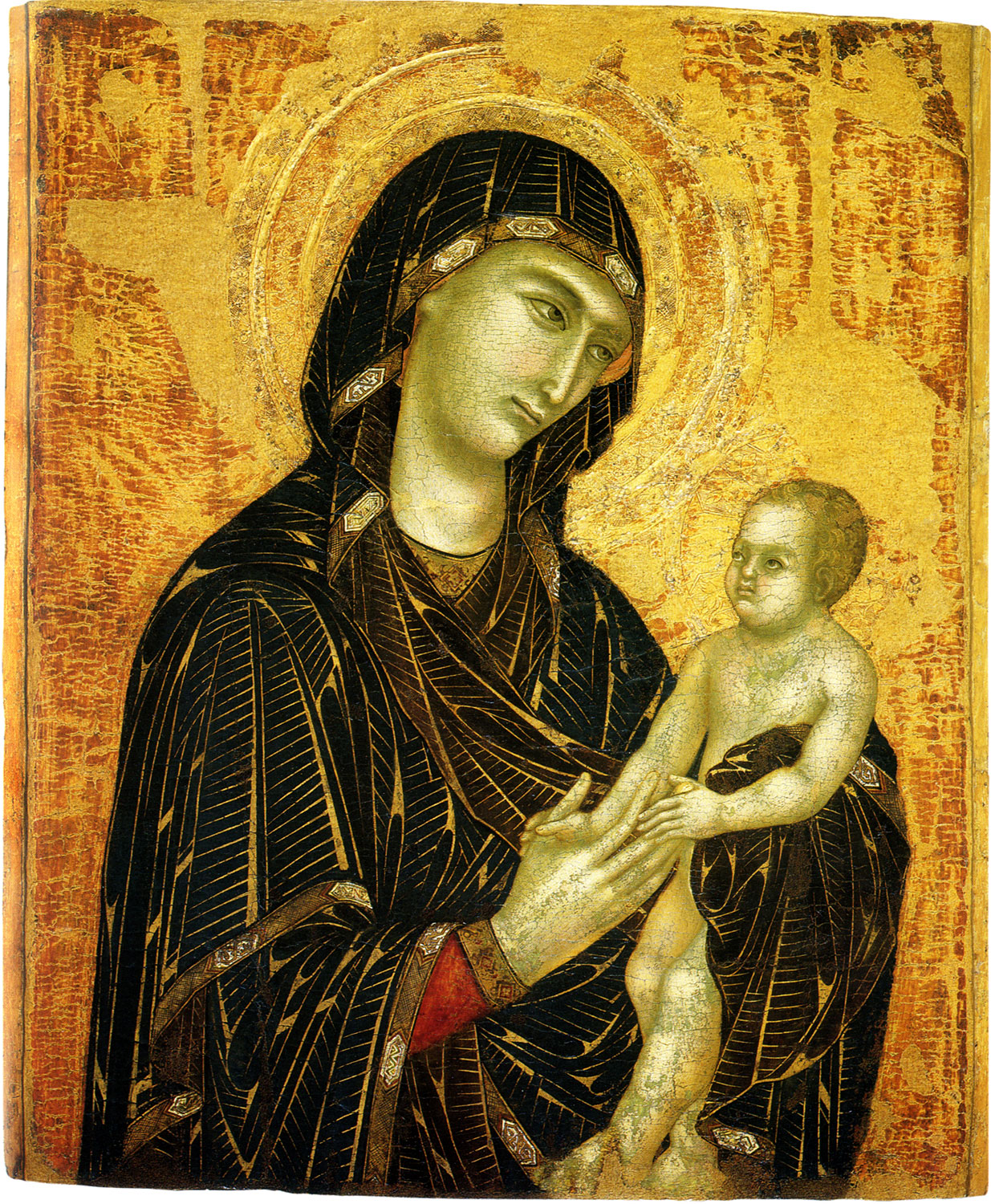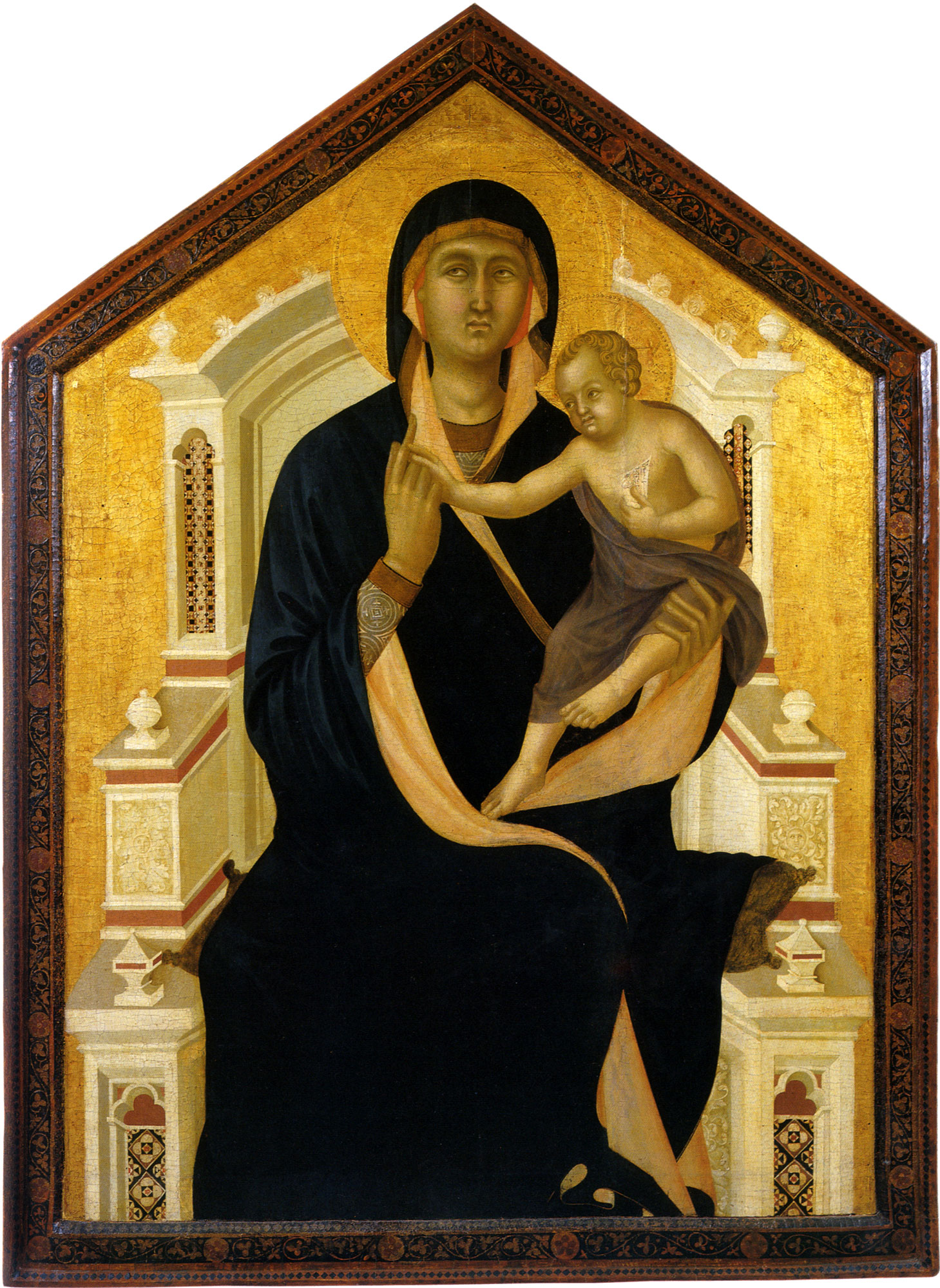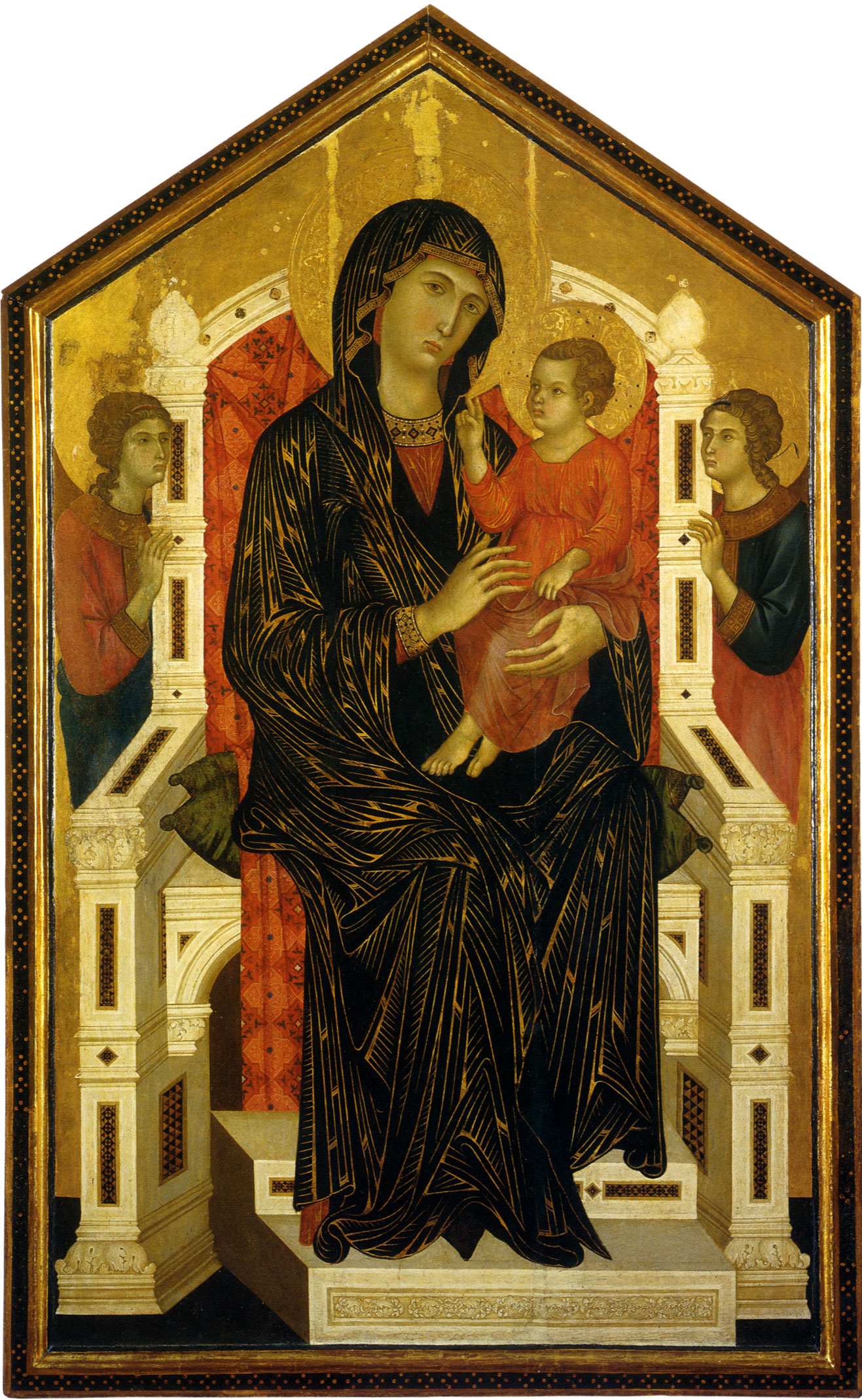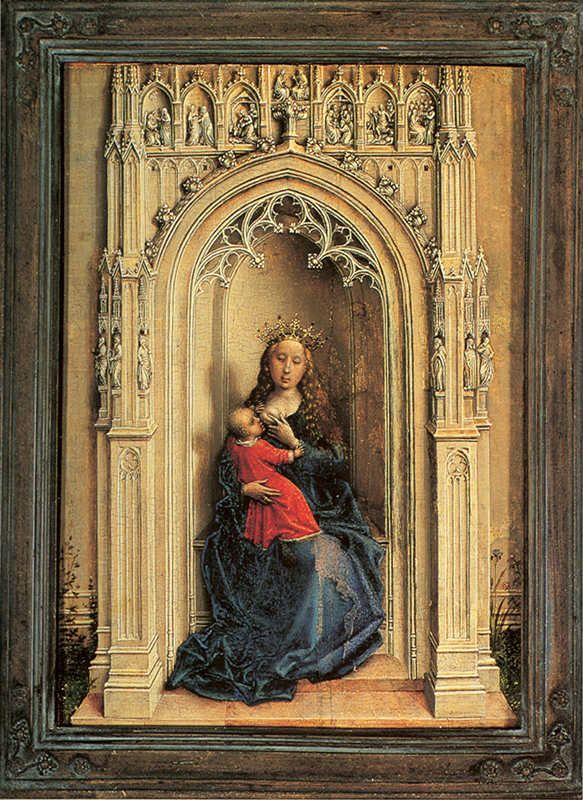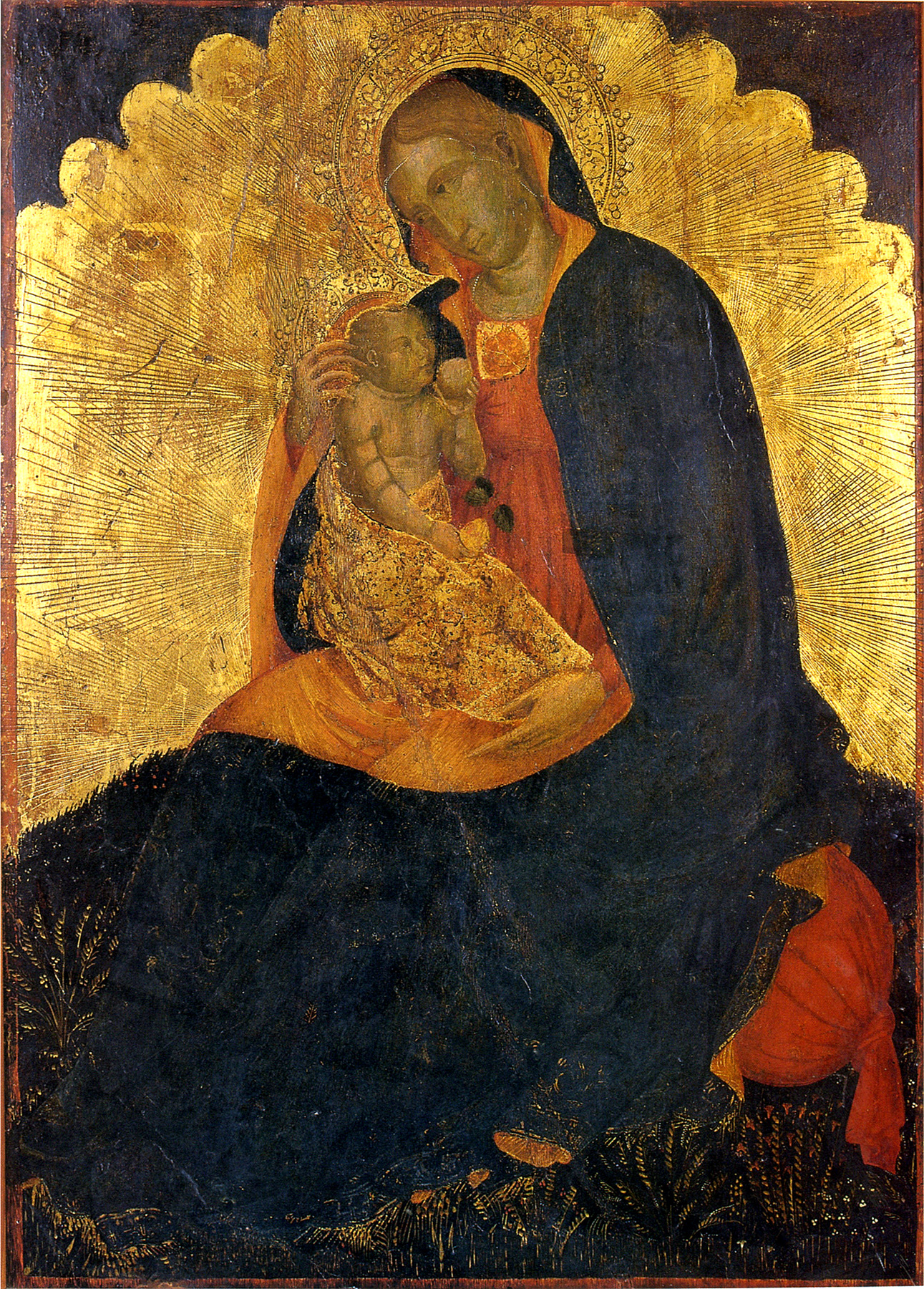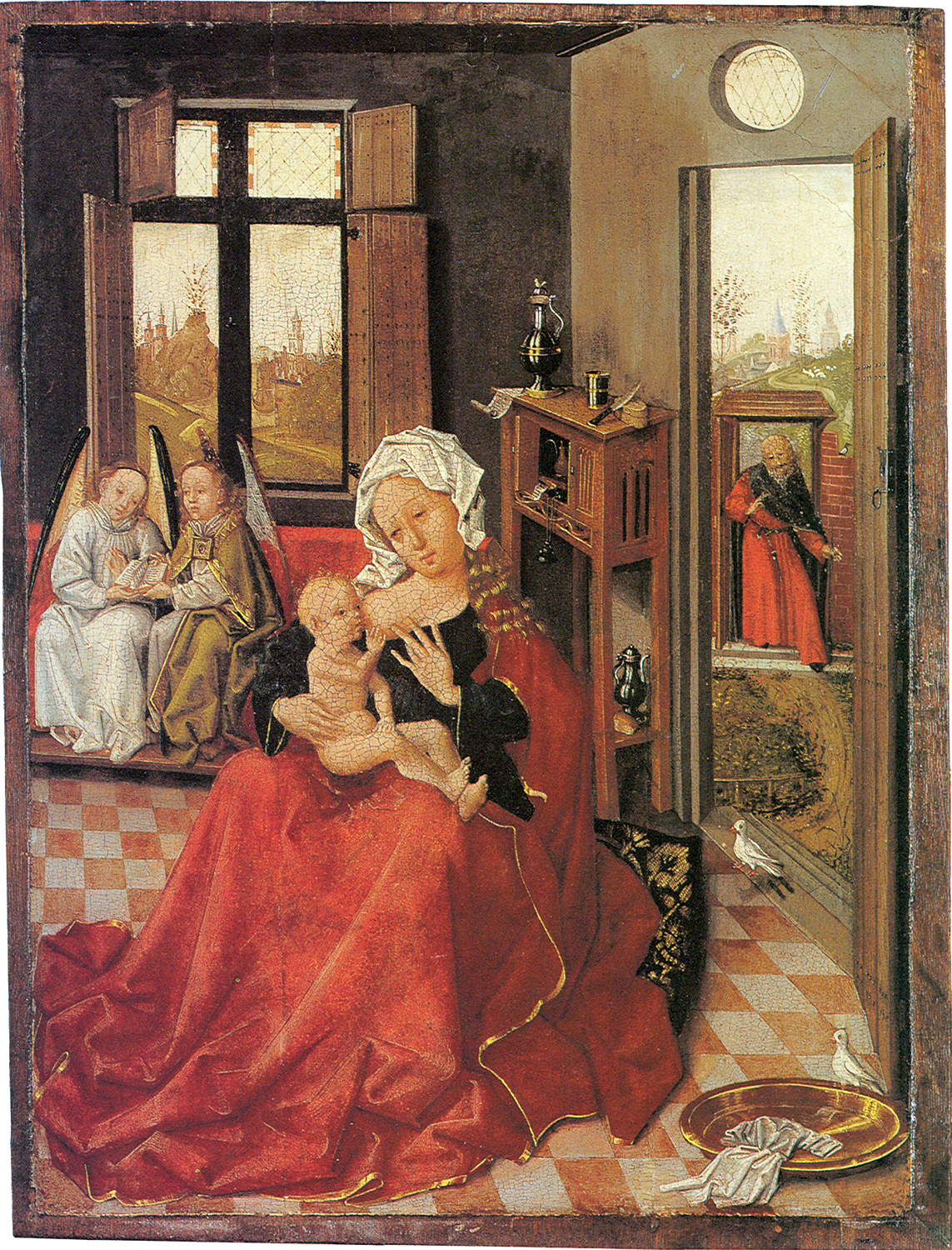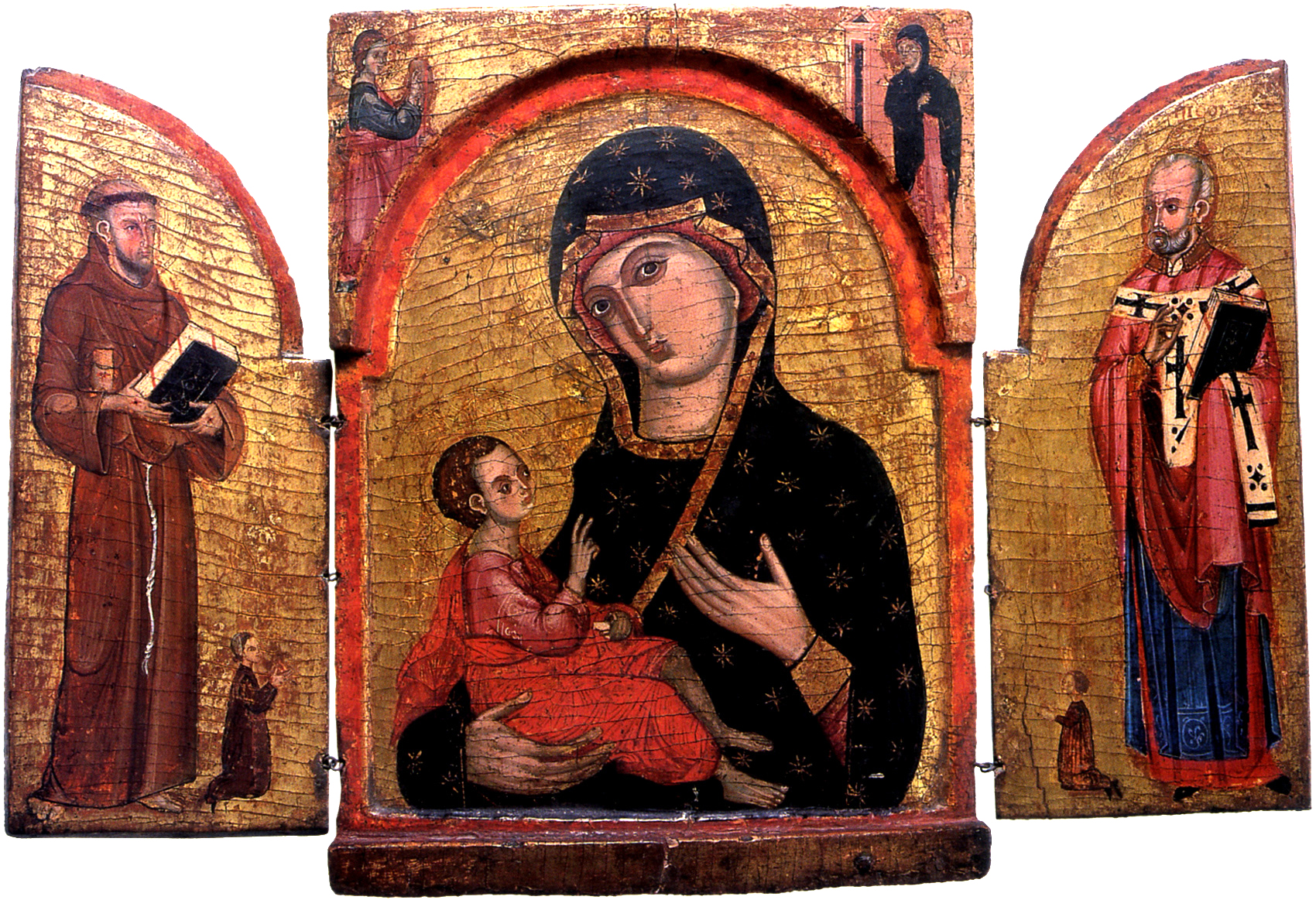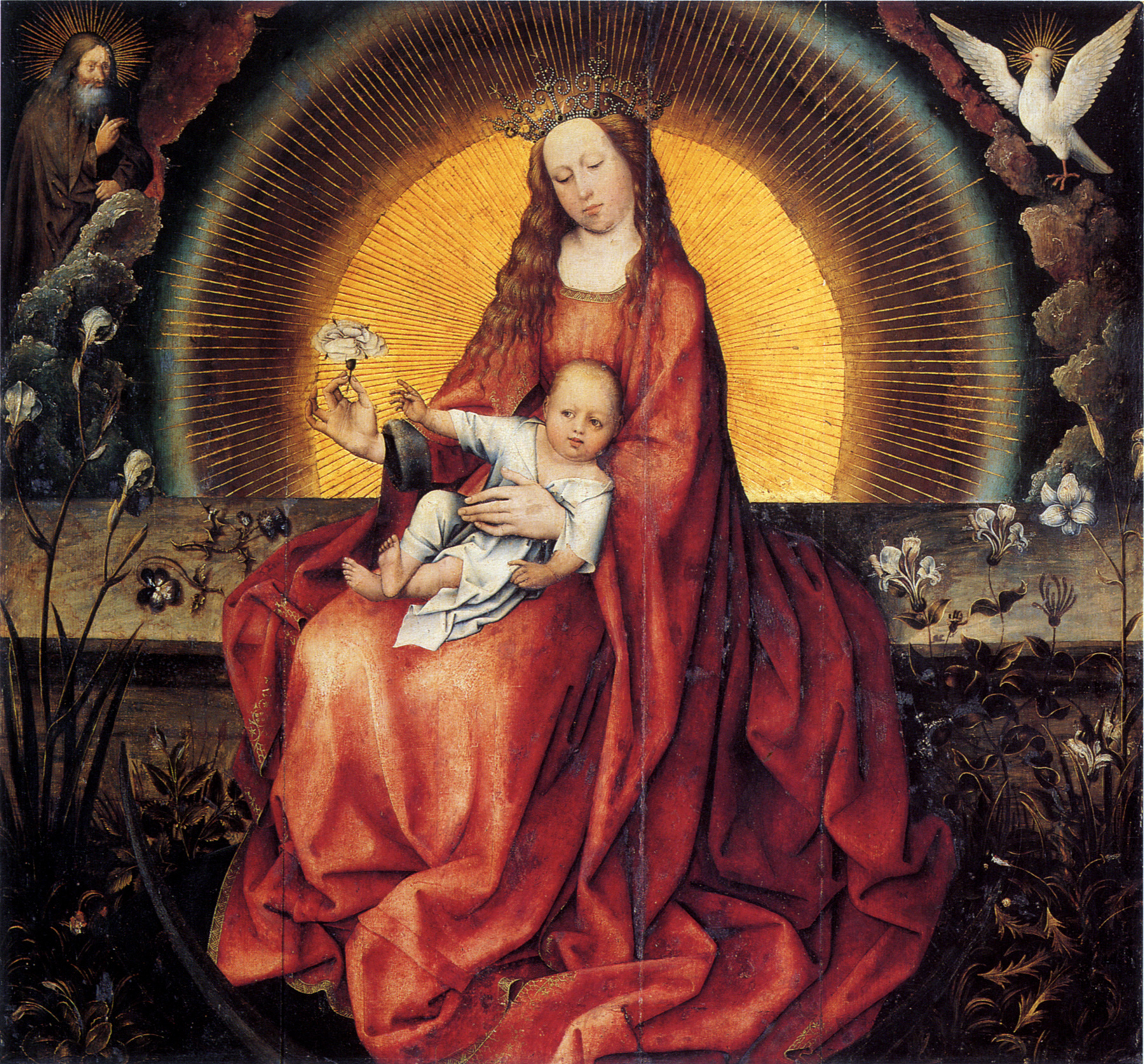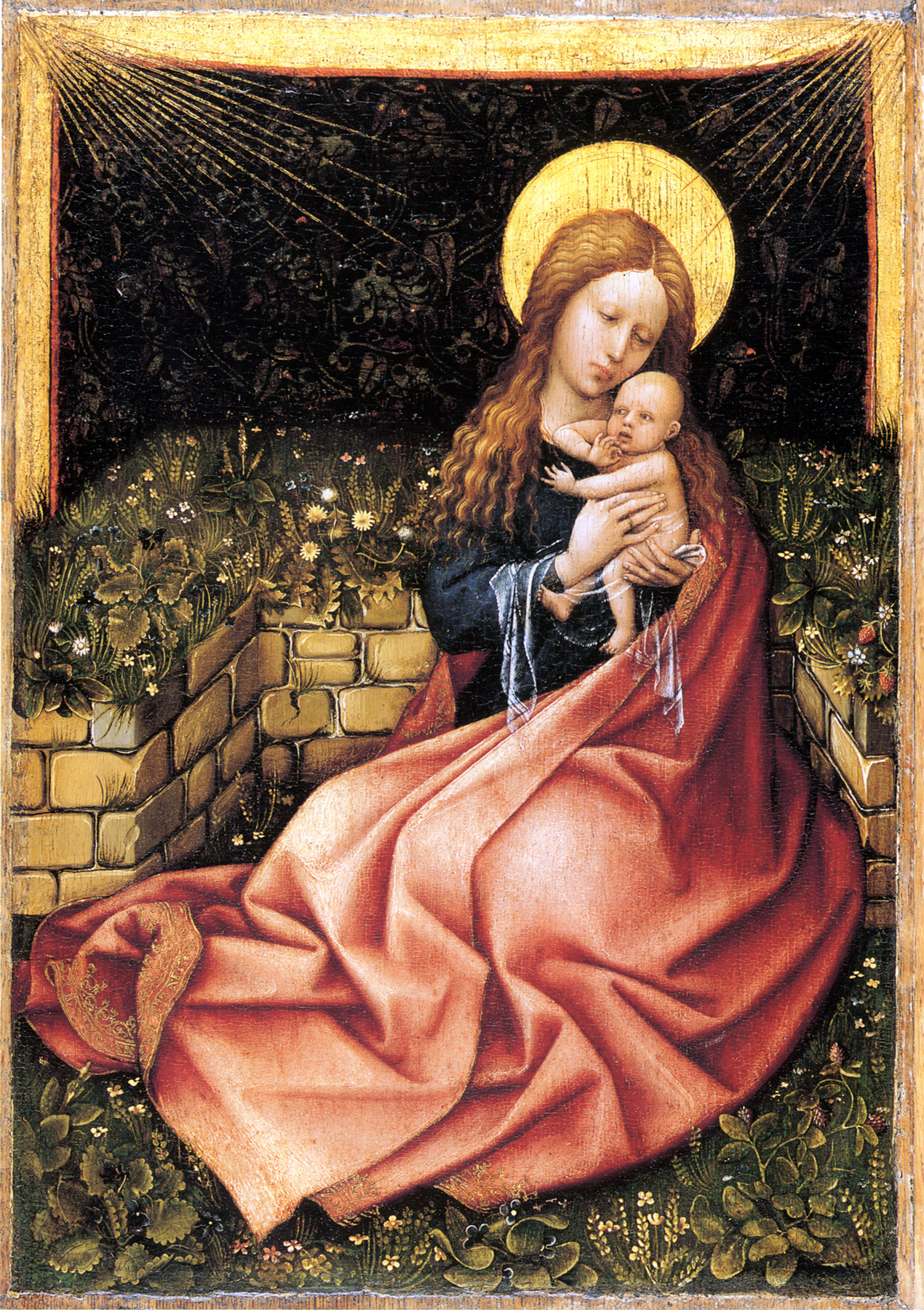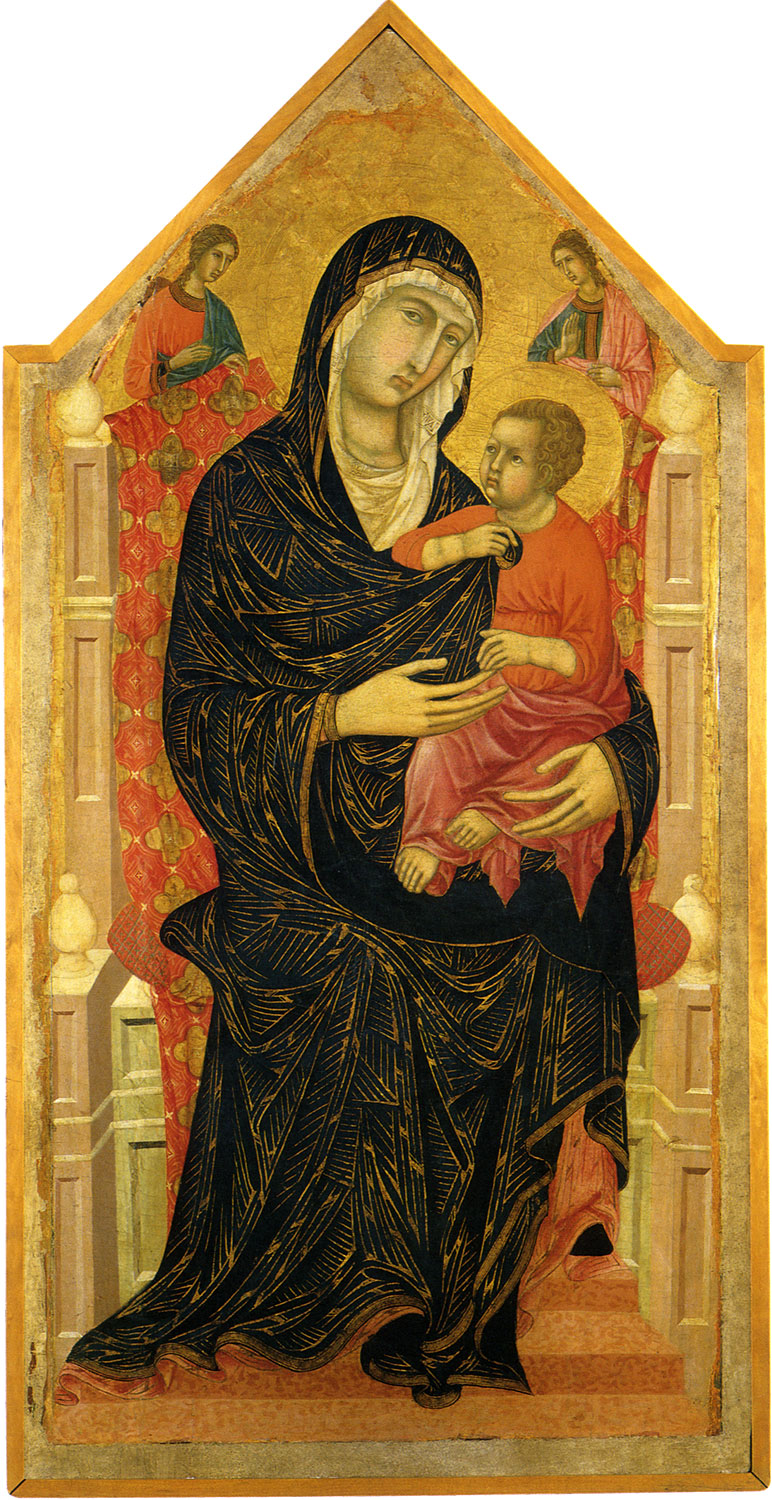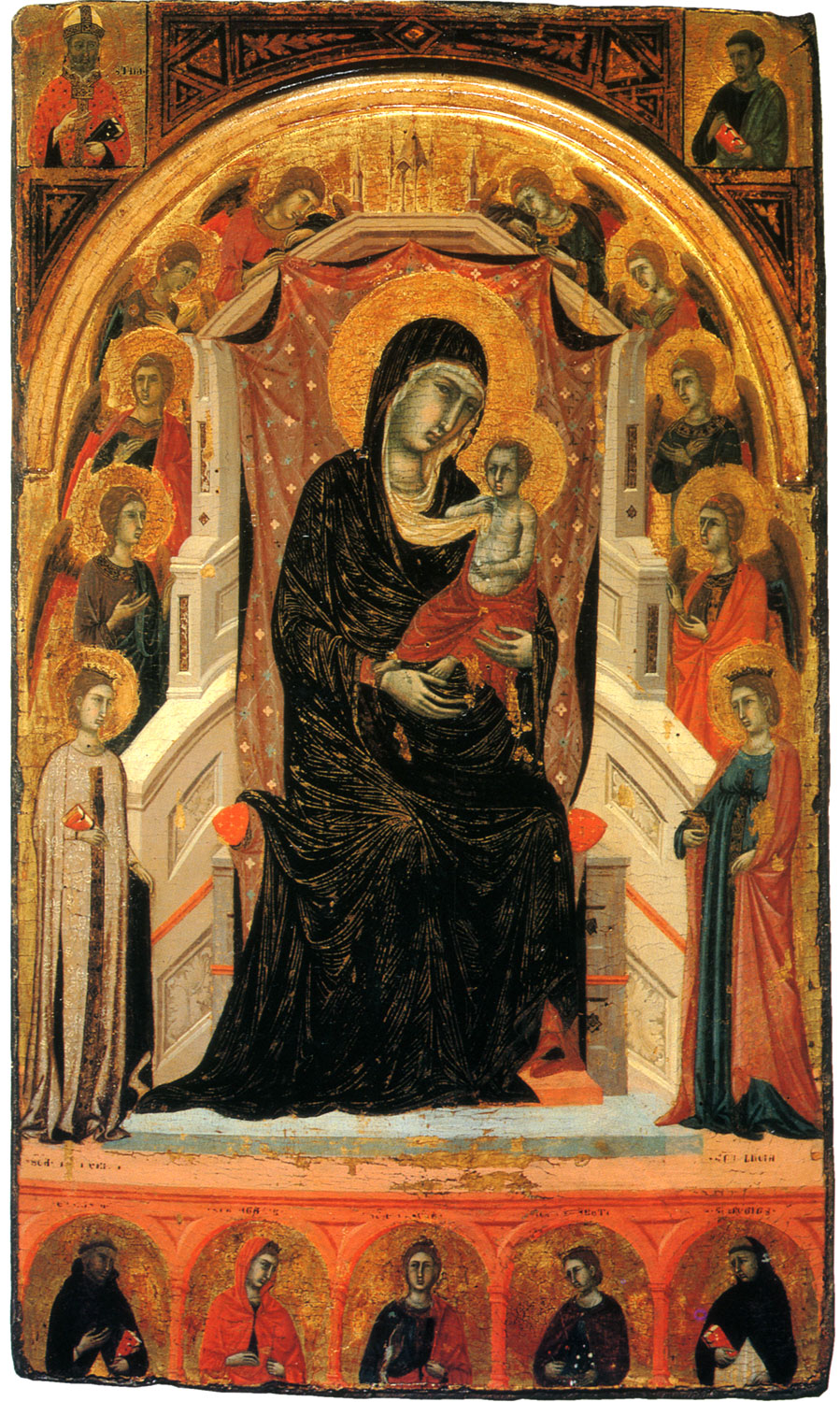 Matteo di Giovanni c. 1430 - 1495) was an Italian Renaissance artist from the Sienese school...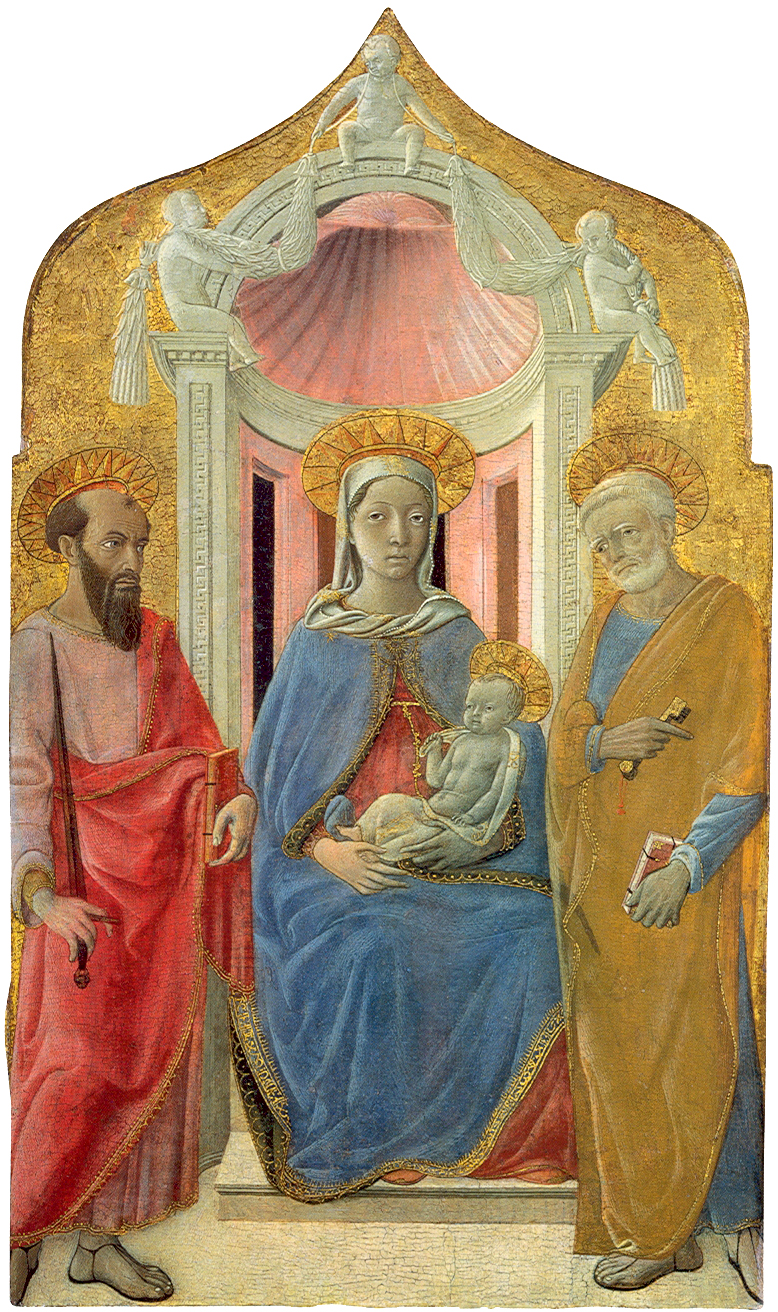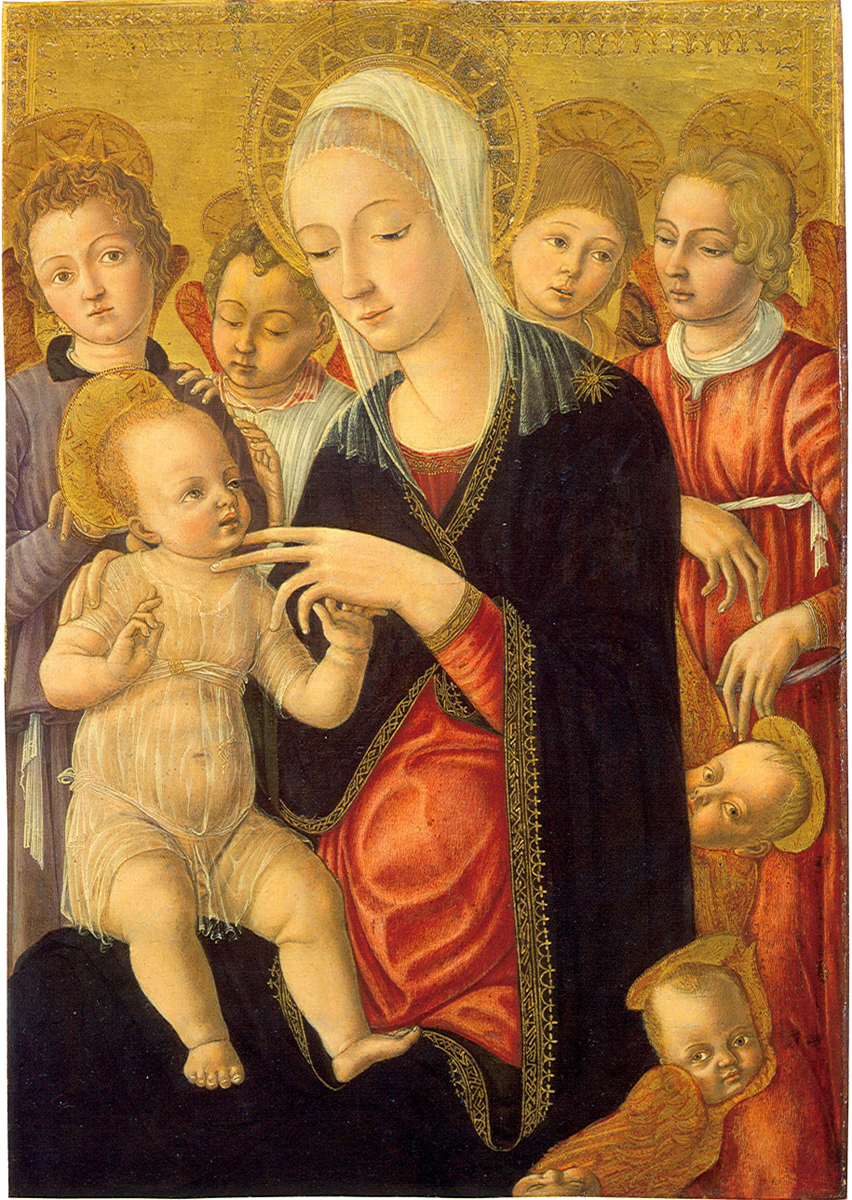 Menegello di Giovanni de Canali ...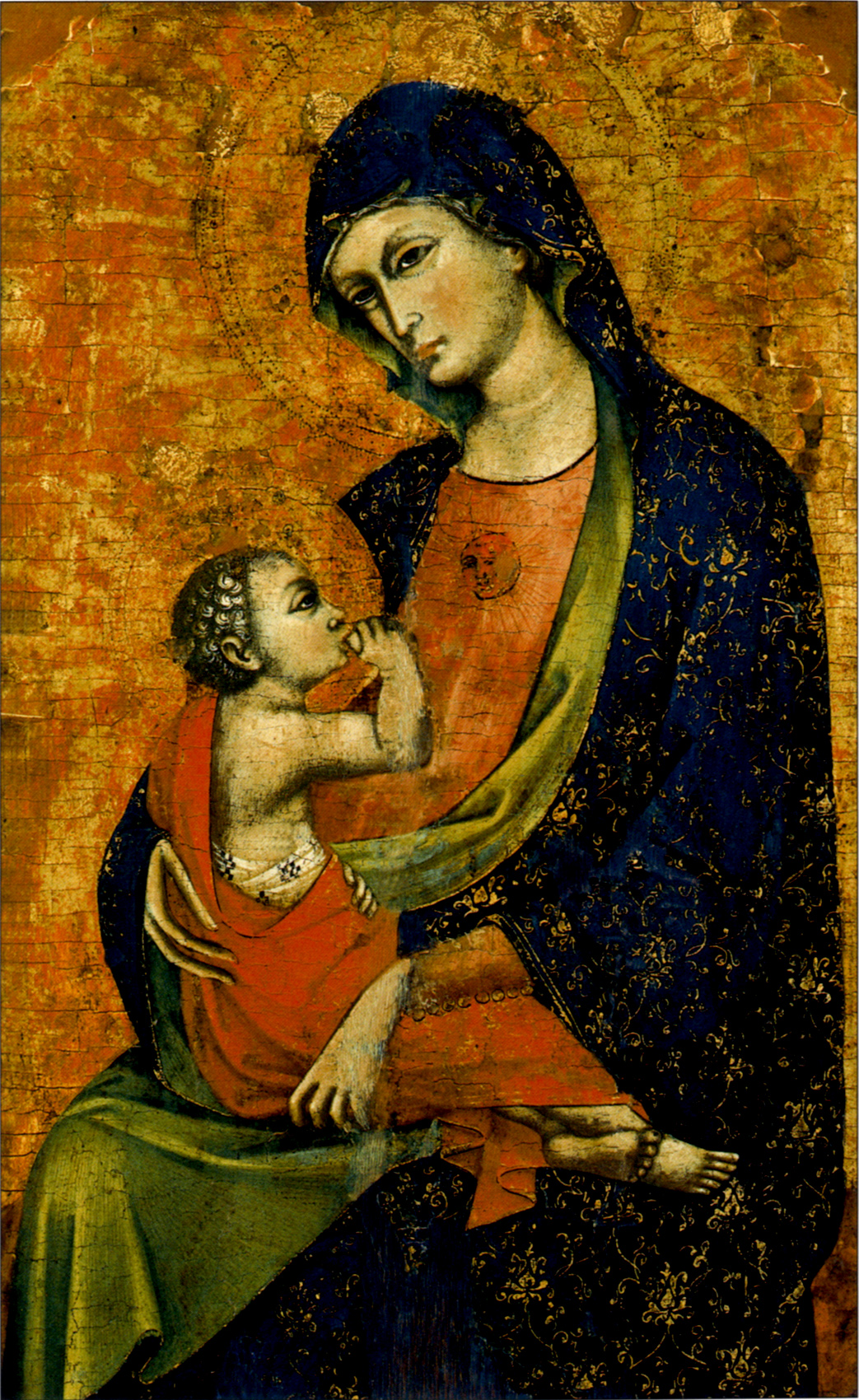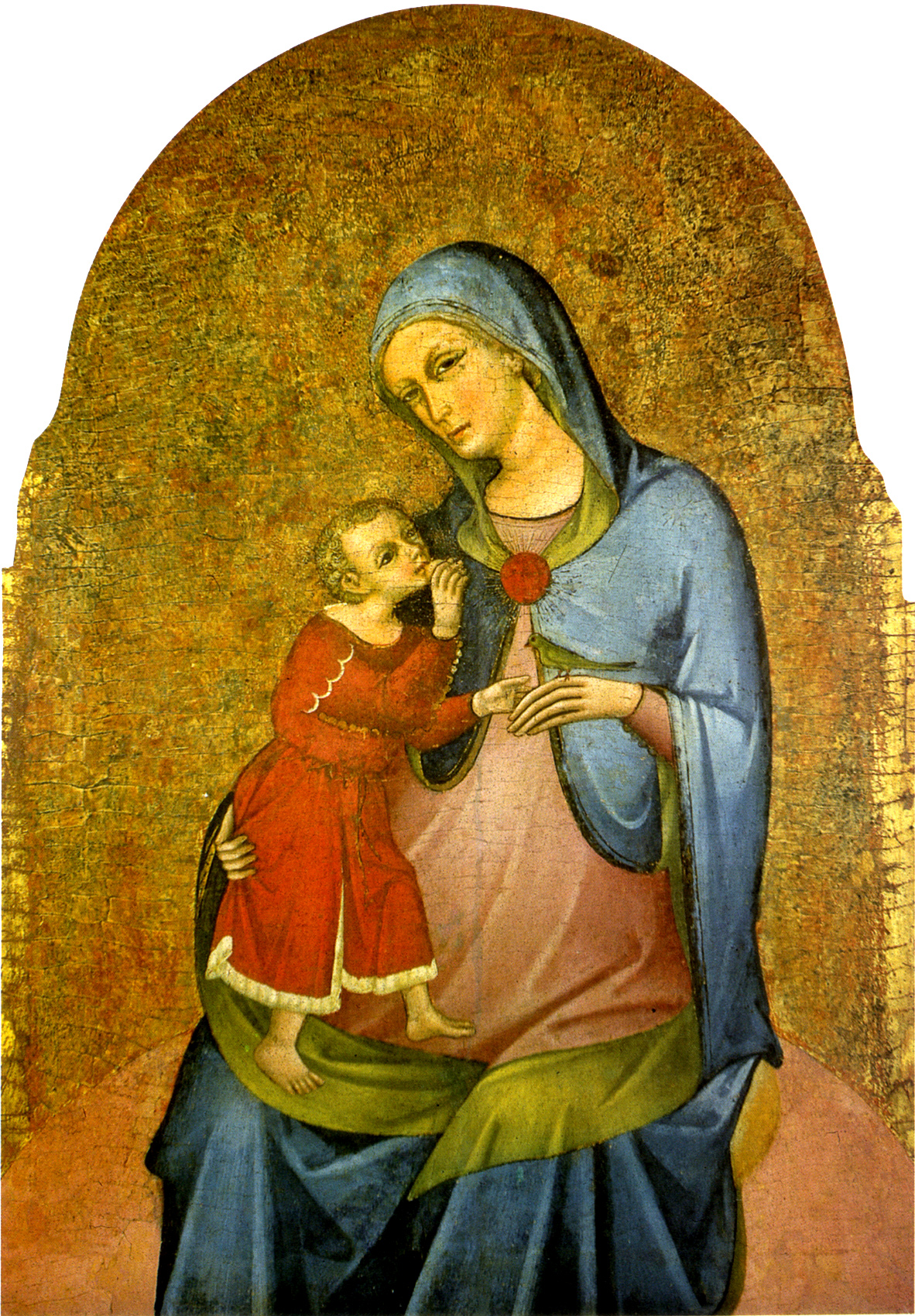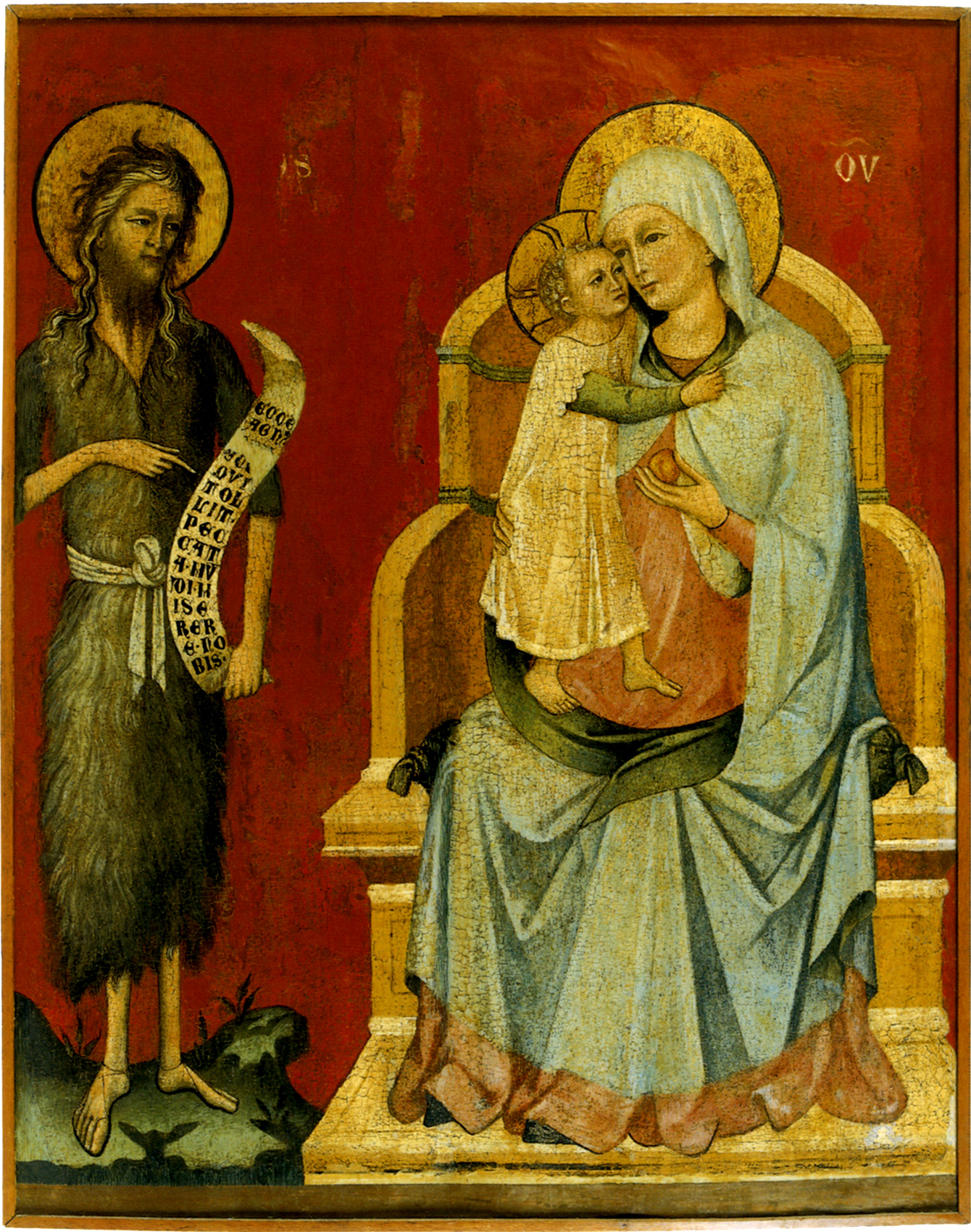 Michelangelo di Lodovico Buonarroti Simoni(6 March 1475 – 18 February 1564), commonly known as Michelangelo was an Italian Renaissance sculptor, painter, architect, poet, and engineer who exerted an unparalleled influence on the development of Western art... Despite making few forays beyond the arts, his versatility in the disciplines he took up was of such a high order that he is often considered a contender for the title of the archetypal Renaissance man, along with fellow Italian Leonardo da Vinci...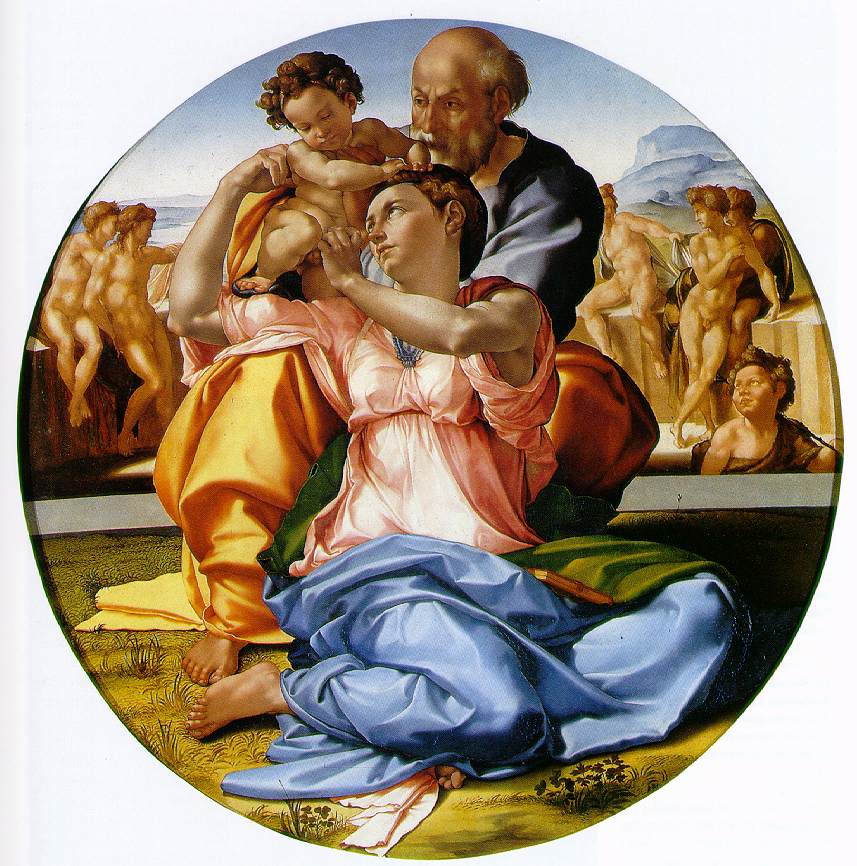 Lorenzo Monaco (born Piero di Giovanni; c. 1370 – c. 1425) was an Italian painter of the late Gothic-early Renaissance age...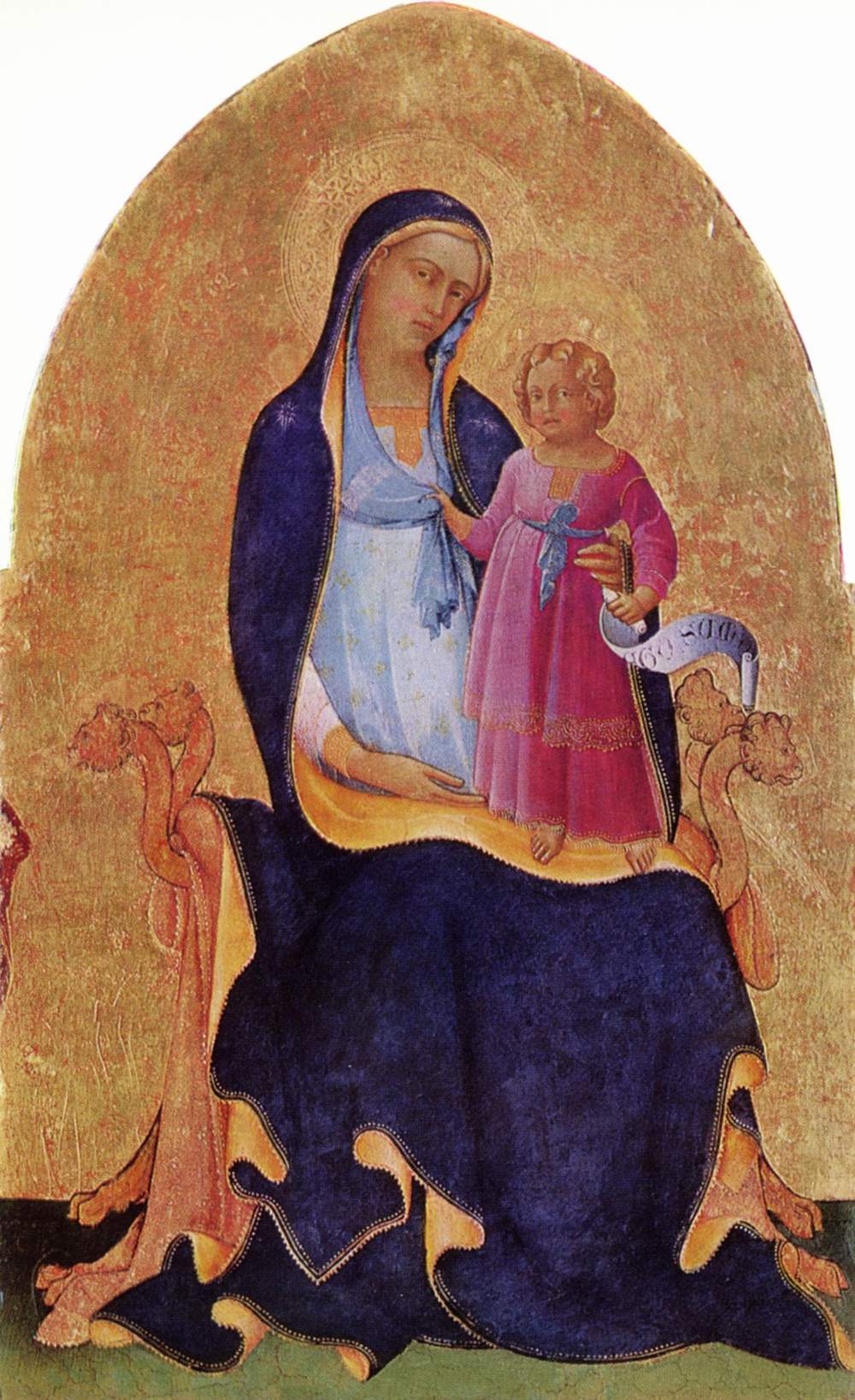 Bartolomeo Montagna (1450–1523) was an Italian painter and architect who worked in Vicenza and Venice. He putatively was born near Brescia . His initial training was presumably under Domenico Morone in Verona, where he seems to have acquired a late Quattrocento refinement, similar to that of Carpaccio and Mantegna. The figures have a strict organization in space, and the peaceful expressions of classic detachment. He is also considered to be heavily influenced by Giovanni Bellini, in whose workshop he might have worked around 1490. Benedetto Montagna, a productive engraver, was his son and pupil and active till past 1540. Marcello Fogolino was one of his pupils...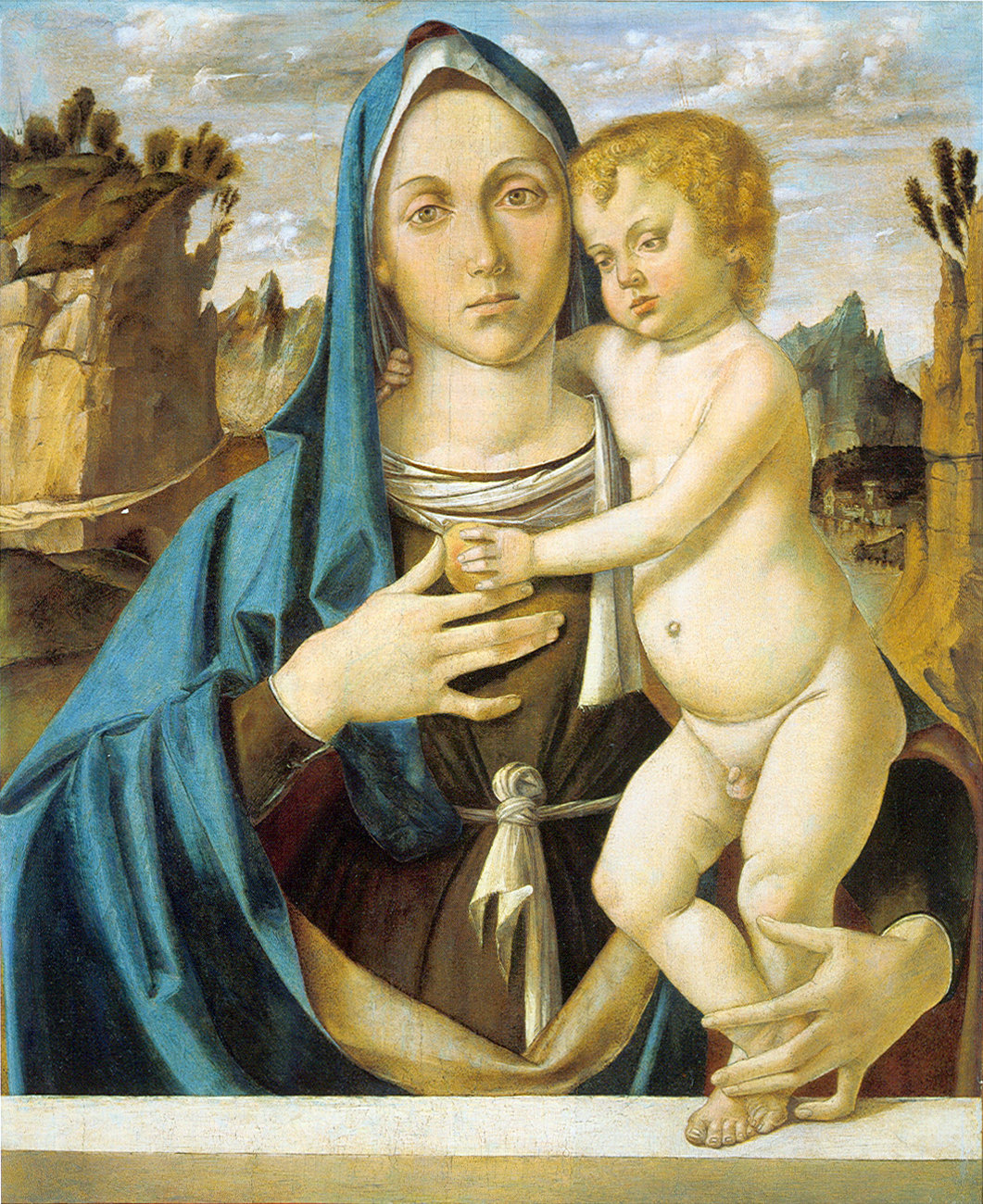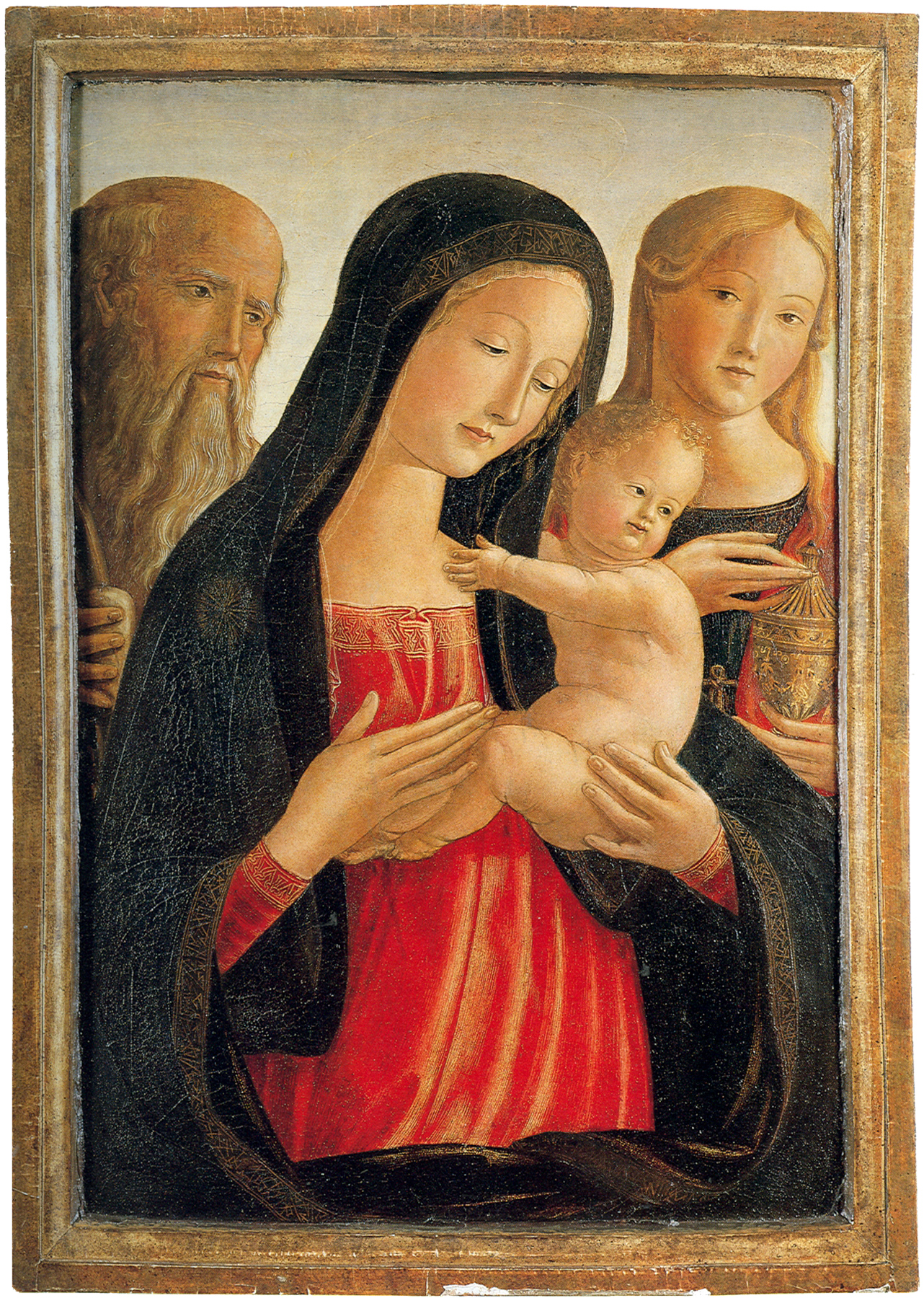 Pietro Orioli (1458 - 1496). Orioli was trained in the workshop of Matteo di Giovanni. His first independent works probably date from the early 1480s. He died young, lamented alike for his talents as an artist and for his exemplary piety. His works were previously ascribed to Giacomo Pacchiarotto ...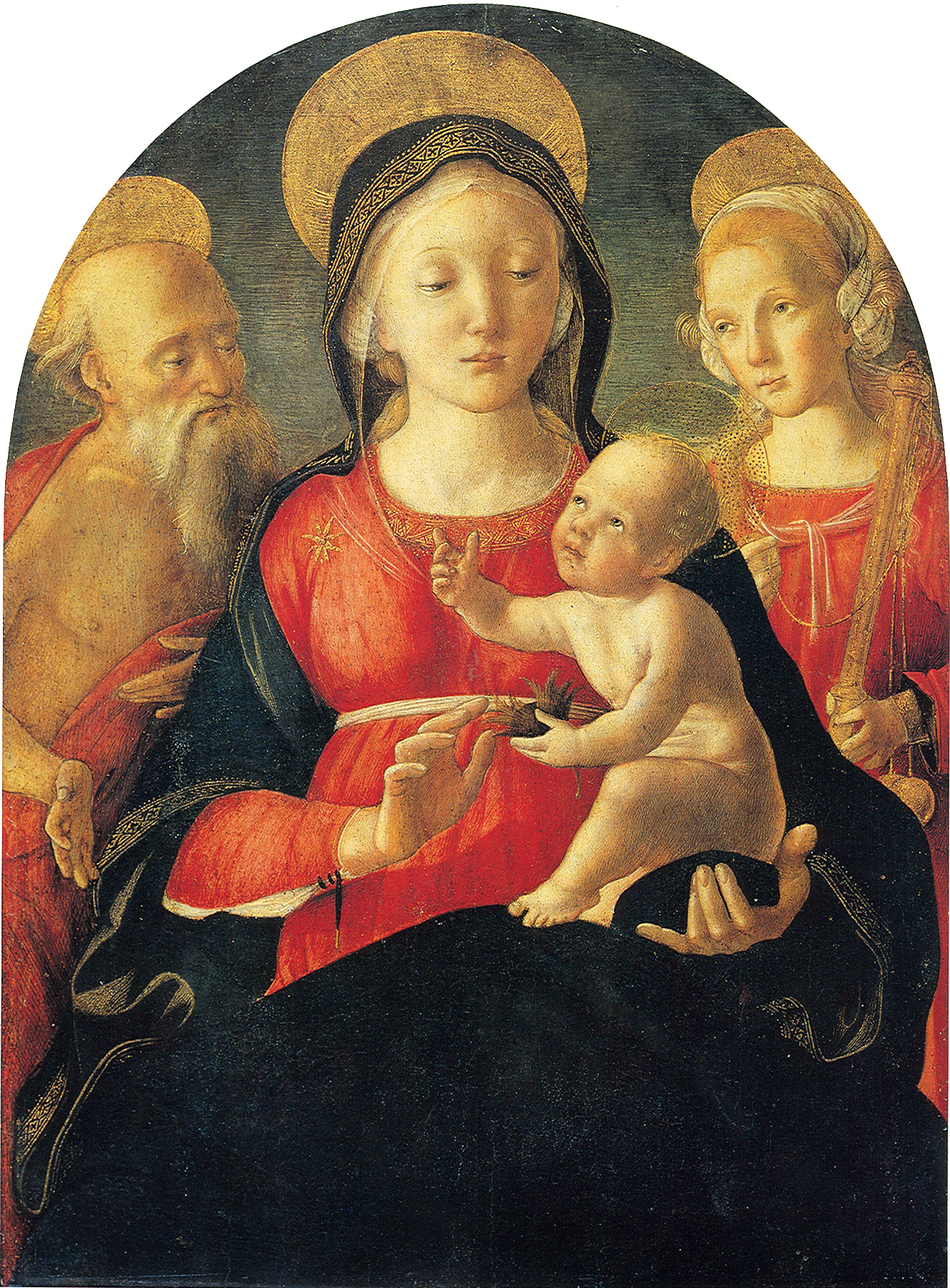 Paolo Veronese (1528 – 19 April 1588) was an Italian painter of the Renaissance in Venice, famous for paintings such as The Wedding at Cana and The Feast in the House of Levi. He adopted the name Paolo Cagliari or Paolo Caliari,and became known as "Veronese" from his birthplace in Verona...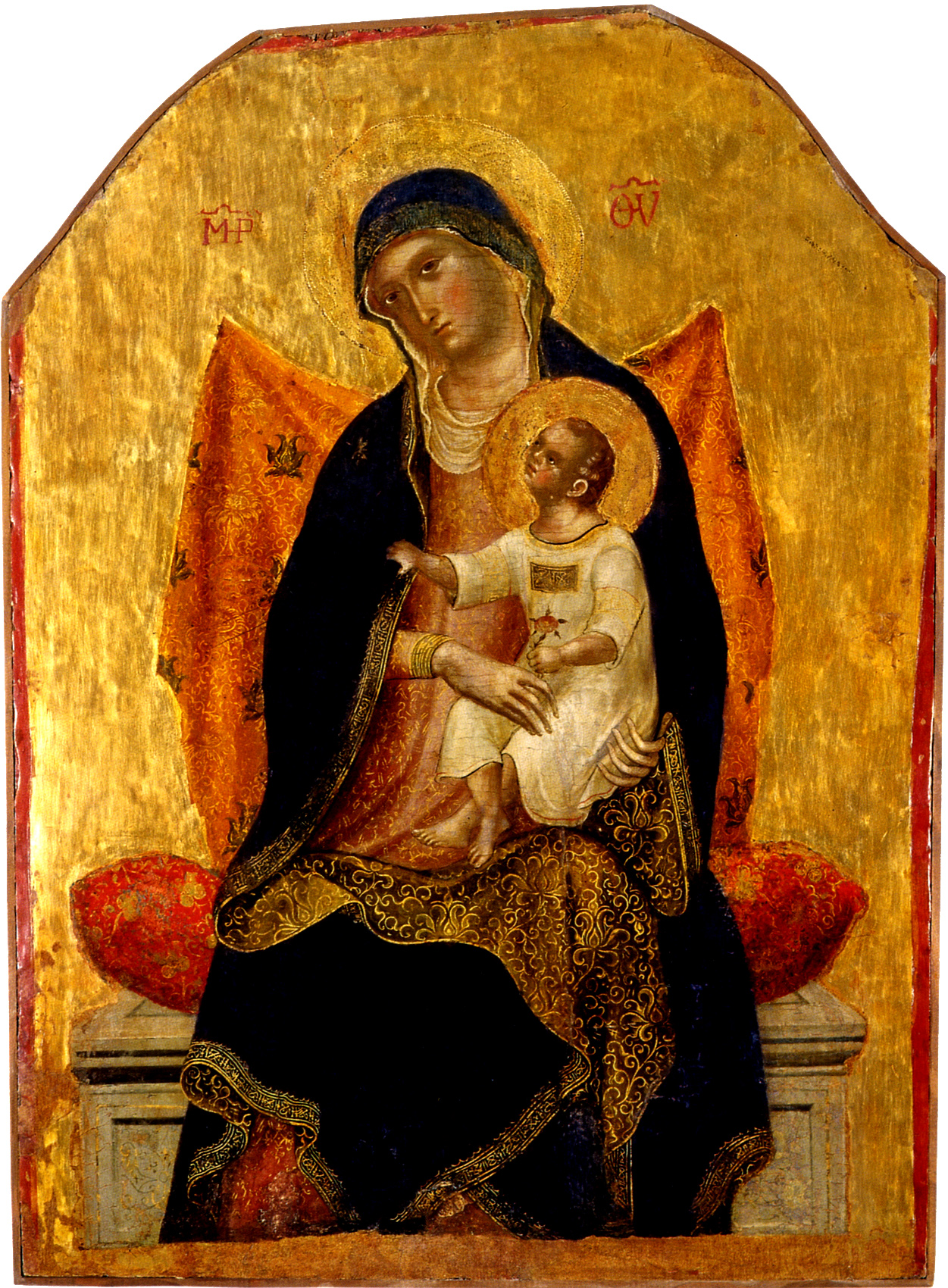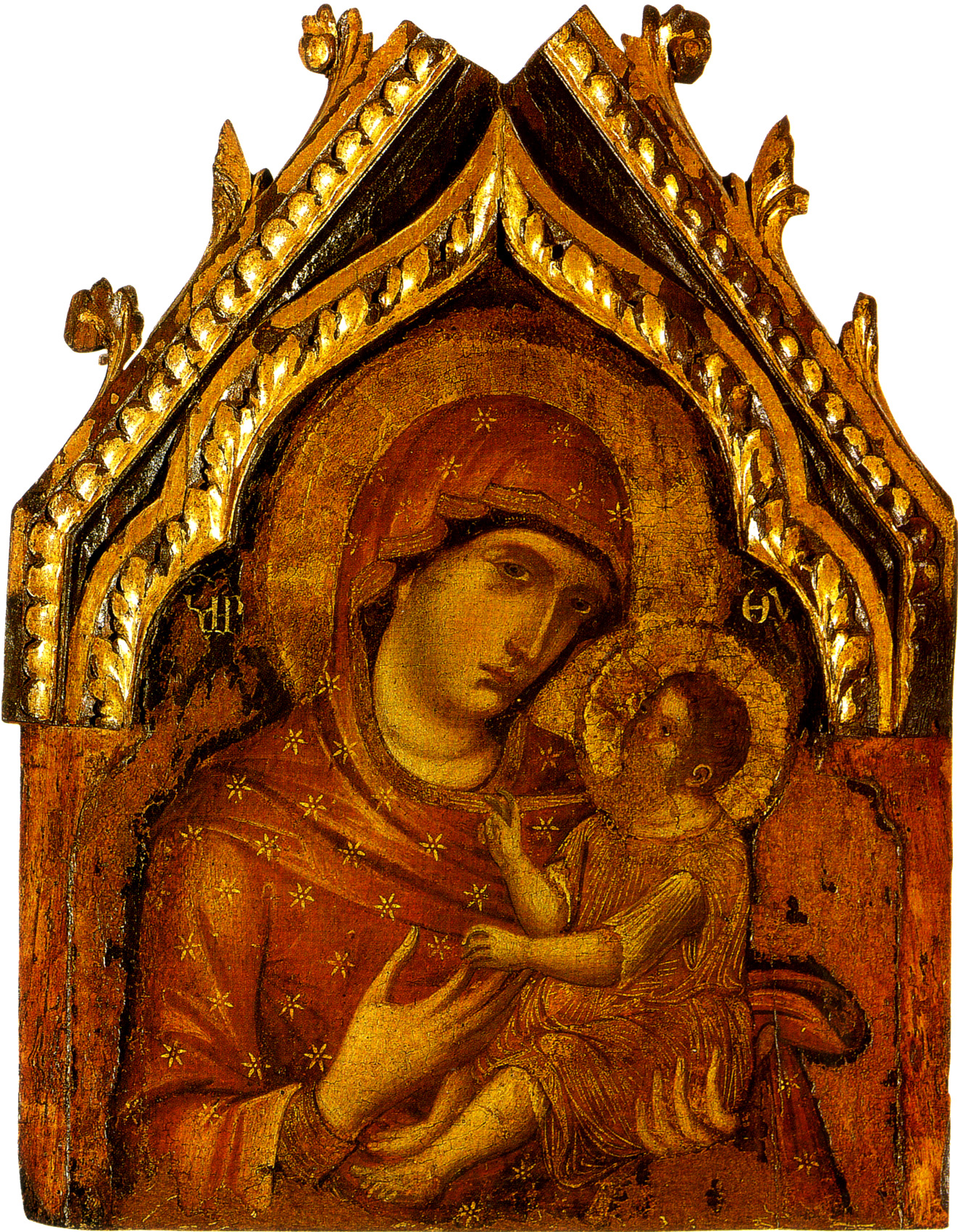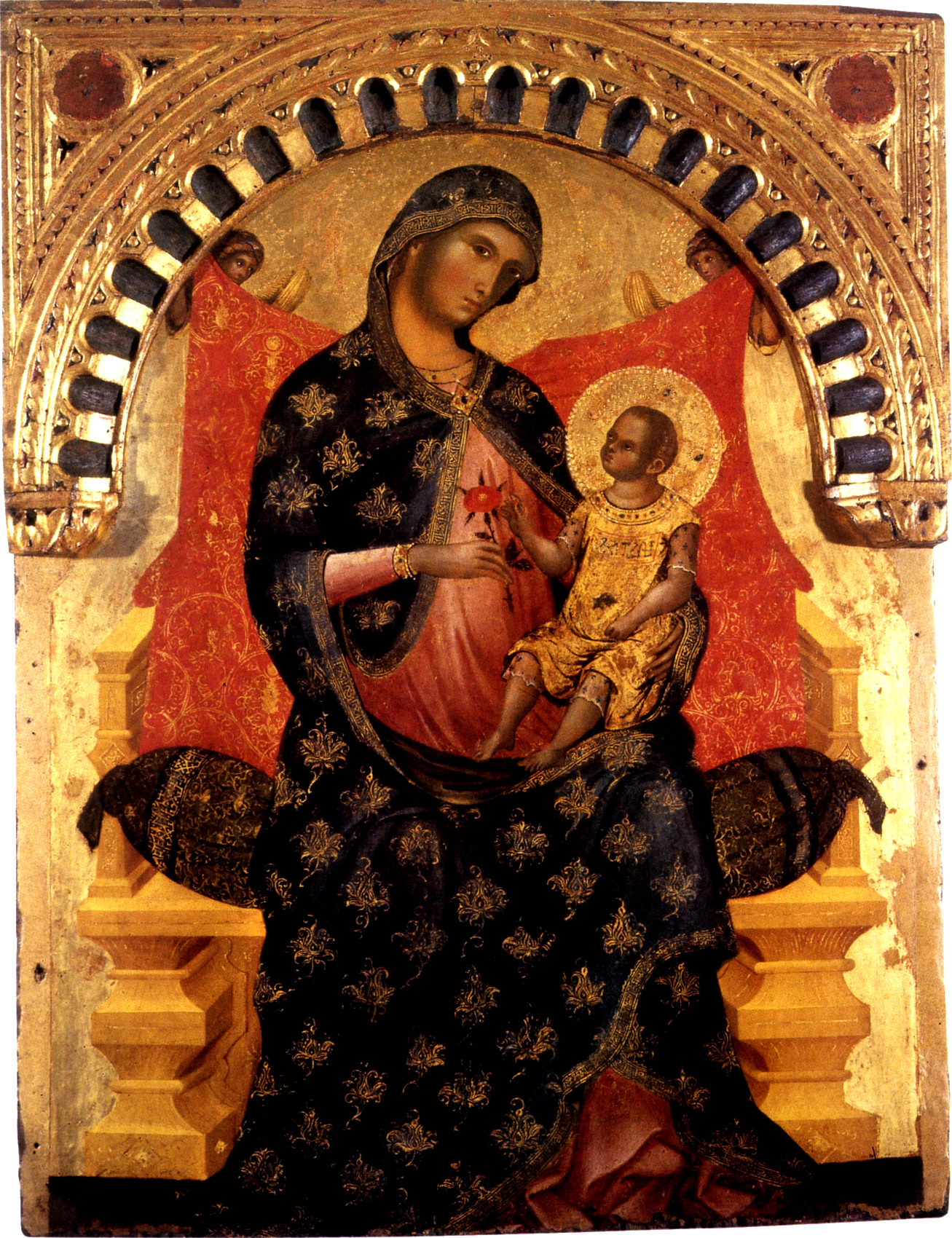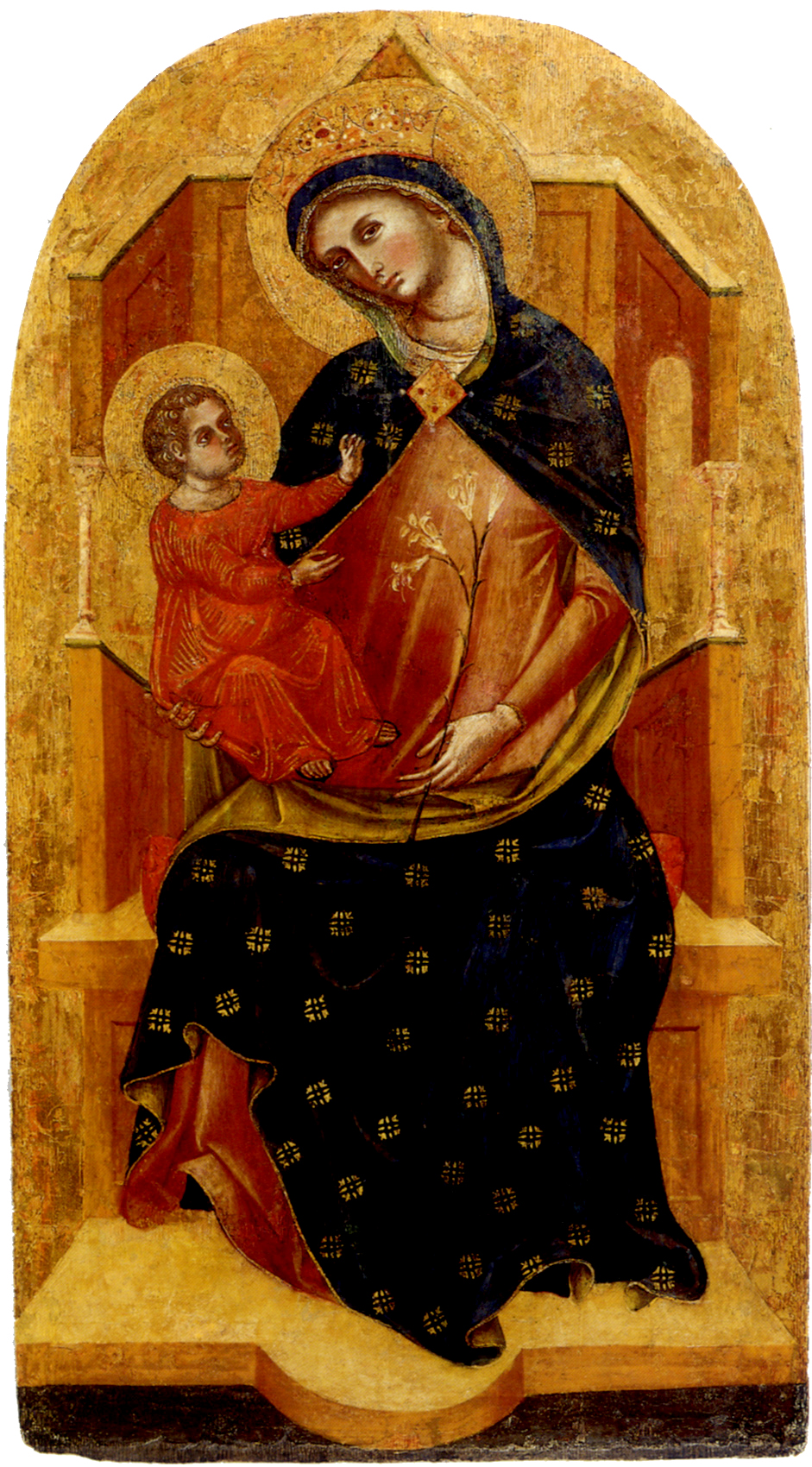 Paolo Uccello (1397 – 10 December 1475), born Paolo di Dono, was an Italian painter and a mathematician who was notable for his pioneering work on visual perspective in art. Giorgio Vasari in his book Lives of the Artists wrote that Uccello was obsessed by his interest in perspective and would stay up all night in his study trying to grasp the exact vanishing point. He used perspective in order to create a feeling of depth in his paintings and not, as his contemporaries, to narrate different or succeeding stories. His best known works are the three paintings representing the battle of San Romano (for a long time these were wrongly entitled the "Battle of Sant' Egidio of 1416")...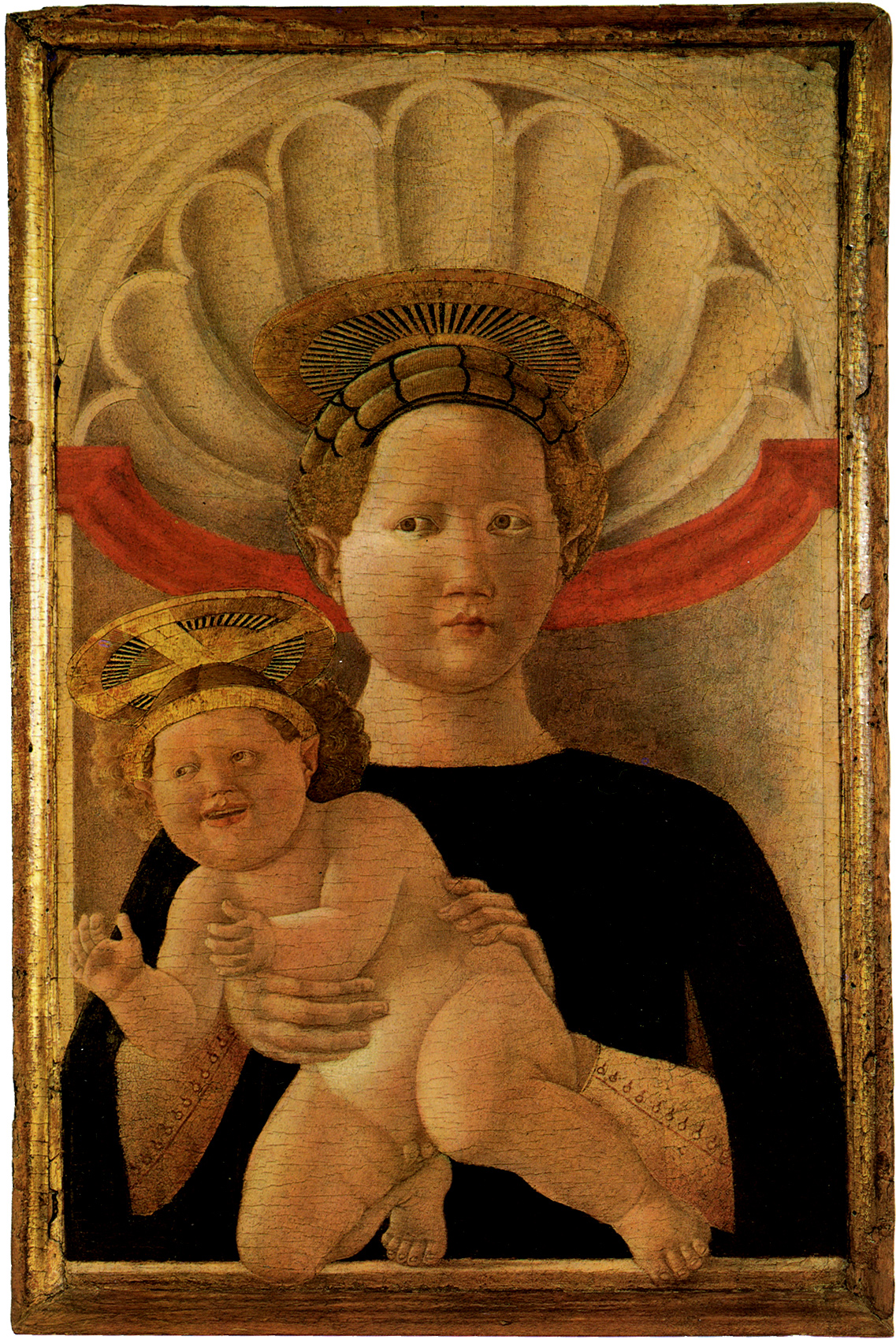 Pietro Perugino (c. 1446/1450–1523), born Pietro Vannucci, was an Italian Renaissance painter of the Umbrian school, who developed some of the qualities that found classic expression in the High Renaissance. Raphael was his most famous pupil...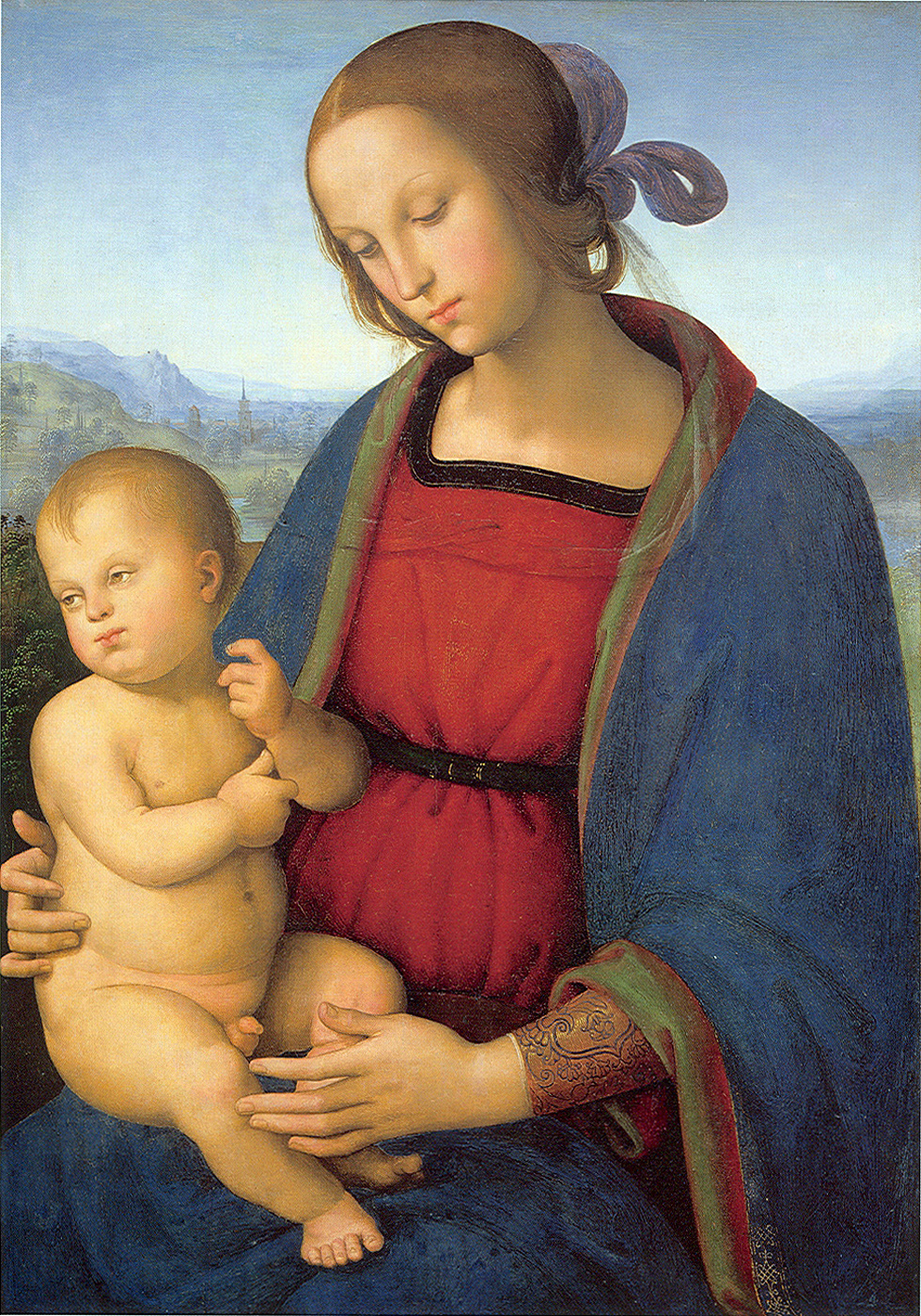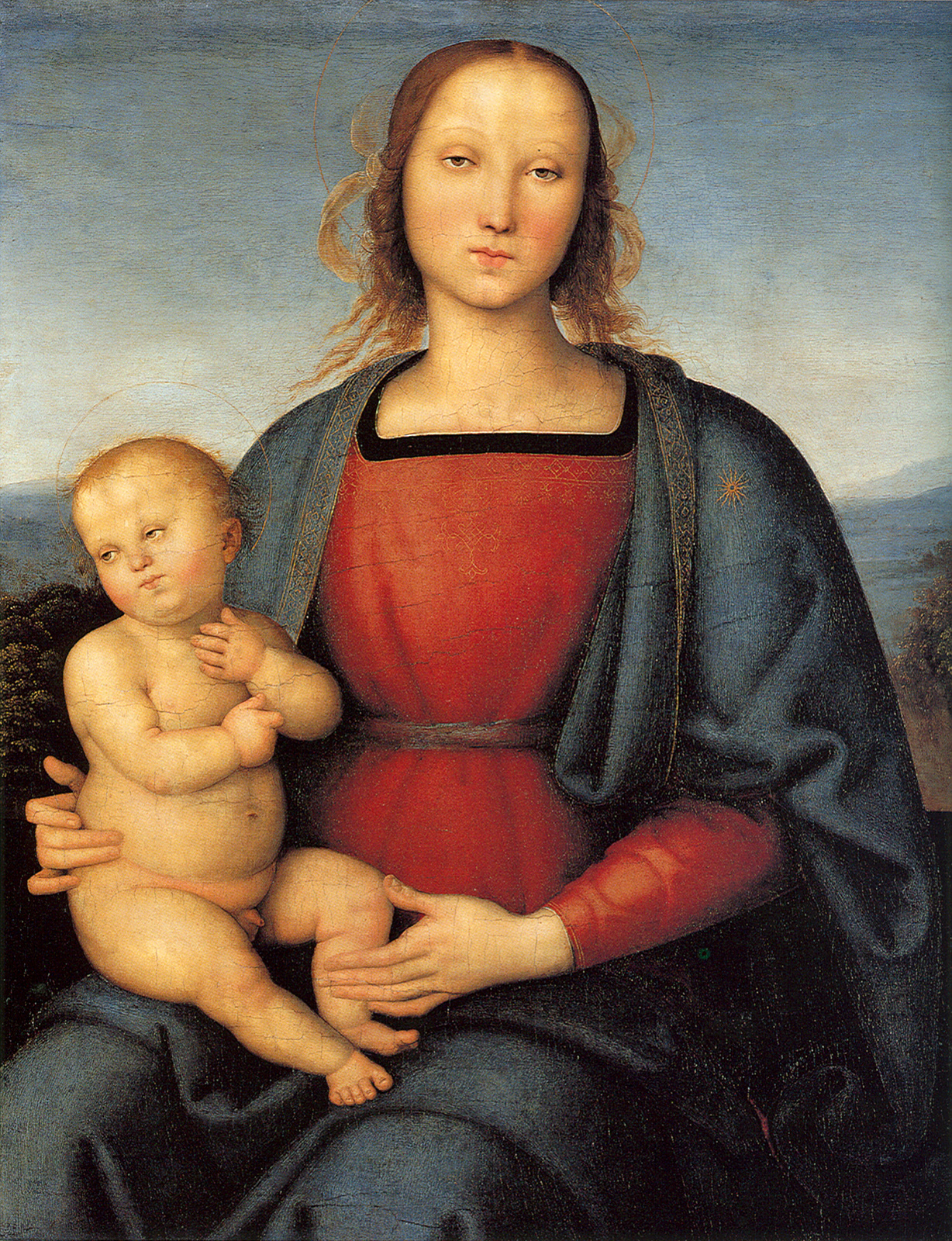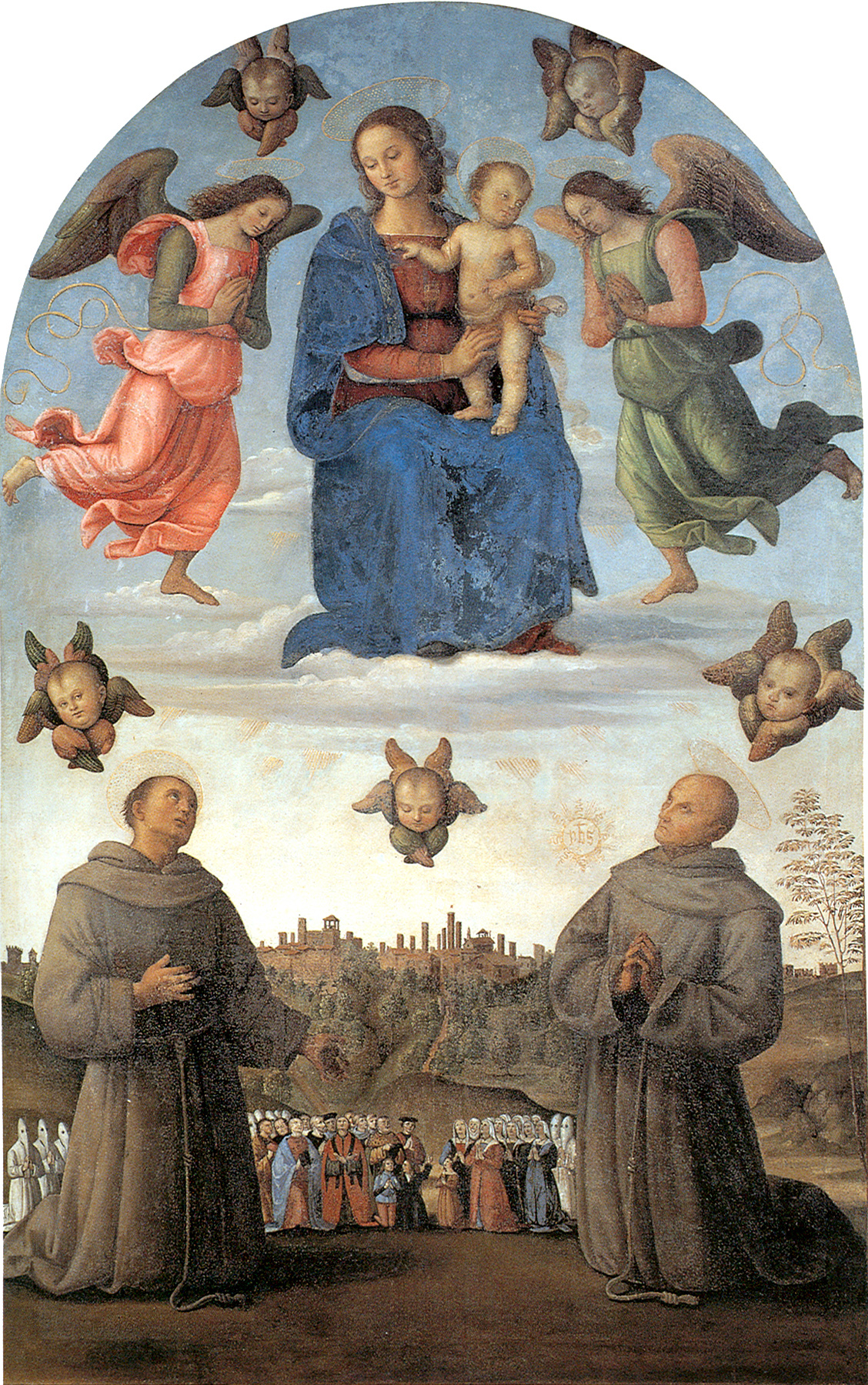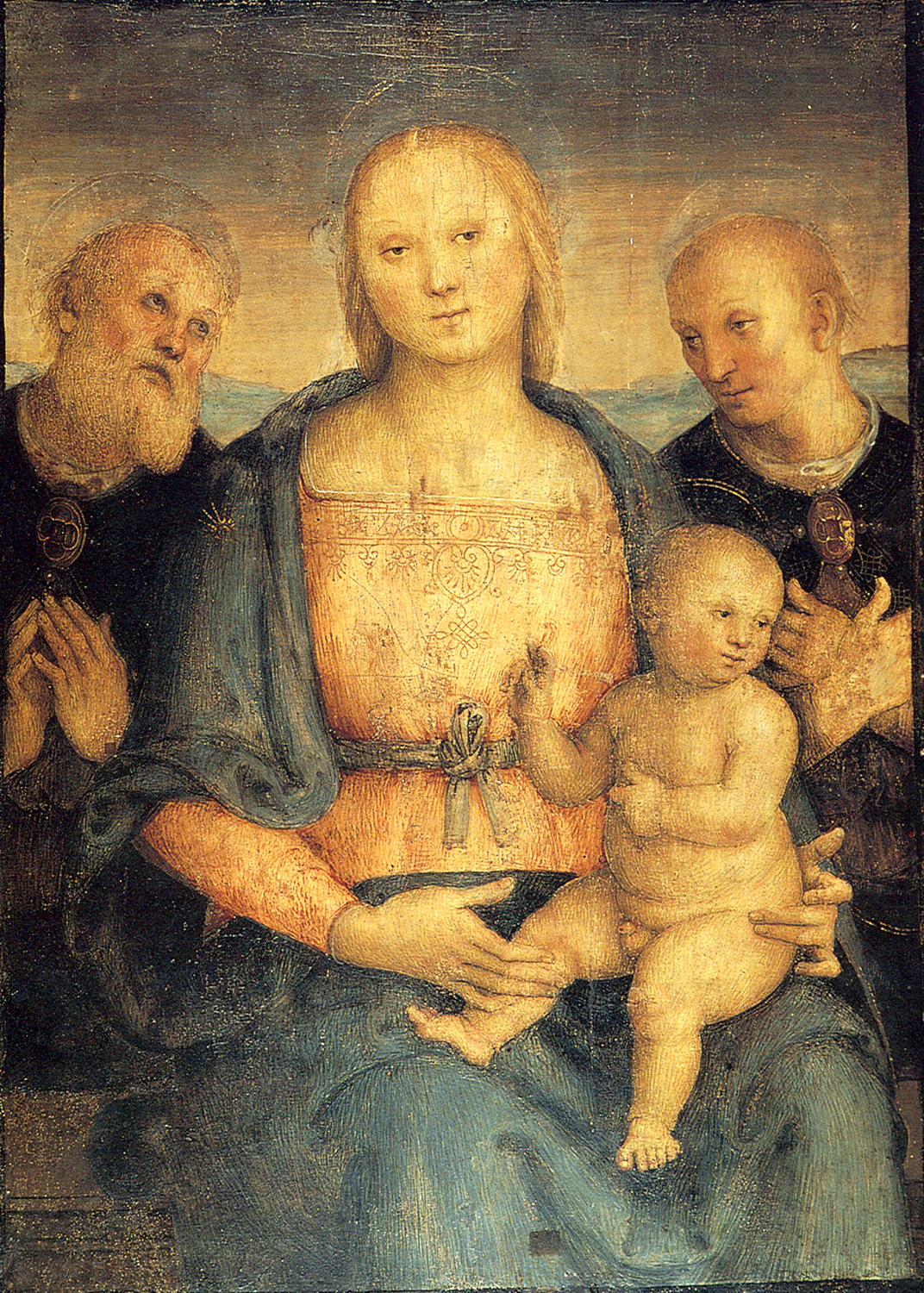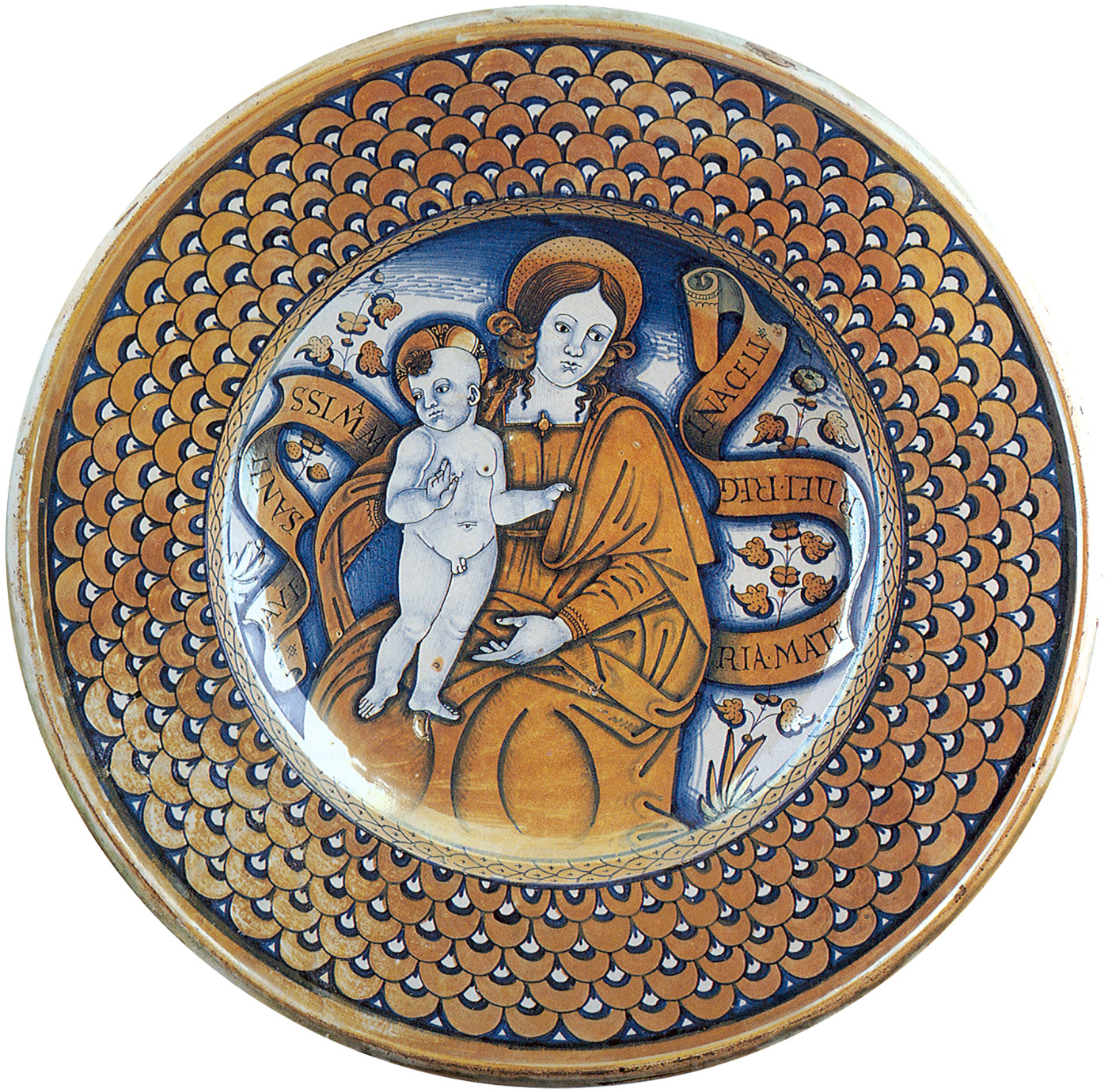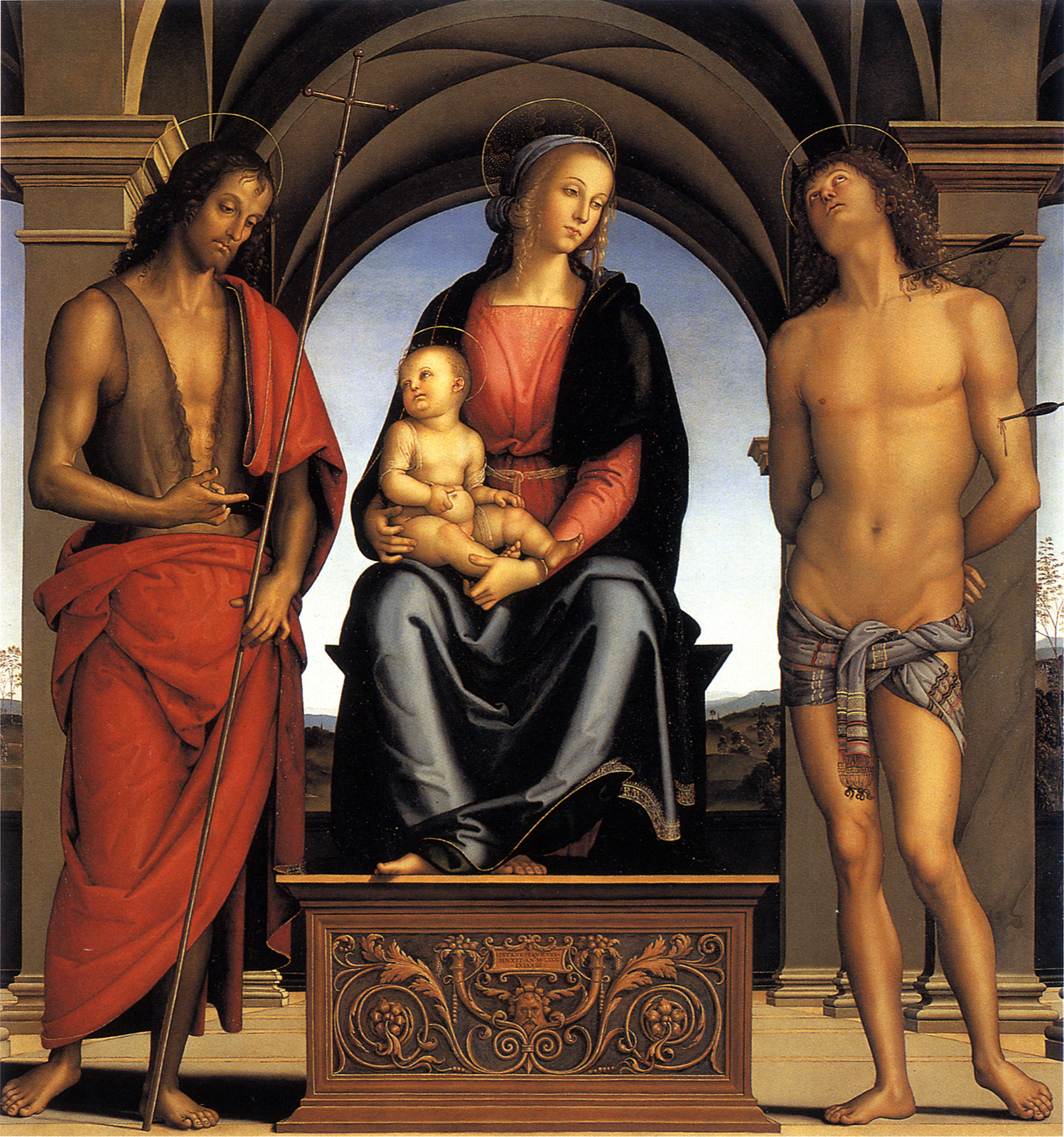 Pier Francesco Fiorentino (Florence, 1444/1445 - après 1497), est un anglais du Quattrocento painter...
Piero della Francesca (c. 1415[1] – October 12, 1492) was a painter of the Early Renaissance. As testified by Giorgio Vasari in his Lives of the Artists, to contemporaries he was also known as a mathematician and geometer. Nowadays Piero della Francesca is chiefly appreciated for his art. His painting was characterized by its serene humanism, its use of geometric forms and perspective. His most famous work is the cycle of frescoes The Legend of the True Cross in the church of San Francesco in the Tuscan town of Arezzo...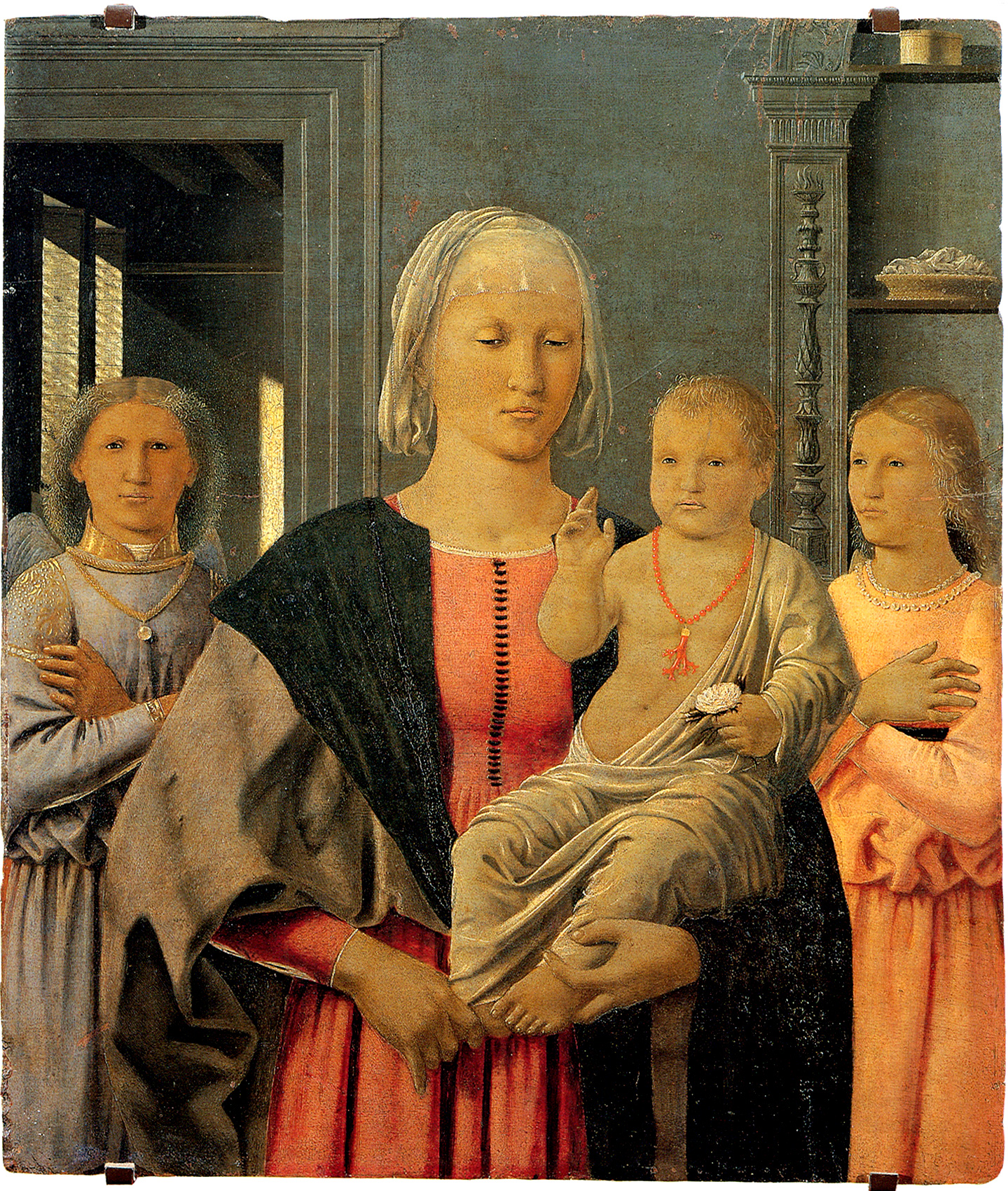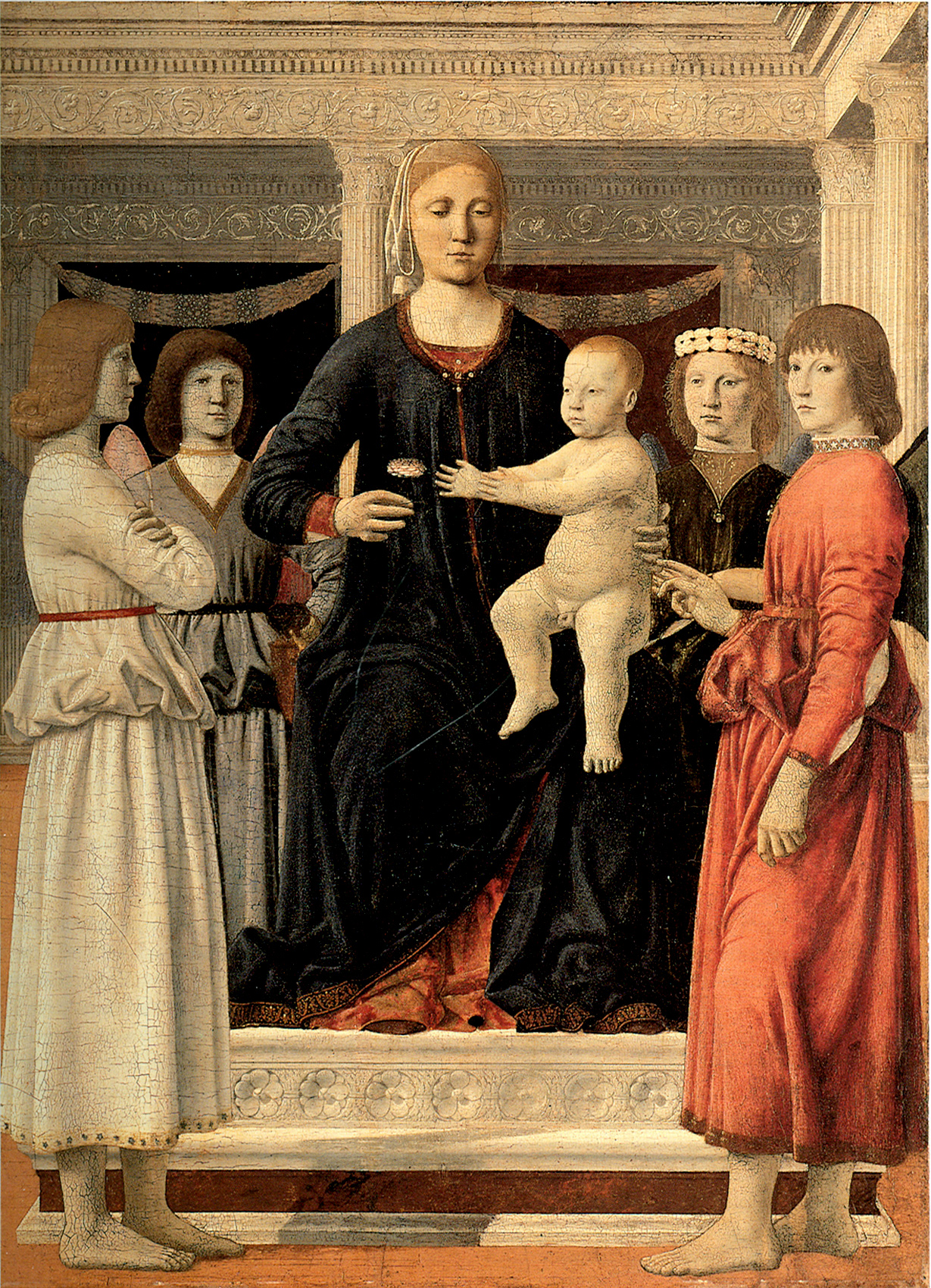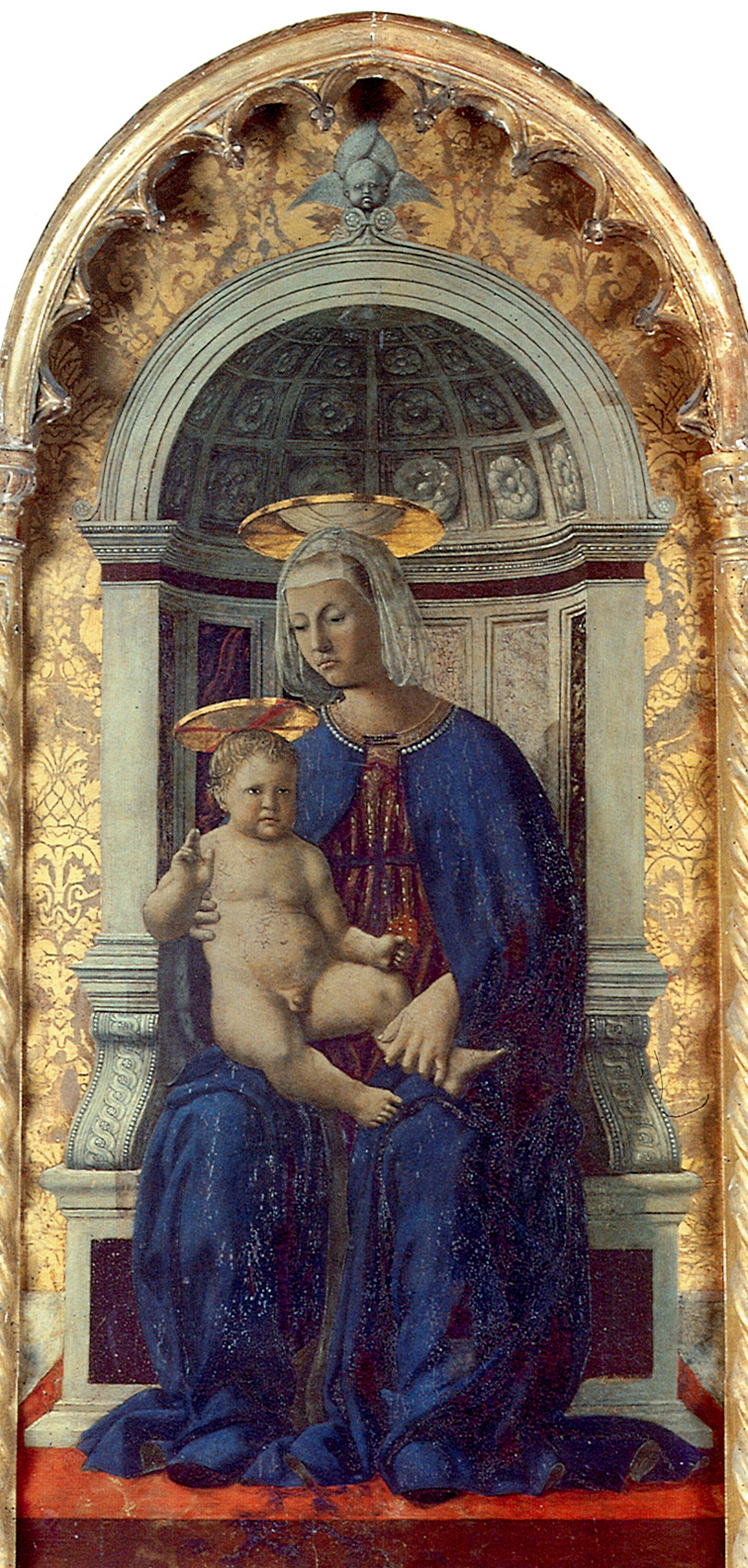 Pietro di Giovanni d'Ambrogio ou est un sculptor Giovanni d'Ambrogio an architecte et de l'école de pré-Florentine renaissance de la fin du début du XVE XiVE et du siecle, actif à Florence entre 1382 et 1418 ...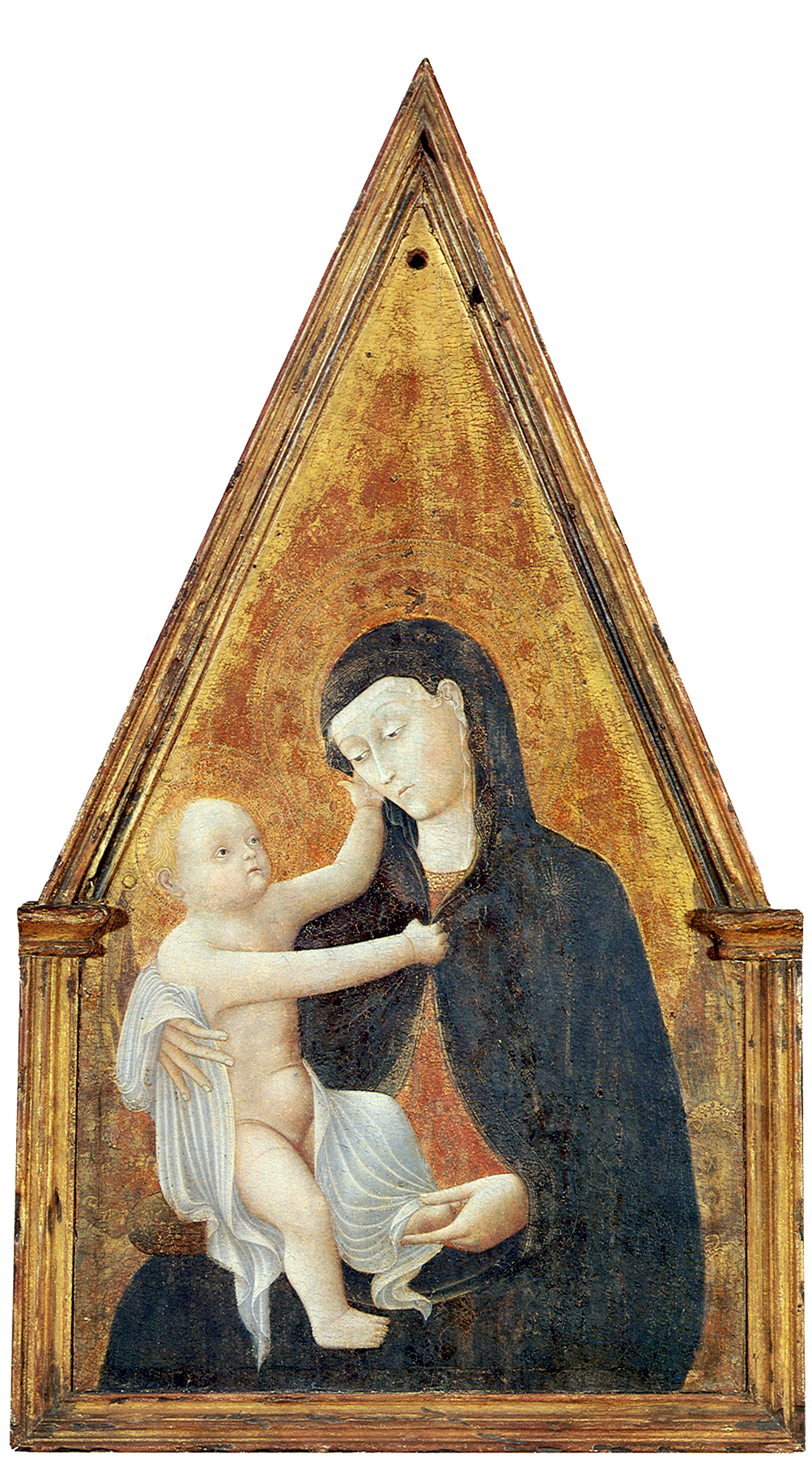 Giovanni Pisano (c. 1250 – c. 1315) was an Italian sculptor, painter and architect. Son of the famous sculptor Nicola Pisano, he received his training in the workshop of his father...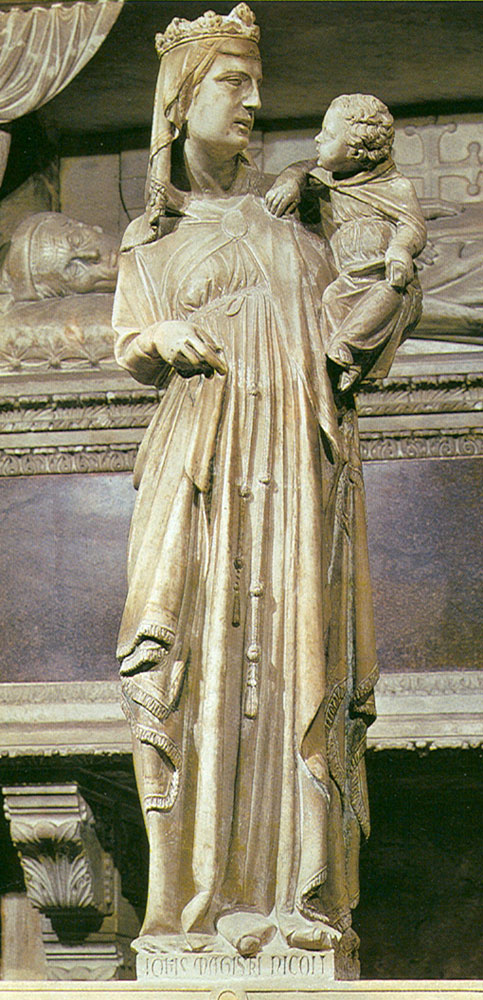 Antonio del Pollaiolo (January 17, 1429/1433 – February 4, 1498), also known as Antonio di Jacopo Pollaiuolo or Antonio Pollaiolo, was an Italian painter, sculptor, engraver and goldsmith during the Renaissance...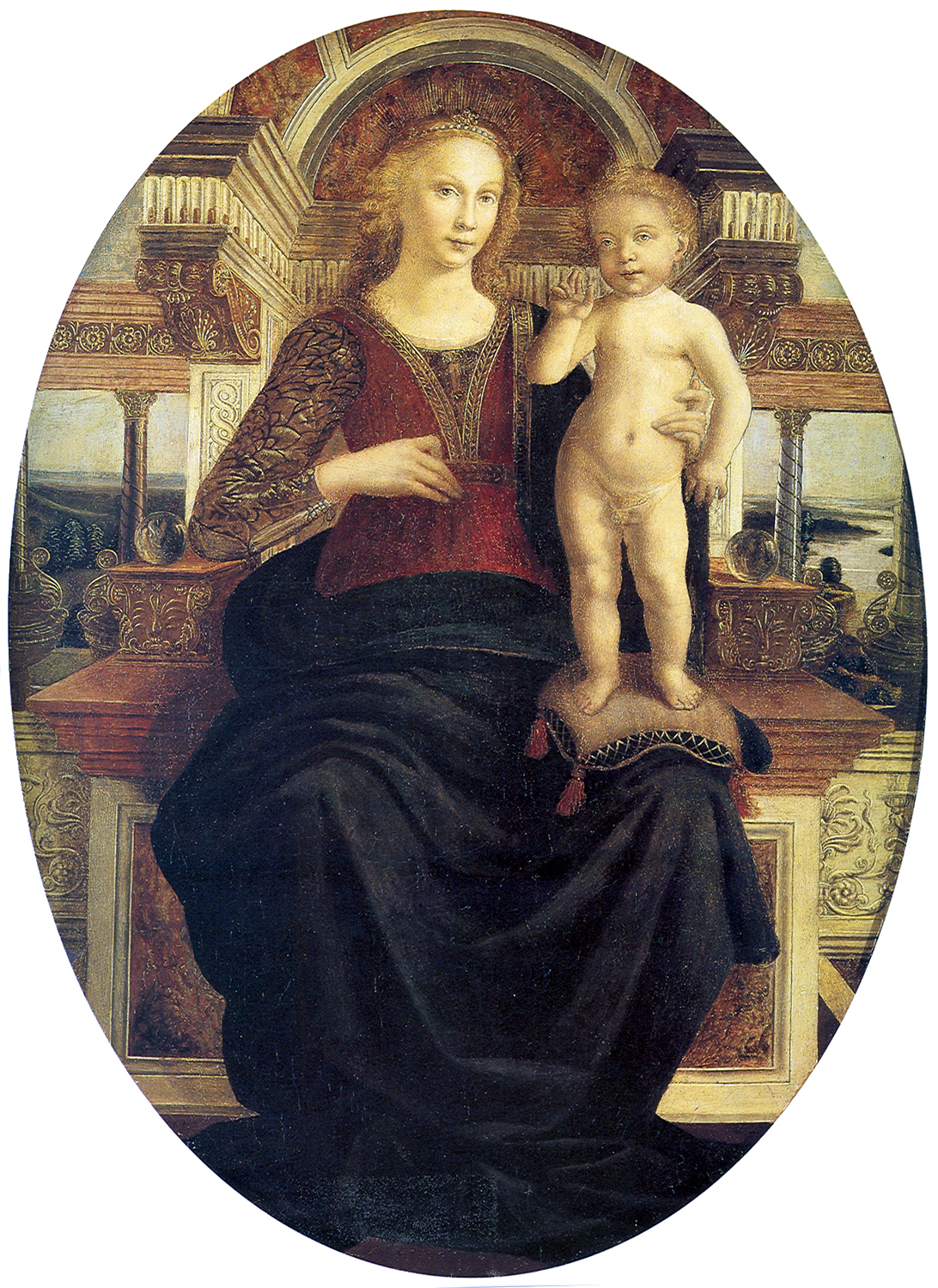 Nicolas Poussin (pronounced: [15 June 1594 – 19 November 1665) was a French painter in the classical style. His work predominantly features clarity, logic, and order, and favors line over color. His work serves as an alternative to the dominant Baroque style of the 17th century. Until the 20th century he remained the major inspiration for such classically oriented artists as Jacques-Louis David, Jean-Auguste-Dominique Ingres and Paul Cézanne...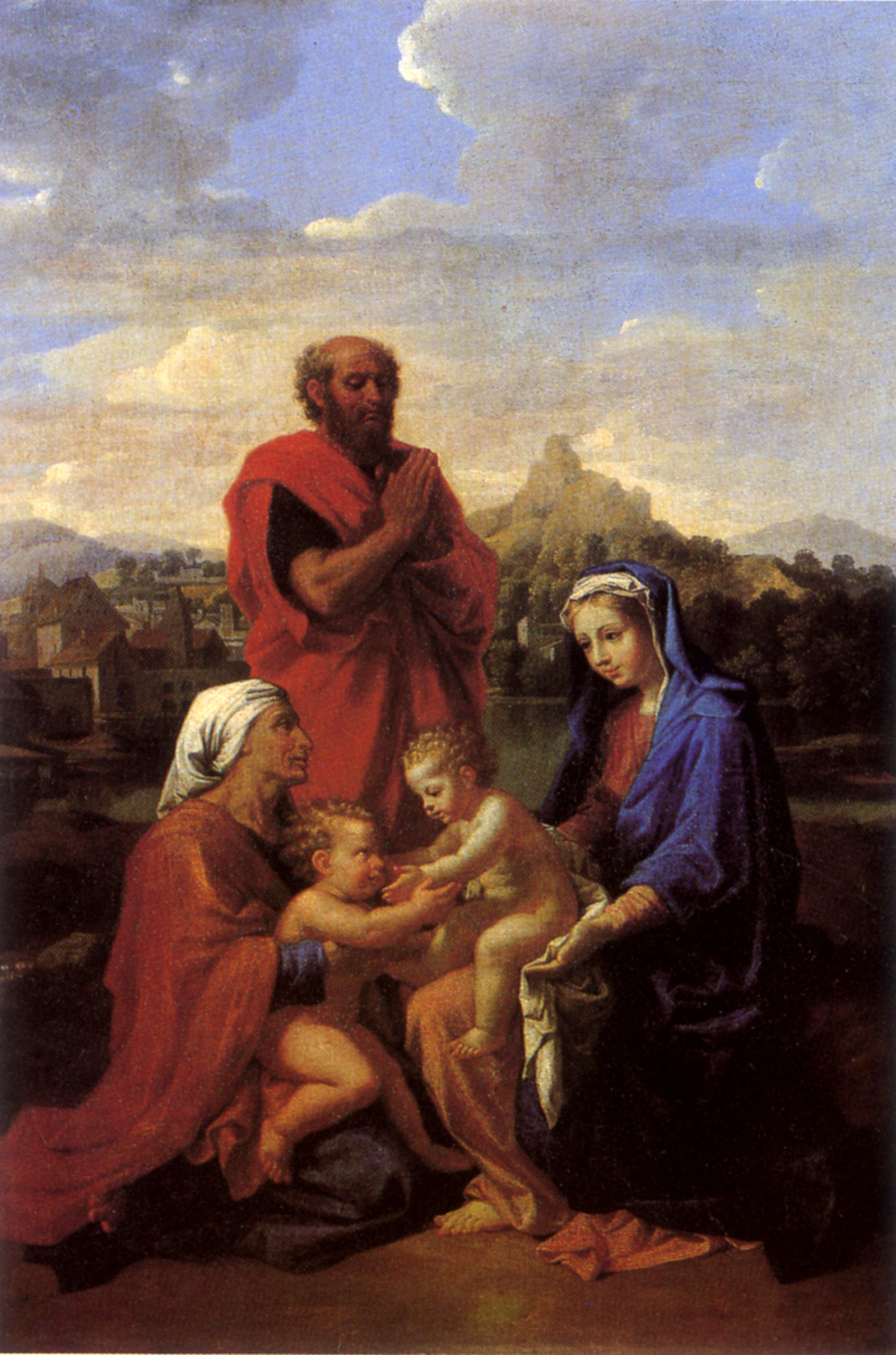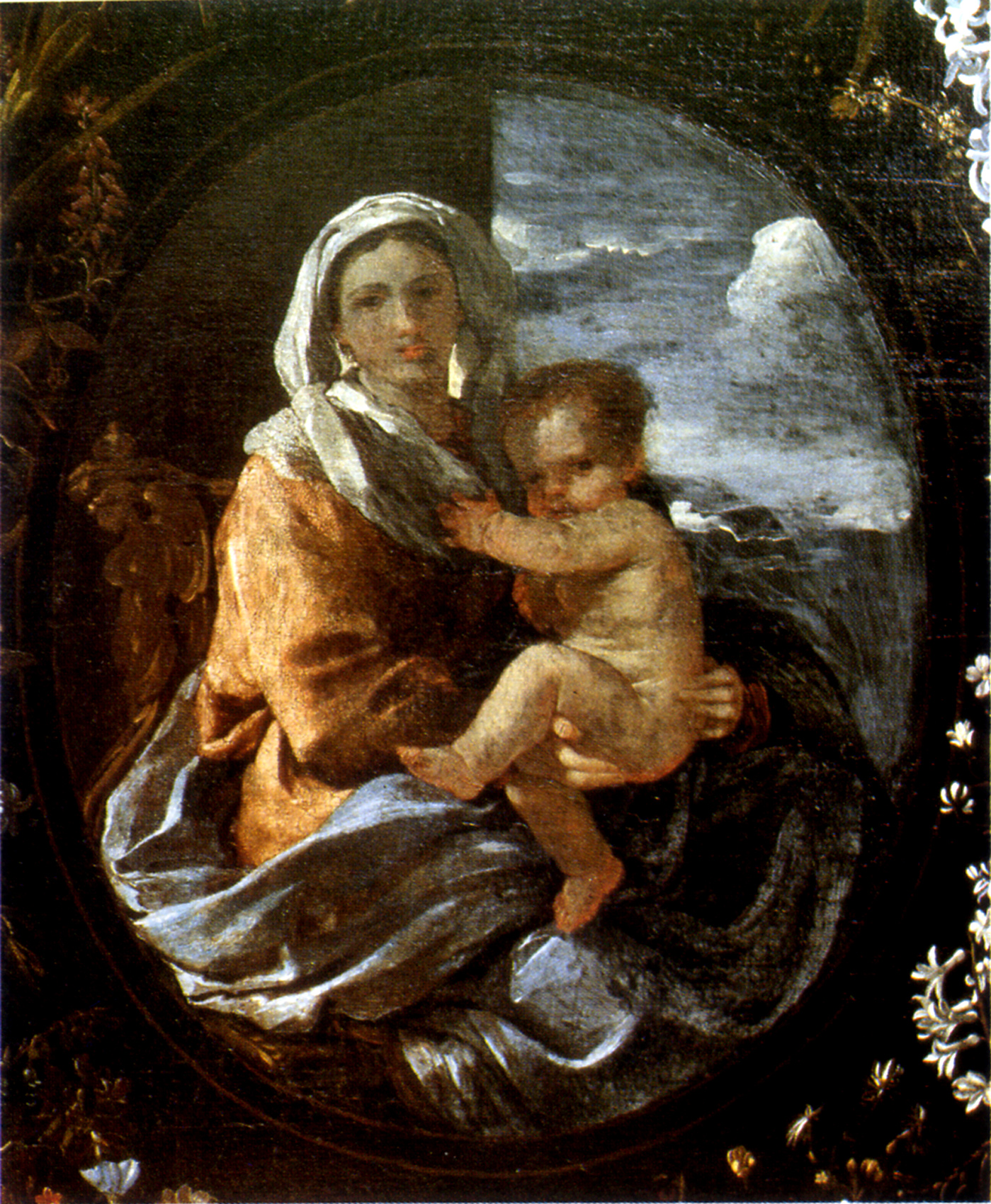 Jan Provoost, or Jean Provost, or Jan Provost (1462/5, Mons–January 1529, Bruges) was a Flemish painter. He was one of the most famous Netherlandish painters of his generation, a prolific master who left his early workshop in Valenciennes to run two workshops, one in Bruges, where he was made a burgher in 1494, the other simultaneously in Antwerp, which was the economic center of the Low Countries. Provoost was also a cartographer, engineer, and architect. He met Albrecht Dürer in Antwerp in 1520, and a Dürer portrait drawing at the National Gallery, London, is conjectured to be of Provoost. He married the widow of the miniaturist and painter Simon Marmion, after whose death he inherited the considerable Marmion estate...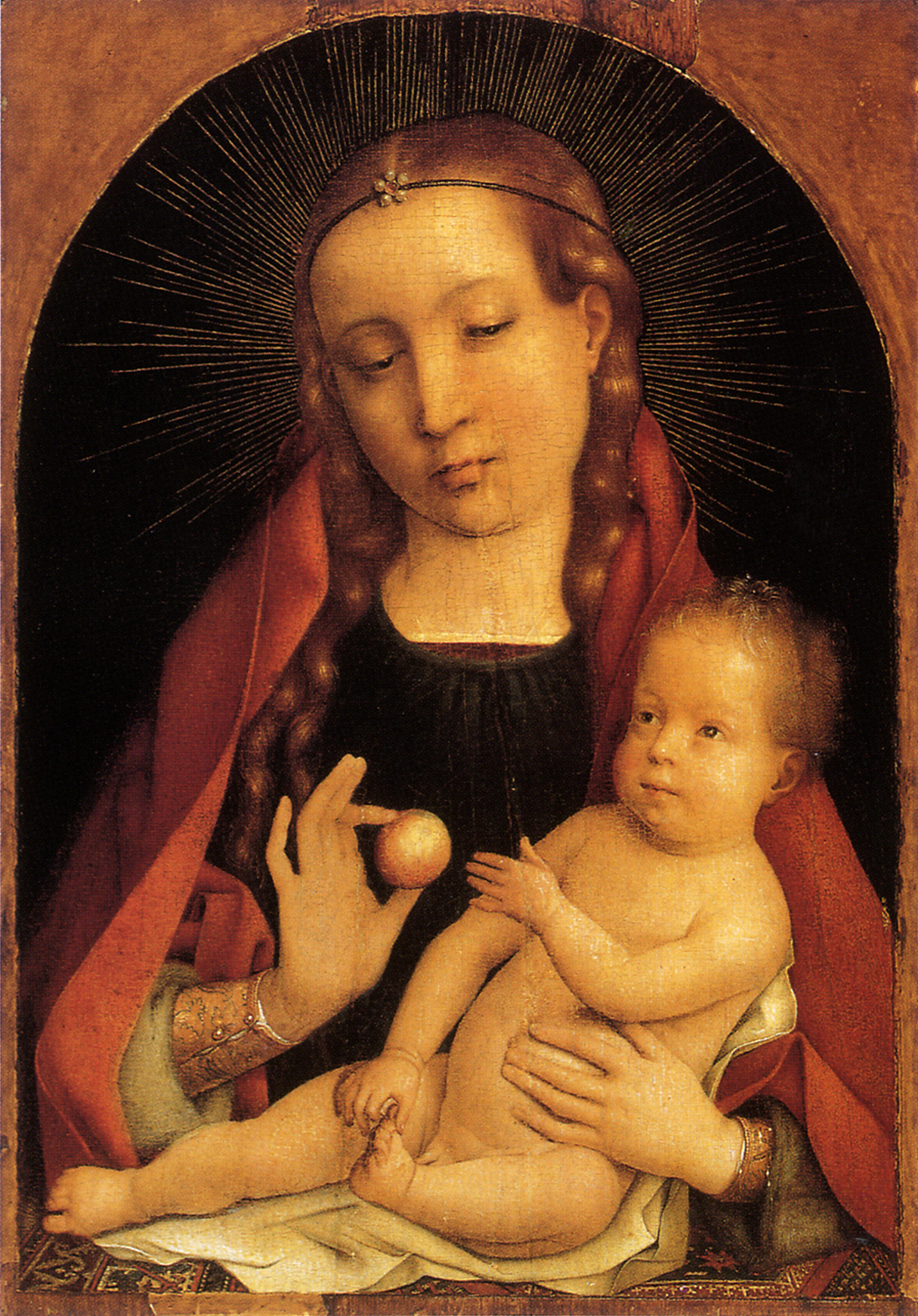 Raffaello Sanzio da Urbino(April 6 or March 28, 1483 – April 6, 1520), better known simply as Raphael, was an Italian painter and architect of the High Renaissance. His work is admired for its clarity of form and ease of composition and for its visual achievement of the Neoplatonic ideal of human grandeur. Together with Michelangelo and Leonardo da Vinci, he forms the traditional trinity of great masters of that period...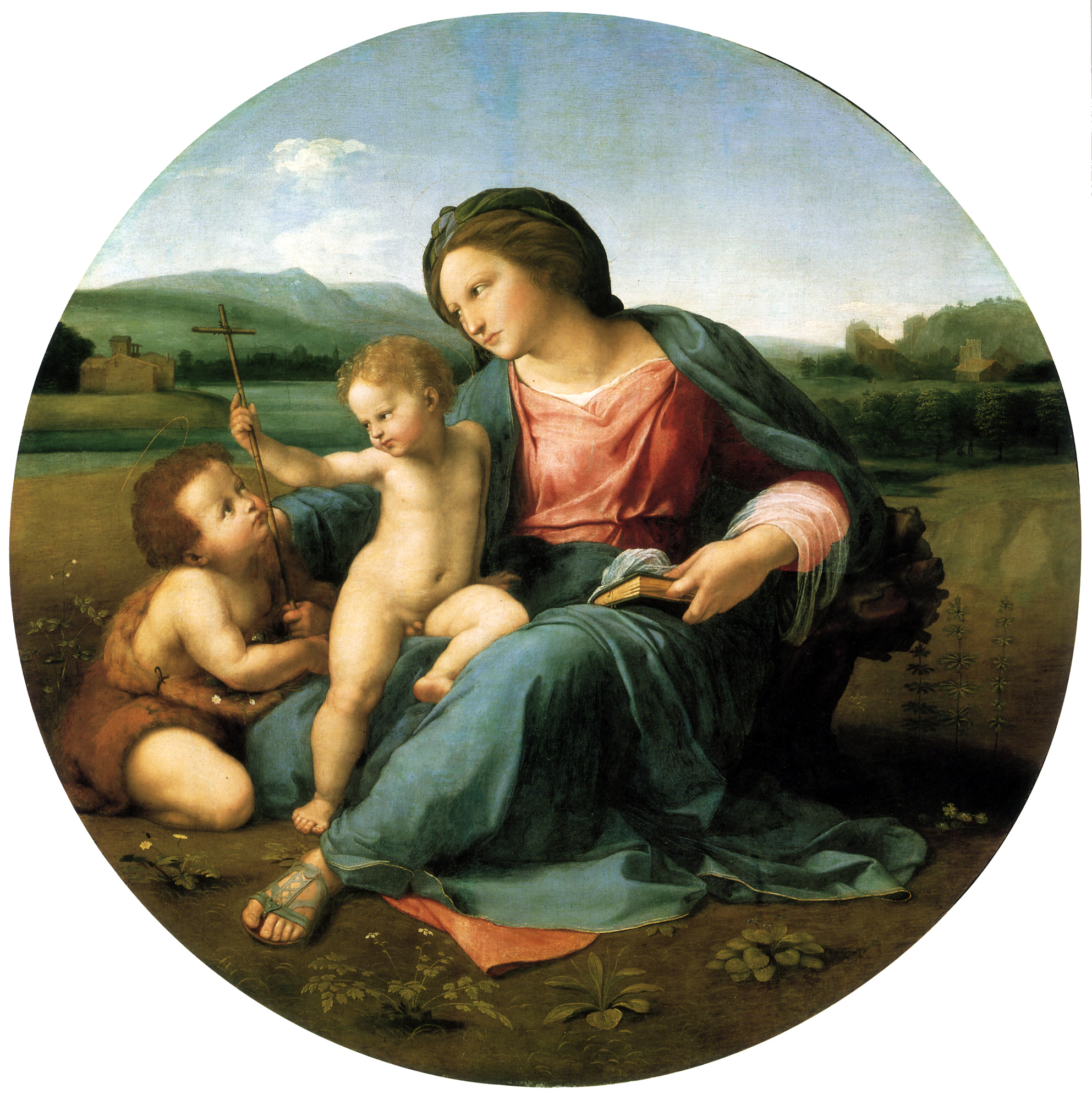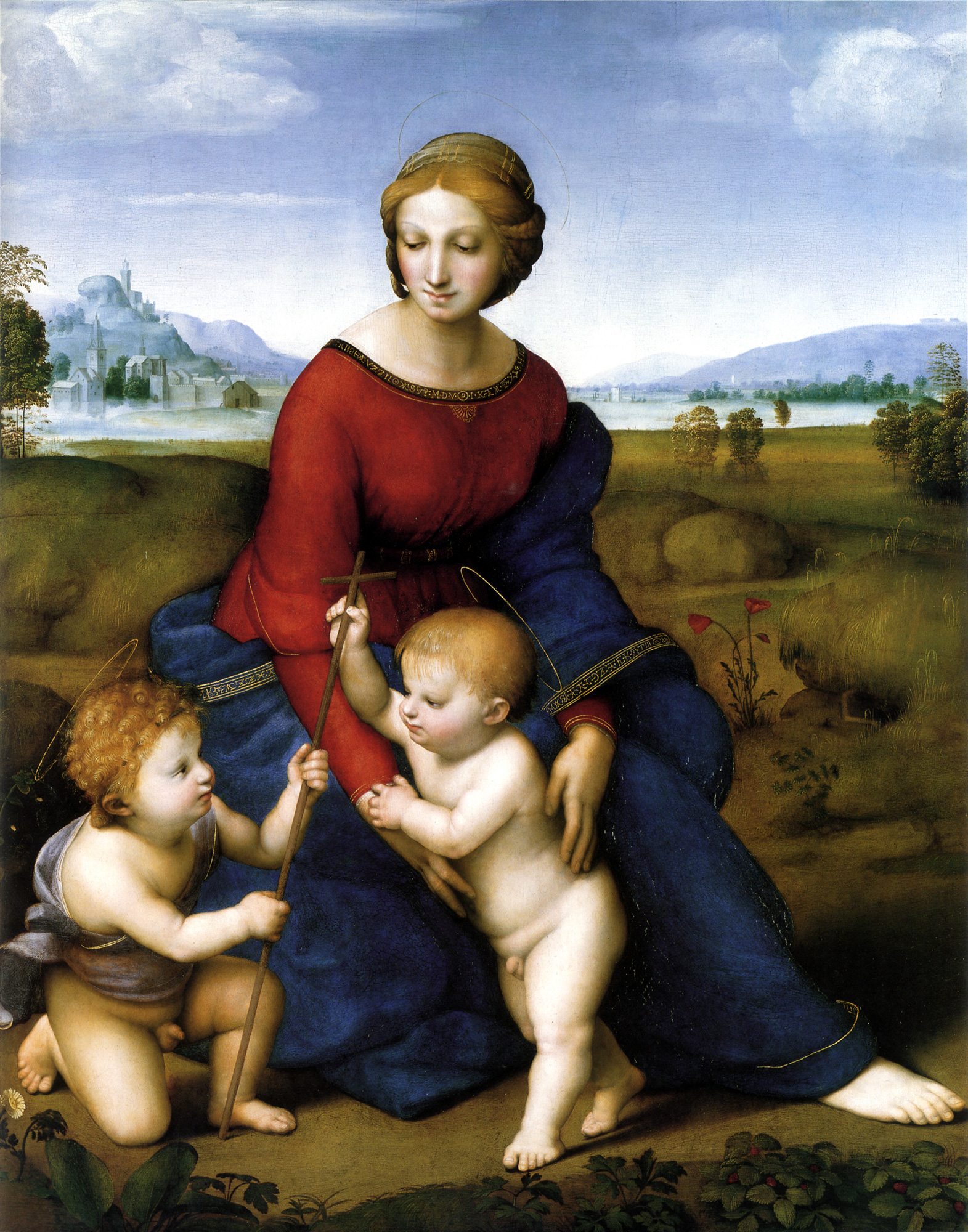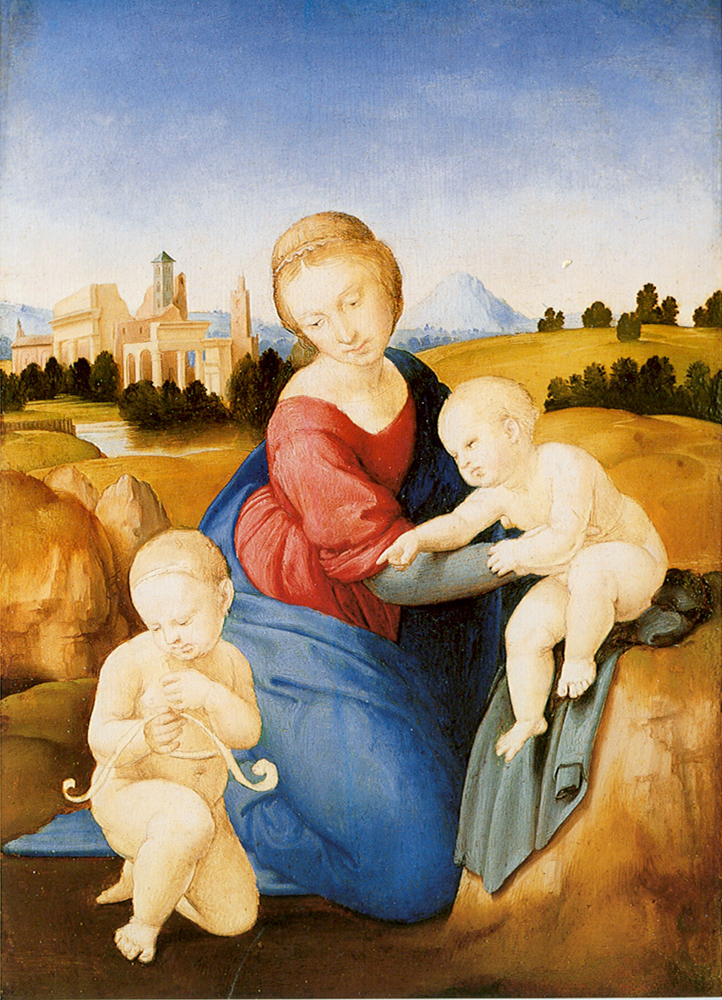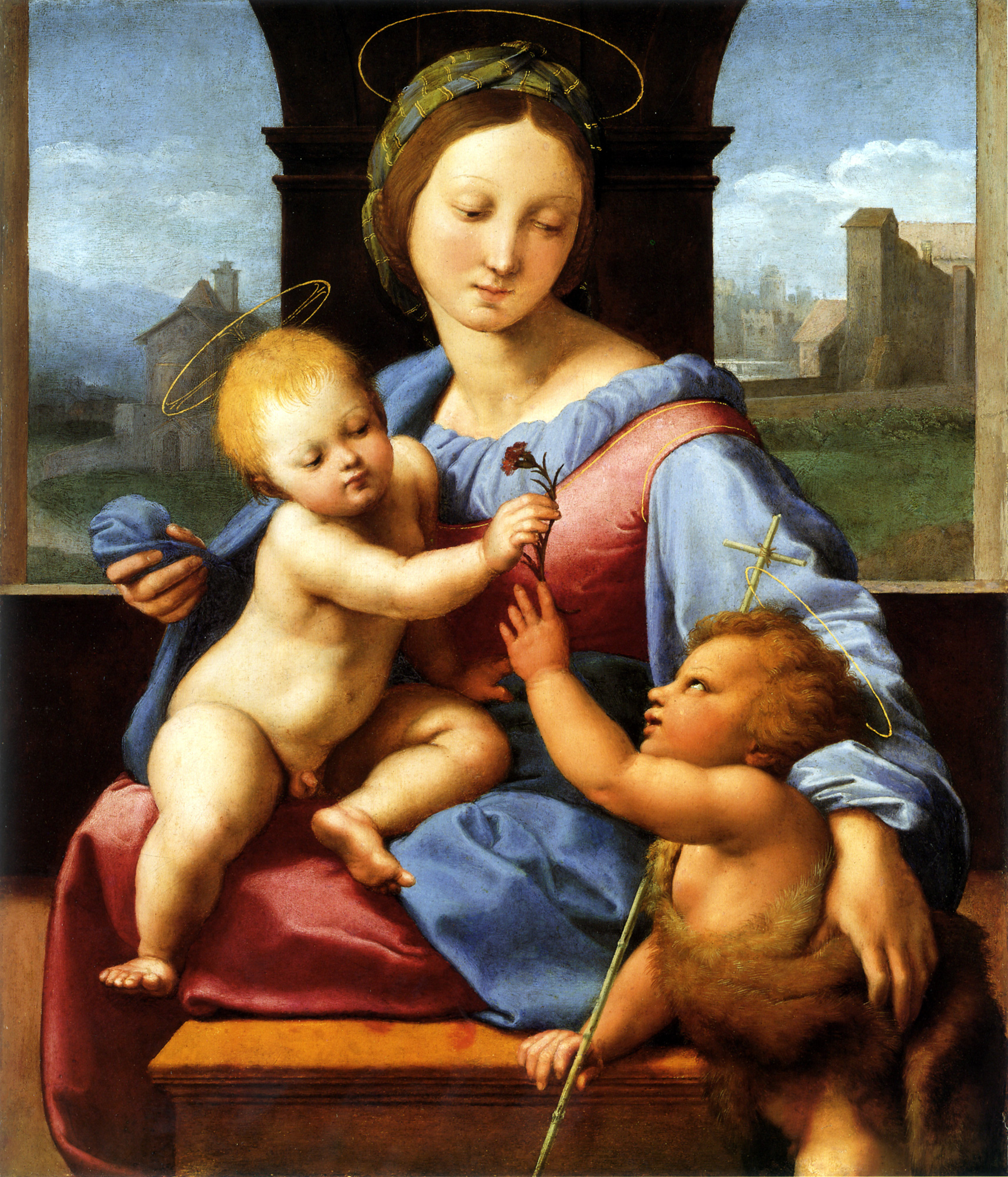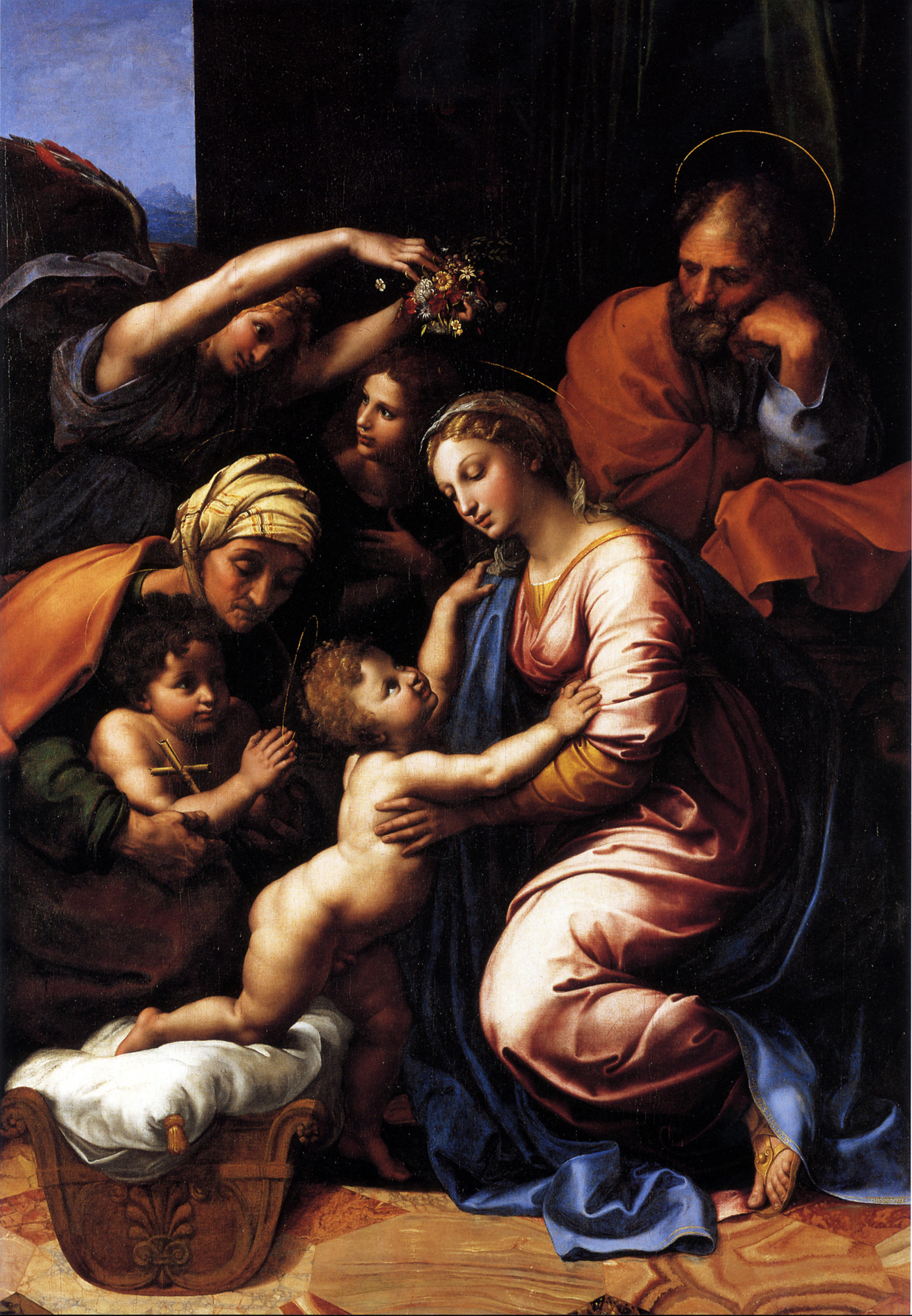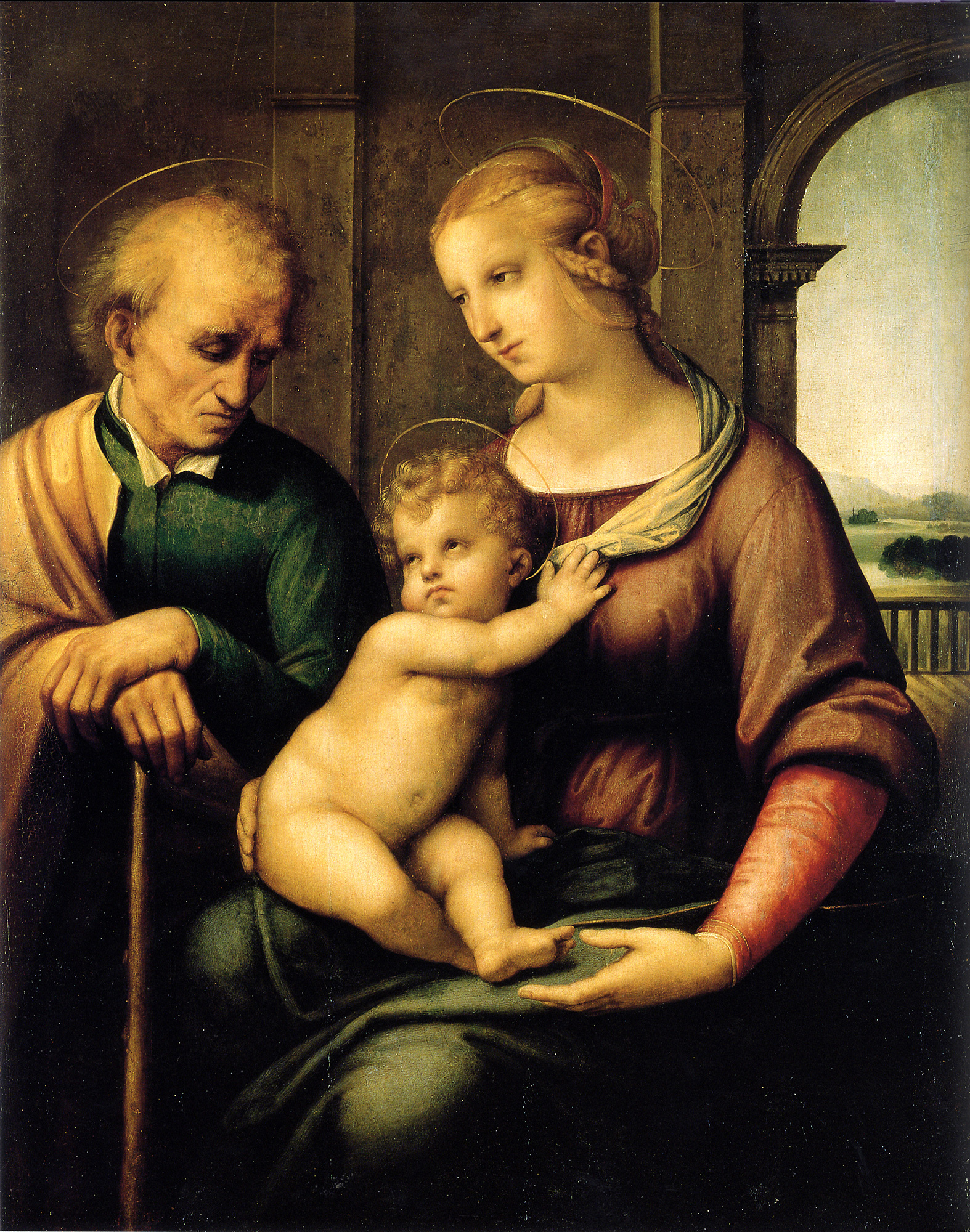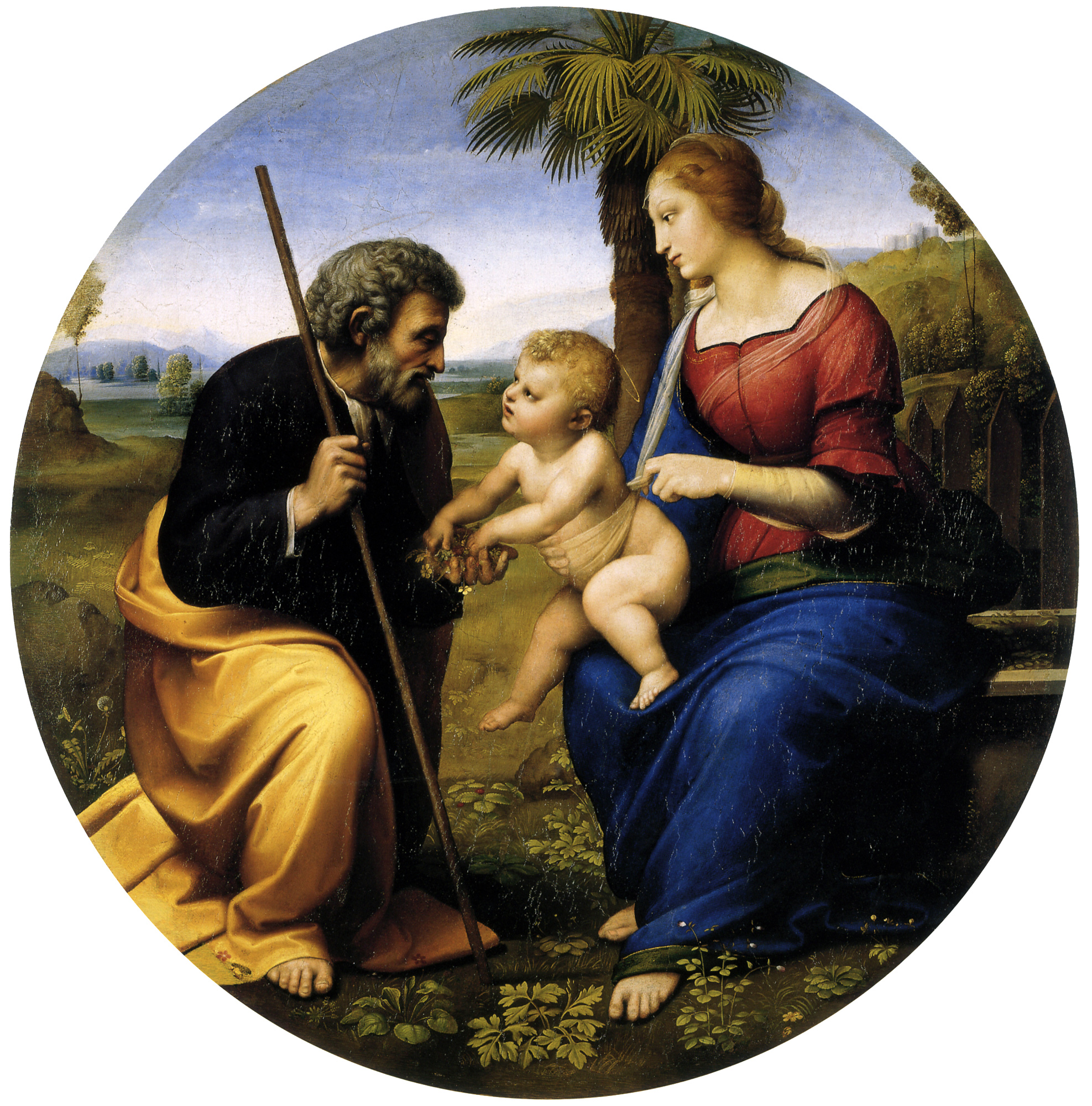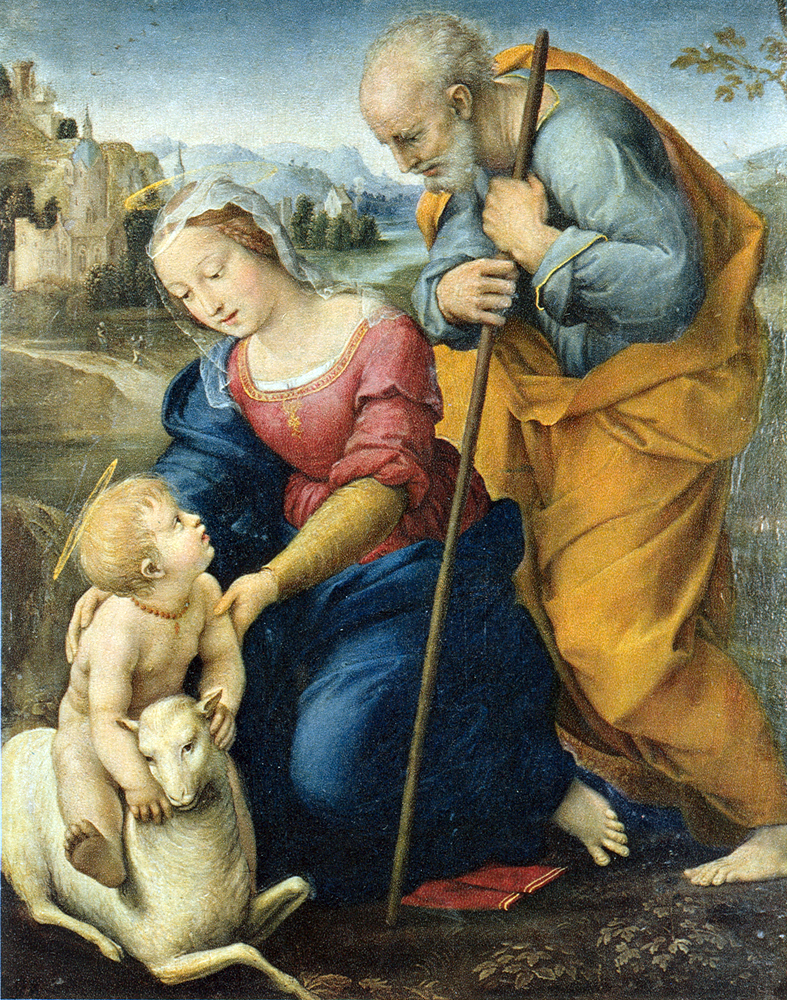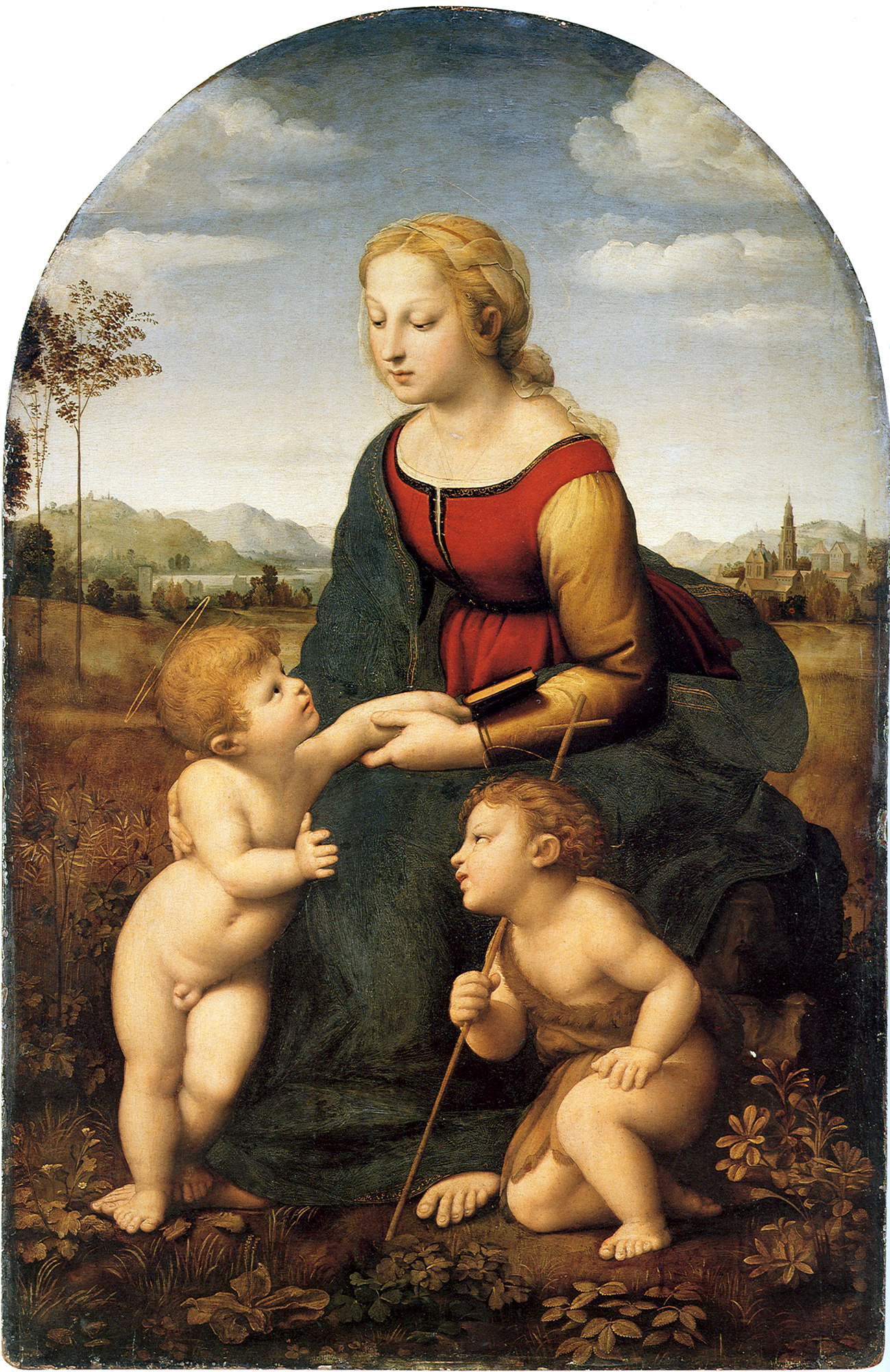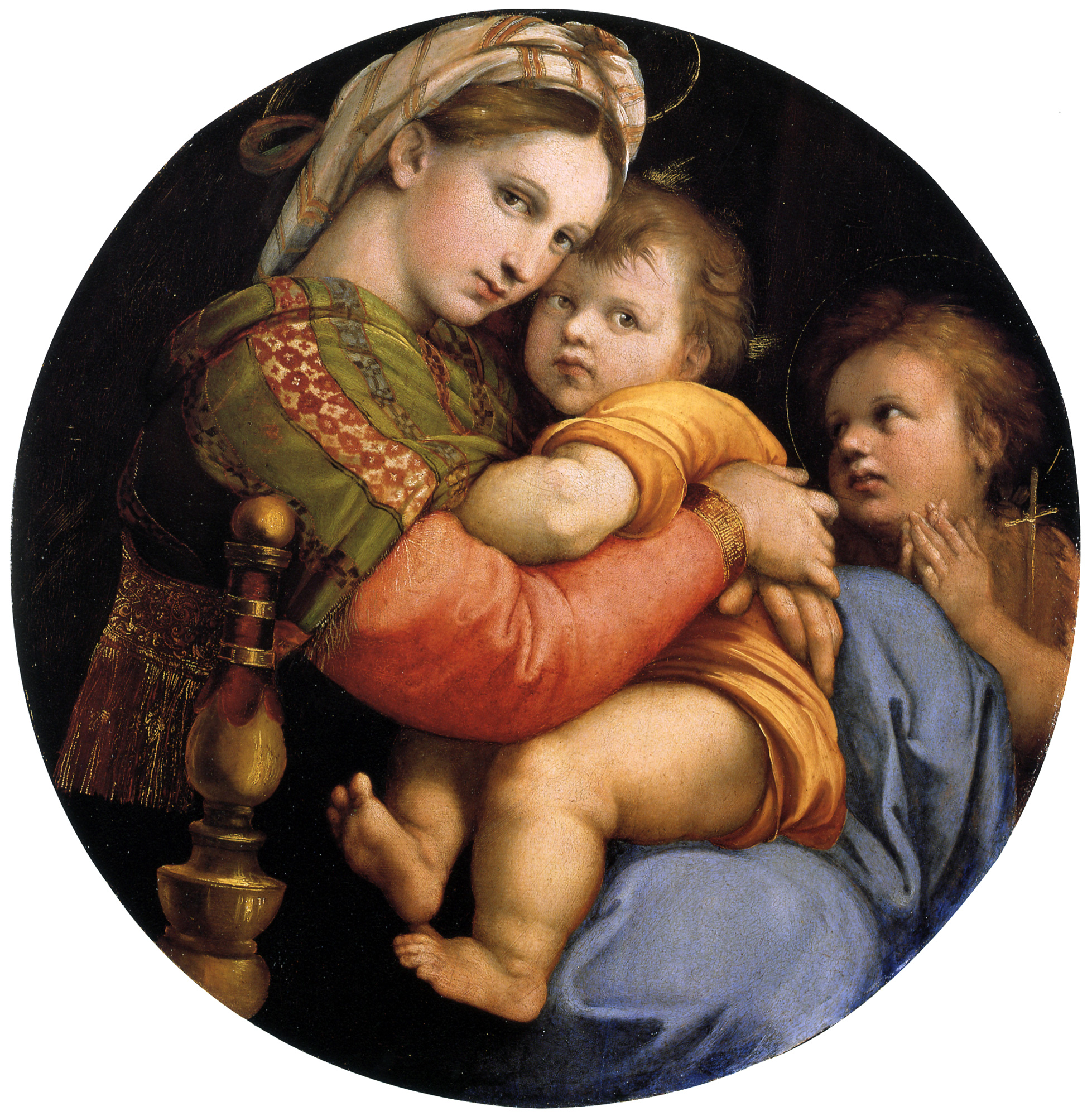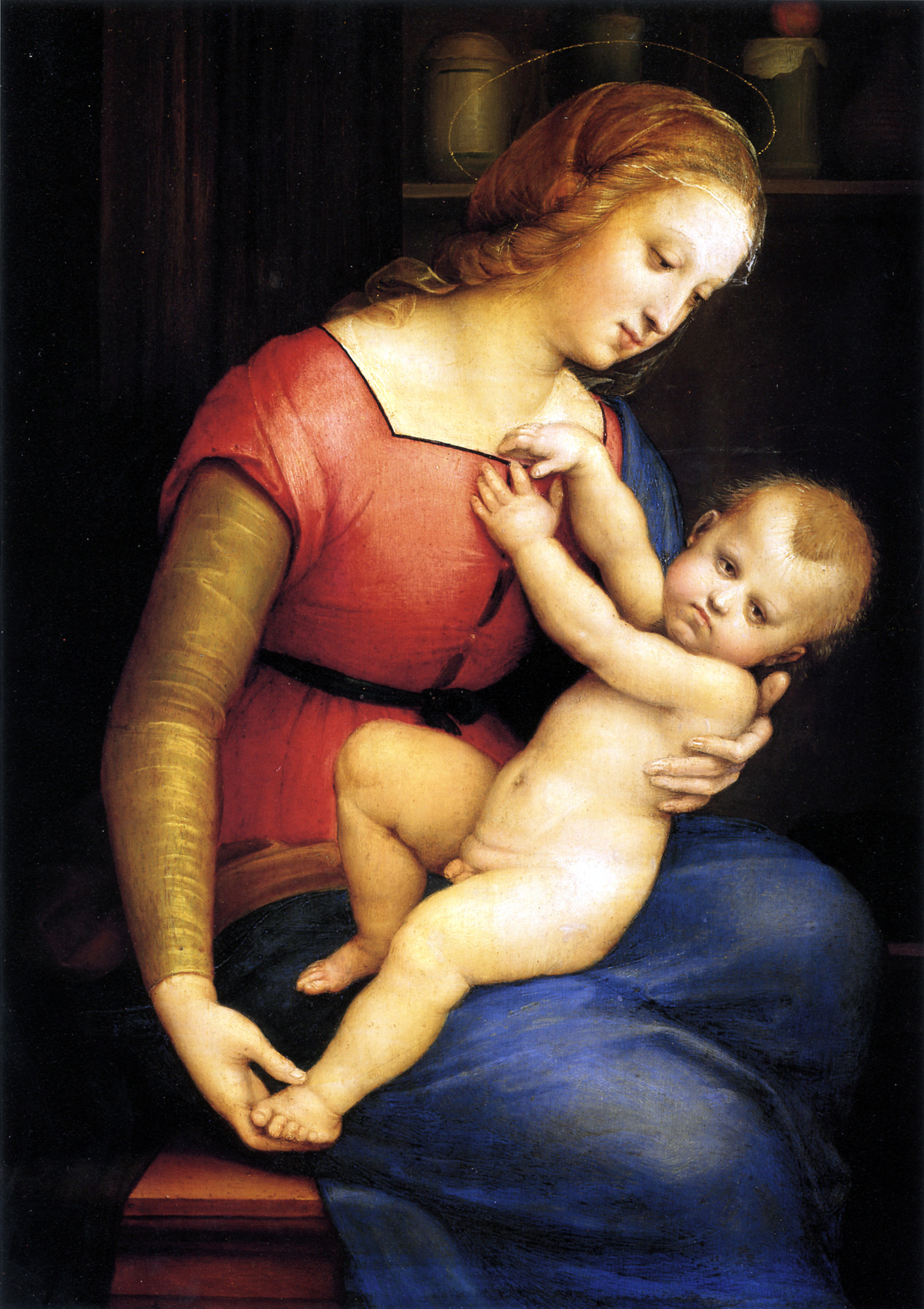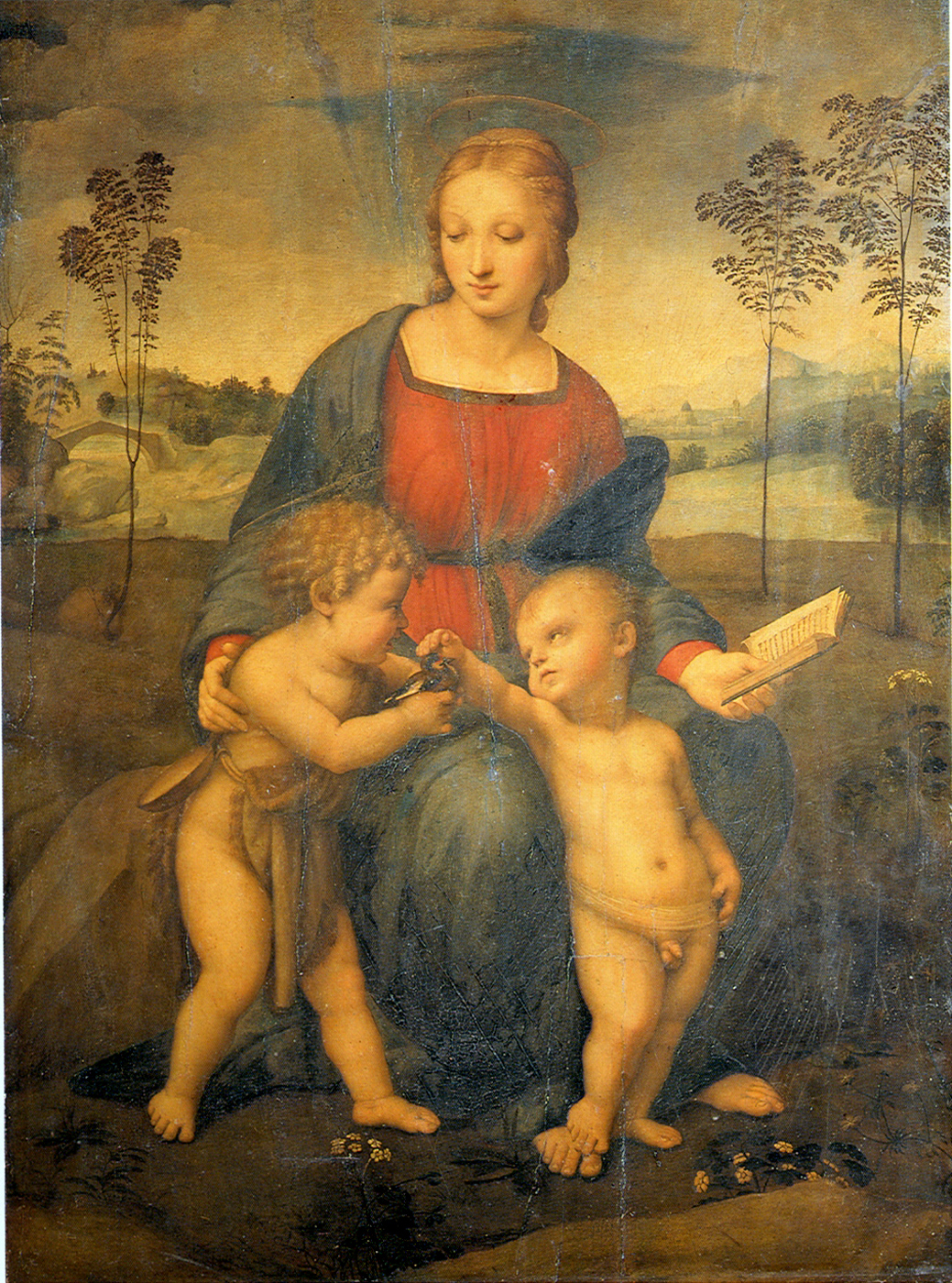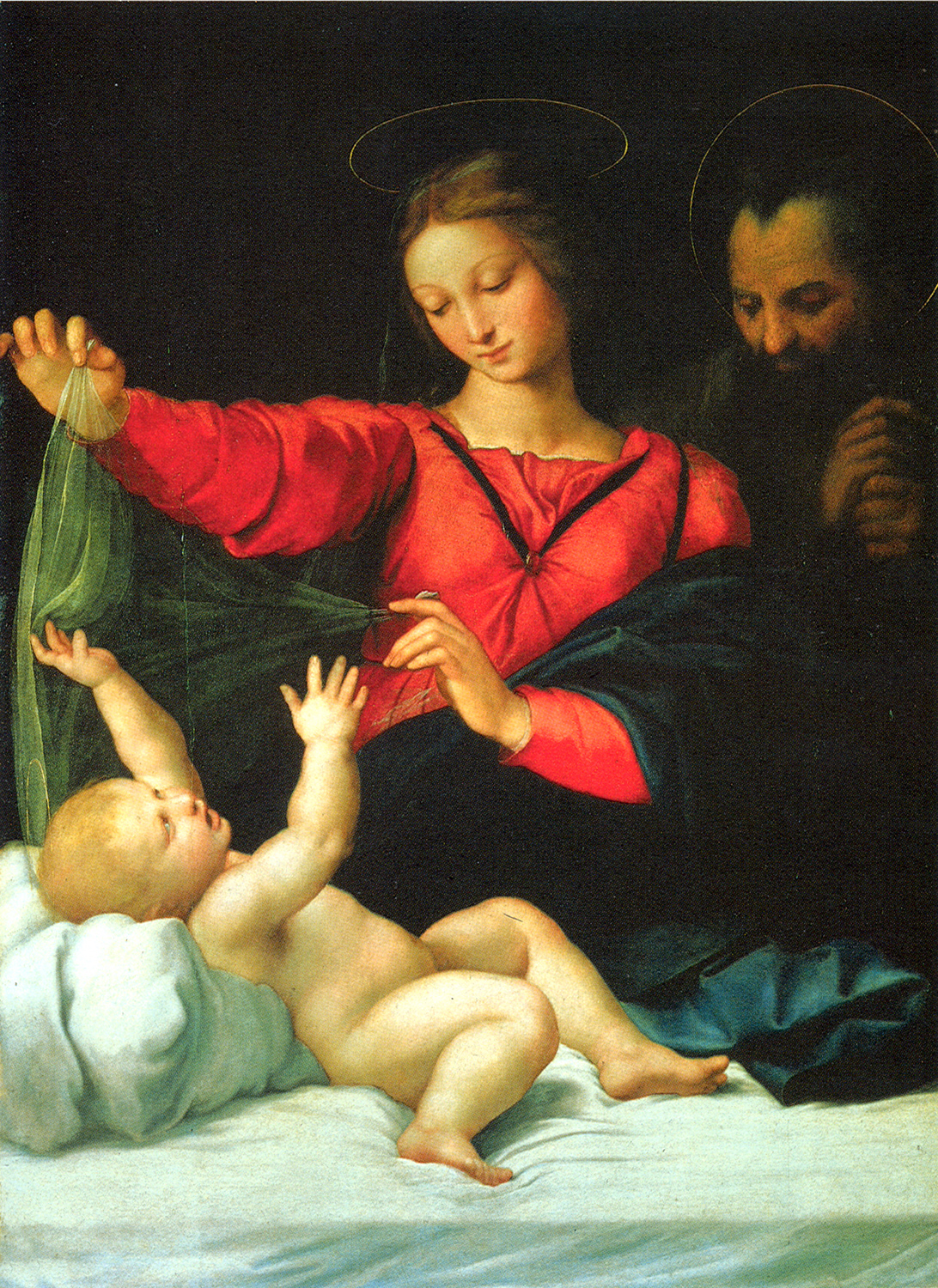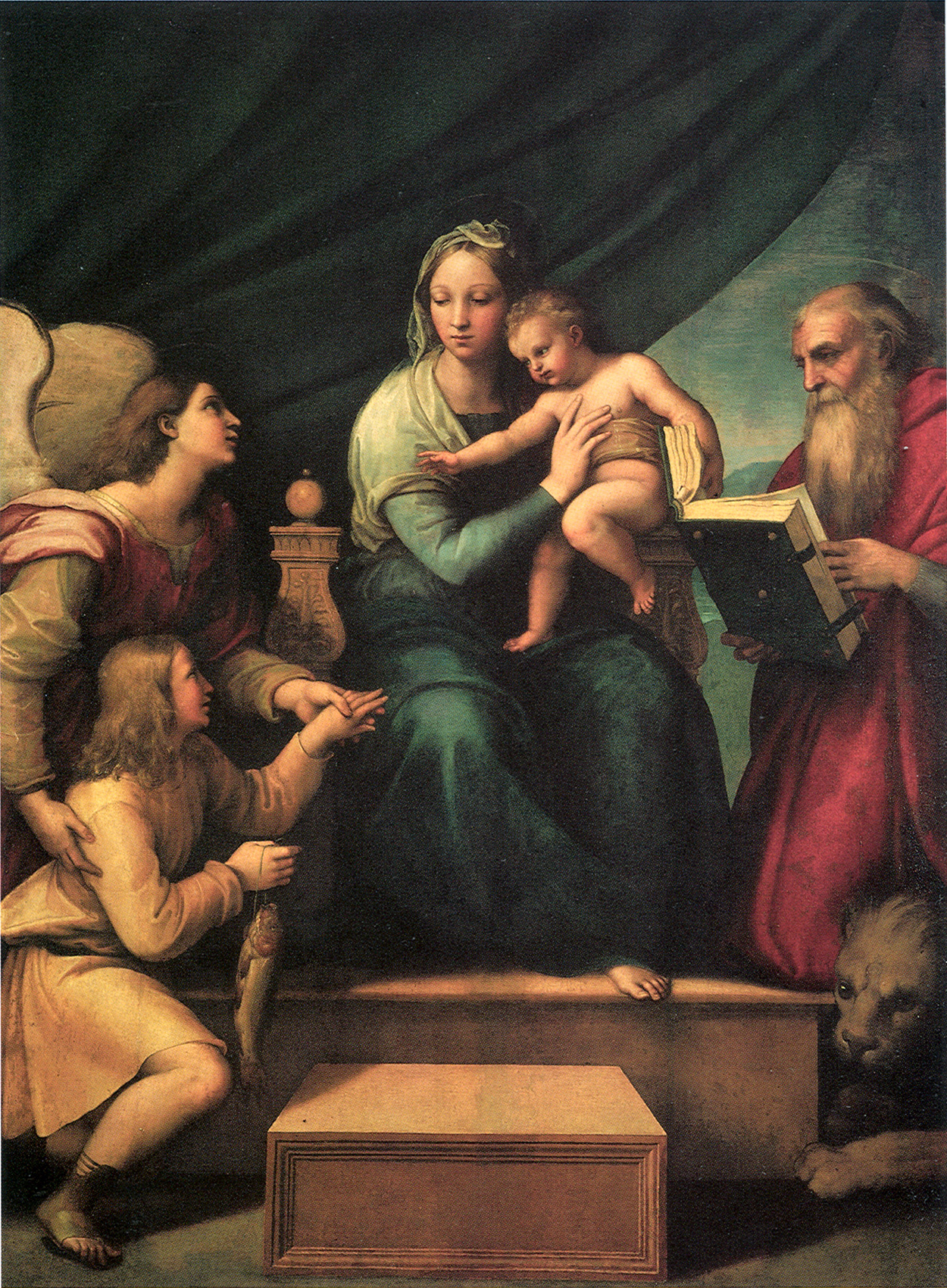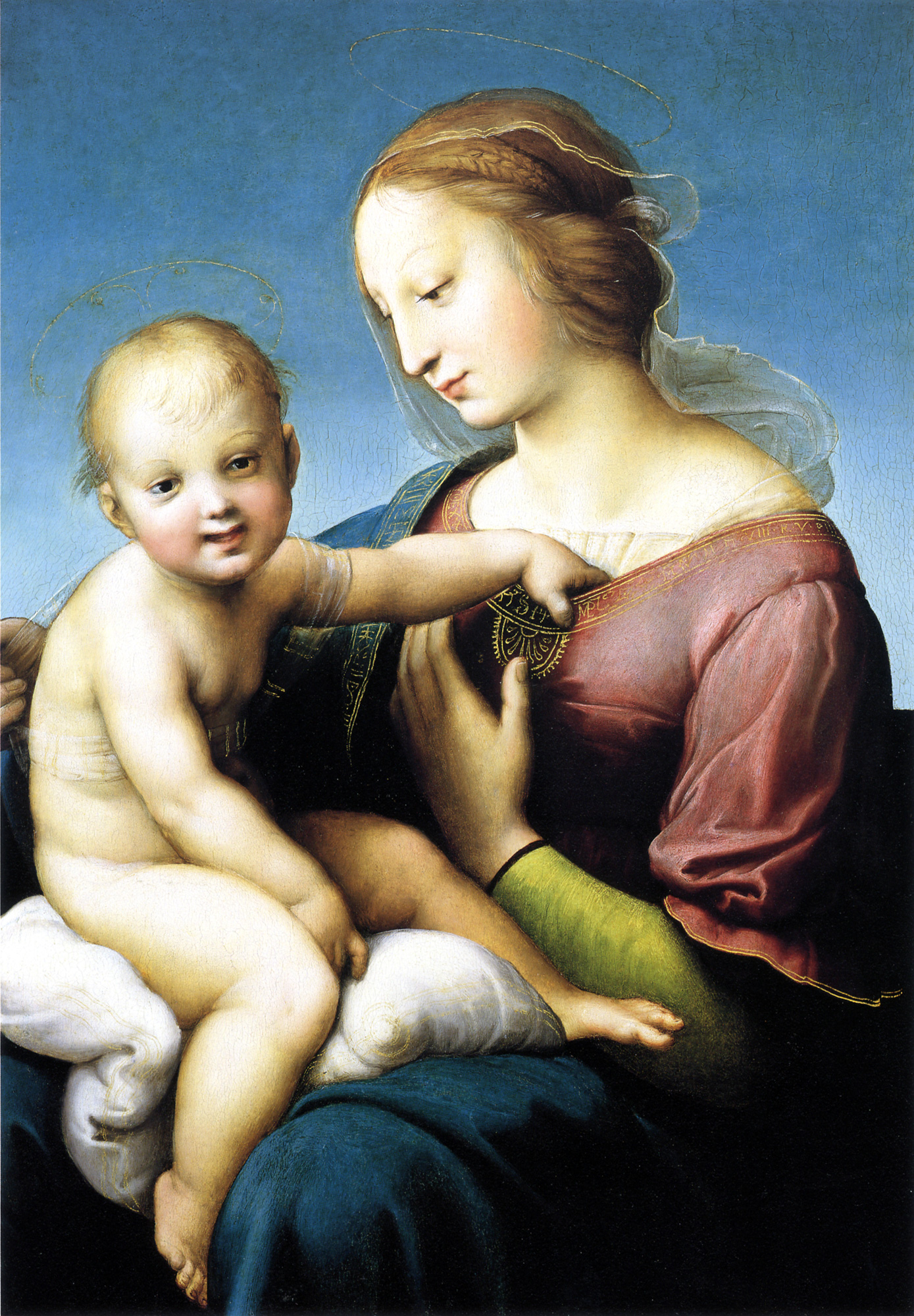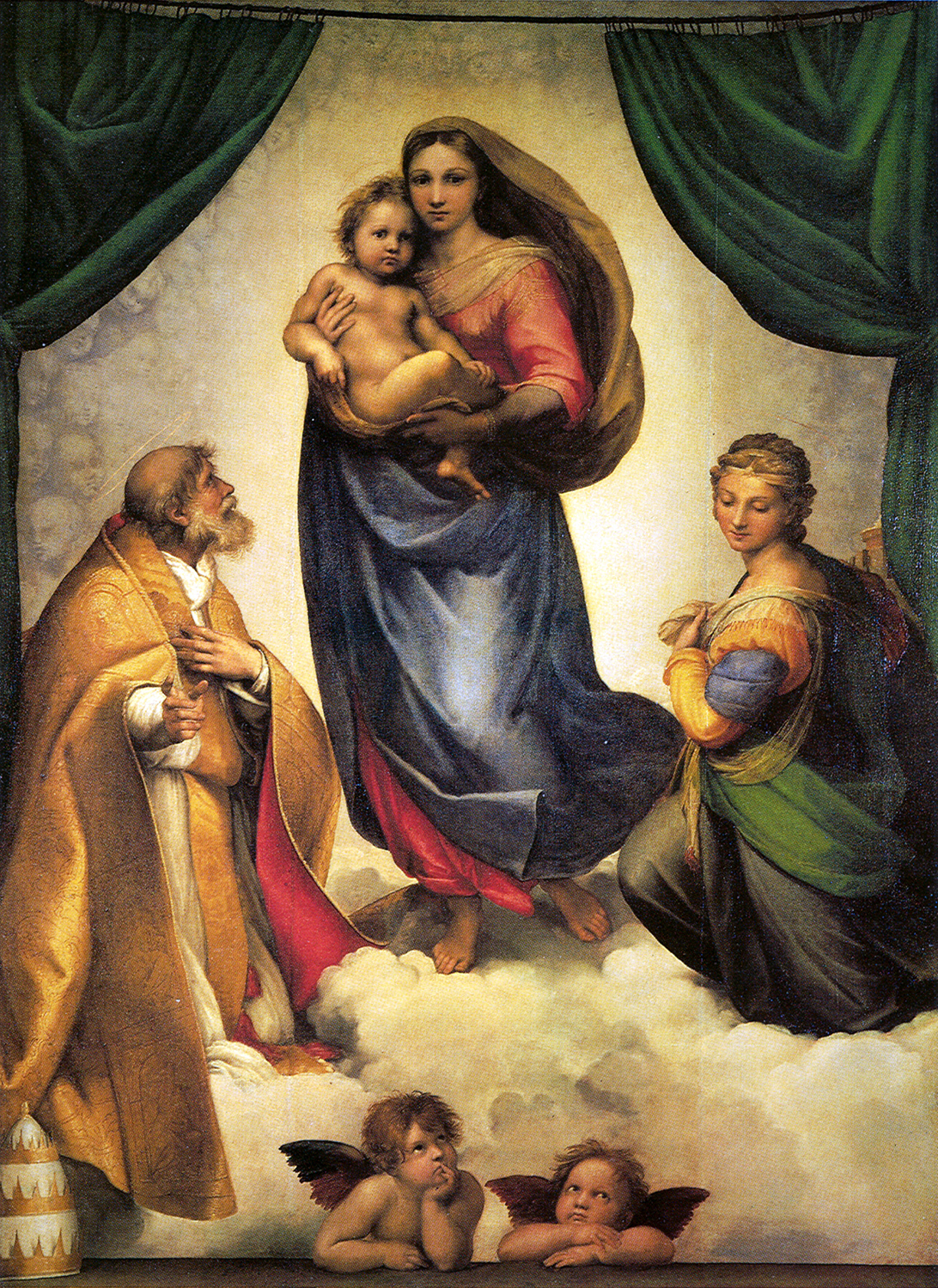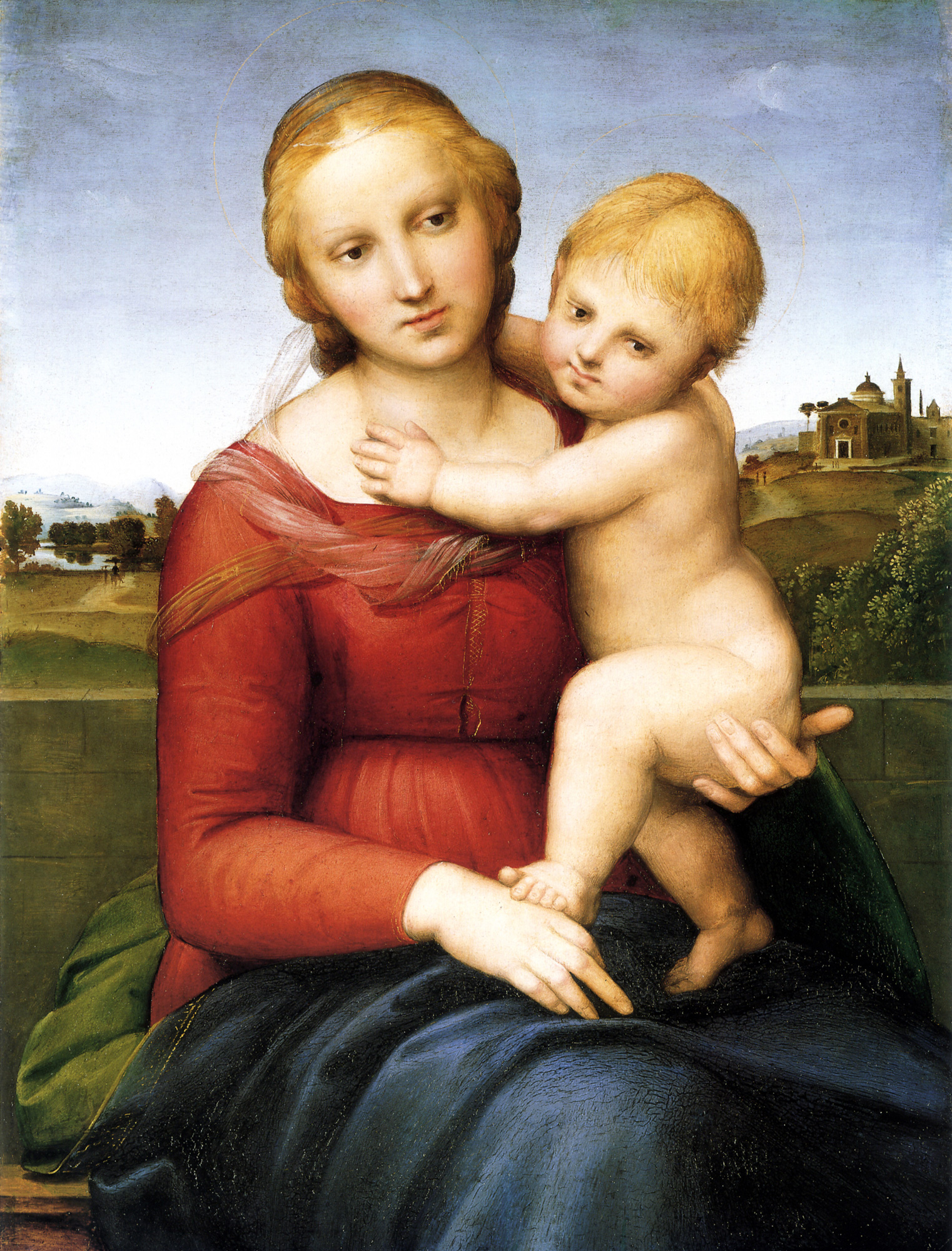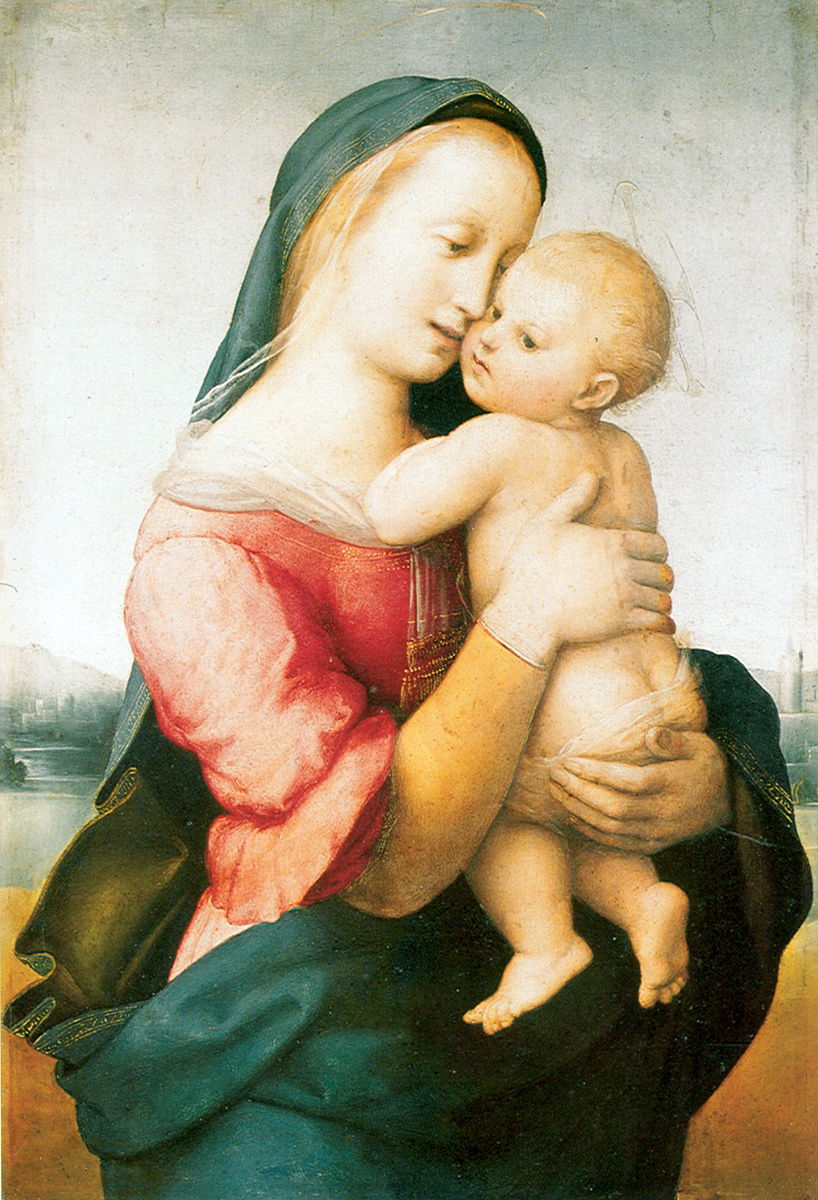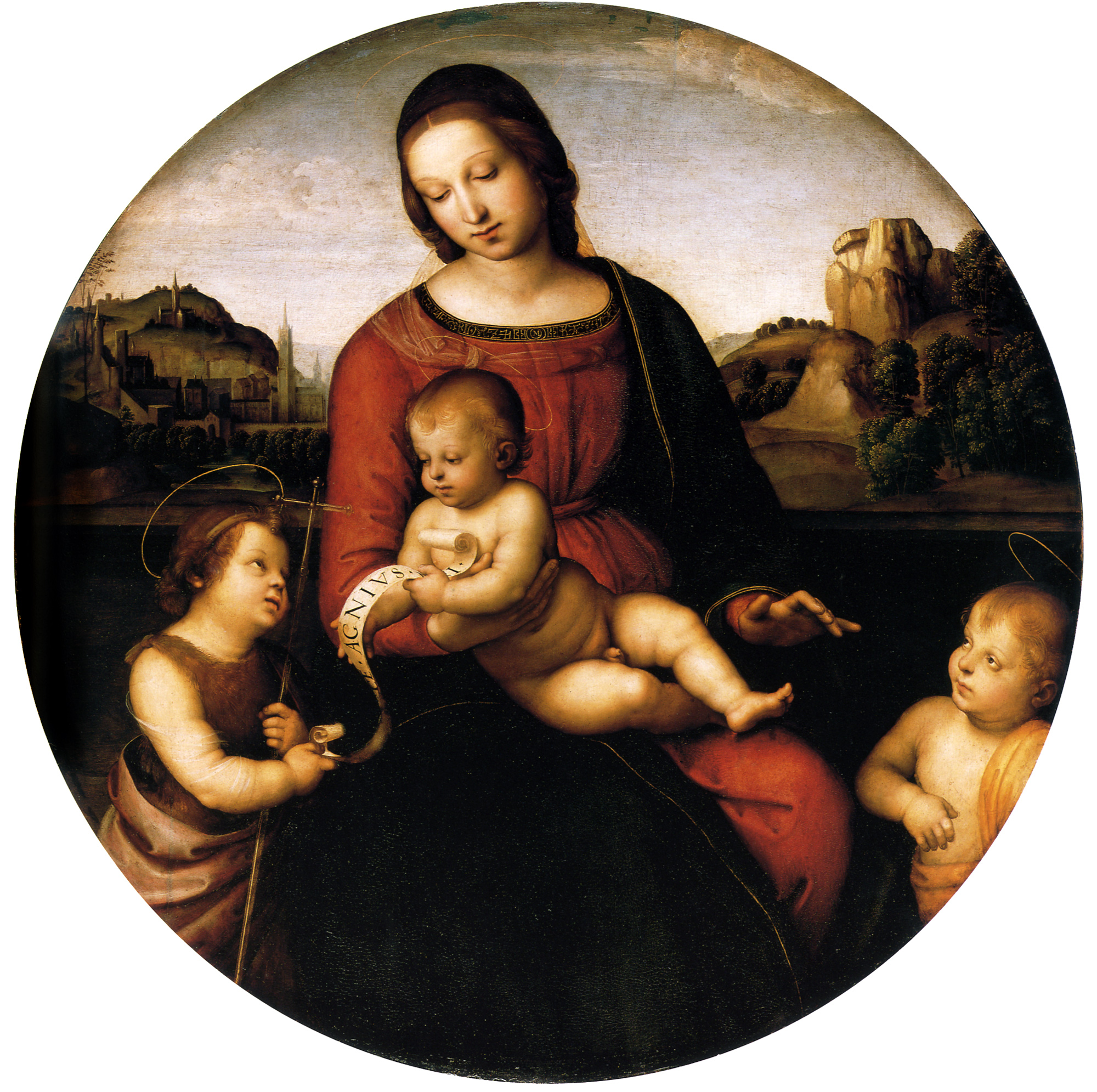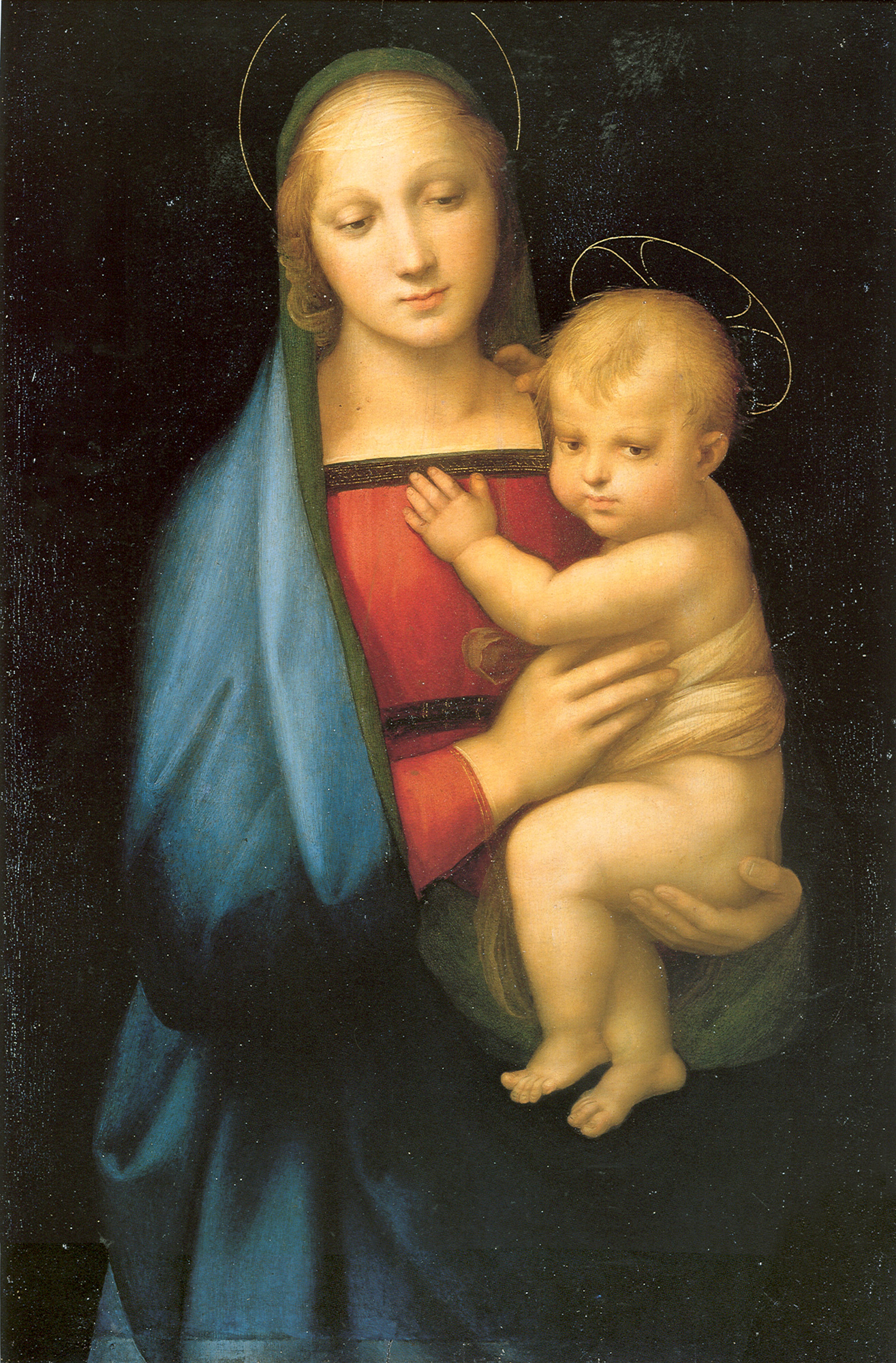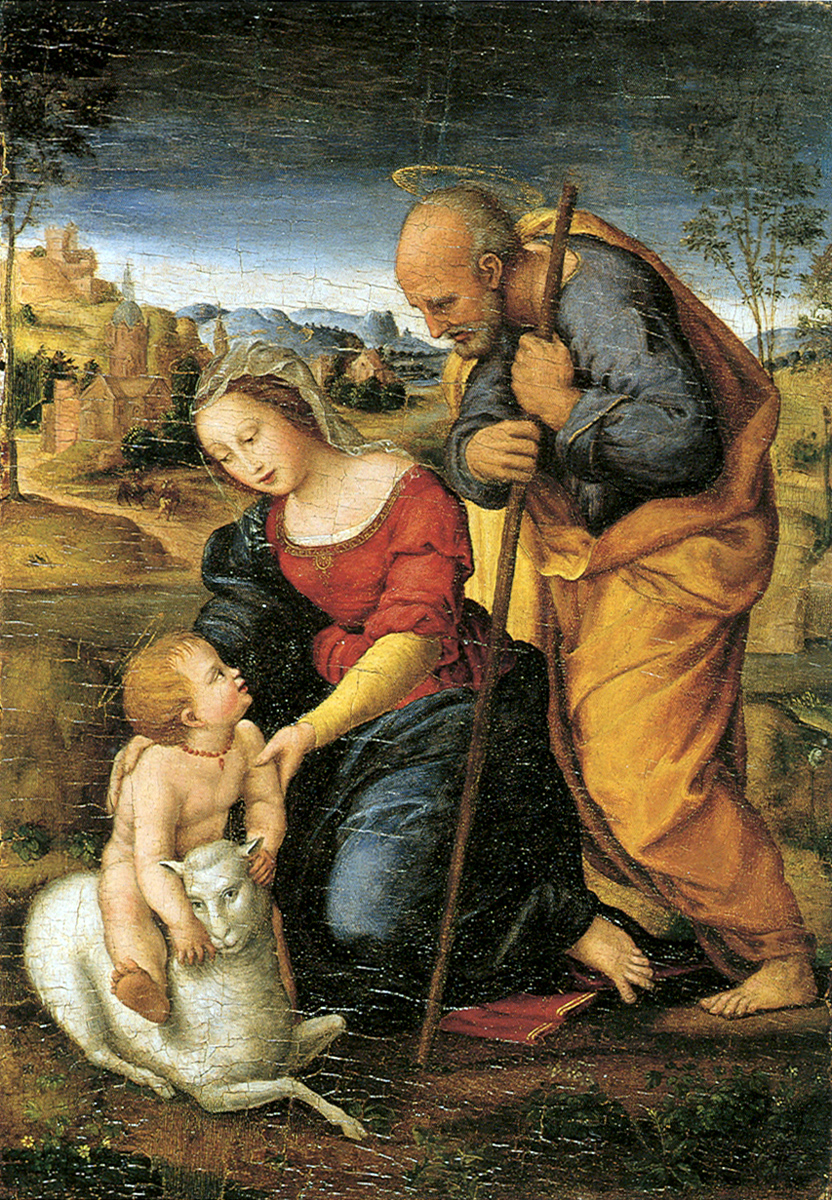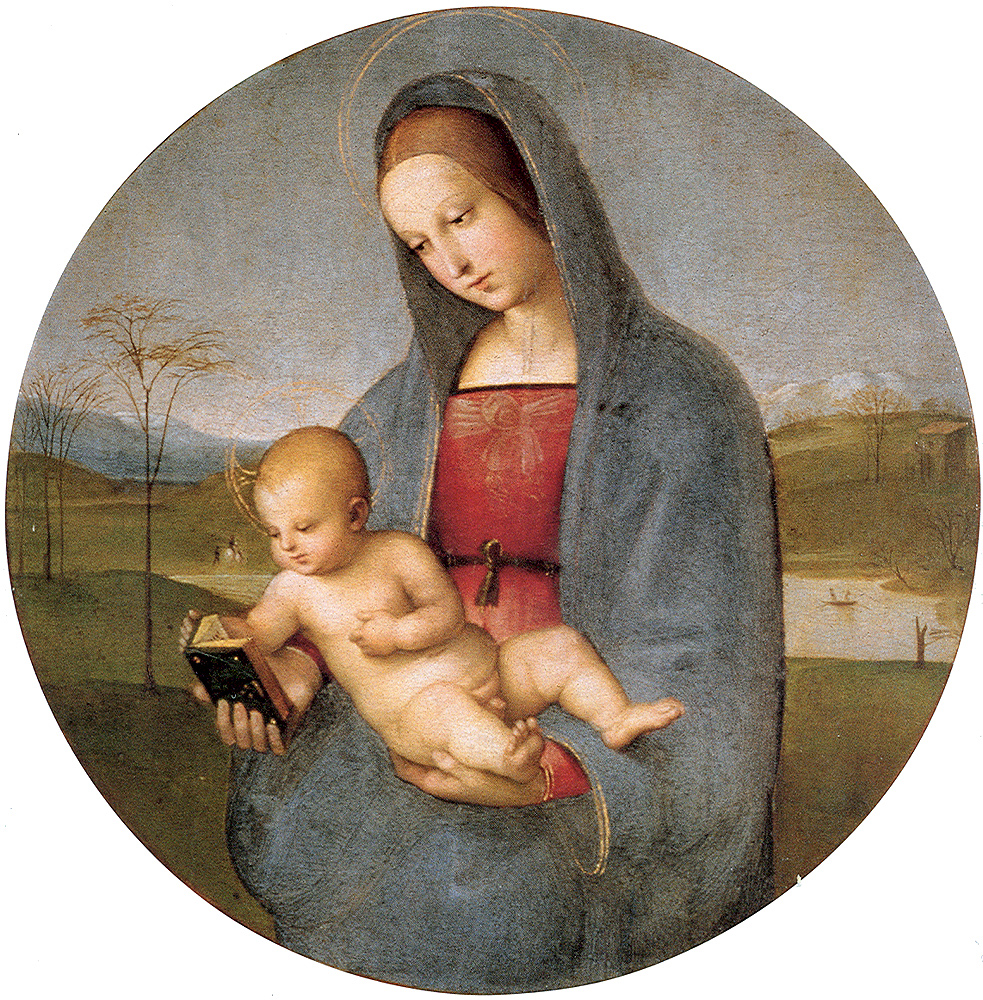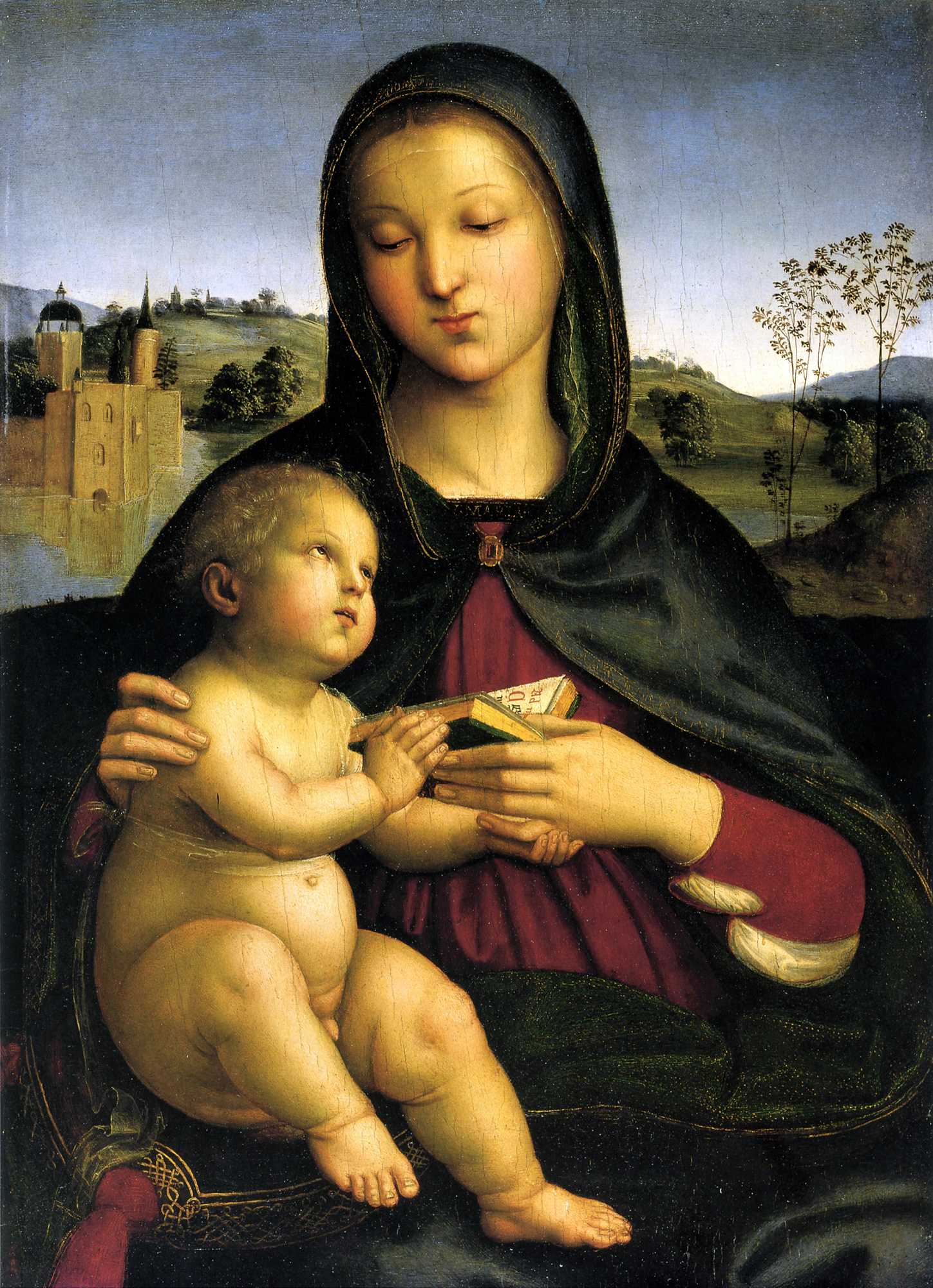 Sir Peter Paul Rubens ( 28 June 1577 – 30 May 1640), was a Flemish Baroque painter, and a proponent of an extravagant Baroque style that emphasised movement, colour, and sensuality. He is well-known for his Counter-Reformation altarpieces, portraits, landscapes, and history paintings of mythological and allegorical subjects...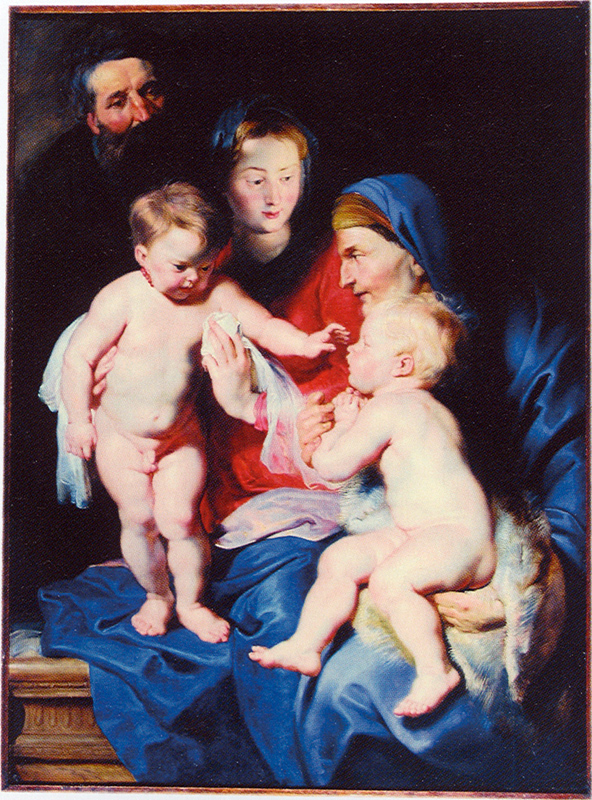 Sano di Pietro (1406–1481) was an early Italian Renaissance painter and miniaturist from Siena...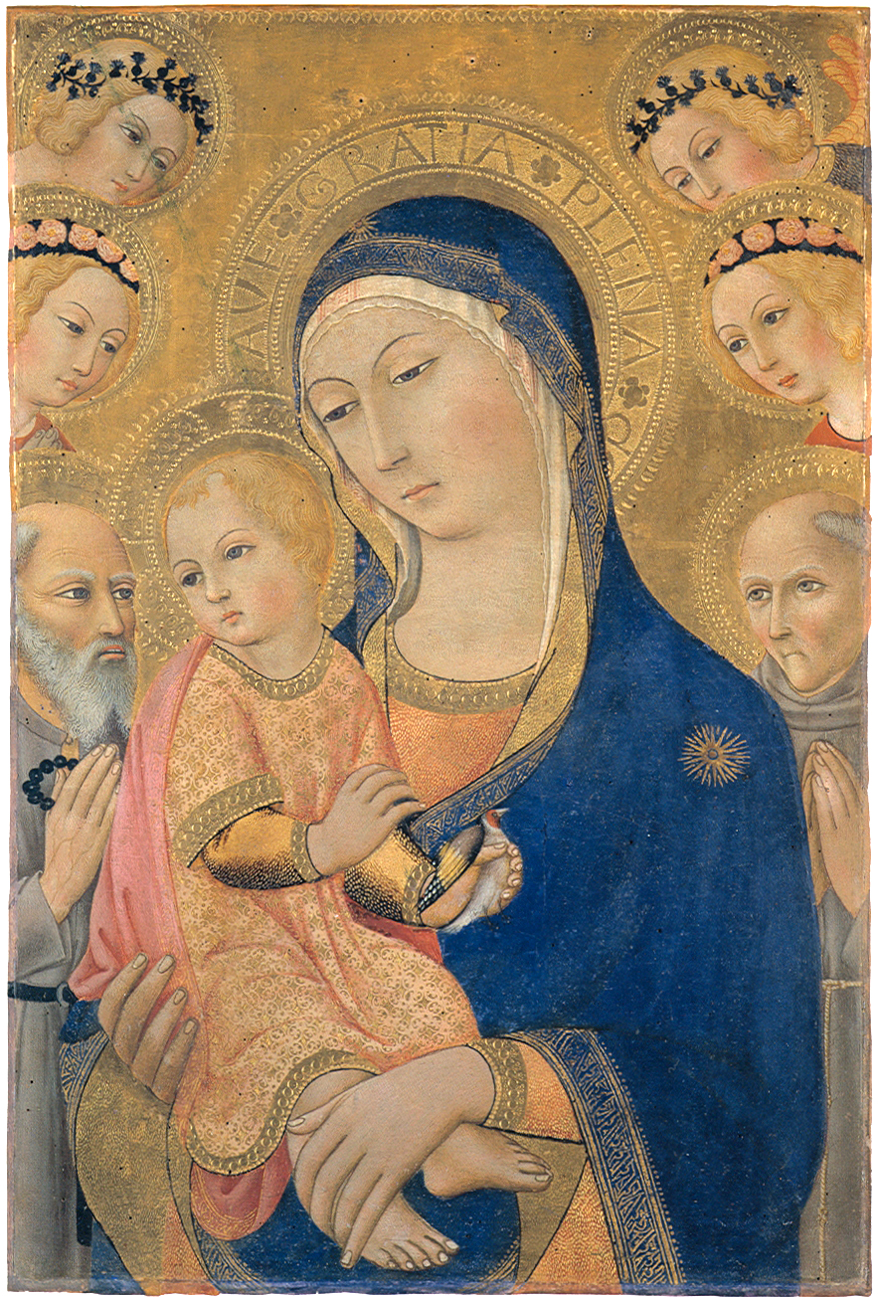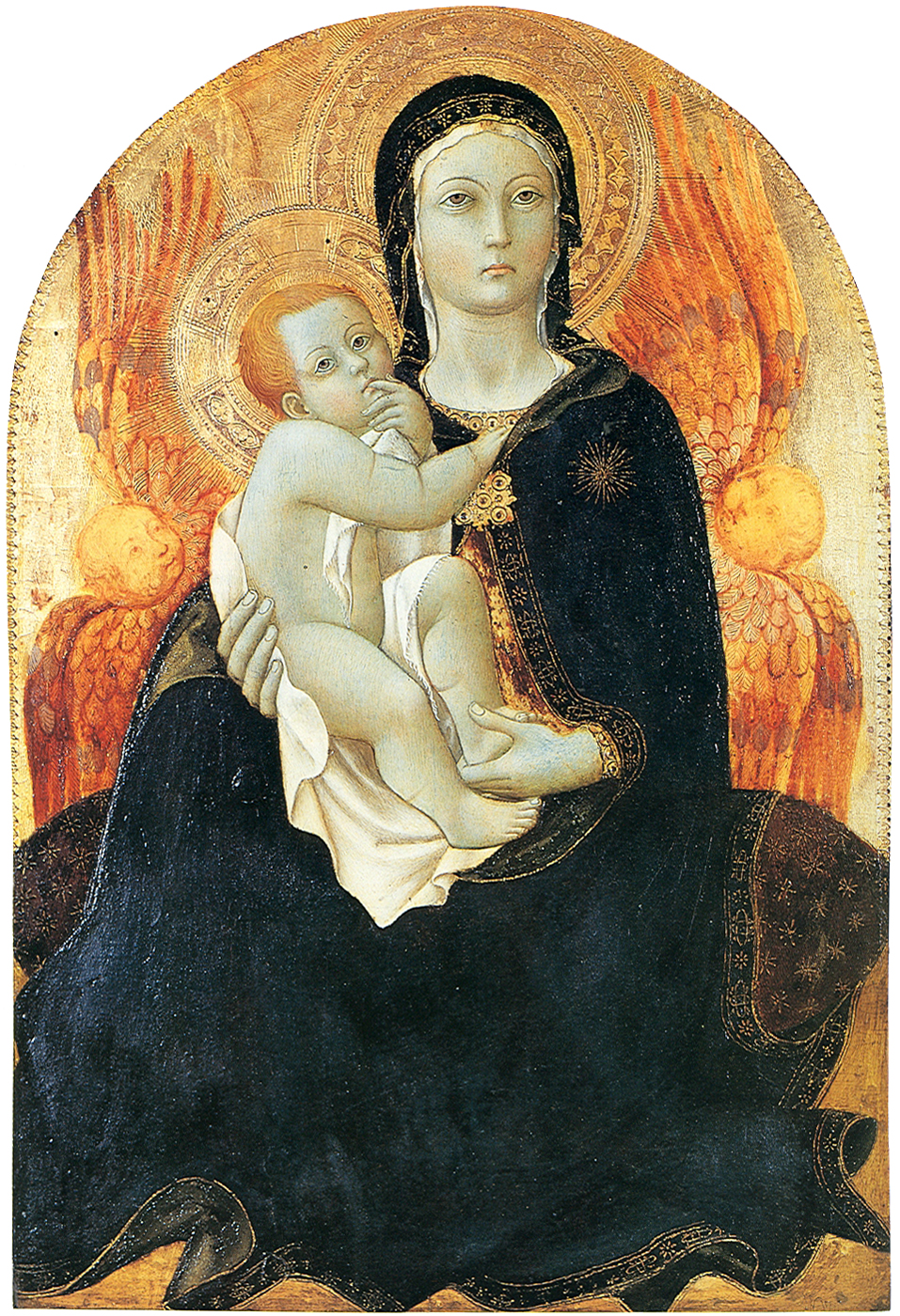 Giovanni Santi (c. 1435 – 1 August 1494) was an Italian painter and decorator, father of Raphael. He was born at Colbordolo in the Duchy of Urbino. He was a petty merchant for a time; he then studied under Piero della Francesca. He was influenced by Fiorenzo di Lorenzo, and seems to have been an assistant and friend of Melozzo da Forlì. He was court painter to the Duke of Urbino and painted several altarpieces, two now in the Berlin Museum, a Madonna in the church of San Francesco in Urbino, one at Santa Croce on Fano, one in the National Gallery at London, and another in the gallery at Urbino; an Annunciation at the Brera in Milan; a resurrected Christ in the Museum of Fine Arts, Budapest; and a Jerome in the Lateran. He died in Urbino...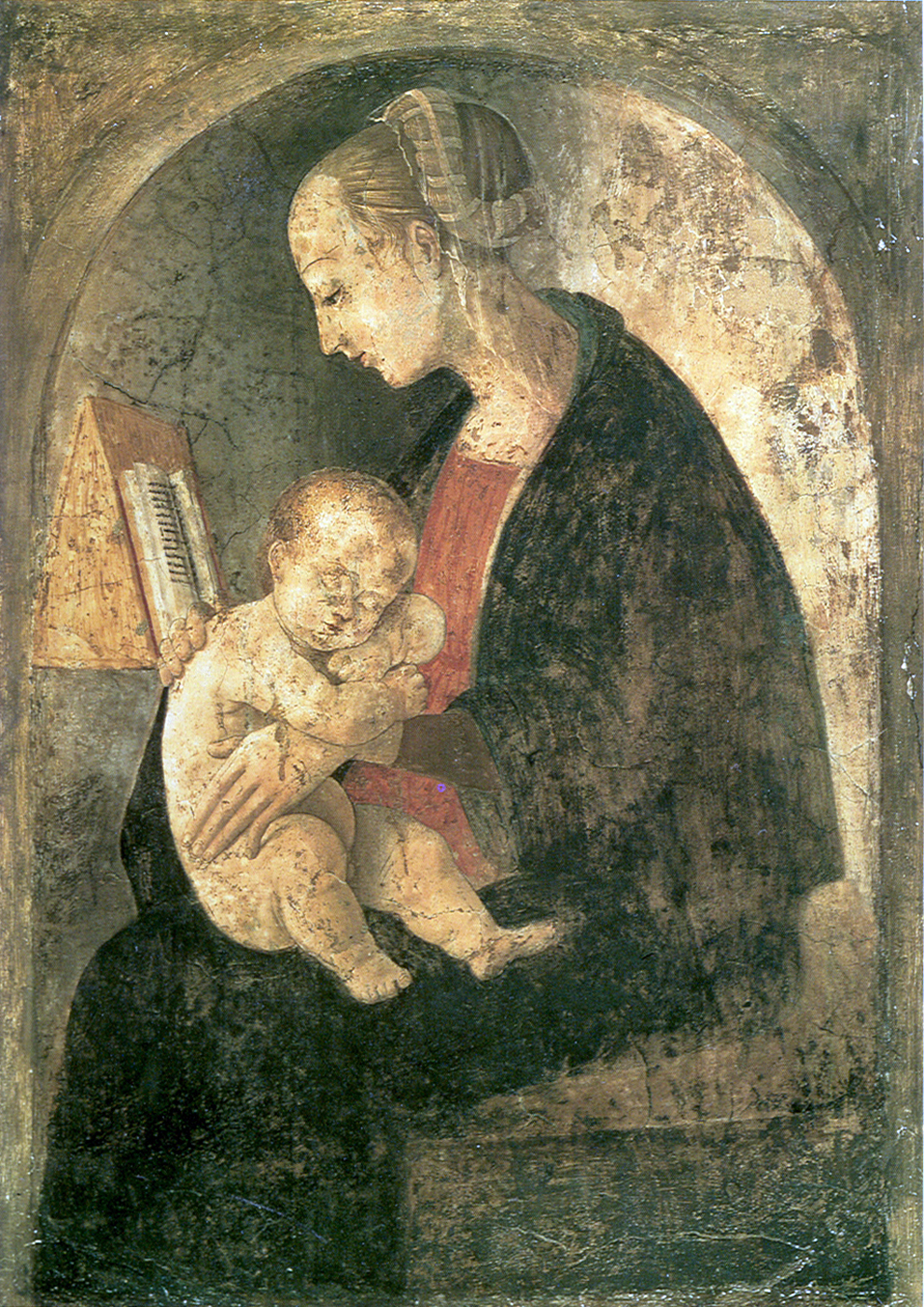 Stefano di Giovanni di Consolo, known as il Sassetta (ca.1392 – 1450 or 1451) was an Italian painter who is considered one of the most important representatives of Sienese Renaissance painting...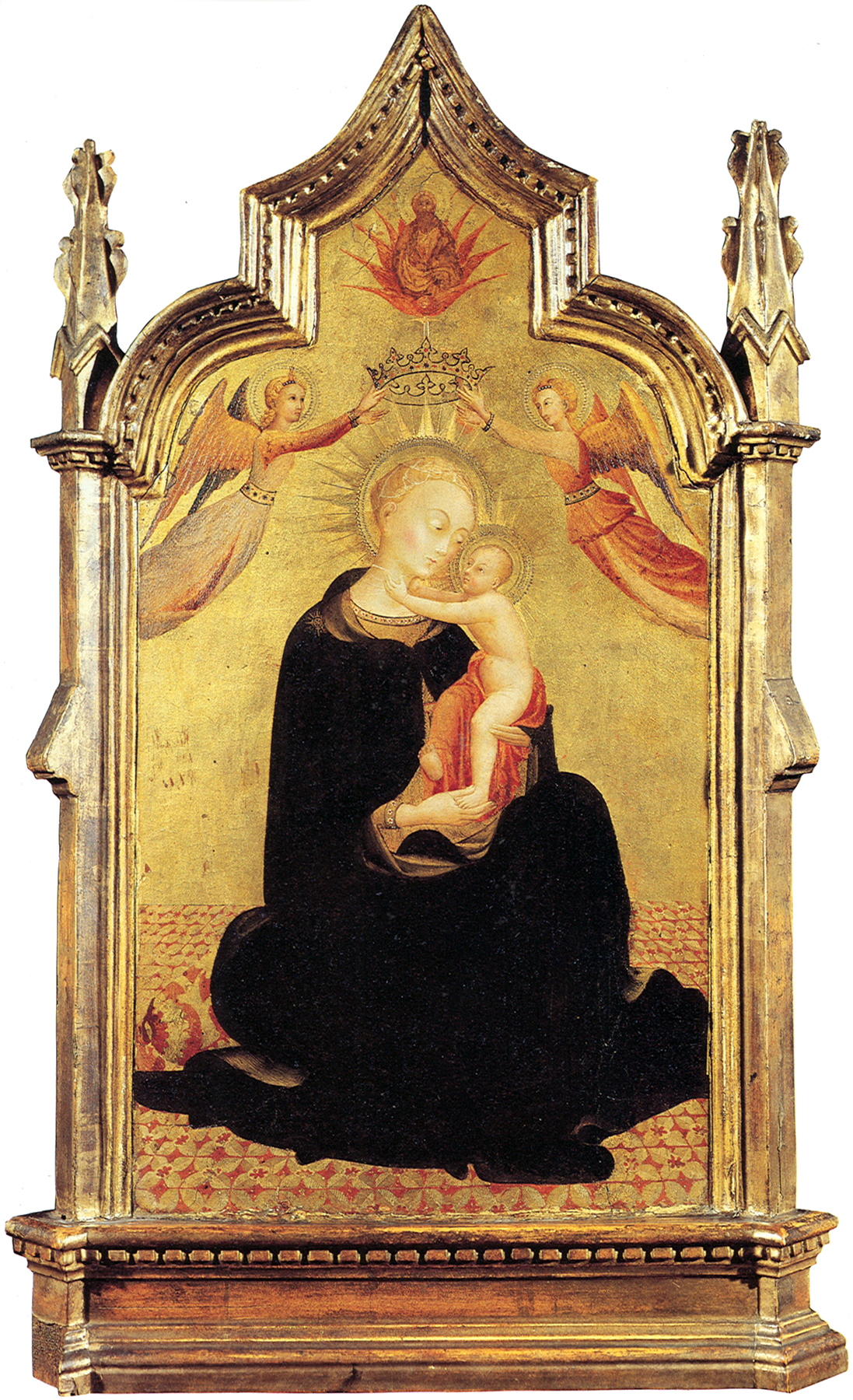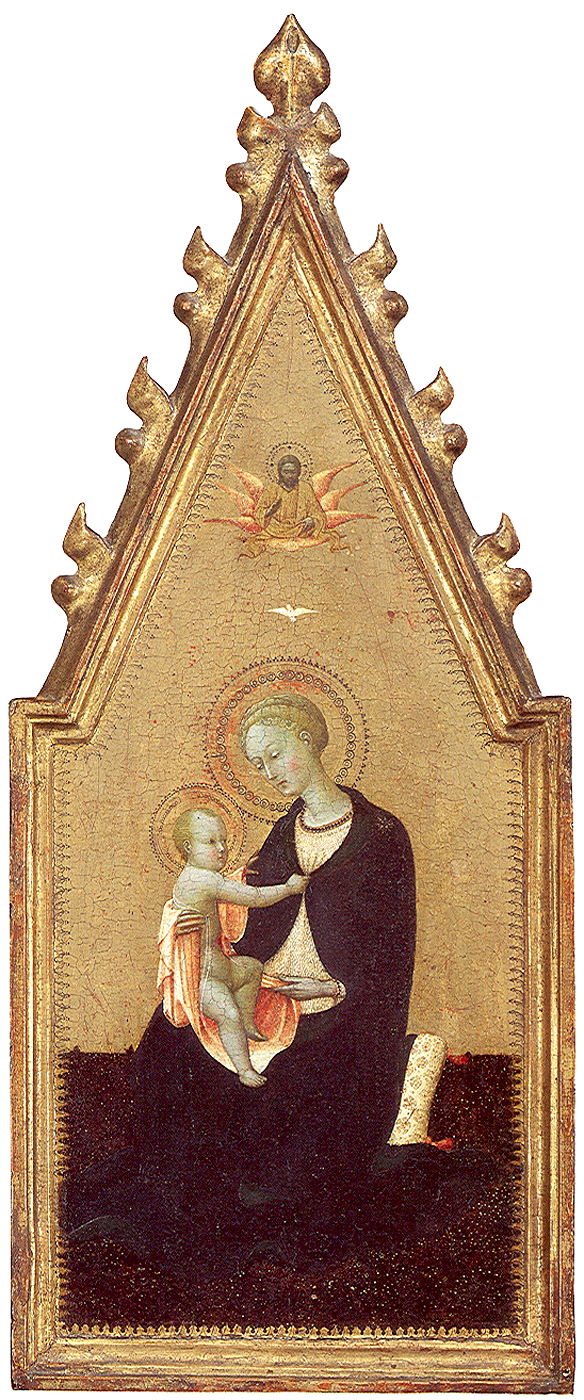 Martin Schongauer (c. 1448, Colmar, Elsass – 2 February 1491, Breisach) was a German engraver and painter. He was the most important German printmaker before Albrecht Dürer...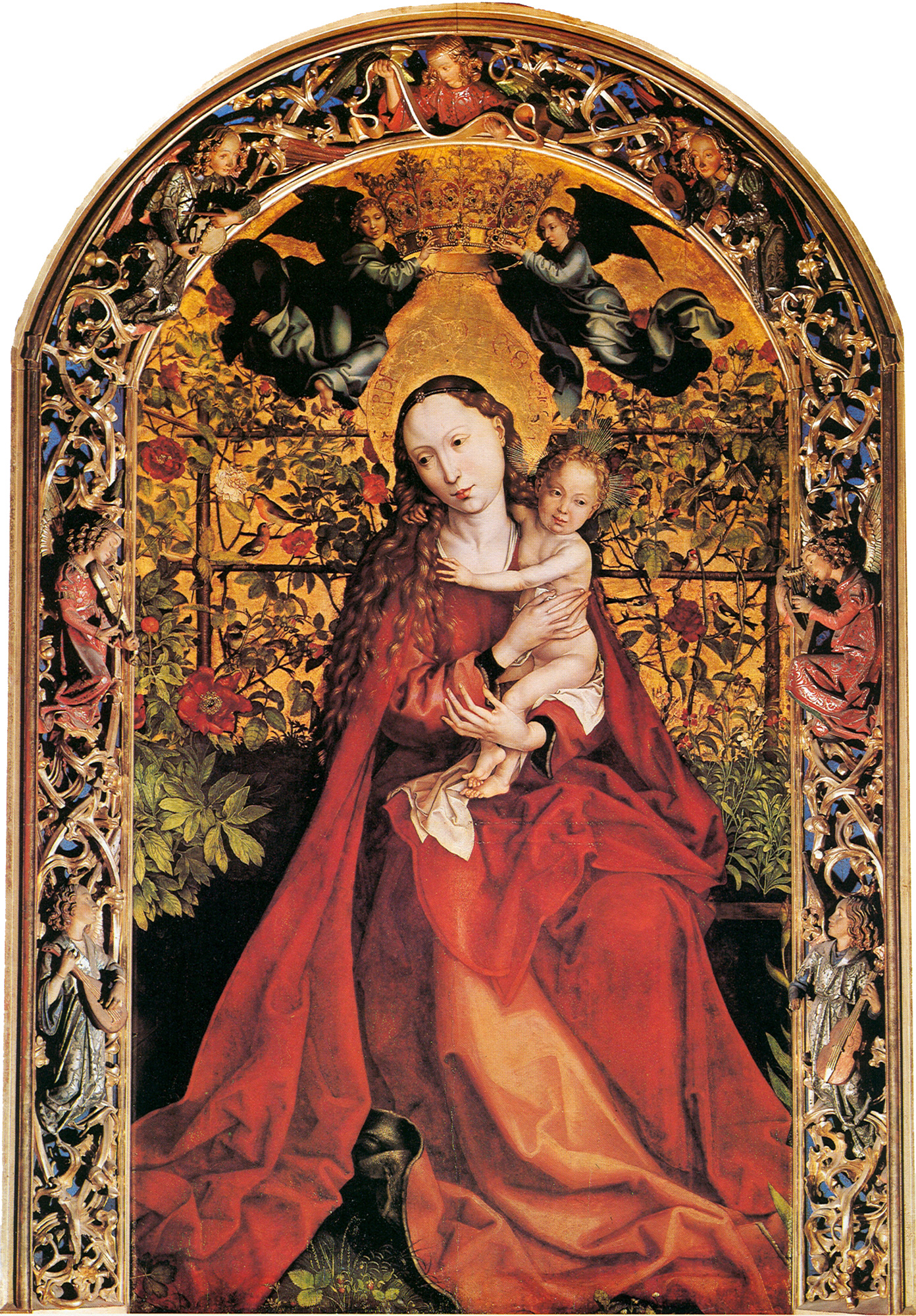 Segna di Bonaventura, also known as Segna de Bonaventura, and as Segna di Buonaventura, was an Italian painter of the Sienese School. He was active from about 1298 to 1331. In 1306 he painted a panel for the office of the Biccherna in the Palazzo Pubblico in Siena. In 1317 he painted an altar panel for the convent of Lecceto (near Siena). In 1319 he repaired a figure of the Virgin in the Palazzo Pubblico. In 1321 he painted a panel for the Palazzo Pubblico. Segna di Bonaventura's sons Niccolò di Segna and Francesco di Segna di Bonaventura were also painter of the Sienese School...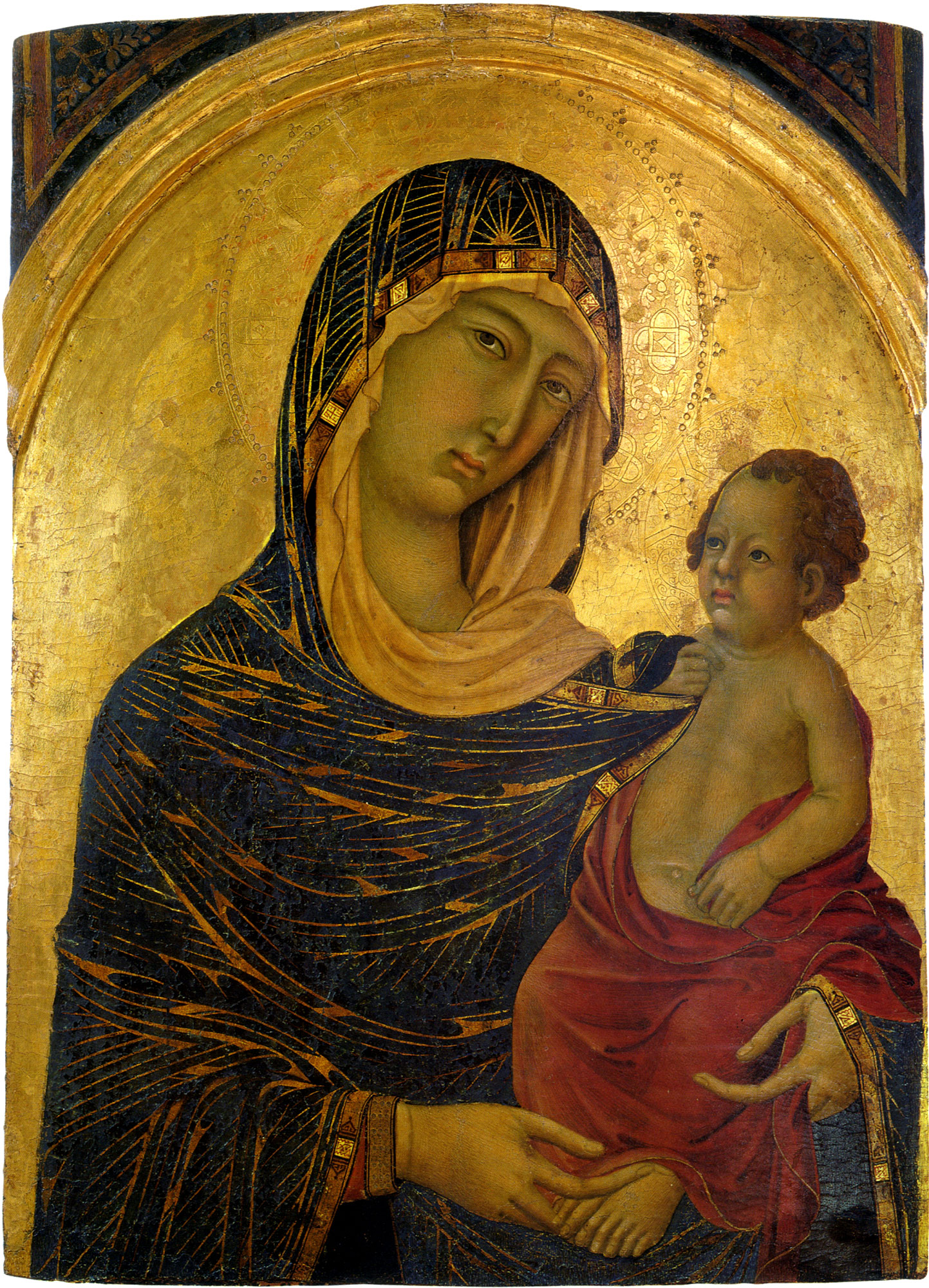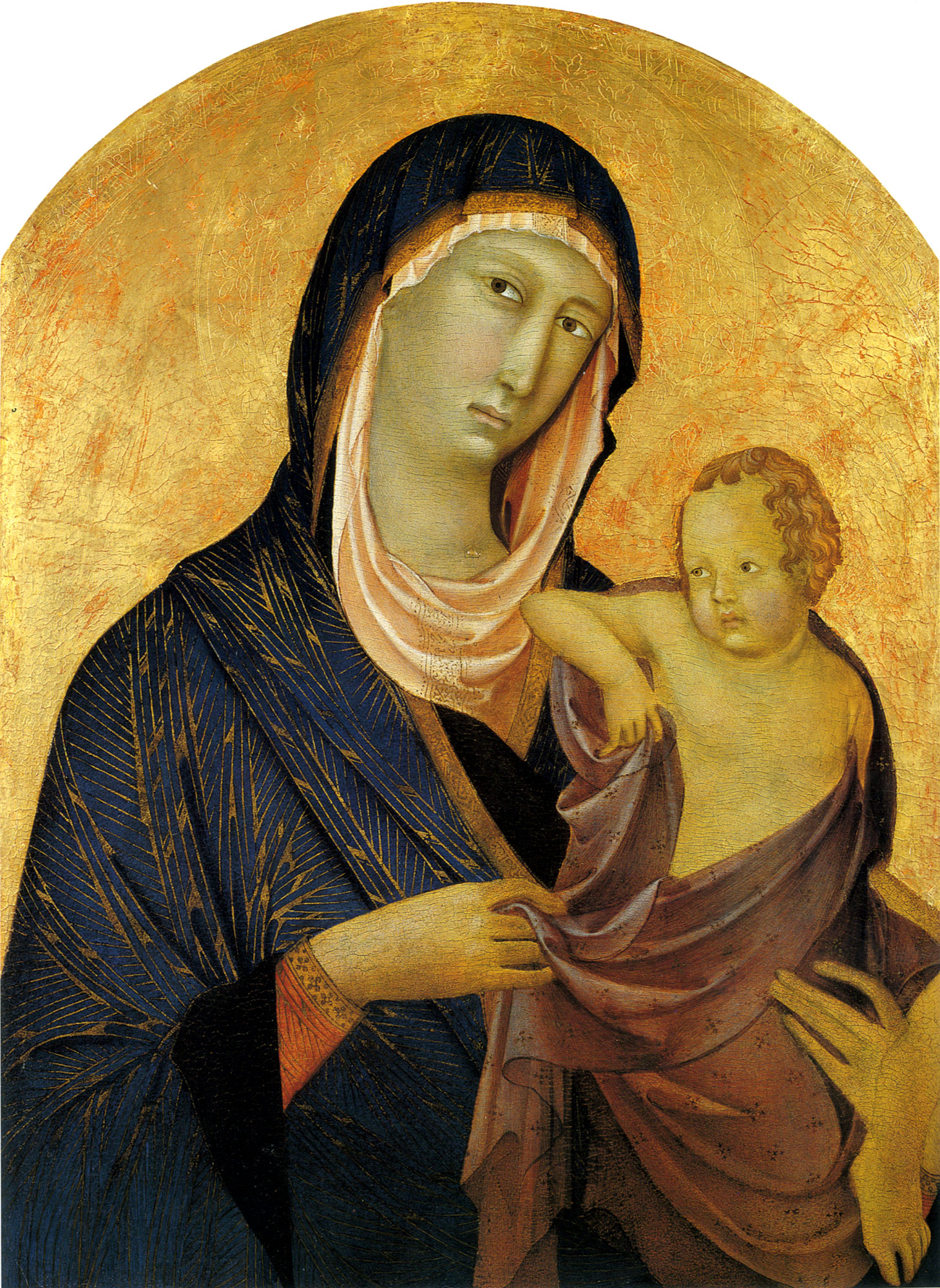 Luca Signorelli (c. 1445 – 16 October 1523) was an Italian Renaissance painter who was noted in particular for his ability as a draughtsman and his use of foreshortening. His massive frescoes of the Last Judgment (1499–1503) in Orvieto Cathedral are considered his masterpiece...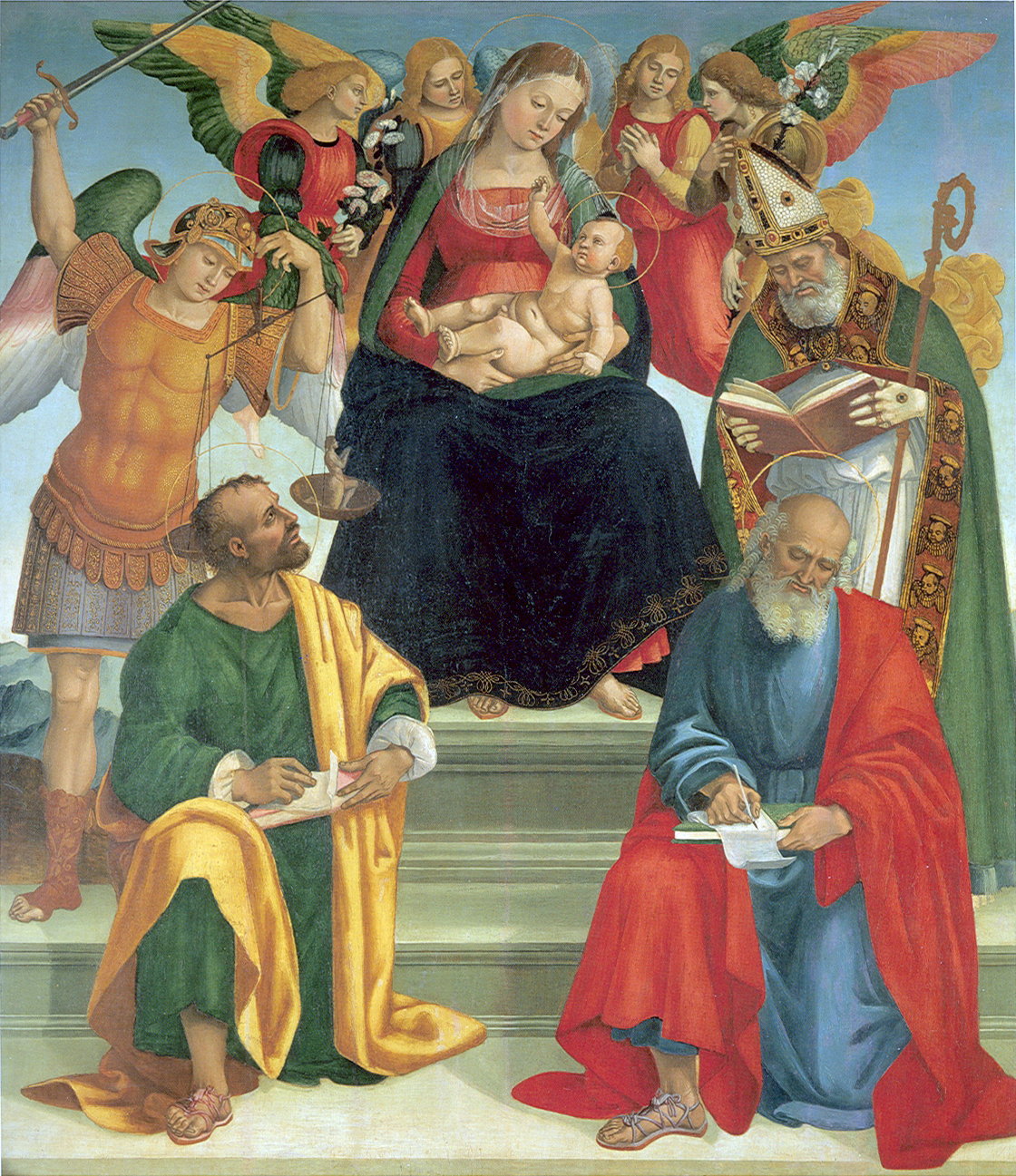 Conrad von Soest, also Konrad in modern texts, or in Middle High German Conrad van Sost or "von Soyst", (born around 1370 in Dortmund; died soon after 1422. He was the most significant Westphalian artist and painted in the so-called soft style of International Gothic. He played a leading role in the introduction of this International Courtly Style to Northern Germany around 1390 and influenced German and Northern European painting into the late 15th century. He was the master of a thriving workshop and was accepted into the social circle of the cosmopolitan patrician elite of Dortmund. Dortmund was then a leading and very prosperous member of the influential Hanseatic League...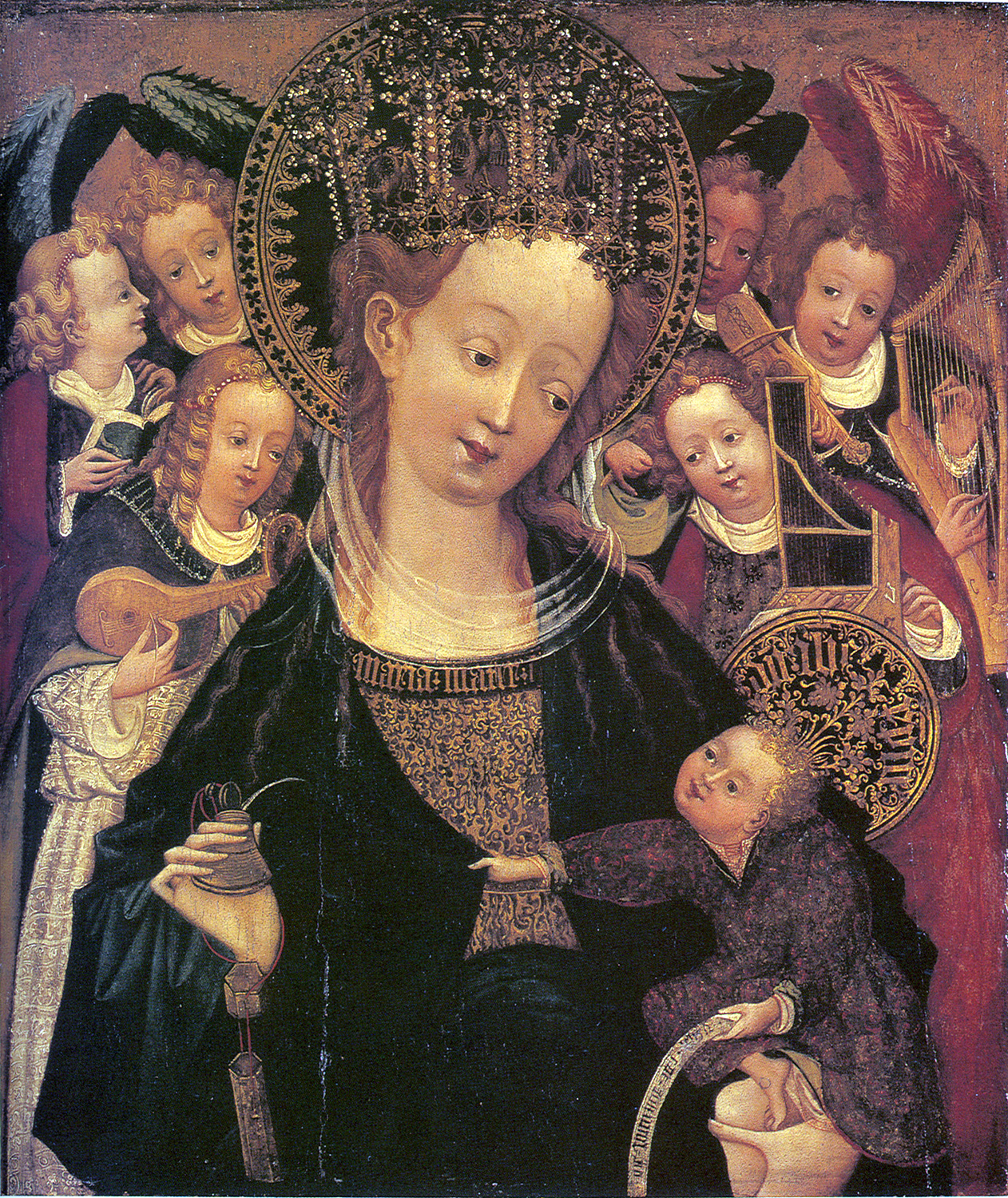 Tiziano Vecelli or Tiziano Vecellio (c. 1488/1490 – 27 August 1576[2]) known in English as Titian was an Italian painter, the most important member of the 16th-century Venetian school. He was born in Pieve di Cadore, near Belluno (in Veneto), in the Republic of Venice. During his lifetime he was often called da Cadore, taken from the place of his birth...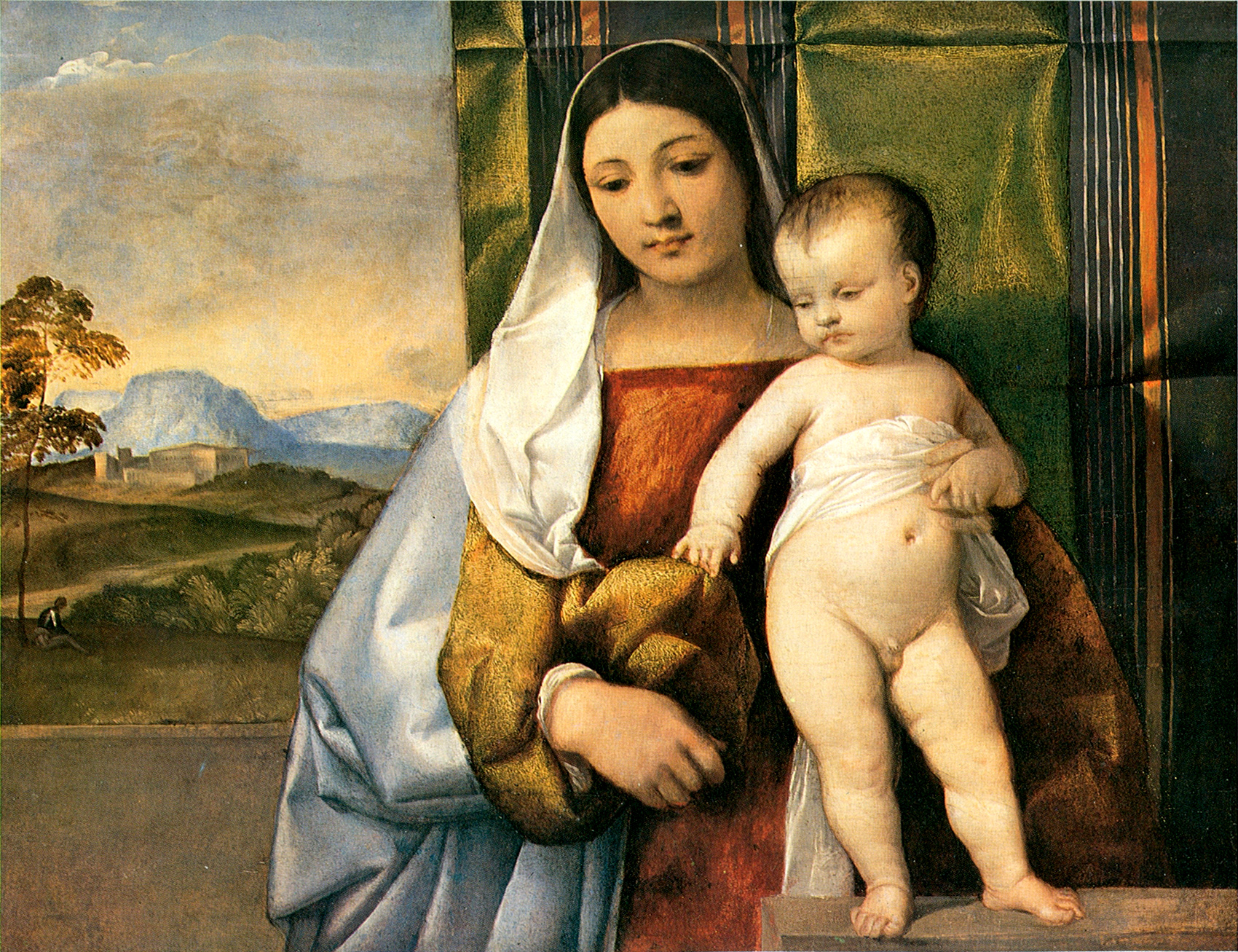 Cosimo Tura (c. 1430 – 1495), also known as Il Cosmè or Cosmè Tura, was an Italian early-Renaissance (or Quattrocento) painter and considered one of the founders of the School of Ferrara...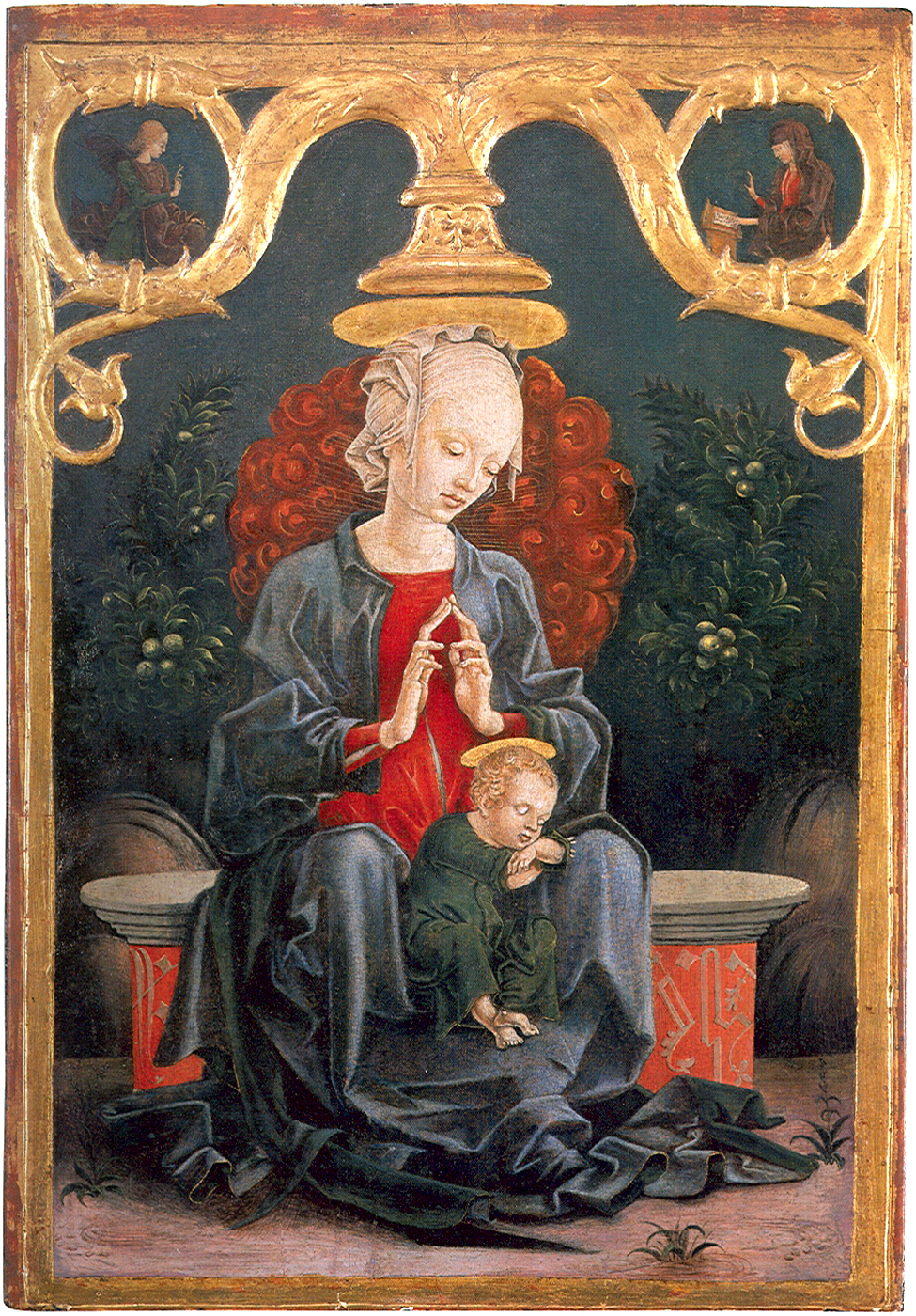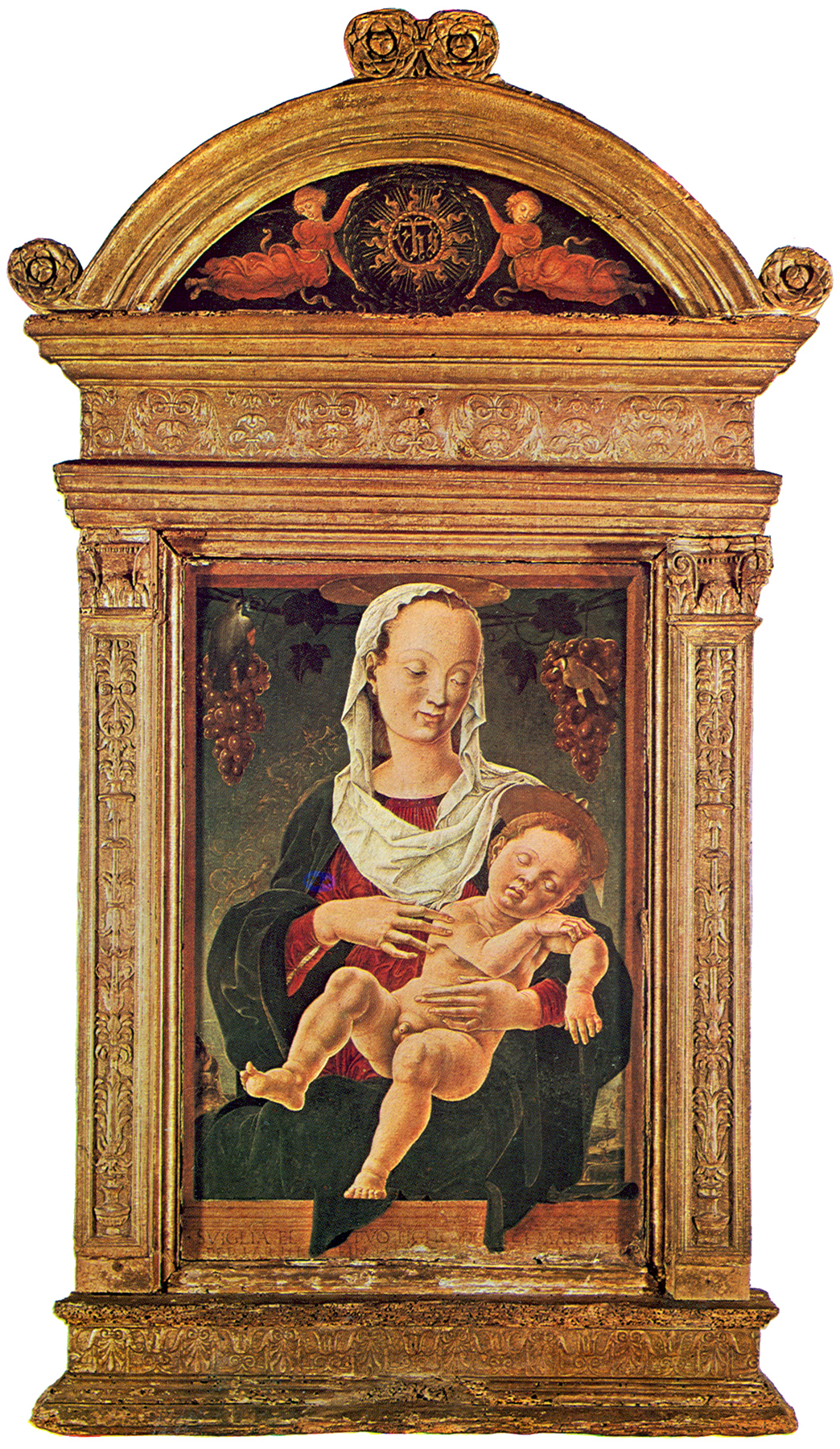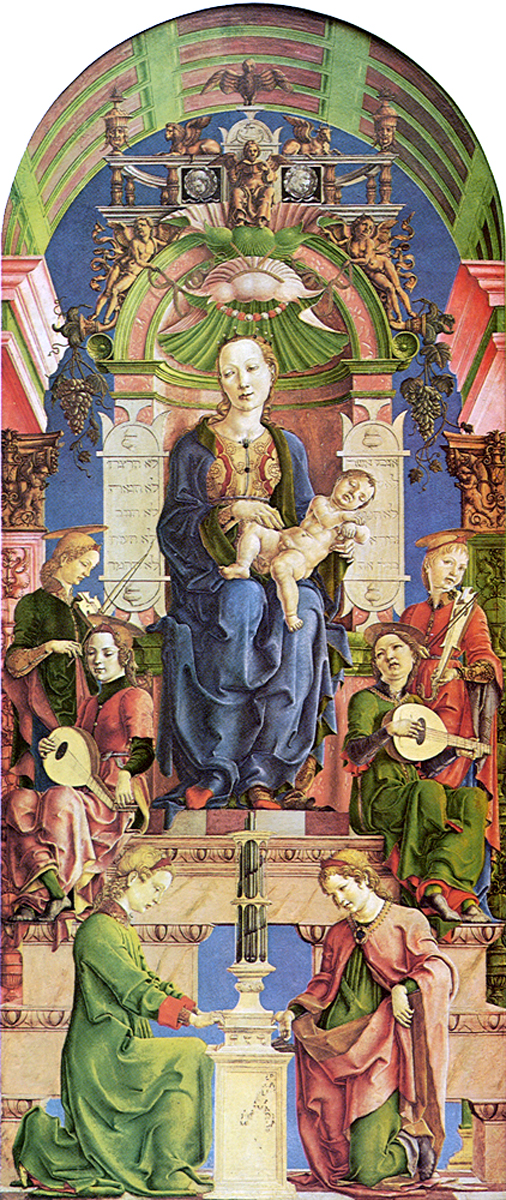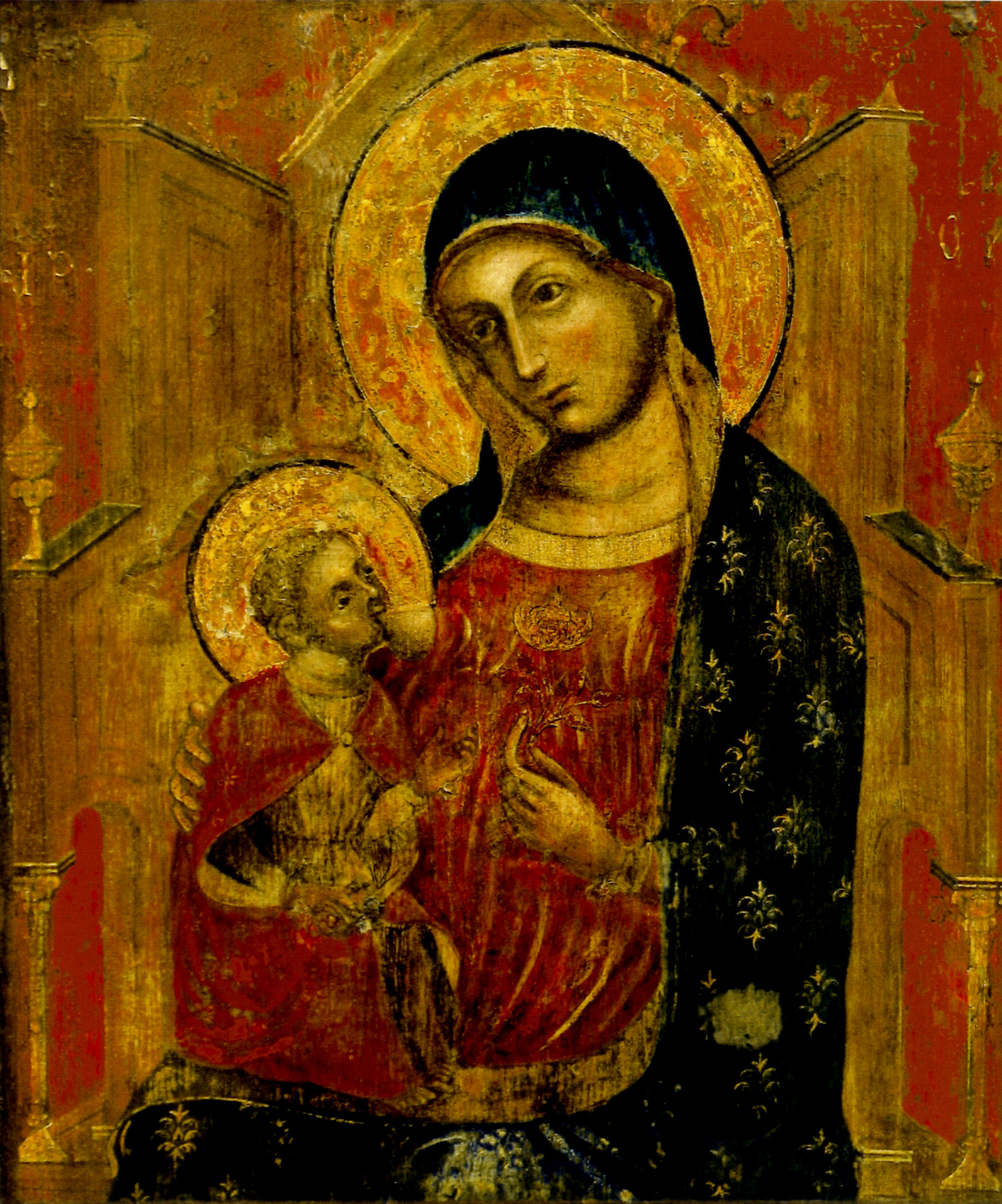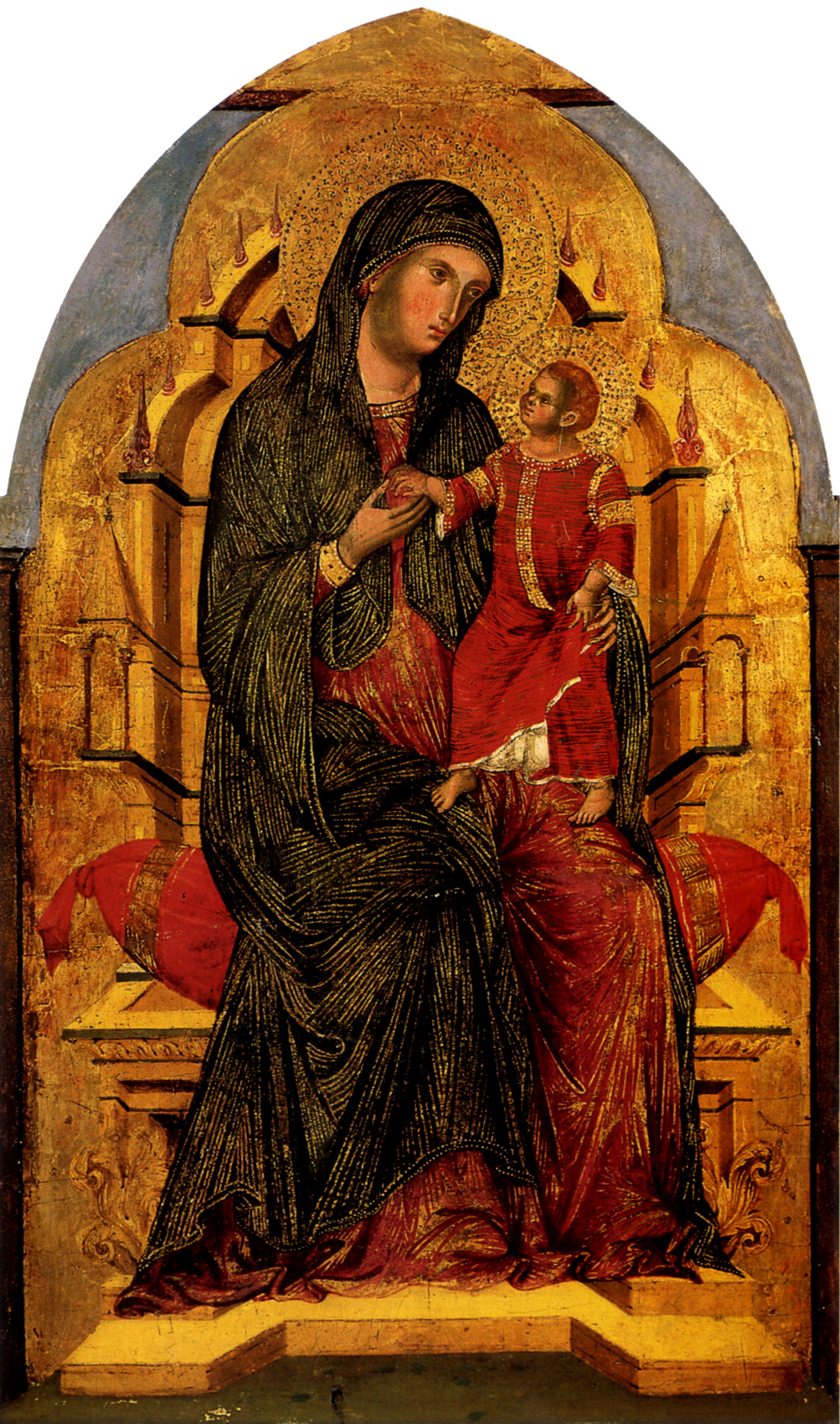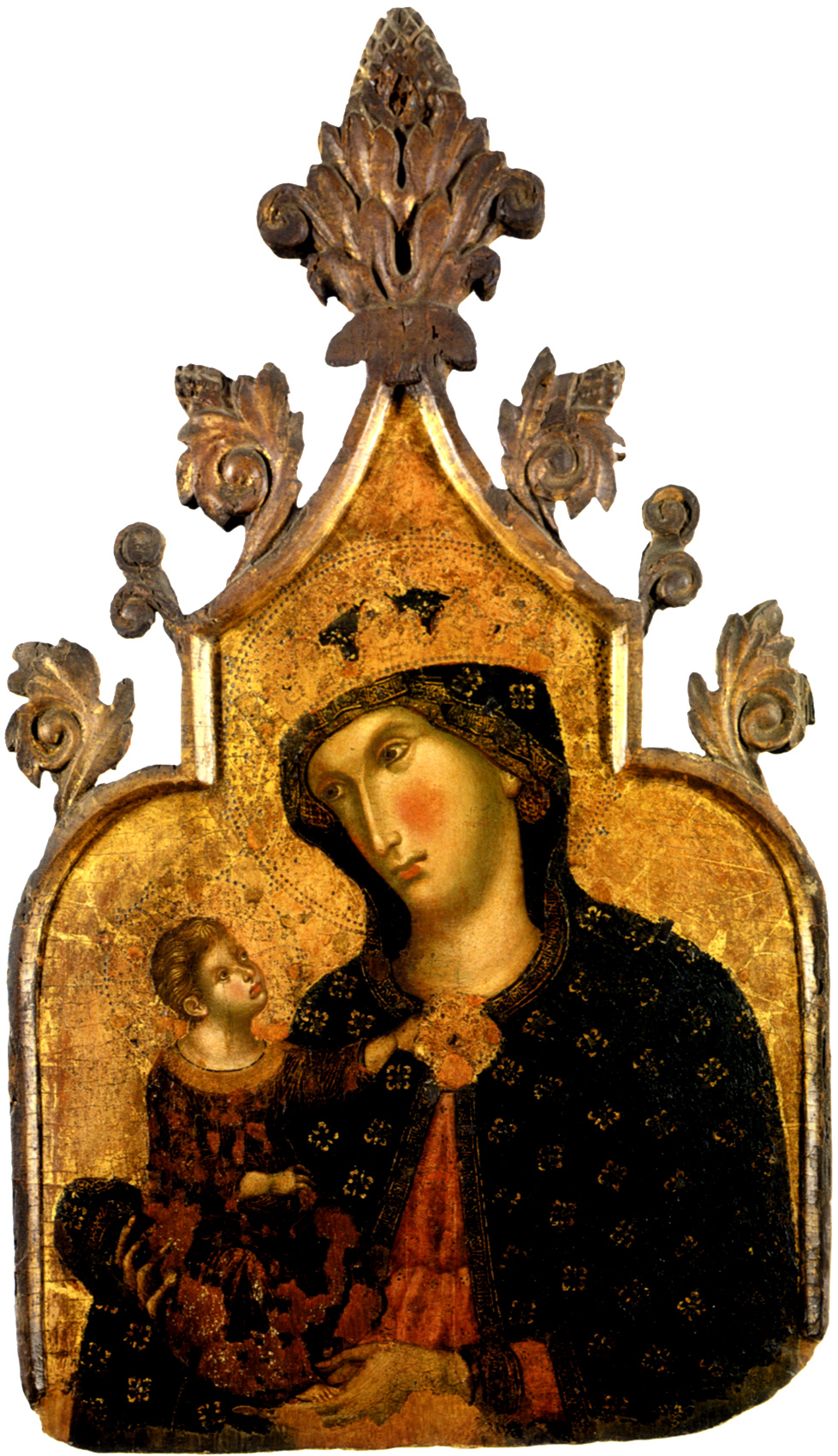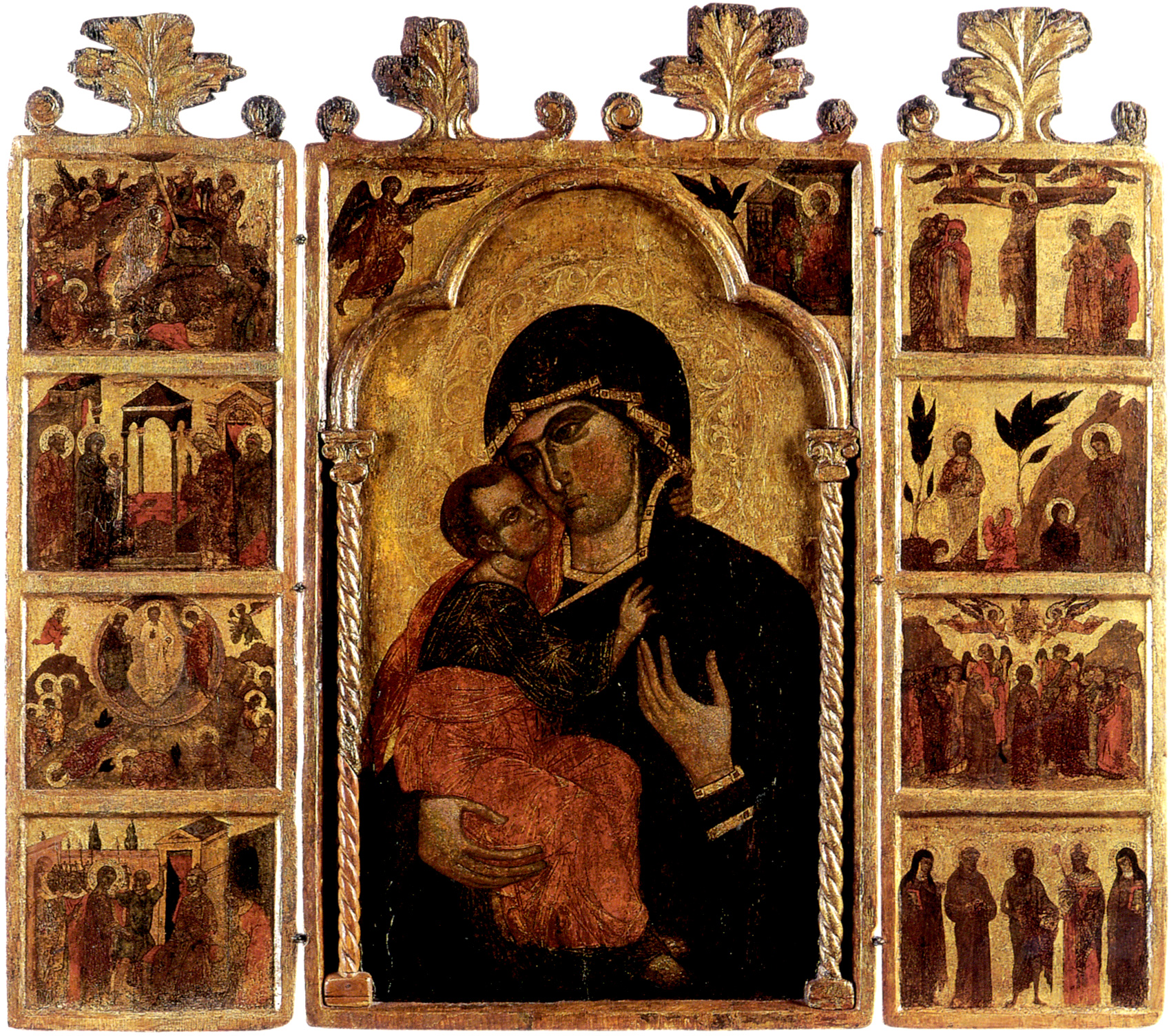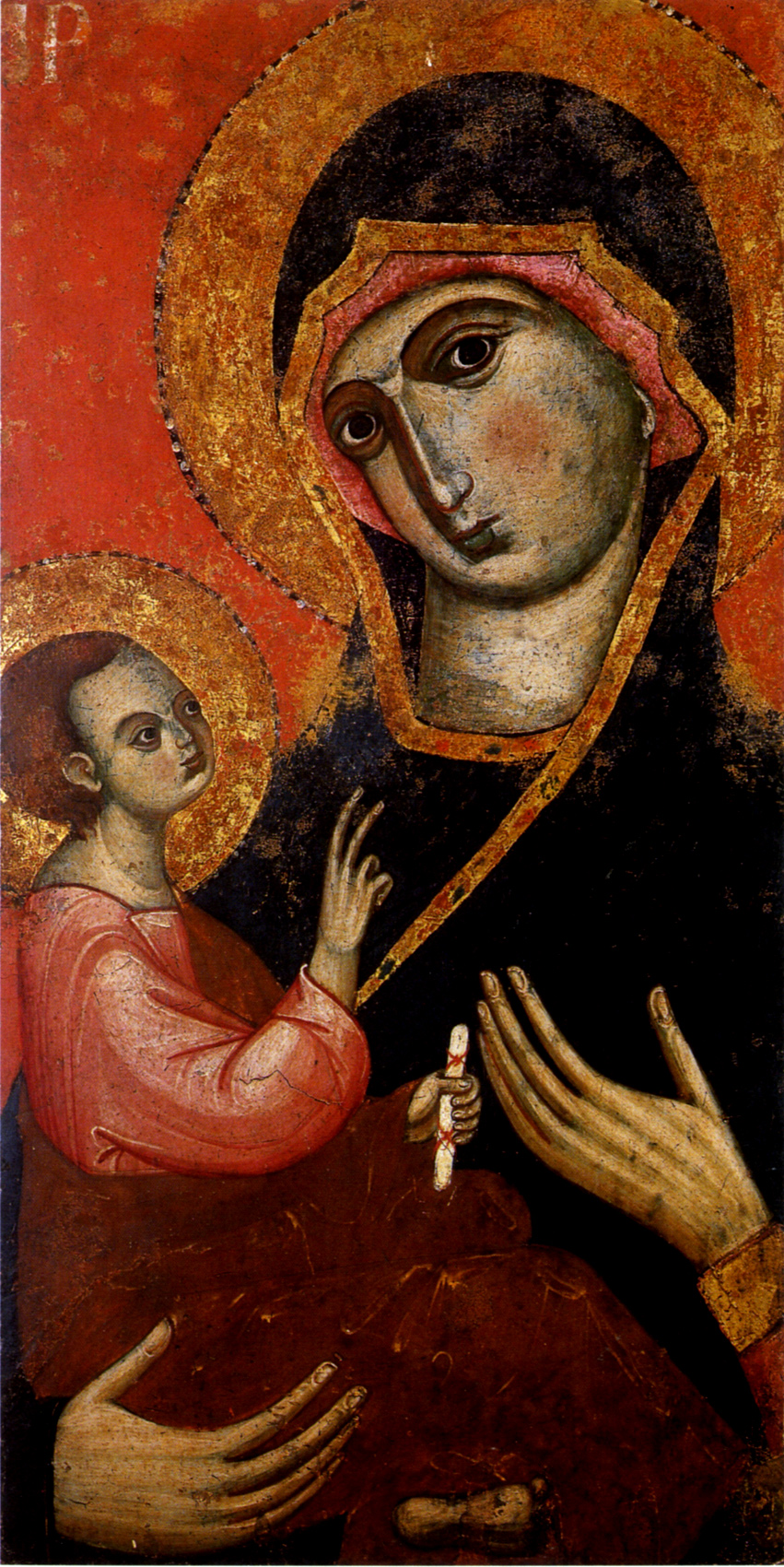 Andrea del Verrocchio (c. 1435–1488), born Andrea di Michele di Francesco de' Cioni, was an Italian sculptor, goldsmith and painter who worked at the court of Lorenzo de' Medici in Florence in the early renaissance. Few paintings are attributed to him with certainty, but a number of important painters were trained at his workshop. His pupils included Leonardo da Vinci, Pietro Perugino and Lorenzo di Credi. His greatest importance was as a sculptor and his last work, the equestrian statue of Bartolomeo Colleoni in Venice, is universally accepted as a masterpiece...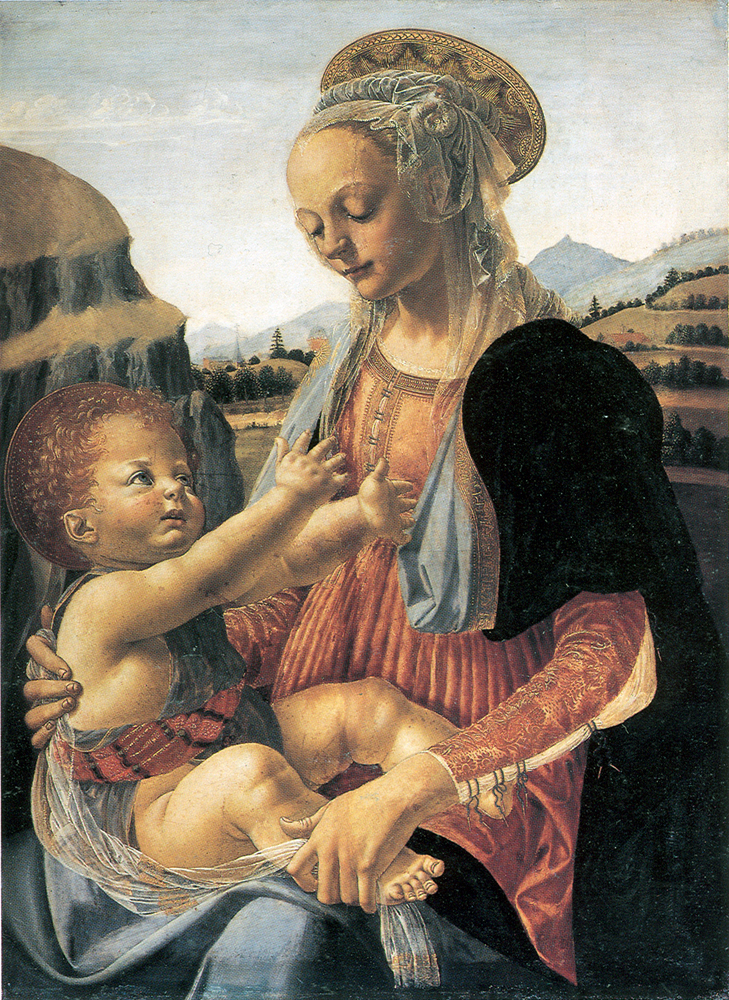 Antonio Vivarini (Antonio of Murano) (c. 1440 – 1480) was an Italian painter of the early Renaissance-late Gothic period, who worked mostly in the Republic of Venice. He is probably the earliest of a family of painters including sibling his younger brother Bartolomeo and Antonio's son Alvise Vivarini...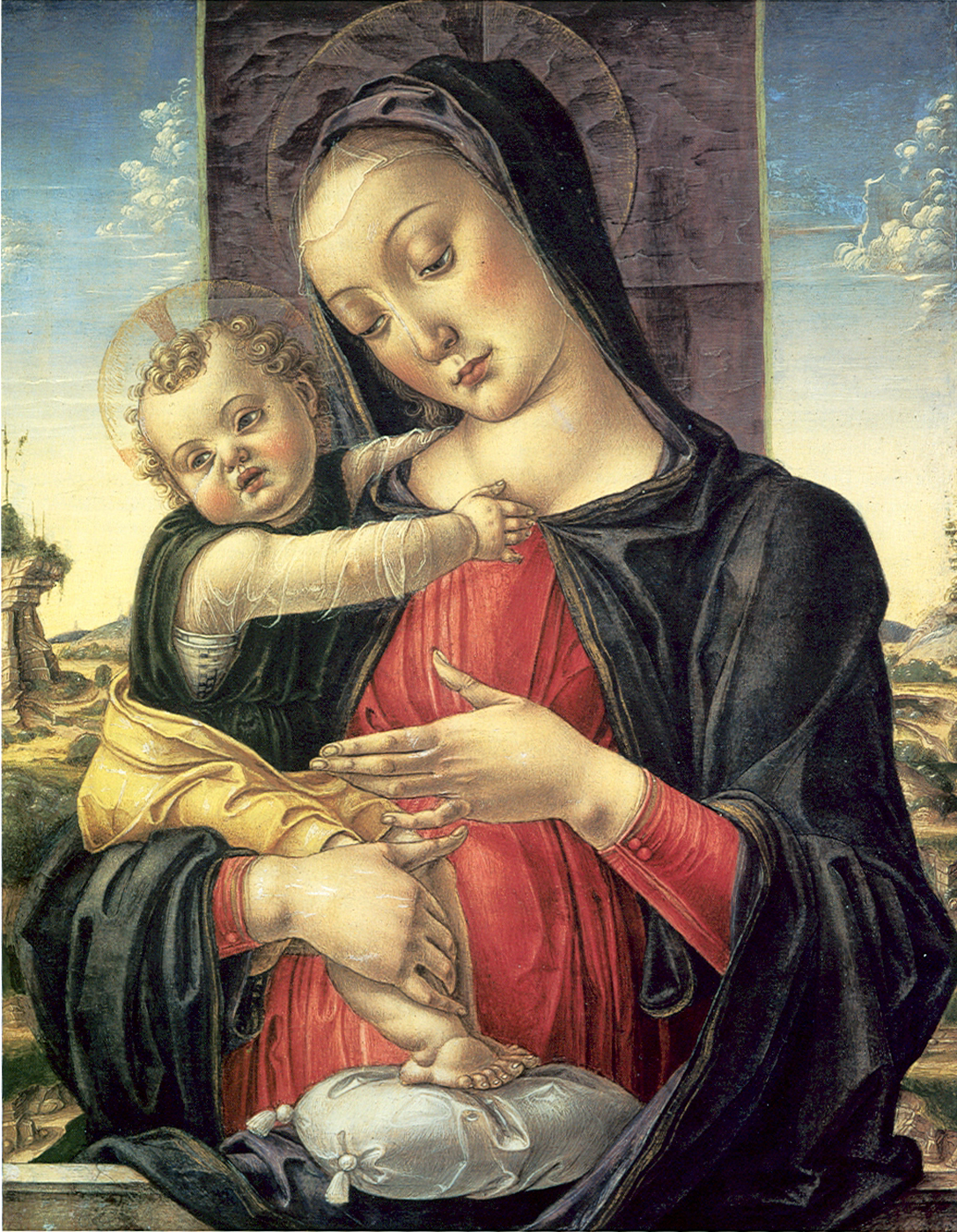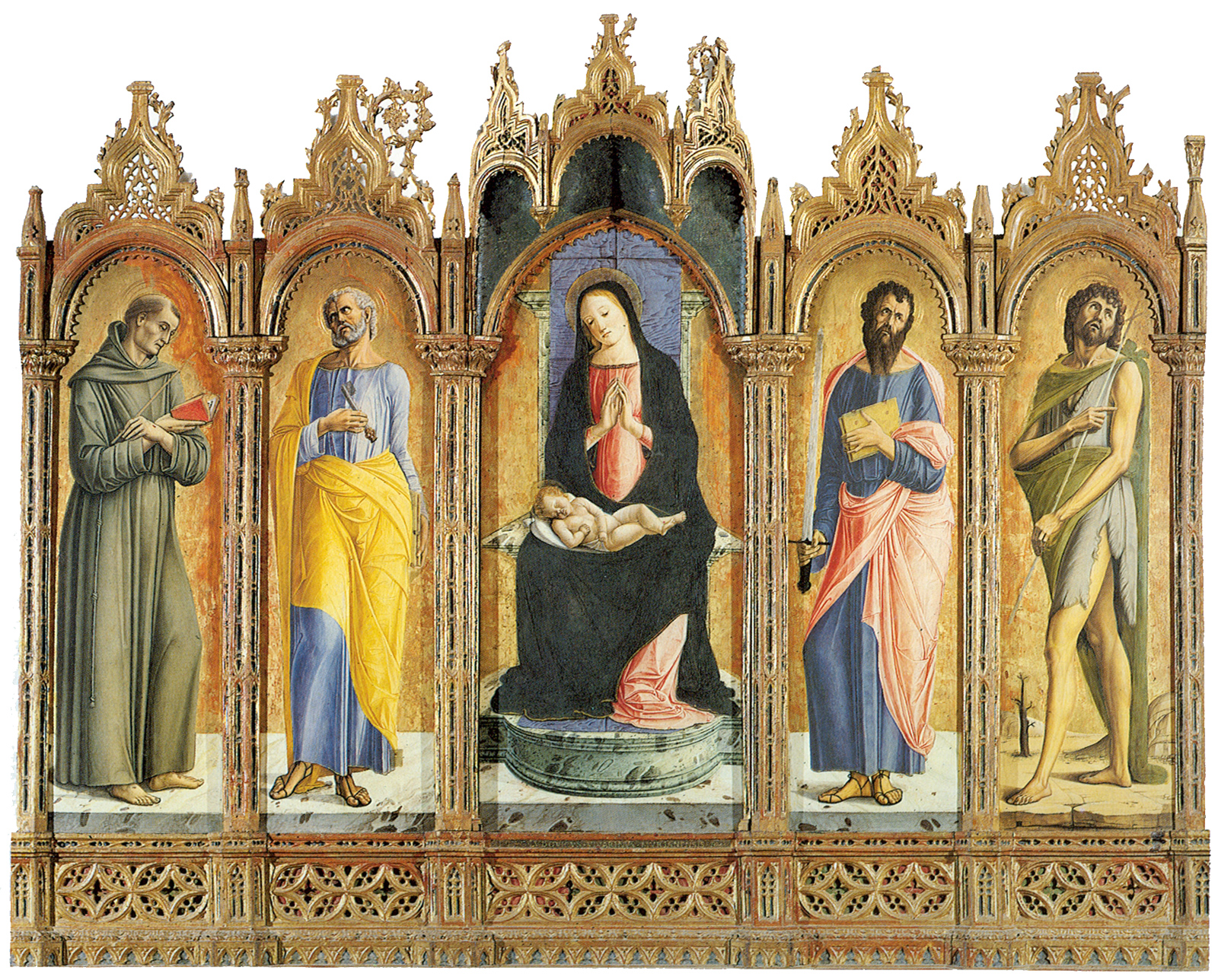 Rogier van der Weyden or Roger de la Pasture (1399 or 1400 – 18 June 1464) was an Early Flemish painter. His surviving works consist mainly of religious triptychs, altarpieces and commissioned single and diptych portraits...